How To Recognize and Fight Title VII Gender Discrimination
Title VII of the Civil Rights Act of 1964 prohibits workplace discrimination based on sex or gender.
This is a superficially fairly simple definition to understand, but it hides several gray areas that are only being clarified by recent employment discrimination cases.
If you think you may have experienced an example of workplace discrimination under Title VII, DoNotPay is here to help you combat it!
What Is Title VII?
Title VII is one of the 11 titles of the Civil Rights Act of 1964 and deals with employment discrimination law.
It prohibits discrimination in the workplace based on:
When it comes to gender or sex, Title VII does not specifically mention gender identity or sexual orientation as being included under the law. Several recent court cases have clarified that gender discrimination also covers members of the LGBTQ+ community.
What Kind of Gender Discrimination Does Title VII Prohibit?
Gender Discrimination comes in many forms, all of which are covered by Title VII.
The most common forms of gender discrimination at work are as follows:
Type of Discrimination
Explanation
De jure discrimination
This is the deliberate creation of policies that aim to differentiate between the sexes. Examples of de jure discrimination are:

Only hiring men for manual labor posts
Installing gender-specific dress codes or uniform requirements

De facto discrimination
De facto discrimination occurs when one of the sexes experiences passive discrimination despite anti-discrimination policies being in place. Examples of this would be:

Glass ceilings for women
The use of stereotyping in vetting job applicants
Asking female employees about family planning

Harassment
Harassment is considered discrimination and can include:
Retaliation
Any retaliation against an employee after they have complained of discrimination is also seen as discriminatory
Wage discrimination is not listed here, although it is still a common form of discrimination against women. In most cases, wage discrimination cases do not fall under Title VII but are prosecuted under the Equal Pay Act of 1963.
How Common Is Title VII Sex Discrimination?
Federal anti-discrimination laws are enforced by the Equal Employment Opportunities Commission (EEOC).
Any complaint of gender discrimination in the workplace must be filed with the EEOC unless it can be resolved internally.
The EEOC maintains records of every gender discrimination case, and the statistics are as follows:
| | | | | |
| --- | --- | --- | --- | --- |
| Details | FY 2017 | FY 2018 | FY 2019 | FY 2020 |
| Charges | 25,605 | 24,655 | 23,532 | 21,398 |
| LGBTQ charges in the above | 1,762 | 1,811 | 1,868 | 1,857 |
| Resolutions | 29,781 | 28,268 | 26,647 | 23,096 |
| LGBTQ resolutions in the above | 2,016 | 2,101 | 2,013 | 1,953 |
| Monetary benefits (millions)* | $135.1 | $148.4 | $170.7 | $153.2 |
Gender discrimination is the third most common reason for a complaint to the EEOC in the U.S.
According to a University of Massachusetts study in 2016, though, the vast majority of sexual harassment cases go unreported—as many as 5 million cases take place each year in the U.S.
This means that workplace gender discrimination statistics may only represent the tip of the iceberg.
What Can You Do About Title VII Gender Discrimination?
If you are working in an environment where you feel discriminated against, it can affect your health, mental well-being, and job performance.
You should fight against gender discrimination, but it is on you to prove that your employer is guilty.
Your first course of action is to try to resolve the matter internally. To do this, you should:
Keep a diary
Report incidents
Check company policy
Keep a Diary
The more concrete evidence you can amass, the more likely a discrimination lawyer will be able to win a discrimination lawsuit. For every incident, you should make written notes of:
Dates and times
Perpetrators
Exact details of what happened
Witnesses who will corroborate your story
Report Incidents
You should report every occurrence of gender discrimination to your HR department—even if this involves daily meetings. The HR department should file your reports correctly and give you a copy of each deposition.
Check Company Policy
Make sure you know and understand your company's anti-discrimination policy—this will allow you to identify the extent of the discrimination you are experiencing.
What if Internal Complaints Do Not Solve the Issue?
If your efforts to resolve the problem internally have no effect, your next step is to escalate the matter by lodging a complaint with the EEOC.
Once you have filed your charge of discrimination, the EEOC is obliged to investigate your case. If your assigned case officer finds there is "probable cause"—i.e., your employer has a case to answer—the investigation may lead to:
An attempt to mediate an out-of-court settlement
Commencement of an EEOC lawsuit
Permission for you to launch private legal action
Filing your charge of discrimination can be a chore, though—the EEOC frequently insists on an in-person intake meeting to discuss your case before you can file. DoNotPay can solve this problem by helping you file your charge online in a matter of minutes!
DoNotPay Is Your Go-To Resource To File Your EEOC Charge
DoNotPay is the master at simplifying your life and making complex processes easy.
Filing your charge of discrimination with the EEOC is no exception—all it takes is a few clicks:
Sign up with DoNotPay in your web browser
Search for our Fight Workplace Discrimination product
Give us the details of your charge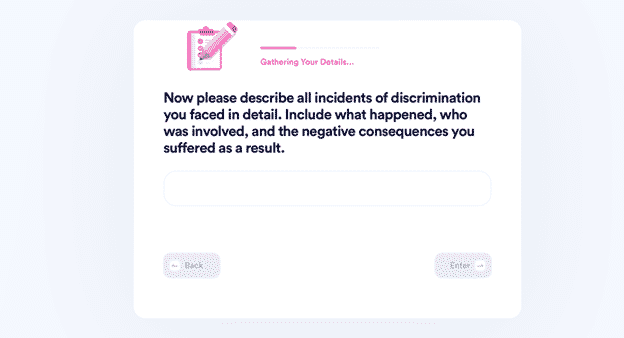 Done deal! DoNotPay and the EEOC will handle the rest!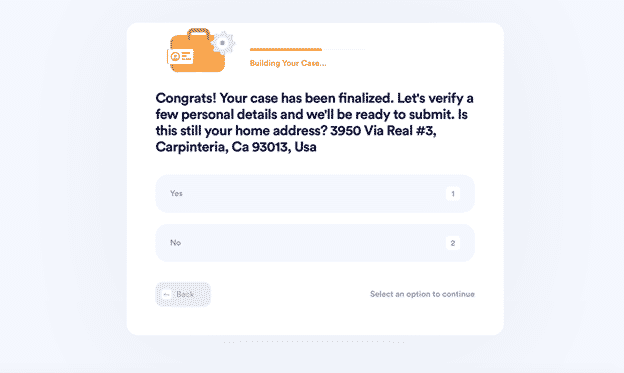 Thinking About Hiring a Lawyer? Think Again!
After you report discrimination in the workplace, you can only hope everything will turn out great. We sure hope so too, but having a backup plan doesn't hurt. If the report with the EEOC backfires, getting a lawyer will be the next logical step.
While you may understand the importance of professional legal help, you might be surprised by how much our virtual lawyer can do for you. Thanks to advanced AI technology, our app can assist you with:
By subscribing to DoNotPay, you won't have to waste hundreds of dollars on lawyers for the help you can get for a few bucks!
DoNotPay Provides Shortcuts Through Bureaucracy
Have you ever thought that corporations and government administration make everything more complicated than it should be? We feel you. That thought is the cornerstone of what DoNotPay is all about!
Our developers keep coming up with products that win against complicated bureaucracy left, right, and center. Some of the tools and services we're most proud of help our subscribers with:
And we're just getting started!