What Does a Good
Time and Materials Contract Template
Look Like?
When the details of a construction project aren't predetermined, it can be difficult to agree on a fixed price and the contract's timeline. Whether you're the employer or the contractor, you should rely on a type of agreement that provides more flexibility and avoids limitations.
This article will take you through the basics, present pros and cons, and show you what a time and materials contract template needs to contain.
to learn how to write contracts and other legal documents like a pro!
What Is a Time and Materials Contract?
When a client and contractor sign a time and materials contract, they agree upon preset rates for labor and materials without determining the rate for construction. Under the time and materials contract, the client has to reimburse the constructors for the total cost of materials they used and the time they spent working on the project—hourly rates and the type of materials for reimbursement should be defined beforehand.
Using a time and materials contract—instead of other types of construction contracts—is recommended when:
The total cost of the project is impossible to estimate

The schedule and timeline can't be predetermined

The changes are expected during the construction
While a time and materials contract is usually the riskiest option for the client, it serves as the best option for the contractor because there are no imposed limits on the cost or duration of the project. 
Pros and Cons of Having a Time and Materials Contract as a Contractor
Having a time and materials contract is usually super beneficial for the contractors. Even so, you should familiarize yourself with both the advantages and downsides before you sign it. In the following table, you can find the pros and cons of this construction contract:
Pros
Cons

High flexibility when requirements are changing

Better control over the project

Reimbursement for any unexpected costs

Easy negotiations and planning

Lack of benefits for being efficient

Less control over the budget

Excessive time-waste caused by the tracking of time and materials
Other Types of Construction Contracts
There are several types of construction agreements—besides the time and materials contract—that the client and constructor should explore before deciding on one. Depending on their needs and preferences, they can choose between:
Unit price contracts

—This type of construction contracts is optimal for projects that need to be divided into small units because they are too long and material-dependent

Cost-plus contracts

—They are the most flexible option, but the employer has to cover all the costs

Fixed price (lump sum) contracts

—The compensation for the entire project is determined beforehand, leaving space for little to no risk

Guaranteed maximum price contracts

—They are the most practical option for when the owner can easily predict the outcome of the project and estimate the costs
Provisions That Every Time and Materials Contract Template Should Cover
Negotiating important terms is easier in writing. Before signing a time and materials contract, make sure that it includes the following provisions:
Labor rate

—You should define the hourly billing rates for all employees on the project, from field workers to office administrative staff. For larger projects, contractors often offer discounted rates of labor

Maximum labor hours

—If the contractor exceeds the defined number of maximum labor hours, they cannot require the employer to compensate them 

Material markup

—Typical markup for this type of construction contract can vary from 15% to 35% on wholesale material costs. Material markup should reflect the scope of work

Not-to-exceed cap

—This clause refers to the maximum amount that the contractor is allowed to charge. One of the goals of the cap is to increase the efficiency of the contractor
Use DoNotPay To Draw Up Iron-Clad Contracts With Zero Hassle
If you don't have any experience in the legal field, writing contracts can be a demanding task. That doesn't mean you should have to pay the earth to have an attorney draw up a legal document for you—DoNotPay can do it in a much simpler and budget-friendly fashion!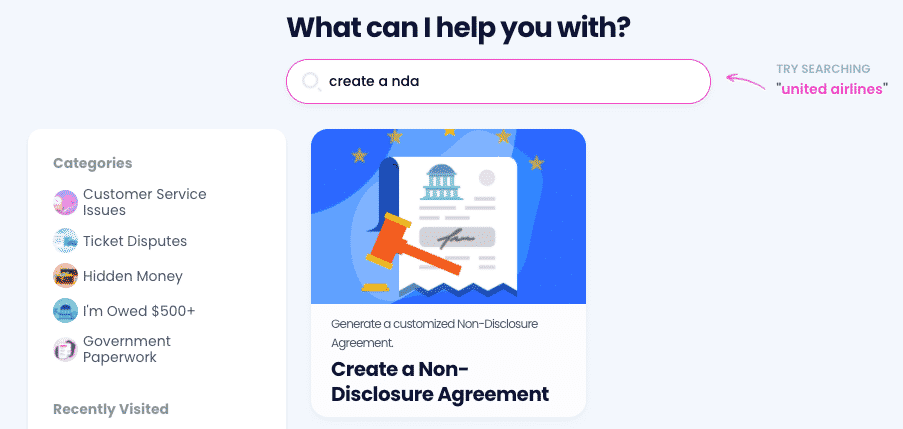 Follow these steps to get DoNotPay to customize a contract for you:
Specify what legal document you need

Provide required information
You will receive the legal document you asked for within minutes!
What Legal Documents Can DoNotPay Generate for You?
DoNotPay can draw up numerous legal contracts regardless of their type and purpose. Whether you need business, real estate, or other types of legal documents, you can get them in three steps with DoNotPay's help. Here is our constantly growing list of the documents we can draw up for you:
Quitclaim deed

Promissory note

General affidavit

Estoppel certificate

General business contract

Child care authorization form

Intent to purchase real estate
Why stop there? Once you get your legal document, you can get it notarized by using our Notarize Any Document feature and send it safely to other signing partners with the Online Fax service.
DoNotPay Is an Ultimate Money-Saving Assistant
Our app can help you manage bills that are too high to pay, but there are plenty of other money-saving possibilities out there we can help you with.
Want to challenge a parking ticket? DoNotPay can dispute parking citations in any city! Is someone getting revenue from your creative work? Cut the thieves off with DoNotPay!
We can also help you get your college application fees waived, file any insurance or warranty claims, locate unclaimed funds in your name, or earn some extra cash from paid clinical trials in your area.
No More Risky Free Trials With DoNotPay
Do you love free trials but tend to forget to cancel your subscription before the trial ends? If this is the case, check out DoNotPay's virtual credit card for a risk-free experience.
With our virtual credit card, you can sign up for any service without worrying about unwanted charges. DoNotPay will even provide you with a random email address, which will help keep your inbox clean from spammy emails from the company.
Our app can also get in touch with the company's customer service, request a refund from them, or even escalate your issue to small claims court if the company is challenging to communicate with.