Find Out About the Easiest Way To File a Third-Party Insurance Claim
Third-party insurance makes it possible for you to file an insurance claim with an at-fault driver's insurance company after you've been in an accident. This type of insurance is here to make sure that you are covered when the accident isn't your fault. The administrative process is a nightmare when it comes to claiming insurance, let alone third-party insurance.
If you get nervous at the thought of going through this complicated process, DoNotPay is here to make it easier for you. With our platform, you'll be able to file your third-party insurance claim in a few short steps and avoid unnecessary bureaucratic issues.
What Is Third-Party Insurance and Which States Support This Insurance System?
A third-party insurance claim is also known as a liability claim because you use the other driver's liability insurance to cover the costs of car repairs, medical expenses, or even temporary transportation.
You can file an insurance claim as a third party, even if you don't have a policy with the insurance company in question.
Not every state has the same rules about auto insurance. Check out some of the insurance systems that support liability insurance claims according to state rules in the table below:
Insurance System
What It Is
States

No-Fault

Your own insurance company pays for some or all of your medical bills and car repairs, no matter whose fault the accident was

Kansas

Florida

Kentucky

Utah

Minnesota

Hawaii

New Jersey

Massachusetts

Pennsylvania

Michigan

North Dakota

New York

Tort Liability

If you caused the accident, the driver can sue you for medical costs and pain

All other states
How To File a
Third-Party Auto Insurance Claim
With DoNotPay
Insurance companies try to avoid paying their customers' costs, let alone a third-party policyholder. Filing insurance claims is so complicated that some people give up before even trying. DoNotPay, fortunately, came up with a perfect feature for claiming what's rightfully yours.
To file a third-party insurance claim with DoNotPay, you'll need to open our app in any web browser and follow these steps:
Type in

Third-Party Insurance Claim

into the search box

Enter all the necessary data like your contact information and the name of the company you want to file a claim with

Provide a detailed description of the accident and the reason for your filing the insurance claim

Submit your insurance claim and wait for DoNotPay to send your insurance claim letter to the company
After we take care of your insurance claim, the at-fault driver's company will get in touch with you directly.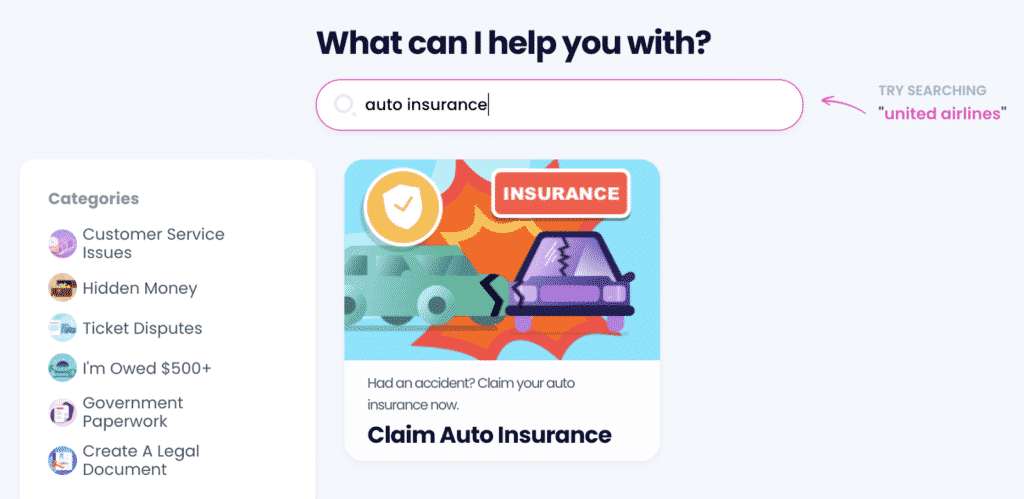 With our platform, you can file the following insurance claims:
Home and property insurance

—for occurrences such as a

hurricane

or

water damage

due to a

flood

Auto and vehicle insurance

—both if the accident is your fault and if it isn't

Health insurance
Other types of claims such as for

unemployment insurance
How To Appeal a Rejected Insurance Claim
The company might reject your insurance claim, but DoNotPay can help you create and send an insurance appeal letter. 
Try not to give up your claim because companies count on it. You can open our platform in any web browser and use it to appeal against the denied insurance claim.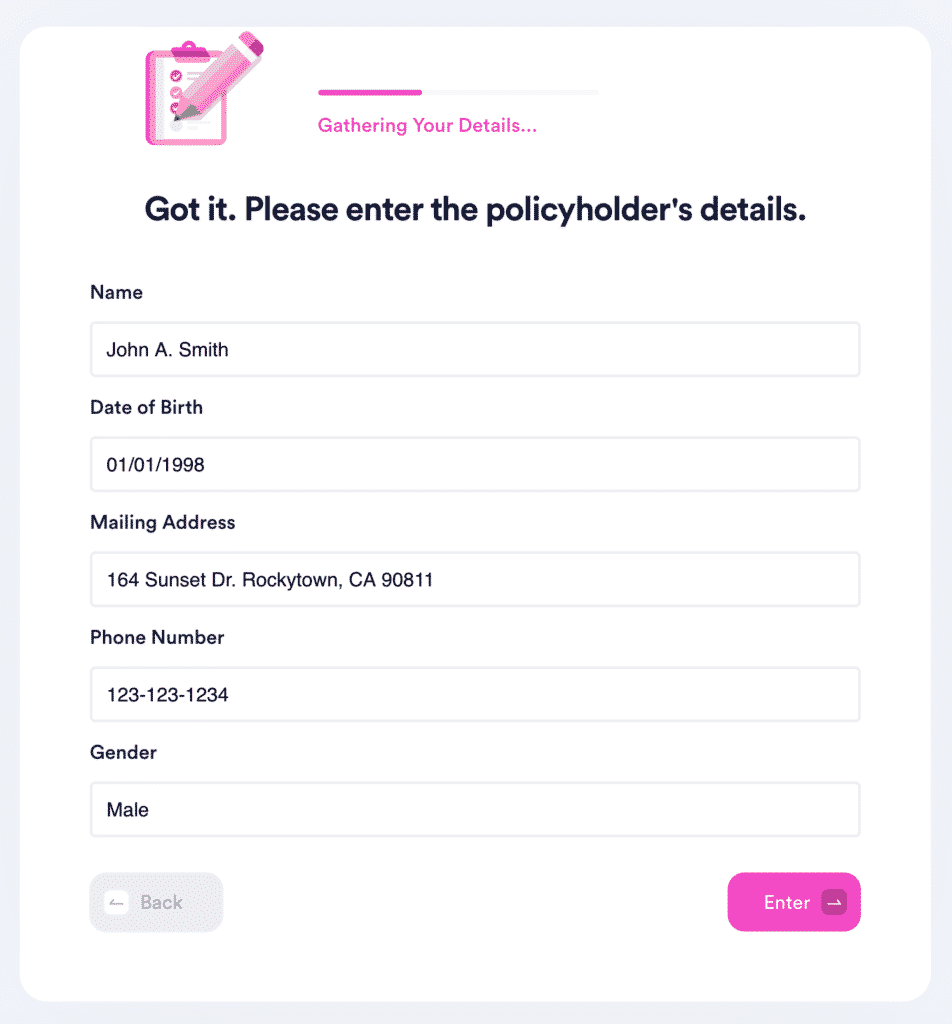 How To File Third Party Insurance Claims on Your Own
Our app is by far the easiest way to claim your insurance, but you can also do it by yourself. Take note that getting the best out of the other driver's insurance company can take some time and a lot of effort. Here are the minimum steps you will have to take:
File the accident report with the police that will prove the other driver was at fault

Take photos and videos of the accident scene and any damage to your vehicle

Get detailed information about the driver's full name, address, phone number, insurance provider, insurance policy number, license plate, etc

Get contact info from anyone who might be a witness

Write notes about the accident while you can remember them

Keep any bills associated with your injuries or the damage to your vehicle

Get an independent mechanic to assess the damage to your car

Use all the information you acquired to file an insurance claim with the other driver's insurance company

Demand that the insurance company pays for your damages or injuries
What You Should Know About a
Third-Party Insurance Claim Procedure
Insurance companies have different kinds of third-party insurance claim processes. In most cases, you'll be assigned a claim representative or an insurance adjuster during your claim process. They will document the details about the accident from both their insured customer and you as the third-party. 
An insurance adjuster is entitled to photos and a copy of the police report.
The claim representative or the insurance adjuster will determine whose fault the accident was, based on the findings. If the other driver is at fault, you can file no-fault insurance, but only if you live in the state that allows it.
Even though you have the right to file a third-party auto insurance claim when you're not the at-fault driver, you should contact your auto insurance company as soon as you can after the accident. Your company will work with the other driver's insurance company to help you get what's rightfully yours.
Our App Makes Internet a Safer Place
DoNotPay understands how important it is to avoid dangers lurking on the web. We have come up with numerous easy-to-use features for fighting scam emails, shady SMS texts, and malevolent robocalls. 
With our Virtual Credit Card generator, you can sign up for any free trial without compromising your finances. The Burner Phone feature protects your privacy by hiding your real phone number on various websites. Scared of online stalking? Prevent it with DoNotPay!
When online shopping turns into a nightmare, we will help you get your money back, contact customer support without hassle, or cancel any subscription that didn't live up. 
All that browsing doesn't come for free. If you need help with your internet bill, check out what DoNotPay has in store.
DoNotPay Is Here To Stay
Our platform offers a vast range of services where anyone struggling with bureaucracy can find a ready-made solution. 
DoNotPay's power is no child's play—with our help, you will be able to demand compensation for canceled or delayed flights, nail difficult government-issued tests, and sue people and companies in small claims court!
Our constantly-growing portfolio includes features like finding the best clinical studies in your area or drafting all kinds of legal documents without hiring expensive lawyers!