The Actual Malice Standard Comes Into Play in a Libel Suit
Defamation is the act of hurting someone's reputation through oral or written communication that causes some kind of financial, reputational, or personal harm.
In establishing a case of defamation, the plaintiff must first show which of the two types of defamation occurred — slander or libel. In a case of slander, the defamation has been spoken aloud or otherwise gestured in a non-written way. In a case of libel, the defamation has been written or posted in a permanent format.
If you have been defamed, it is recommended that you take steps towards sending a "cease and desist" letter, warning the defaming individual of legal action. Continue reading to learn about the legal avenues available to you, and certain burdens of proof you'll have to validate — like actual malice.
Understanding Actual Malice
Actual malice exists when public figures are attempting to sue for defamation
This term covers the uniquely tailored burden of proof that public figures have to prove in order for their defamation suit to progress
This law caters towards the freedom of the press and free speech laws
What Is a Public Person?
Generally, when we think of a public figure we visualize a celebrity or important political consultant, enthralled deeply in governmental and public affairs. Truthfully, this assumption is far from reality — anyone who is involved in public life or service can be considered a public figure. 
Public figures often include:
Celebrities
Business Owners and Leaders
Politicians
Public Service Workers
Anyone involved in a public controversy or industry that is considered a "limited purpose particular public figure" with relation to a set of issues or realities

For instance, a small-time basketball (NBA) player is covered under matters that concern their ability to play basketball, but big-time players who are "celebrities" like Lebron James are considered full public figures and thus need their own protection
The Steps to Proving Actual Malice
In order to drive a successful case, typically a public figure must prove that the publisher of the statements or defamation against them acted in "actual malice". This is a term used to define the fact that whoever published the statements knew the statements they published were false but acted with disregard for that. It is extremely difficult for the typical public figure to prove malice as it is a subjective clause of the law.
These are the standard grounds required to prove the knowledge and existence of malice:
| | |
| --- | --- |
| The defendant knew the statement they issued was false | The defendant knew the truth behind the statements and disregarded whether they were credible or not. |
| The defendant acted in a subjective and partial manner | The defendant chose to publish the statements with no regard for the objective harm or reality of the situation. |
| The partial actions were equal to malice and thus "actual malice" existed | The defendant's actions were equal to malice, or intentional slander at the expense of knowing the truth behind a public figure's life. |
Draft a Cease and Desist Letter as a Public Figure in Minutes!
DoNotPay is a thorough solution to the problem of defamation, regardless of your individual status! The cease and desist letter DoNotPay drafts typically detail the information about the case, demand retraction, warn against future statements, and will order that the accused abides by your local state statutes.
All you need to do is:
1. Look for the Defamation Demand Letters service on DoNotPay.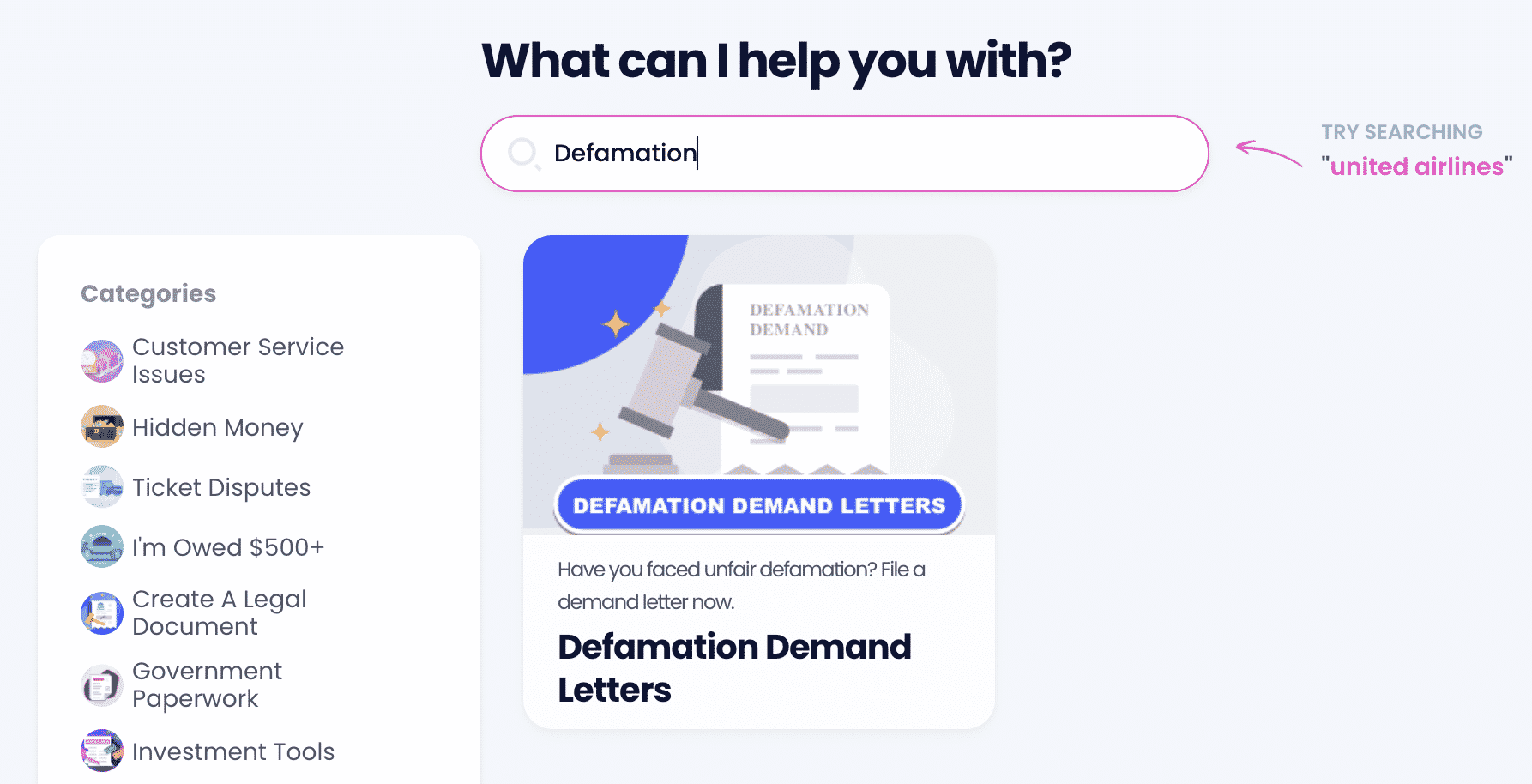 2. Tell us about your situation:
Were the statements slander or libel?
What were the statements?
Why are they false or misleading?
What consequences have you suffered as a result of these statements?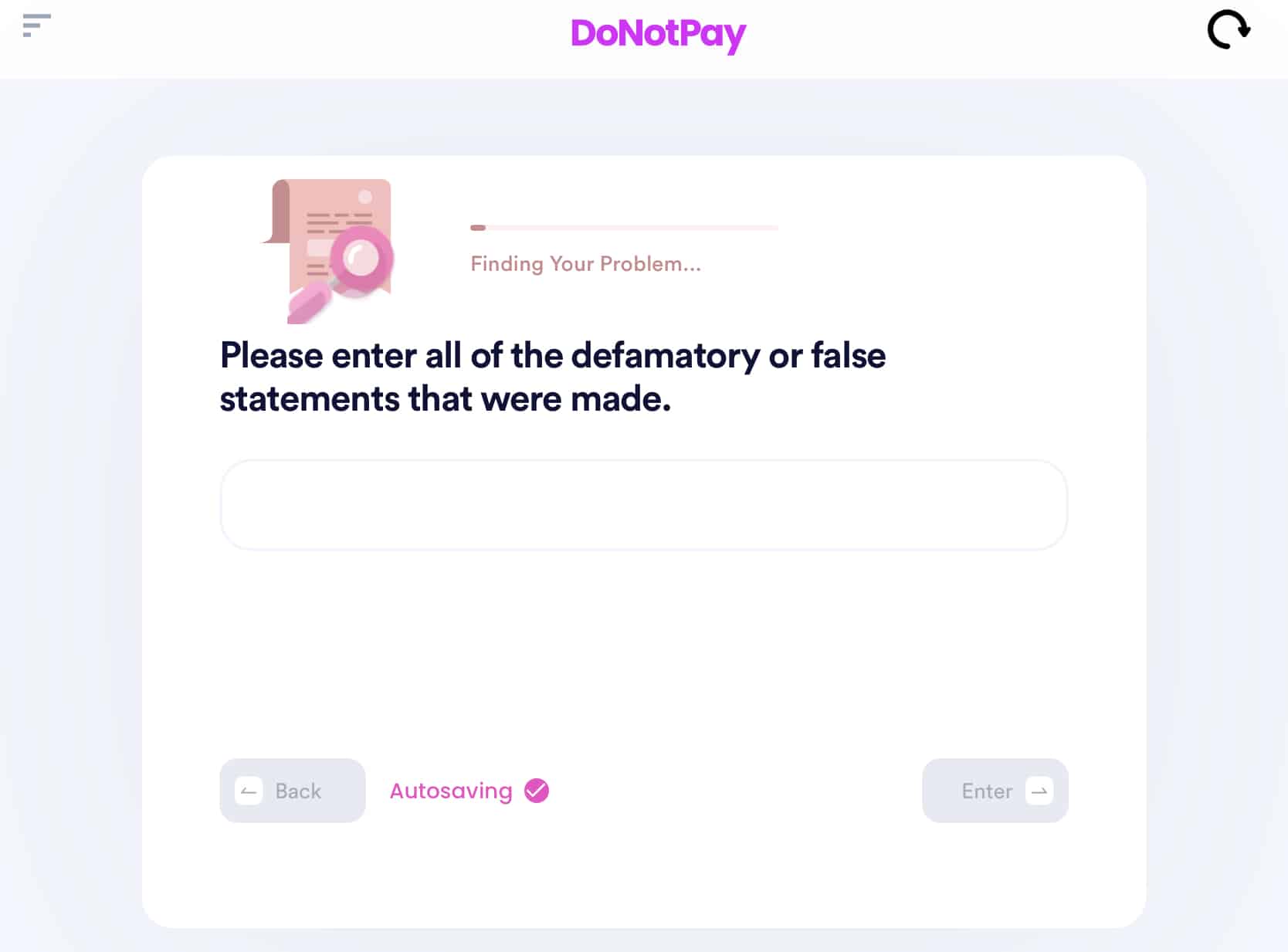 3. Based on your location, DoNotPay will immediately generate a formal demand letter on your behalf, with the most relevant state legislation regarding defamation.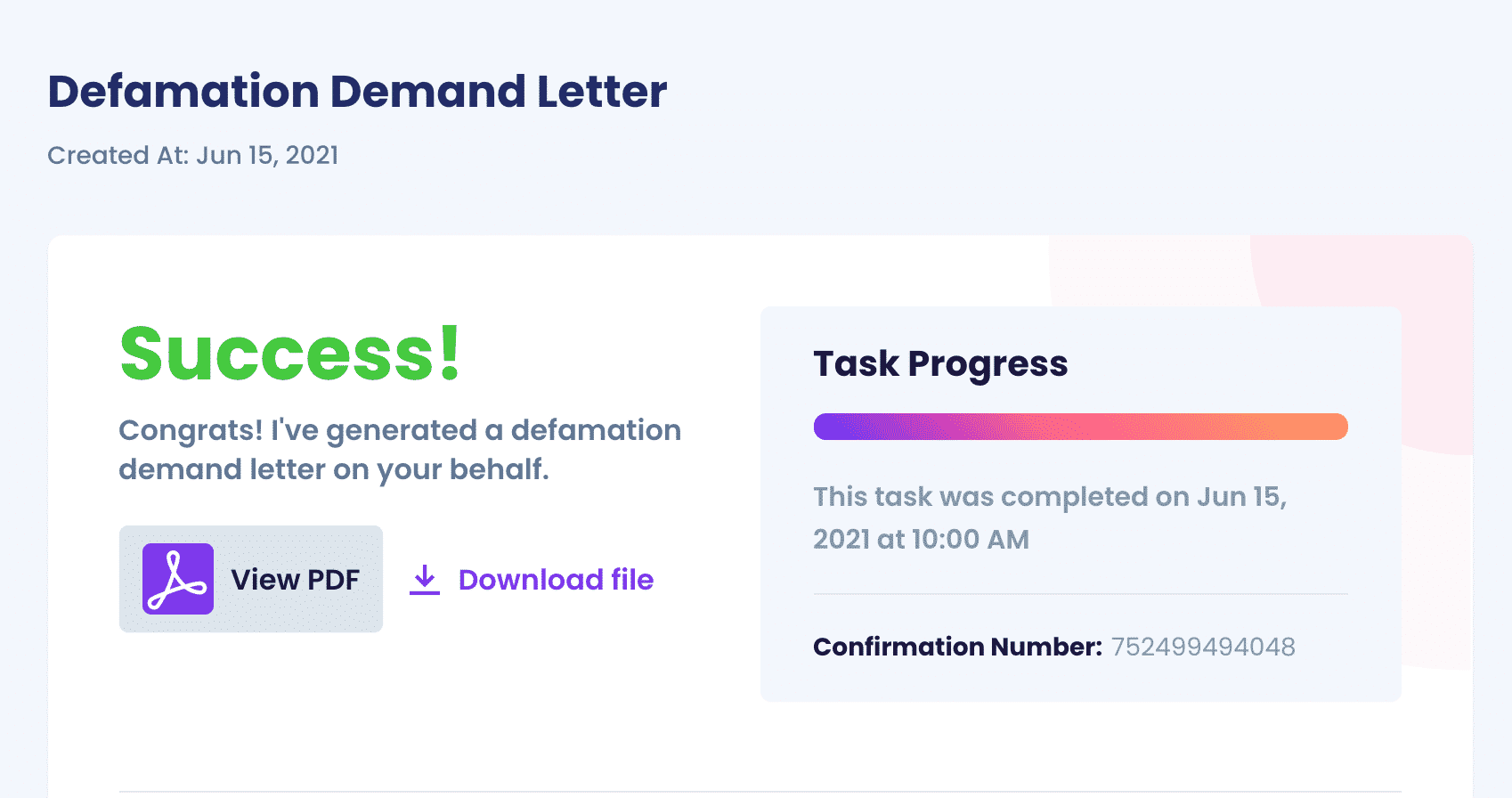 That's it! You can expect a comprehensively drafted cease and desist letter to your case, instantly! 
What Else Can DoNotPay Do?
Here's a list of legal-related matters DoNotPay assists with:
Scan legal documents for hidden clauses
And more!
Here's a list of service-related things DoNotPay can help you with: