Thailand Tourist Visa on Arrival—Requirements and Application Process
With its jaw-dropping nature and rich culture, Thailand is a country you shouldn't miss visiting.
Once you begin planning your trip, you'll probably start wondering whether you'll need to obtain a Thailand tourist visa on arrival (VOA) and which steps you'll need to take to do so. If you can't figure out the pile of information you find online, subscribe to DoNotPay!
Our robot lawyer will give you a real insight into the Thai VOA requirements and tell you whether you need it or not.
Do U.S. Citizens Need a Tourist Visa for Thailand?
We have some good news! Tourist visas are not required for visitors who are staying in Thailand for less than 45 days, including U.S. citizens.
When you enter the country, you will get a stamp in your passport from Thai immigration officials, and that will be it—this stamp is your permission to stay in the country for the next 45 days.
In case you are planning to stay longer than that, you must obtain one of the following:
60-day visa
90-day visa
Visa exemption
Tourist visas for Thailand stay valid for 90 days for a single entry or for six months for multiple entries.
Tourist Visa Fee for Thailand
While those who stay in Thailand for less than 45 days do not have to pay for the entry, those who decide to apply for a visa will have to pay the following fees:
Is Thailand Tourist Visa on Arrival Available for U.S Citizens?
Even though Thailand issues a visa on arrival for visitors from certain countries, a VOA is not available for U.S. citizens. This visa is valid for 15 days after entering the country, which means that U.S. residents don't need it.
Thai Travel Requirements During COVID-19
COVID-19 has changed the way we travel, and Thailand was not immune to those changes. To enter this country, you have to:
Get Certificate of Entry (COE)—You can apply for the certificate in the nearest Thai embassy or consulate five to 15 business days before your trip
Provide proof that you have COVID-19 travel health insurance—The insurance should cover medical examination and treatment expenses of up to $100,000
Present a negative PCR test—Your test should not be older than 72 hours
Complete quarantine—You will have to stay in a government-accredited hotel for 14 days
If you've been vaccinated and you have a vaccine certificate to prove that, you might be able to enter Phuket province without going into isolation. The vaccine you received has to be approved by the Ministry of Public Health of Thailand or WHO (World Health Organization). You have to be fully vaccinated at least 14 days before your trip.
Thailand Visa Application During the Coronavirus Pandemic
If you wish to apply for a visa during this period, you should:
Send application three to four weeks before your trip because the processing time is slower
Submit the application in the Thai embassy or consulate in your jurisdiction area
With DoNotPay, Tourist Visa Application Process Is a Duck Soup!
To avoid misleading information that makes your visa application complicated and tedious, subscribe to DoNotPay!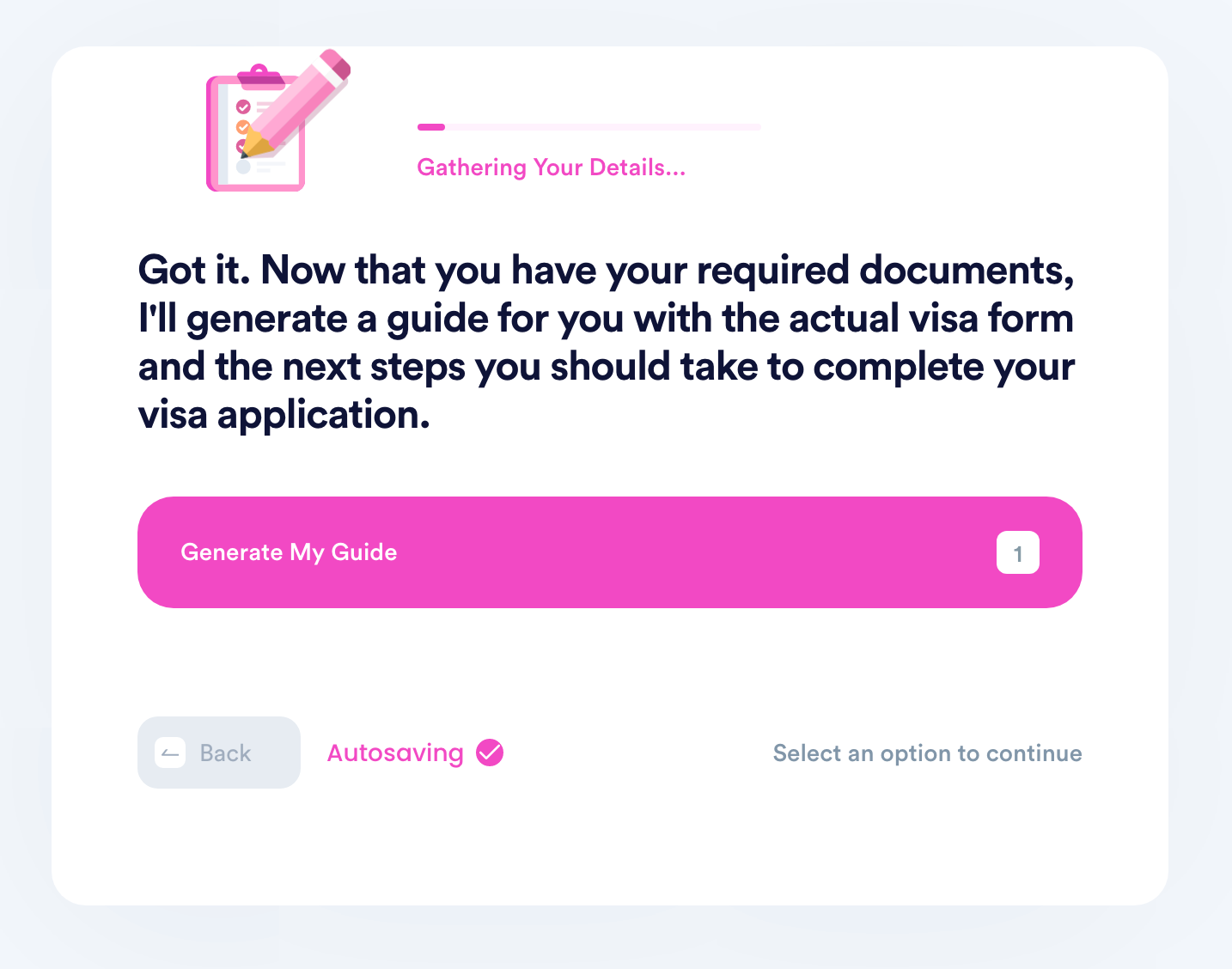 Our handy app will provide all the info you need to complete your application process successfully. All you need to do is:
Find the Tourist Visa Guide feature
Answer some basic questions about your destination country and passport
Select Submit
Our app will gather data important for your visa application and send it in the form of a list. That is not all—our app can also:
Check whether you need a visa for the country you wish to visit or not
Send you a list of visa application instructions if you need it
Contact the embassy to ask if there is a possibility for you to email your application documents
Provide you with either a link to the online visa application form or a PDF version of the form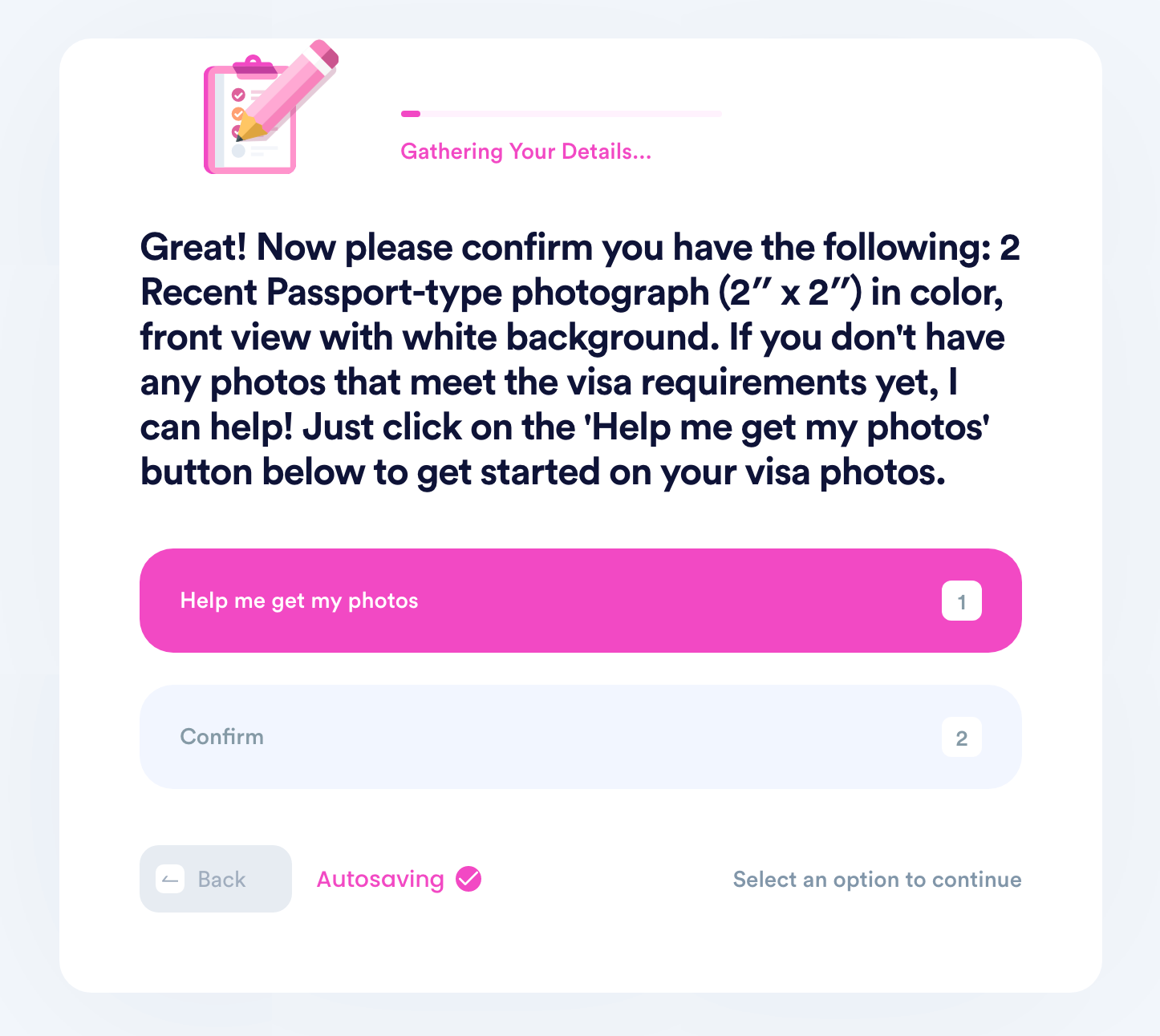 Use DoNotPay—Find the Easiest Way To Get a Visa for Any Country in the World
Thailand is not the only destination in Asia worth visiting. This continent has plenty of locations that are waiting to be rediscovered.
To savor every moment of your trip, you should prepare all visa paperwork in advance. DoNotPay will help you with that! Through our comprehensive articles, you will get acquainted not only with visa policies of different countries but also COVID-19 restrictions regarding visa and other travel requirements.
If your goal is to spend your vacation in one of the Asian countries, check out the tourist visa guides shown in the table below:
Solve Your Legal and Bureaucratic Issues With DoNotPay
The primary purpose of our app is to provide you with practical tools that can speed up all the drawn-out tasks you must complete. All you need to do is choose a suitable feature from our offer and get your problems solved in a heartbeat!
Once you create an account with DoNotPay, you can:
Feeling Unsafe or Harassed? DoNotPay Can Help You!
Have annoying calls and messages become your everyday problem? Don't give up on your peace—rely on DoNotPay and deal with robocalls and restless text and email spammers easily.
We also take care of your privacy, allowing you to create burner numbers and virtual credit cards to avoid revealing sensitive information when signing up for various online services.
If you are being stalked by somebody or discriminated against at work, we will do our best to help you fight for justice and report the case accordingly! We will also safeguard your creative work from copyright violation and ask for violent crime compensation on your behalf.