Claim Veterans Benefits In Texas Quickly and Easily
More than 1.4 million veterans live in Texas. Many of them are eligible for benefits from the Texas Department of Veterans Affairs and do not even know about it. If you are a veteran who is seeking the benefits you earned through your service, you have likely realized how difficult this process can be. Between trying to find out where to go to seek benefits, attempting to obtain service records, and determining the application process you should use, seeking benefits can be a source of frustration. DoNotPay's Military Protection product provides a simpler way to obtain your .
Benefits That Are Available for Veterans in Texas
There are many benefits available to veterans, depending on the circumstances they find themselves in after leaving the service. These benefits include:
Disability compensation, if you suffered a service-connected injury that impairs your ability to earn an income.
Education and training in order to obtain a higher paying job or enter a new career.
Employment services for veterans attempting to transition to civilian employment.

Free healthcare

and treatment of service-connected medical conditions.
Housing assistance, including loans to make home-ownership available to more veterans.
Life insurance for eligible veterans and their families.

Burial services and memorials

for veterans, their spouses, and their children.
Pensions for eligible veterans and their survivors.
How to Obtain Texas Veterans Benefits on Your Own
There are many ways to apply for on your own, including:
| | |
| --- | --- |
| Veterans Affairs | Applying through the VA pre-discharge program before leaving service. |
| Online | Applying online for various programs, including employment services. |
| Mail/Fax | Downloading and completing a paper application requesting disability benefits, that can either be mailed or faxed to the Department of Veterans Affairs. |
| Military Casualty Assistance Officer | Seeking assistance from a military casualty assistance officer in order to obtain survivor's benefits after the service-connected death of a spouse or parent. |
| In-Person | Individuals can also begin seeking the benefits they need by making an in-person visit to the Department of Veterans Affairs location nearest to them. |
Obtaining Texas Veterans Benefits if You Can't Do It Yourself
It is fortunate that veterans in Texas have access to so many types of benefits. It is unfortunate, however, that these benefits are often provided by different arms of the Veterans Administration, with different application processes. The paperwork required to obtain your veterans' benefits is often cumbersome, and those who determine which process they're eligible to receive are often left wondering whether they can complete the process alone or if they need legal assistance.
Obtain the Veterans Benefits You Deserve in Texas
Seeking veterans benefits in Texas can be a frustrating process, made all the more difficult due to lengthy wait times and lack of assistance in accessing the benefits they need and deserve. DoNotPay's Military Protection product can assist veterans in applying for benefits, locating the nearest VA centers, and locating the service records you need to prove your eligibility.
Using DoNotPay to Obtain Texas Benefits for Veterans
Through DoNotPay, veterans can easily apply for benefits, including:
VA healthcare

VA pensions

VA disability compensation

Burial and memorial benefits

Veterans Job Preference

GI Bill

VA Home Loan Program
The Process of Obtaining Veterans Affairs Benefits in Texas With DoNotPay
If you want assistance with obtaining Texas veterans benefits through DoNotPay but don't know where to start, rest easy. DoNotPay has you covered in 3 steps:
1. Search for and open the Military Protection product on DoNotPay.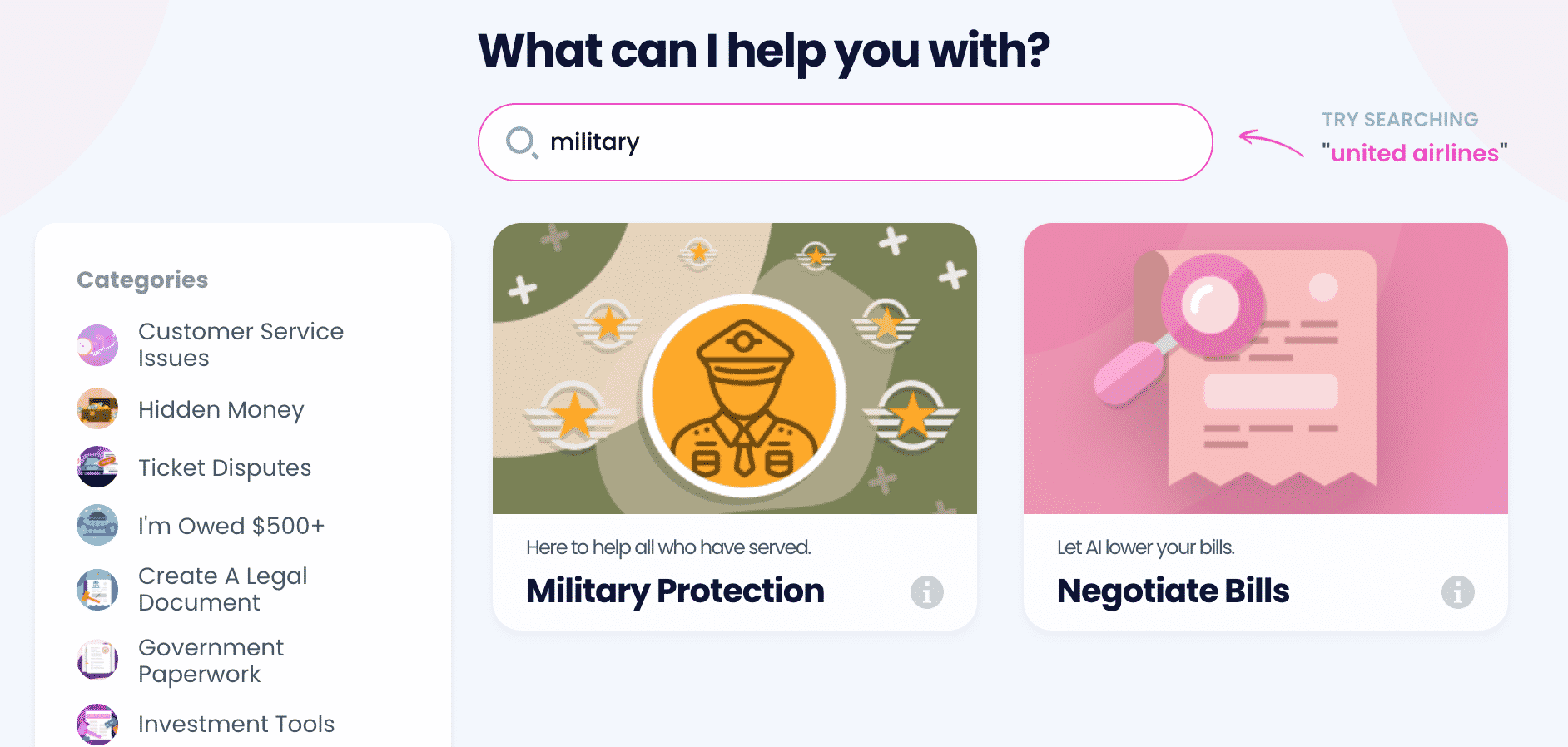 2. Select whether you want to 1) locate the nearest VA office, 2) access veteran benefits, or 3) locate service records.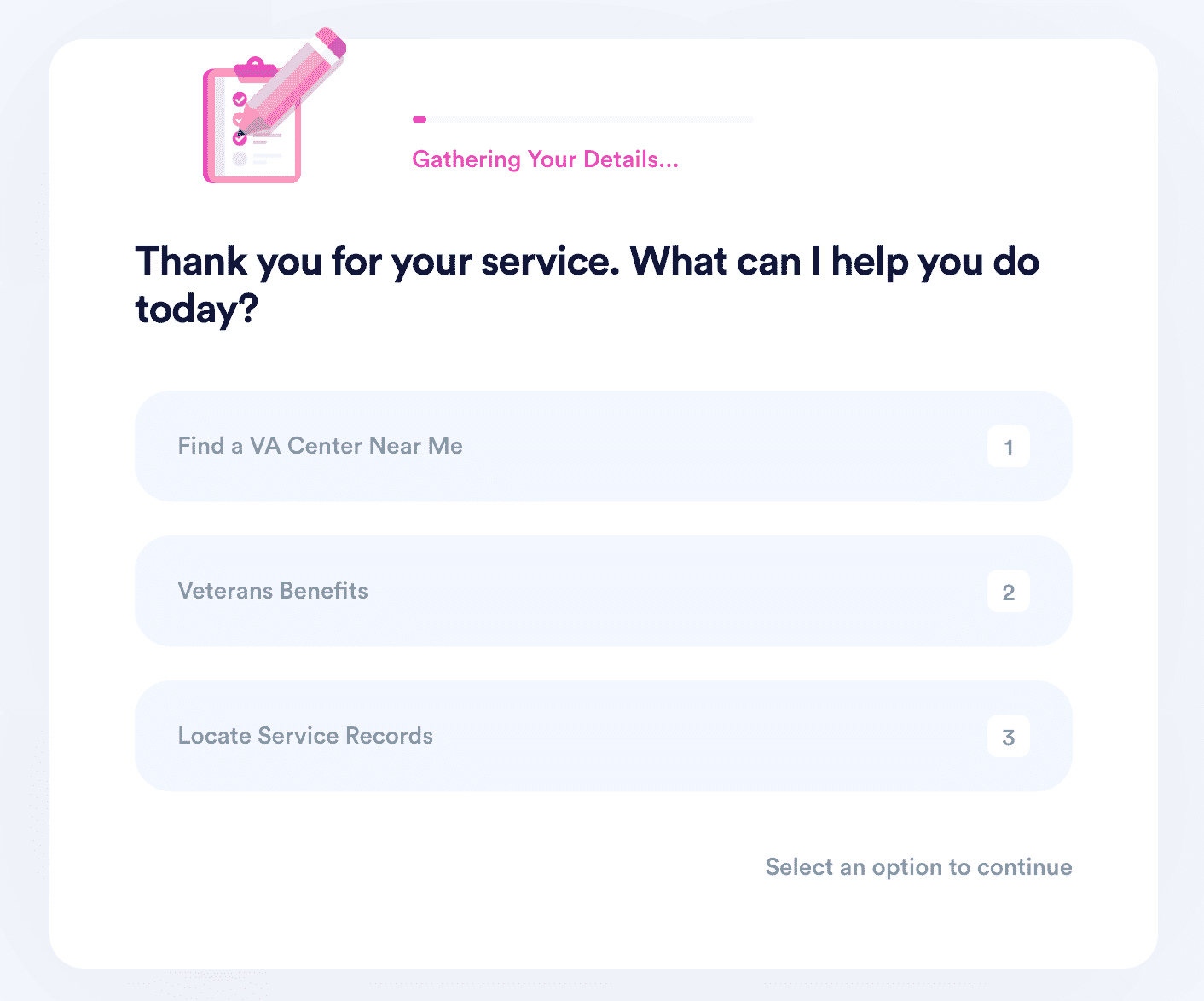 3. Answer a simple set of questions so our chatbot can collect the necessary information to help you and find the nearest office or fill out the appropriate forms.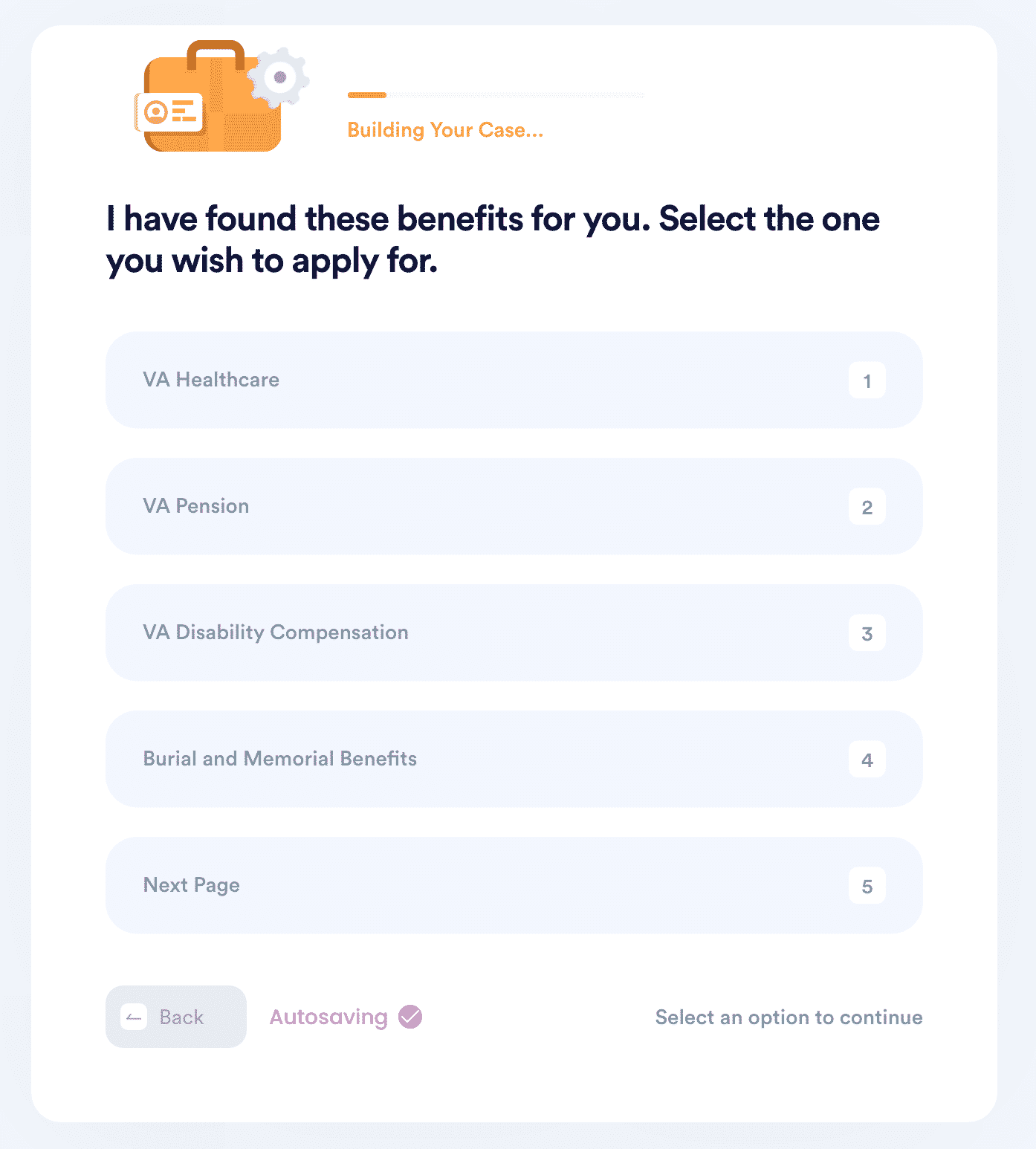 Five Advantages of Using DoNotPay to Obtain Benefits From the Texas Department of Veterans Affairs
Even if you feel confident in your ability to navigate the VA system in Texas in order to obtain your benefits, there are still advantages to using DoNotPay's Military Protection Product, including these five:
You can learn about the benefits available and apply for them from the privacy of your own home rather than attempting to determine which VA office you need to visit and scheduling an appointment that is likely months out.
You don't have to figure out how to obtain your service records, instead of being able to access them through the click of a button.
You don't have to fill out yet another standard form. The Military Protection product will ask you a few simple questions and fill out the application for you, eliminating the risk of human error that can result in long delays.
You don't even have to schedule your appointment or determine which VA location you need to be seen at. DoNotPay handles those details for you.
You can be assured that the information provided by DoNotPay about the Texas veterans benefits that are available to you is the most up-to-date information available, which is important as VA application processes and requirements regularly change.
Other Things You Can Do With DoNotPay
DoNotPay doesn't just help with obtaining Texas veterans benefits but provides ease in managing recurring bills, paying traffic tickets, and more. Take a look at some of our other offerings on the following pages:
Advance healthcare directive