Texas Trademark Application Process Explained
Are you a Texas-based entrepreneur who wants to solidify their brand with a registered trademark? In this article, we break down the Texas trademark application process into easy-to-follow steps.
Apart from covering state-mandated registration requirements, we will also show you how to expedite the procedure . Find out how to file a trademark in Texas and avoid potential infringement with DoNotPay!
Why You Should Register a Trademark
Trademarks and service marks are what separates your small business from marketplace competitors. Besides brand recognizability, using a trademark also ensures legal protection against attempts at fraud.
Here's a summary of the different levels of trademark protection you can acquire:
Local—The so-called common law rights are the most basic form of trademark protection that does not require registration and is limited to the local geographical area
State—The trademark protection laws of your state guard your brand against infringement
Federal—Your trademark is added to the public database of registered trademarks and protected in the entire U.S. territory
International—Following the international treaty, your trademark is recognized in the 124 countries that participate in the Madrid System
While you can gain trademark ownership through use in commerce alone, trademark registration comes with a slew of benefits. The biggest pros of having a registered trademark include:
Grounds for liability—If another individual or company uses the same trademark without proper authorization, you can sue them for infringement
Irrefutable proof of ownership—You can prove you are the legitimate trademark holder by presenting your registration certificate in court
Opportunity to block the import of infringing goods—The United States Customs and Border Protection (CBP) also accepts registration certificates as a basis for confiscation of counterfeit goods at the U.S. border
Increased brand appeal—Potential investors and venture capitalists also tend to react positively to trademarked brands
Texas Trademark Filing Requirements
If your company is located in Texas and you want to obtain state registration, you must comply with the state-issued requirements. Before you submit your petition, make sure the trademark is:
Currently in use—The filing basis for trademark registration in Texas is the use in commerce, i.e., ongoing application of the chosen mark. You cannot "reserve" a trademark on an intent-to-use basis. The goods and services it identifies must also be distributed within Texas state lines
Entirely distinctive—You need a distinctive trademark, meaning you cannot register a word, name, slogan, logo, or other symbols that merely describe your services. For example, if you try to file a generic username (e.g., @T-Shirt Printing), your application will be rejected
Available—You cannot use a previously registered trademark to reference your brand. Search the public database kept by the United States Patent and Trademark Office (USPTO) before you apply
Note that, unlike copyright or patents, trademark registrations can expire if not renewed in regular intervals. Dead trademarks are not listed in the USPTO database, but the holders can still retain certain rights, following IP laws.
How To Register a Trademark in Texas
To complete the Texas trademark application process, follow these steps:
Trademark Registration
Description
Classify your goods and services
Fill out the application form
The document includes the following sections:

Name of the applicant
Business address (city, ZIP code, and state)
Business structure (e.g., an LLC)
Name of current business partners
Description of the trademark
Trademark classes
Three trademark specimens that prove use in commerce
Trademark drawing (replica of how the trademark appears on your products)

Pay the filing fees

You must cover the initial cost of the trademark before you put in your request. The filing fee is $50 per trademark class and is completely non-refundable

Deliver the document to the authorities
After you complete the form, you can submit it one of three ways:

Mailing it to the Secretary of State, PO Box 13697, Austin, Texas 78711-3697
Delivering it to the James Earl Rudder Office Building, 1019 Brazos, Austin, Texas 78701
Sending it via fax to (512) 463-5709

Make sure the copy is printed in black ink and written in English
DoNotPay Offers the Fastest Way To Register a Trademark in Texas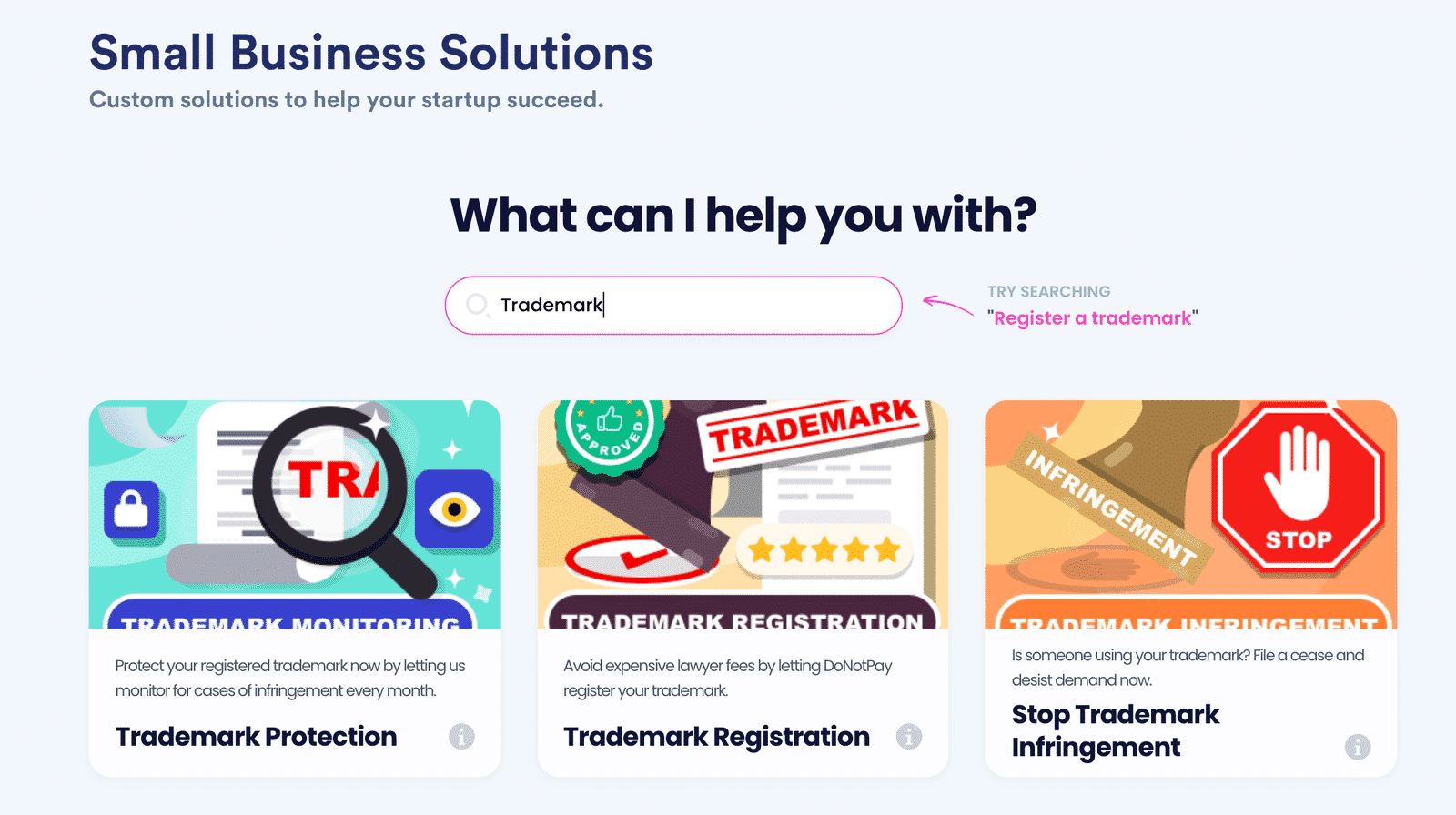 Trademark registration in Texas leaves no room for bureaucratic errors. If you do not file all the paperwork properly, the state examiner will reject your application. To make sure you pass with flying colors, try DoNotPay!
Our Trademark Registration product is the fastest and most precise way to get started with your Texas trademark application. The feature is user-friendly, so you will not have to enlist the overpriced services of an IP lawyer to get you through the process.
All you have to do is follow these simple steps:
Access the Trademark Registration product
Provide information about your business and desired trademark by answering questions from our chatbot
Verify that you have paid the filing fees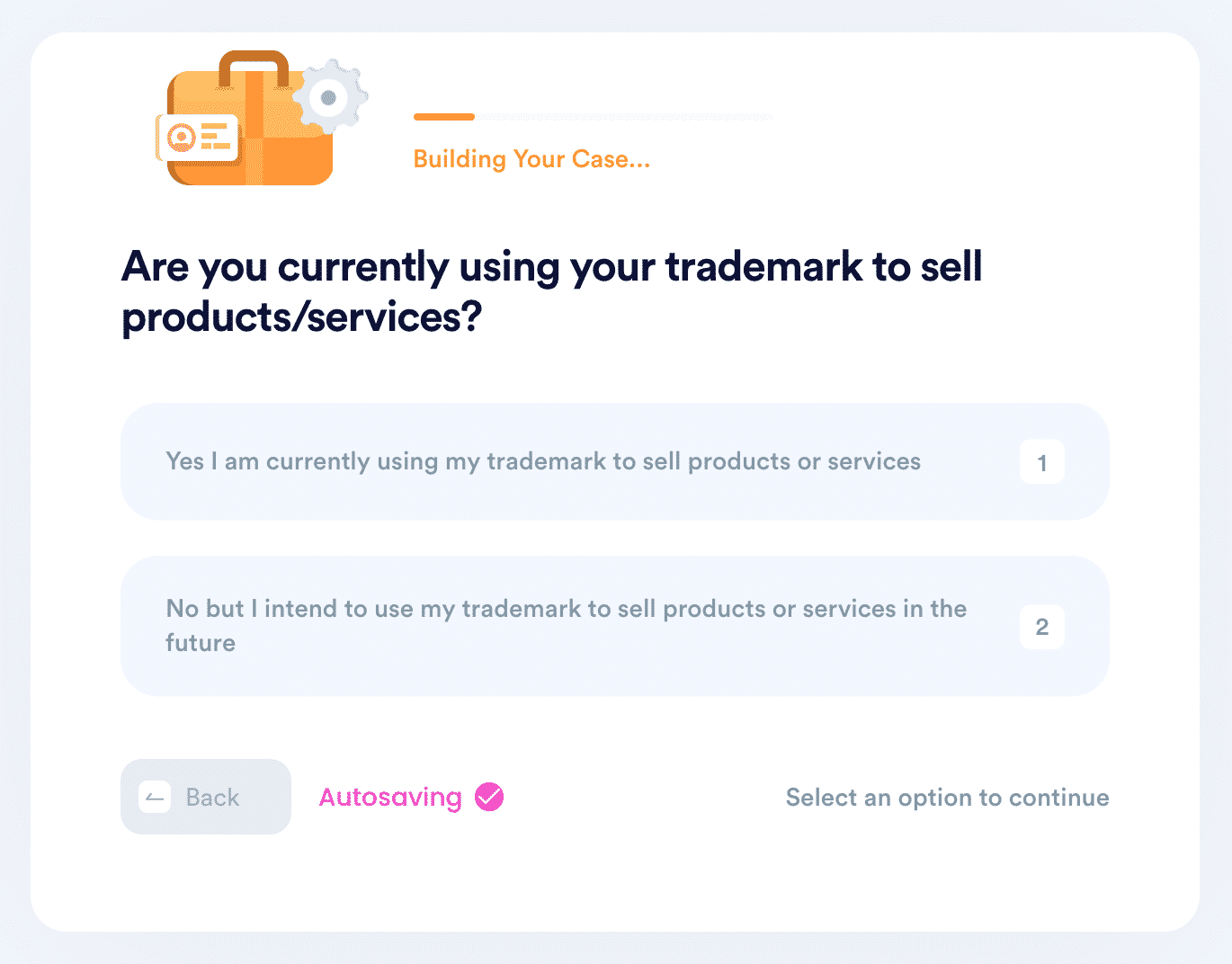 DoNotPay will check the USPTO database to make sure the trademark is free for use. You will then e-sign the application form, and our AI-operated app will forward it to the authorities.
Run Your Business Worry-Free!
Every beginning is challenging, which is why DoNotPay has everything you need to start running your business stress-free! We have created numerous easy-to-use products that will make boring administrative tasks easier to manage.
To help you get started, DoNotPay will assist you in taking care of trademark, Employer Identification Number (EIN), and DMCA agent registration, Privacy Shield self-certification, and business loan requests.
We can even help you maintain a good business reputation by:
Monitoring your trademark and filing a cease and desist letter in case someone tries to use it
Reporting fake negative reviews that could harm your business
Disputing illegitimate chargeback requests in a matter of minutes
DoNotPay Helps You Create and File a Number of Legal Documents
Why waste time worrying about how to draw up and file various legal documents when you can have the world's first robot lawyer do that in your stead? You do not have to waste thousands of dollars on lawyer's fees—our extensive database has a myriad of documents on offer.
DoNotPay will help you automate the procedure of completing and filing 83(b) election forms, write a formal demand letter requesting payment from clients who try to avoid it, and deal with other important paperwork.