The Lone Star State Supports Your Green Agenda With a
Texas Solar Property Tax Exemption
Texas is a state traditionally known for its oil, yet it is now one of the front-runners in the race to provide renewable energy to the nation.
Since 2015, Texas has been one of the net exporters of electricity in the U.S., thanks to a huge investment in solar power. This investment is backed up by property tax incentives for you to convert your home to solar energy.
Texas has no state income tax, so municipalities are forced to generate revenue through exorbitantly high property tax rates. While the U.S. national average sits at 1.07%, there are at least five municipalities in Texas with a property tax of over 2%, and the statewide average is 1.83%.
This is a hard annual blow for many homeowners, so many are looking for whatever ways they can find to lower their tax liability. Converting to solar power is an excellent way of achieving this and going green at the same time.
DoNotPay can help you find the best way to secure a Texas solar property tax exemption by switching to solar power.
How Is Texas Property Tax Calculated?
In Texas, your local authority calculates your property tax by multiplying the local tax rate by the assessed value of your real estate.
Your local tax rate is set annually by your municipality and takes into account the amount of money needed to fund local services, such as:
Public schooling

Libraries

Parks and recreation facilities

Police

Fire department

Garbage collection

Street lighting

Road maintenance
The state does not set property tax rates, and the result is that some counties in Texas fall among the most expensive for property tax in the U.S. There are cheaper areas, but Texas as a whole does not qualify as one of the states with low property tax rates.
The most expensive counties in Texas are:
| | | |
| --- | --- | --- |
| County | Tax Rate | Median Property Value |
| Harris County, Houston | 2.09% | $154,100 |
| Tarrant County, Fort Worth | 2.16% | $158,200 |
| El Paso County, Colorado Springs | 2.22% | $116,000 |
| Webb County, Laredo | 2.22% | $115,500 |
| Fort Bend County, Richmond | 2.23% | $233,300 |
The second part of the property tax equation is the assessed value of your real estate. The county you live in assesses the value of your property based on 100% of its fair market value, and the appraisal takes into account prices that similar properties have recently been sold for.
The result is that you may need help paying your property tax, as you could face an annual bill that puts a significant dent in your finances. Fortunately, there are ways to reduce your property tax by investing in renewable energy for your home. DoNotPay can help you take advantage of this tax break and secure any available discounts.
What Is the Texas Solar Property Tax Exemption?
Since 2014, Texas has been leading the drive towards renewable energy sources, and action on your part as a private property owner can give you a huge discount on your property tax bill.
The tax exemptions on offer differ from county to county, but across the whole state, you can apply for an effective freeze on property tax increases as a result of installing solar panels. Installing a solar energy system in your home increases its value, but counties and municipalities in Texas will reduce the assessed value increase on your home by 100% of the costs of the solar installation. This is renewable every year for ten years, with the installation's value depreciating by 10% annually.
Many Texas counties also offer a rebate on your energy bill if you install a solar system, making going solar a doubly rewarding choice to make.
DoNotPay Can Help You Apply for a Property Tax Exemption for Solar Installations in Texas
There are lots of hurdles to applying for any property tax exemption, but DoNotPay can help you get over them.
Our app asks for your location, gathers some basic information about you, and gives you customized recommendations on how you can secure all the exemptions you are eligible for. The app has two sections:
Property Tax Exemptions

Property Assessment Appeals
Property Tax Exemptions
The app checks what property tax exemptions are available in your area, what documents you will need to fill in and submit, and how your application should be filed.
Property Assessment Appeals
This section advises you on how to negotiate with property assessors and how to lodge an appeal against your property tax assessment.
How Do I Get DoNotPay's Property Tax Guide?
Getting our property tax guide is a simple three-step process:
Log in to your DoNotPay account using any

web browser

Look for the

Property Tax

feature

Answer our chatbot's questions

Wait while the app generates a customized guide to your property tax reductions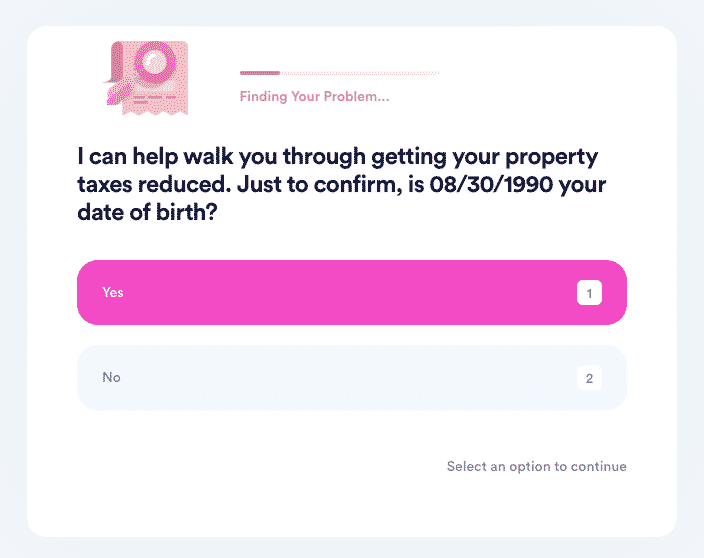 More Advice From DoNotPay on Reducing Your Property Tax in Texas
If you have secured all the exemptions you are eligible for in Texas, you can still do a few things to lower your property tax bill further:
Renovating or upgrading

Checking your property tax bill

Working with the assessor
Renovating or Upgrading
If you improve your property, you should remember that its value may increase, meaning your property tax will go up after the next assessment. Upgrades, additions, or improvements that will bump your property's value up are best avoided.
Checking Your Property Tax Bill
It is worthwhile making sure every detail of your property tax bill is 100% accurate, including the personal details, the mill rate, and the assessed value.
Working With the Assessor
If you are present when the assessor appraises your property, you can point out any factors that affect the value of your property and provide any information on recent property sales in your area to make sure the assessment is fair.
Unfair property assessments can be contested or appealed, but this should be your last resort. DoNotPay is here to help you understand the appeal procedure, get the necessary documents together, and lodge your appeal.
Other Property Tax Exemptions in Texas
Texas also offers property tax exemptions in the following categories:
Homestead exemption

Senior citizens' and disabled persons' exemption

Disabled veterans' exemption

Veterans' surviving spouse exemption
Homestead Exemption
The state of Texas offers a basic $25,000 reduction in the appraised value of your property for owner-occupiers, and some counties offer an additional exemption of up to 20% of your home's value.
Senior Citizens' and Disabled Persons' Exemptions
Residents over 65 or disabled persons in Texas can be eligible for an exemption for senior citizens or disabled persons of up to $10,000 in most counties.
Disabled Veterans' Exemption
As a Texan disabled veteran, you qualify for an exemption of up to $12,000, the exact amount depending on your age and degree of disability.
Veterans' Surviving Spouse Exemption
The unremarried surviving spouse of a veteran qualifies for the same exemptions as a disabled veteran.
DoNotPay Breaks Down Communication Barriers
Communication and new technologies walk hand in hand, and DoNotPay can smooth out any bumps on that road. On our platform, you can find useful tools for avoiding phishing emails and text messages, sending faxes online, stopping annoying robocalls, or signing up for new services without phone verification.
Contacting customer support is no party, but DoNotPay can make the process so much easier, whether you need to request a refund, demand compensation for a canceled flight, or file a warranty claim.
You can even use our platform for locating your loved ones in prison and sending them letters the proper way!
Can Your Virtual Assistant Do This?
Hey, Siri! Make me ready for my upcoming small claims court appearance. No luck? OK, Google! Prepare a DMCA notice for that website that uses my photos without authorization. Still nothing?
DoNotPay is the virtual assistant that won't back away from issues that require legal expertise. Our lawyer bots work around the clock to get you due date extensions for utility bills, reduce your property taxes, or stop stalking and harassment before it gets ugly.
The world's first robot lawyer will provide assistance even with securing compensation for victims of crime!