Texas Residential Lease Agreement From A to Z

Being a landlord comes with its perks, including a passive income, but it can be a hassle when you need to take care of legal documents, such as a lease or rental agreement.
If you don't want to waste money on a lawyer or get an unreliable free template online, we've got a solution for you! We can help you draw up a Texas residential lease agreement with ease.
What Is a Residential Lease Agreement?
A residential lease agreement is a legally binding contract between a landlord and a tenant. Typically, it lasts one year, but it can be longer or shorter.
The purpose of this agreement is to protect both parties. It should consist of the rules and responsibilities of the landlord and the tenant during the lease term.
Every state has different landlord-tenant laws. This is why you need to understand the intricacies of writing a contract according to Texas state law.
Texas Lease Agreement Explained
While some landlords' and tenants' rights are universal in all 50 states, there are certain aspects of the Texas landlord-tenant law that you should be aware of. Check the table below for a detailed overview of a few Texas regulations:
Required Landlord Disclosures
Security Deposit
Tenants Withholding Rent

Towing or parking policies

Course of action if a landlord fails to make repairs

Identity of a person authorized to act on the landlord's behalf

Landlords are not required to ask for a security deposit

The amount of a security deposit a landlord can demand isn't limited

Landlords must return the deposit within 30 days after a tenant moves out

Fees that are non-refundable can be imposed (e.g., for redecorating)

Tenants may withhold rent if the landlords refuse to fix an item of importance (e.g., a heater)

A tenant can repair a major issue in the home and deduct the cost from the rent
What Should the Residential Lease Agreements in Texas Cover?
A Texas residential lease agreement should follow the state law but also include the specificities of the landlord's and tenant's wishes. This is why it's not always a good idea to get a free printable basic rental agreement because it may not include a clause specific to your situation.
Here are some of the most important terms that a Texas residential lease agreement should cover:
Names of the landlord and all occupants

Term of the tenancy—fixed term or a month-to-month agreement

Rent:

Amount of rent

Due date

Payment method

Late fees

Security deposit

Responsibilities for repairs and maintenance

Rules regarding pets

Landlord's rights to enter the rented property
Why Is a Lease Agreement Important?
Drawing up and signing a residential agreement is for the benefit of both the landlord and the tenant.
The main reason why it's crucial to have one is protection. A lease agreement would protect a tenant's privacy by limiting the landlord's entry to the property. A landlord would be protected financially by rent and late fee clauses in the lease. Both parties would feel safe because a tenant cannot walk out without paying at any moment, and a landlord cannot evict a tenant for no reason.
What Happens After Failure To Honor the Lease Agreement in Texas?
Making the lease agreement as detailed as possible should prevent any unpleasant surprises in the future. For example, a tenant might leave early, or a landlord may unlawfully keep the security deposit.
The worst-case scenario would include financial strain and a lawsuit for breaking the agreement.
If someone must break the contract, it's a good idea to negotiate with the other party beforehand and try to find an amicable solution.
Draw Up Your Texas Rental or Lease Agreement With DoNotPay
You can count on DoNotPay to generate a rock-solid residential lease agreement for a property in Texas. All you have to do is provide us with the necessary info, and we'll create a unique contract based on Texas laws and the landlord and tenant's wishes.
Here's how it works:
Open DoNotPay in any

Type in

Residential Lease Agreement

in the search bar

Answer a few of our chatbot's questions
Once you submit your details, our AI-powered app will whip up the legal document for you so that you can review and sign it as soon as possible.
Do you need any other contracts in Texas? DoNotPay will deliver! You can use our app to obtain a non-compete agreement or a real estate contract in a flash.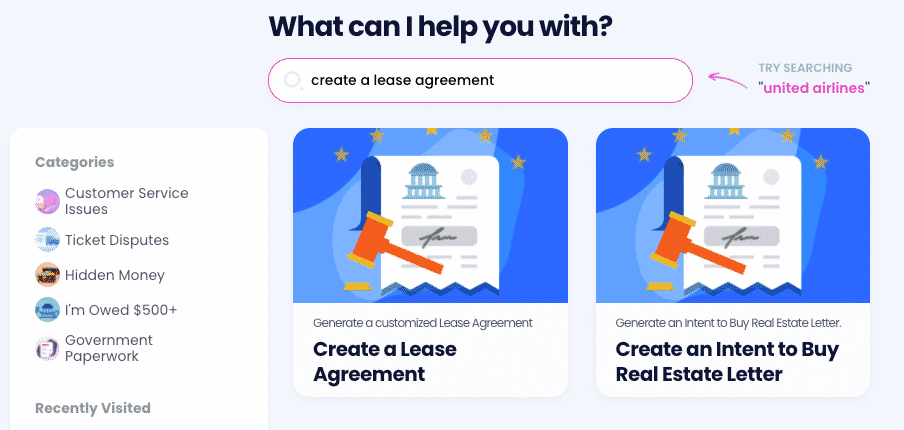 What Other Agreements Can DoNotPay Help Me With?
Our database has a wide selection of agreements we can guide on and create for you, and the list keeps growing. Rely on to provide you with the following legal documents:
Business
Real Estate
Other

General business contract

Intent to purchase real estate

Estoppel certificate

Quitclaim deed

General affidavit

Promissory note

Admin Issues Giving You a Headache? Resolve Them With DoNotPay!
Scheduling a DMV appointment, applying for clinical trials, requesting refunds from companies, and getting in touch with your loved ones in prison are all difficult and time-consuming tasks. You have to take many steps before you can get any of these over with, and that's why our robot lawyer app is here to help.
No matter if you need assistance with appealing parking tickets, signing up for free trials, canceling various subscription services, or maybe preparing for government tests, DoNotPay will provide you with easy solutions.
Having Financial Struggles? Rely on the World's First Robot Lawyer
Many Americans struggle to make their ends meet at the end of each month. With that in mind, we've created plenty of features that will save you both time and money in the most efficient way.
Using our AI-driven app, you can get help with bills, get refunds from airlines, find unclaimed money in any state, or earn off annoying robocalls or stalkers and harassers. If you want to fight for your right, DoNotPay will also assist you in suing any person or company in small claims court.
No matter the admin task at hand, our robot lawyer will provide swift and effective assistance.