Do I Qualify for Texas Property Tax Exemptions for Veterans?
You may need help paying taxes in Texas as it's one of the states with the highest property tax rates—1.69%. An average homeowner in Texas pays around $3,390 in property taxes a year.
One strategy that can help you lower your taxes is applying for property tax exemptions, and the veterans' exemption is one of them.
This article will help you understand Texas property tax exemptions for veterans, help you apply for them, and shed some light on other ways you can lower property taxes in Texas.
The Lone Star Property Tax
Every appraisal district in Texas counties calculates property taxes, which means the property tax rate in your location could be higher than the state average. The tax rate is determined based on the total property value and total revenue need.
Paying property taxes helps fund:
Check out some of the counties with the highest tax rates:
To make matters worse, you may be paying high property taxes by mistake. There are too few tax assessors compared to the number of homes that need to be assessed. This is why many homes are not properly assessed each year. The assessors may check the average home values in the area without actually assessing your home, so you end up with a higher tax bill.
Do Veterans Have To Pay Property Taxes in Texas?
Yes and no. Some veterans may be totally exempt from paying property taxes on their primary residence, while others are only partially exempt. If you are a veteran, you are not automatically qualified. There are certain steps in the application for this property tax exemption to follow. We'll break down different veteran exemptions, and you can use our guide to apply for them with ease.
The Texas Property Tax Exemption for Veterans Explained
The veterans' property tax exemption in Texas has different types. Check the table below for a detailed overview of the exemption depending on your situation:
Eligibility Factors
Property Tax Exemption

Disabled veteran

Surviving spouse

Surviving child

Partial exemption on any property you own

Disabled veteran

Surviving spouse who has not remarried

Surviving child

Partial exemption on your primary residence that charitable organizations donated to you

100% disabled veteran due to a service-connected disability

Surviving spouse who has not remarried

Total exemption on your primary residence

Unmarried surviving spouse of a member of the U.S. armed services killed in action

Total property tax exemption on the primary residence
Property Tax Reduction for Disabled Veterans in Texas
Some counties may allow disabled veterans to apply for more than one property tax exemption, depending on their disability. Here are examples of what exemptions you could combine:
What if I Don't Qualify for the Veteran Property Tax Exemption in Texas?
In case you're not eligible for a veteran exemption, you may qualify for other property tax exemptions in Texas, such as:
DoNotPay's Property Tax guide will show you which exemptions you can apply for and how to do it!
Get the Texas Disabled Veterans' Property Tax Benefits With DoNotPay
Going about property tax exemptions can be overwhelming due to the red tape and the differences among counties, which could make you give up applying for them altogether.
With DoNotPay's Property Tax guide, you'll get step-by-step instructions and explanations every step of the way. Our personalized guide focuses on two strategies for lowering your taxes:
Applying for property tax exemptions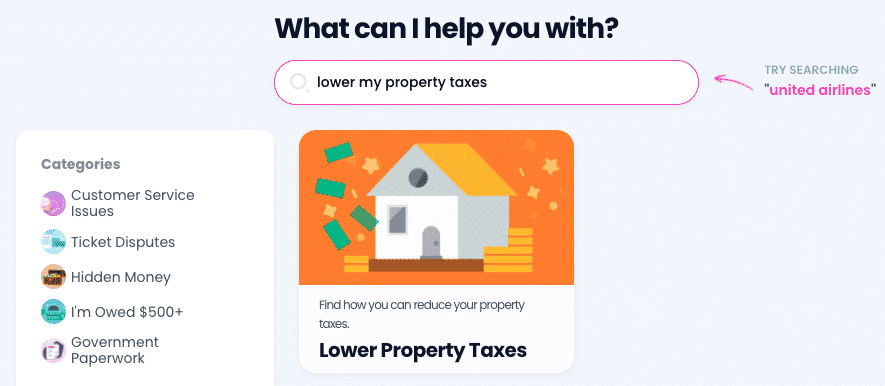 To receive our guide, open DoNotPay in a web browser and follow these instructions:
Navigate to the

Property Tax

feature

Provide the necessary info, such as your age, income, and location

Answer several questions about your property
Our app will generate the Property Tax guide in a flash!
Tips for Lowering Your Property Taxes in Texas
You don't have to live in one of the states with low property taxes to pay less. Here are some money-saving tips:
Fighting Administration Is Easier With DoNotPay
Bureaucracy is a disease of the modern world, and we finally have a cure. Thanks to artificial intelligence, DoNotPay knows how to handle numerous rules and regulations and make your life so much easier. 
Our bots ask you a few questions, gather the necessary info, and off they go! Filing warranty and insurance claims, requesting property tax reductions, getting access to public records, or claiming unclaimed funds under your name—you can deal with these bothersome tasks from the comfort of your home and within minutes!
If you need to get in touch with customer service representatives to ask for refunds or contact airline companies regarding compensation, our platform will make the process painless and care-free.
Don't hesitate to put our app into service if you need to contest parking tickets or avoid long lines at your local DMV!
How Else Can We Help?
Not only does DoNotPay handle bureaucracy, but it also saves you money in the process. Whether you're looking for the best learning materials for government tests or planning to comb through and cancel streaming subscriptions you don't use, DoNotPay can give a helping hand.
Our platform grows every day and comes with user-friendly features that will help you manage unpaid bills, stop copyright violation, or solve problems with credit cards faster than ever!