Here's What You Should Know About a Texas Property Tax Assessment
If you're about to purchase property in the state of Texas, you must learn how the Texas property tax assessment works.
Texas isn't known for being a state with a low property tax rate, which is why you may need help paying your annual tax bills. In that case, DoNotPay has your back!
This article helps you learn about:
Texas property tax assessments
Property tax appeals and how to file them
Property tax exemptions and how to apply for them
Learn how to lower your tax bills in Texas without wasting time or effort!
Property Tax Assessment Law in Texas—How Does It Work?
Since there are over 200 counties in Texas, concrete information about how property tax assessments work isn't easy to find right away. Each county has its own:
Tax rate determined by the local tax units
Rules regarding when and how often properties are appraised
Laws covering property tax appeals
Tax relief programs and their eligibility criteria
Paying your property tax bills starts with the tax assessment process, which is why you need to understand how it works.
A county tax appraiser comes to your home to assess its market value, which is the price your property would be sold for. To determine the value of your home, the tax appraiser looks into the:
Price you paid when buying the property
Lot size the property sits on
Square footage of the house or apartment
Number of bedrooms and bathrooms in your home
Market value of surrounding properties
Desirability of the area you live in
Defects your home has
Installations or improvements you made on your property
When the tax appraiser estimates the value of your home, they multiply the number by your county's tax rate to determine how much your annual tax payment will be.
What To Do During Your Assessment To Reduce Your Tax Bills
You can do a lot to lower your property taxes in Texas during the assessment alone, including:
Getting information about your home's history—How old your home is can influence its assessed value. Knowing the information about your property's history helps you determine whether there are any discrepancies in your tax bills later on
Finding out what the properties in your neighborhood are valued at—Research the market values of the homes in your area to see whether the information adds up. For example, if you and your neighbor both have four rooms and a bathroom in your home but yours is appraised higher than theirs, your tax assessor might have made an error
Being present during the assessor's walkthrough and inviting them inside—If you stay by the appraiser's side during the assessment, you can see right away whether they are making any mistakes while assessing your home's value. You should also invite them inside to make sure they see all the defects (if there are any)
Delaying any improvements you plan to make—If you have plans about refurbishing your home or adding any improvements, leave them for when the assessment is over. That way, the improvements won't be added to your home's appraised value, and your tax bills will be lower
What if You Disagree With Your Home's Appraised Value?
Your county's tax appraiser is obliged to give you your property assessment record. When you get it or your first tax bill, you should read it carefully to see whether there are any errors.
If you believe your home's value was appraised higher than it should have been, you can appeal it.
As noted, each county in Texas has specific rules about where and how you can appeal your property tax assessment. In most cases, you have to:
Fill out a form
Send the form to the local tax unit along with other documents
Pay a fee
Wait to see whether your appeal can be sorted out without a court hearing
Gather the evidence that proves your assessment is incorrect
Protest your property's assessment in court if it comes to that
Other Ways You Can Reduce Your Property Tax Bills in Texas
Like all states, Texas has a variety of different tax exemption programs for citizens that help you pay your property taxes.
If you are eligible for a tax exemption, a part or the entirety of your home's assessed value can be reduced, which automatically lowers your annual tax bills.
Check out the table below to see some of the most common tax relief programs in Texas:
These are not all property tax exemptions in Texas you may qualify for. Since these programs are confusing, DoNotPay has designed a product that helps you get all the information you need in one place.
When you make a DoNotPay account, you can get a specific guide that tells you what property tax exemptions you are eligible for and how to apply for them.
How Do You Get DoNotPay's Guide on Reducing Property Taxes?
The best aspect of our product is that it takes only a few minutes to get you all the information you need. Here's what you should do:
Go to our Property Taxes product
Answer our chatbot's questions about yourself and your property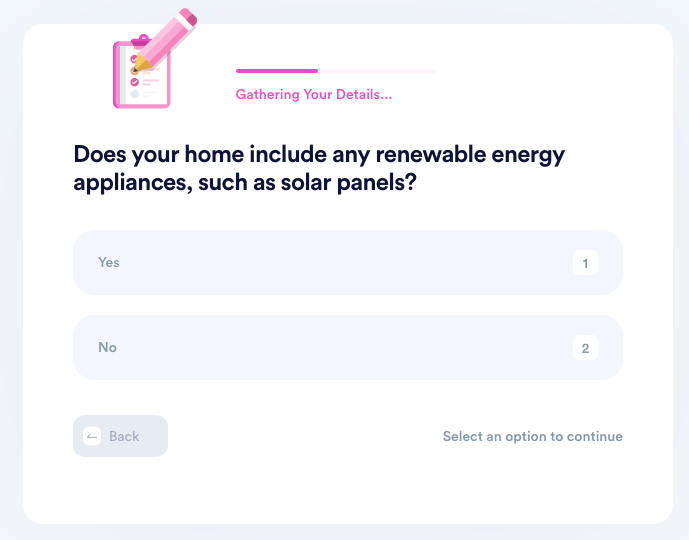 Besides getting all the info about property tax exemptions in Texas, our app also helps you appeal your property tax assessment.
Instead of browsing through countless websites and making a trip to your local tax office, let our app generate a guide for you to find out:
What documentation you need when appealing your tax assessment in Texas
What forms you need to fill out and where to send them
How to gather the evidence that helps you win your case
What to do during your court hearing
Do You Know What Else You Are Eligible For?
DoNotPay is a handy virtual assistant that can reveal a world of possibilities that you may not have even been aware of. We've perfected our algorithms to identify opportunities for you to save up and take charge of your rights.
Here's a fraction of what we can do for you:
What Else Is New With DoNotPay?
DoNotPay boasts several new features that can help make your everyday life so much easier.
Have you been wondering how to file an insurance claim but weren't sure where or who to turn to? We'll gladly do it for you.
Are you tired of outdated faxing practices and manual documentation? Our app can provide you with an online fax solution and draft all your legal paperwork in no time at all.
Do you need a safe place to prepare for your upcoming government test? DoNotPay will give you all the prep tests you need.
We can help out with locating an imprisoned loved one and keeping correspondence with them via our virtual mailbox.
See what else DoNotPay has in store by accessing our web app in any browser.