Texas Property Tax Appeal
—Easy Ways To File It
With an average tax rate of 1.69%, Texas is not among the states with the lowest property tax in the U.S. This means that you could lose a huge chunk of your money each year unless you come up with ways to reduce your property tax bill. 
You don't have to struggle with figuring out how to save on taxes by yourself! DoNotPay provides you with a simple and quick guide on lowering your property tax bill and teaches you how to file a Texas property tax appeal!
What You Need To Know About
Texas Property Tax Appeals
The property owners in Texas have the right to protest and appeal their property tax assessments. Consider filing an appeal if you are concerned about:
The appraised value of your property

Any inclusion of your home or property on the appraisal records

The exemptions that you qualify for

The Chief Appraiser or Appraisal Review Board (ARB) failing to send you a required notice

The taxing units that tax your home or property

The change of use of land that receives the special appraisal

The property ownership
How To File a
Texas Property Tax Appeal Form
If you disagree with the appraisal, you can file your property tax appeal with the Attention Appraisal Review Board (ARB). You will need to fill out and submit the 50-132, Notice of Protest form. After you file the appeal, you will receive a specific time and date for your hearing with the ARB.
Most districts will review your appeal and try to have your issue resolved before the hearing.
Prepare Your Texas Property Tax Appeal Fast With DoNotPay
DoNotPay makes appealing property tax assessments a stress-free experience! We create a custom-made guide that will show you how to get:
Access to forms that you need to complete

Info on what documents you need to prepare

Clear instructions on how to file your appeal
Here's how to gain access to the guide:
Go to any web browser and

visit DoNotPay

Locate and tap the

Property Tax

feature

Provide us with a few short answers about your property
Our step-by-step guide contains relevant info on negotiating with your local assessor and compiling evidence to reduce your home's assessment value. That is not all DoNotPay can do! We can even help you reduce your property taxes before the assessment!
DoNotPay Helps You Find Property Tax Exemptions
Do you know there are numerous ways to reduce your property taxes? The most popular are property tax exemptions. 
Our guide will help you with more than filing your tax appeal. We offer you the fastest way of finding property tax exemptions you are qualified for based on the info you provide! 
If you need help with paying your property taxes, DoNotPay is the way to go.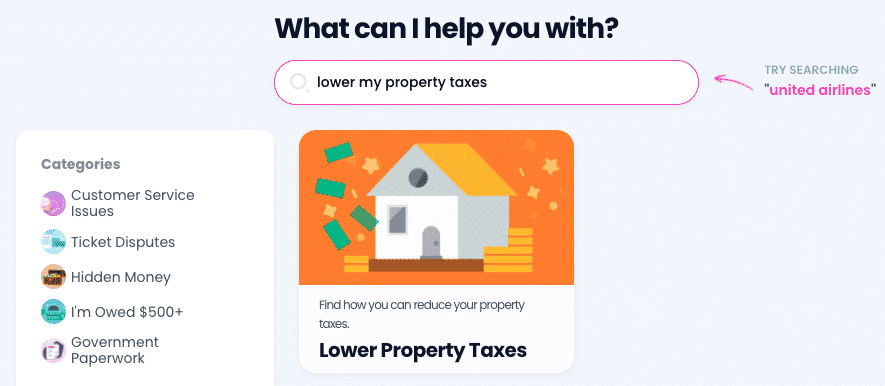 Popular Property Tax Exemptions in Texas
The most efficient way of reducing property taxes in Texas is to apply for exemptions you qualify for. We'll list some of the common property tax exemptions in Texas below:
Homestead Exemption
With a homestead exemption, you can remove a part of your home or property value from taxation. You are eligible for it if you are the owner of the property and you are occupying it as your primary place of residence.
Exemption for Disabled Veterans
Disabled veterans are granted a special type of property tax exemption. Any veteran who is completely disabled due to their service in the military is eligible for the disabled veteran exemption in Texas. They have to provide proof of their disability when applying for the exemption.
Exemption for Senior Citizens
Homeowners who are 65 years of age or older can be eligible for the senior citizens exemption as long as they meet the income limitations mandated by the State of Texas.
Exemption for People With a Disability
People with disabilities are generally offered an exemption on their home or property. They have to offer proof of their disability and meet the income limitations as well as other qualifying criteria set by the state.
Additional Ways To Lower Property Taxes in Texas
If applying for property tax exemptions isn't enough, you can try additional methods of reducing your property tax bill. Look at the table below for the easiest way to do it:
| | |
| --- | --- |
| Method | What To Do |
| Avoid home renovation projects | Skip all home improvement projects to ensure that your property tax bill isn't any higher than it needs to be |
| Check your tax bill | Double-check your tax bill once you receive it to make sure the assessor didn't make any errors |
| Be present during the assessment | Keep the assessor company while they are evaluating your property to be certain they are doing a good job |
Can't Afford a Lawyer? DoNotPay Will Jump In!
Did you know that you don't have to waste money on expensive legal help just to get rid of some minor bureaucratic issues? DoNotPay is here to save you hundreds of dollars with ready-to-use solutions that require mere minutes.
Our AI-powered bots gather the most important information via short questionnaires, draft required legal documents, and provide you with online fax services. If you need specific public records to support your case, we'll point you in the right direction.
With our virtual lawyer's help, you will be able to:
Spend Your Time on More Enjoyable Activities
With DoNotPay's help, you're bound to have more free time. If you're considering a new streaming platform subscription, make use of its free trial without worrying about unwanted charges. Need to get rid of other subscriptions? Use DoNotPay to cancel them without contacting customer support centers.
Don't worry about phone number identification at the signup. With our Burner Phone feature, spam text messages won't be bothering you ever again!