How To Obtain A Texas Hunting License At Home
In Texas, hunting is more than a hobby or sport; it's a way of life. Not only is hunting a great way to socialize, but you can also offset your grocery bill with a freezer full of fresh deer meat each year.
However, before you can go hunting, you need to get a Texas hunting license, so everything is legal and above board. You might have tried to get a hunting license on your own in the past and found it frustrating. The DoNotPay app is ready to make this essential chore a breeze.
Who Is Eligible to Get a Texas Hunting License? 
In Texas, a hunter must be over the age of eight and pass the Hunter Education Training Course. Once you meet those criteria, you can purchase a hunting license whether you're a resident of the state or not. You need to ensure that you purchase the hunting license that best suits your needs and circumstances.
Hunting in Texas
In Texas, there are many opportunities for hunting in a host of landscapes. The state is home to many public lands and State Parks, where you can hunt. Some animals you can hunt in the state, include:
White-tailed deer
Mule deer
Desert bighorn sheep
Pronghorn antelope
Gray squirrel
Waterfowl
Small game
What Are the Different Types of Hunting Licenses in Texas?
When you're ready to buy your Texas hunting license, it's essential that you get the one that best suits your situation. Here are some to consider:
Resident - In Texas, you're required to live in the state for at least six months to qualify for this license. Also, non-residents between the ages of 12 and 17, and active-duty military need to choose this license.
Youth - A resident of Texas between the ages of 12 and 17 need to purchase this license.
Non-Resident - If you're from out of state and 18 years old or older, you'll need to purchase a non-resident license.
Senior - If you're a Texas resident age 65 or older, you qualify for this reduced-priced license.
Hunting License Costs in Texas
With a variety of Texas hunting licenses available, you'll wonder how much they cost, and the price ranges between $7 and $305. Here's a look at some costs:
| | |
| --- | --- |
| Type of License | Cost |
| Resident | $25.00 |
| Youth | $7.00 |
| Non-Resident | $305.00 |
| Senior | $7.00 |
How Much Is the Fine for Hunting Without a License? 
You might think you can get away with hunting without a license. However, if you're caught, there's a $165 fine for a Texas resident without a license and a $465 find for a non-resident. 
How to Get a Texas Hunting License on Your Own
In Texas, there are only two ways to get a hunting license, retail agents and online. You can visit the Texas Parks and Wildlife website to buy your Texas hunting license online.
Solve the Challenges of Getting a Texas Hunting License With the Help of DoNotPay
When hunting season arrives, you want to be ready to head out into the woods on opening day. In addition to cleaning your guns and mending your hunting clothes, you need a Texas hunting license. You can get a hunting license on your own, but you might not have a lot of extra time to devote to the task. DoNotPay can help you get your license without any hassle.
Here's how you can use DoNotPay to get your hunting license:
1. Search "hunting license" on DoNotPay and select the state you would like a hunting license for.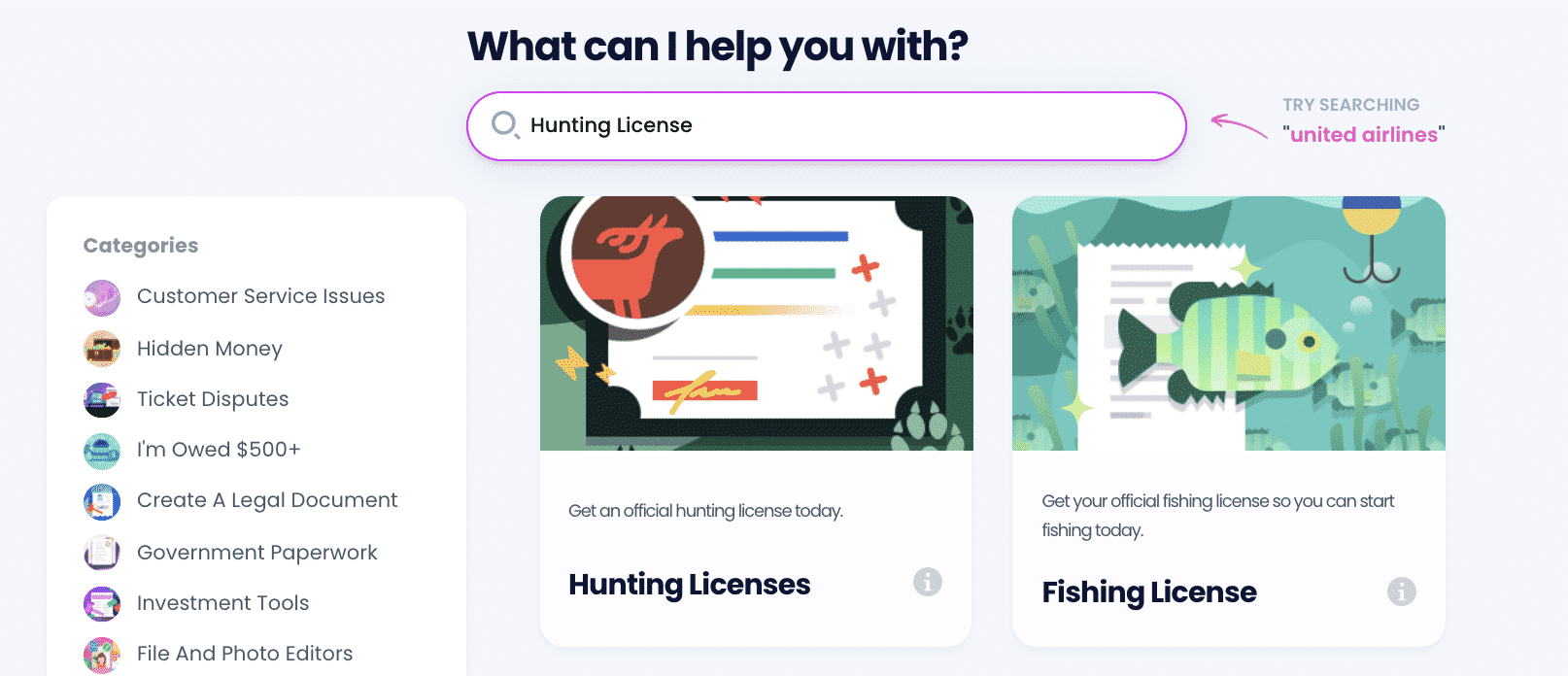 Indicate whether you are a resident or non-resident, and choose the type of license you want.
2. For example, an annual or one-time pass, big game or small game license, bear tag, etc.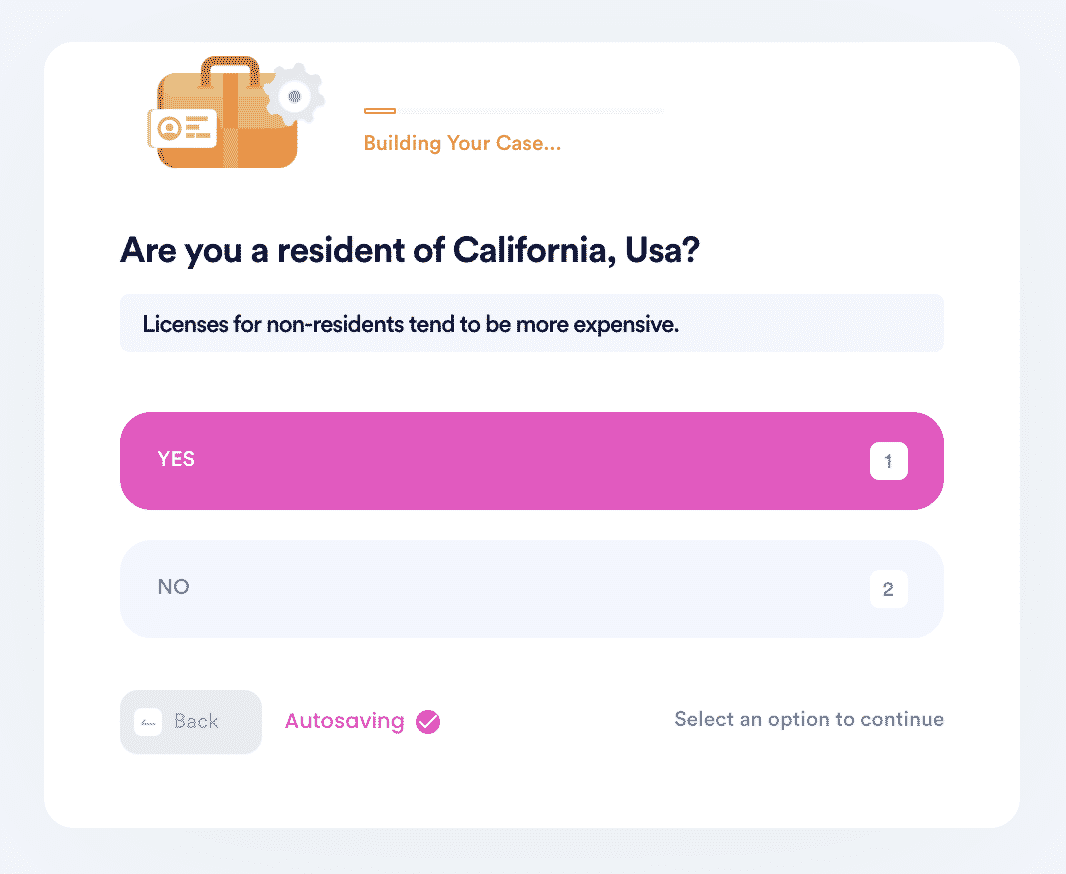 3. Provide your contact information, a copy of your government-issued ID, and pay the fee required by the state.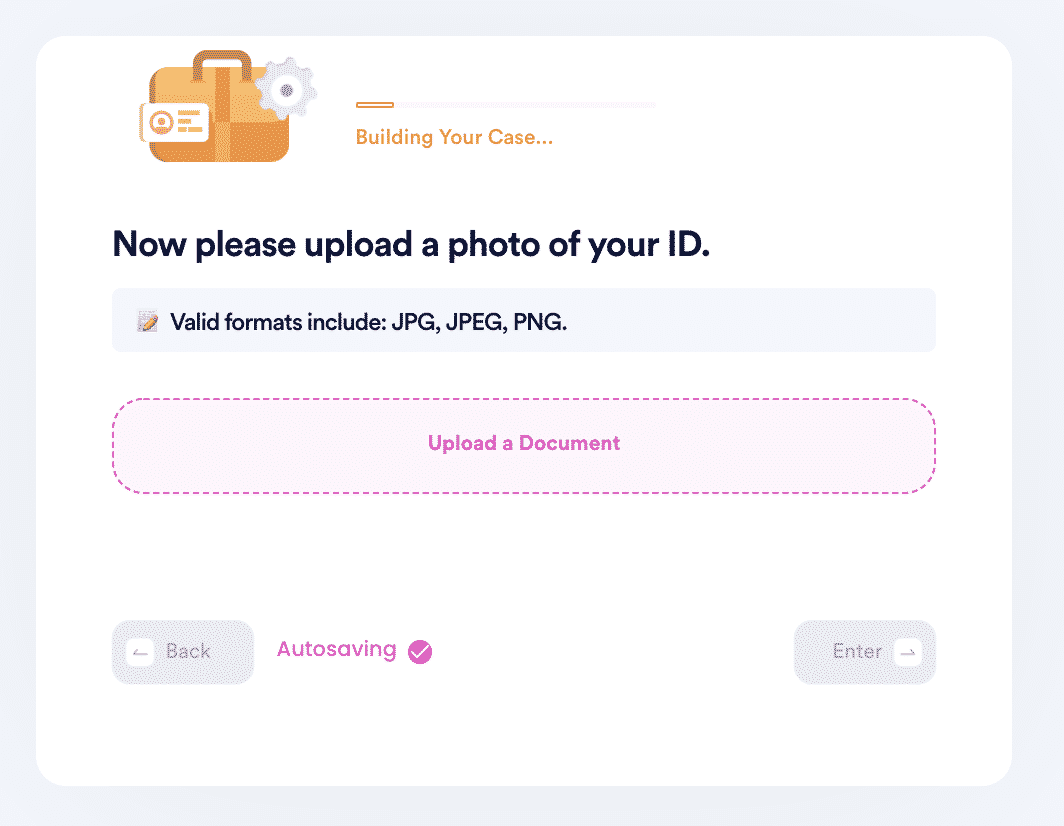 And that's it! DoNotPay will get the hunting license on your behalf, which will be valid immediately. Just download the file and print it as a temporary license, while a physical copy gets processed and sent to you by mail.
​​Why Use DoNotPay to Solve the Challenges of Getting a Texas Hunting License
When you need a Texas hunting license, there's no need to put yourself through the stress of trying to get one on your own.
It's fast! DoNotPay will save you from long wait times on the phone and endless queues when purchasing a license from the store.
It's easy! We simplified the process for you. All you have to do is fill out an intake form once and we will do the rest of the paperwork for you. No stress.
It's successful! We guarantee results 100% of the time. No guessing if you'll get a hunting license, you can take our word for it.
DoNotPay Works Across all Companies/Entities/Groups With the Click of a Button
Your friends and family are going to be envious of how quickly you were able to get your Texas hunting license and ask for your help. The DoNotPay app can provide information on a variety of hunting topics, such as:
What Else Can DoNotPay Do?
With the DoNotPay app, you can accomplish many tasks. Here are a few of the most popular:
Order your Texas hunting license now with DoNotPay!