Texas DMV Power of Attorney—All the Details in One Place
If you need a Texas DMV power of attorney, you are about to learn that the process of obtaining it is a bit complicated. DoNotPay provides you with all the relevant information you need regarding this POA. Our app can also help you make any durable power of attorney in a matter of minutes!
What Is a Limited DMV Power of Attorney in Texas?
A limited DMV POA transfers specific powers for handling motor vehicle transactions from a grantor (often referred to as a principal) to a third party, called a grantee or an agent. The document gives the agent the following rights:
Full power of substitution—The person who is given this power of attorney may delegate their authority further to another individual to act in their place by a substitute power of attorney
Complete authority to perform every act necessary
Permission to transfer, purchase, and assign the legal title of the motor vehicle
A power of attorney for the Texas DMV comes in a specific form—VTR-271. Make sure you fill it out correctly and add the signatures of both parties in blue or black ink. You should not make any changes to the form and must attach a photocopy of photo IDs of the principal and agent.
If you want to complete a title assignment on a motor vehicle subject to federal odometer disclosure, you will need to complete a separate form. It is a power of attorney for transfer of ownership of a motor vehicle or Form VTR-271-A.
Where Can You Find a Texas DMV Power of Attorney Forms?
To find a power of attorney form for motor vehicles in Texas, follow these steps:
Visit the Texas Department of Motor Vehicles website
Click on Forms
Type in VTR-271 in the search field
Open the form and fill it out
What To Include in Your Power of Attorney for Motor Vehicles in Texas
When filling out a POA for the DMV in Texas, include the information listed in the table below:
Vehicle Information
Grantor and Grantee Information

Vehicle identification number (VIN)
License plate number
Model
Year
Body style

First name
Last name
Middle name
Address
City
County
ZIP code
Both parties must sign the document and add the creation date.
Get Your Texas DMV Power of Attorney Notarized With DoNotPay's Help
Notarizing a DMV POA is mandatory in most states, including Texas. You don't need to visit a notary's office in person and waste your precious time on this tedious administrative chore. DoNotPay connects you with an online notary who can certify your power of attorney or any other document over a video call.
Subscribe to DoNotPay, choose our Notarize Any Document tool, and we'll streamline the process for you.
What Other Powers of Attorney Are Available in Texas?
Powers of attorney have a wide purpose, and you can use them whenever you need help with handling your affairs, whether you are temporarily unavailable or otherwise incapacitated. Here are the common power of attorney types in Texas and throughout the States:
Creating a Durable Power of Attorney in Texas Is Simple With DoNotPay!
If you wish to tackle the task of creating a durable power of attorney, the easiest way is DoNotPay. Our app can help you make a POA perfectly suited for your needs in a few easy steps. You only need to:
Type in Power of Attorney in the search bar
Tell us what you wish to include in your POA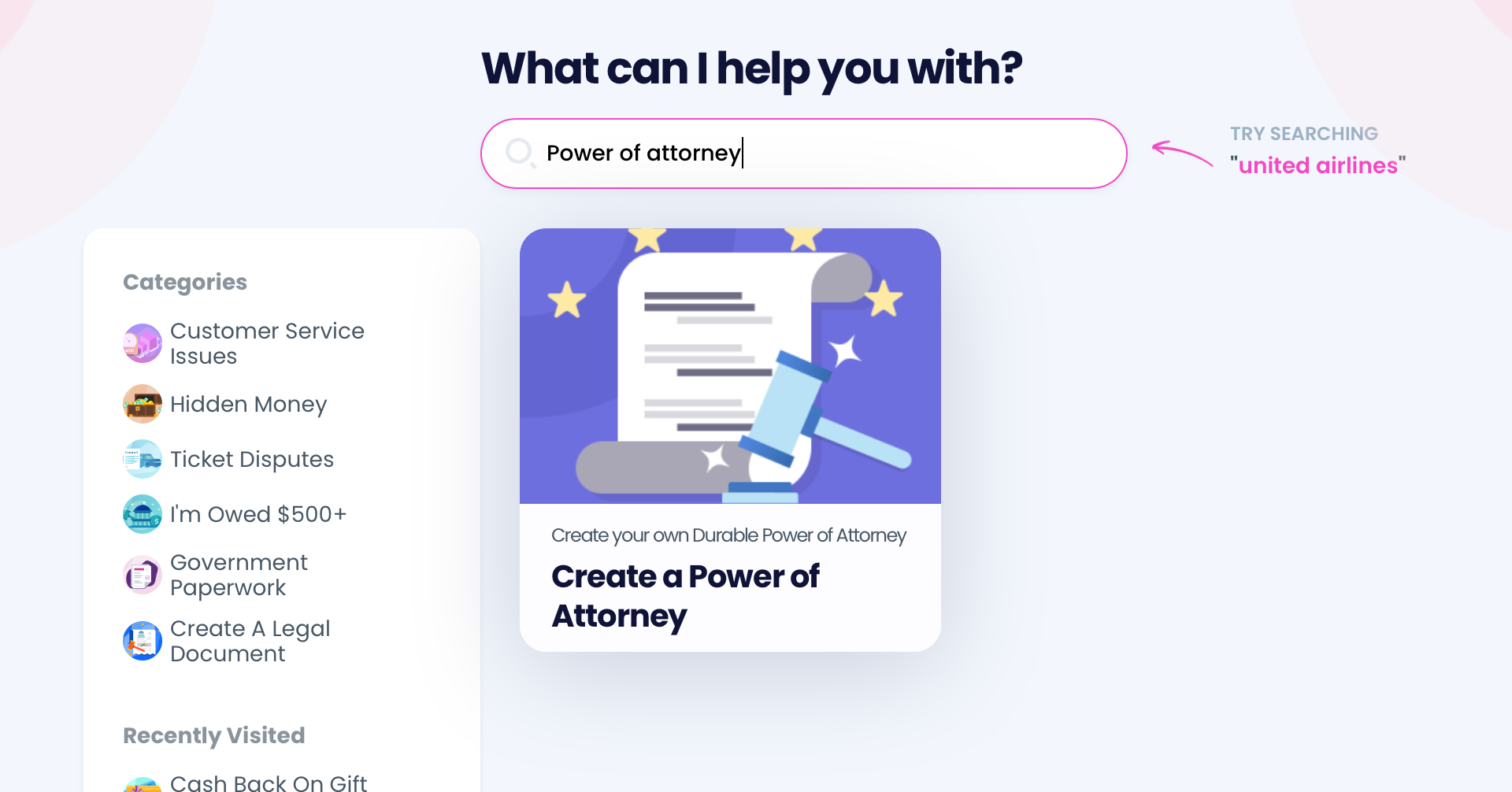 Additional Power of Attorney Information You Could Find Useful
If you are looking for more info about the power of attorney document, turn to DoNotPay for details. Here are some common questions we can answer:
DoNotPay—Quality and Quantity
Our platform provides a multitude of useful tools, products, and services that anyone can benefit from. DoNotPay is a proper virtual assistant that can minimize your paperwork, protect your consumer rights, increase your productivity, or keep you safe online.
The best part is that we keep adding more awesome features all the time—all available for a small subscription price. Take a peek at a small part of our portfolio in the table below:
| | | |
| --- | --- | --- |
| Online Safety | Customer Protection | Administration Shortcuts |
| | | |
It Gets Even Better!
With your DoNotPay subscription, not only do you get a powerful weapon to fight boring and annoying daily tasks, but you also get a great resource for earning more money.
You can use our platform to enter free raffles, secure compensation for fighting robocalls, get your cash back from used gift cards, or find unclaimed money under your name, no matter the state.