Texas Divorce—Who Gets the House? DoNotPay Answers
A divorce has multiple difficult aspects—from who gets custody over children to how property is divided. If it seems overwhelming, don't worry—DoNotPay is here to help!
We'll answer any questions you have about a Texas divorce—who gets the house, how other assets are handled, and what the best way to get divorced is.
We'll clear any misconceptions you might have and help you end your marriage on fair terms with a professional marital settlement agreement.
Texas Divorce Law—Community Property Explained
Texas is a community property state. This means that all property you and your spouse have at the time of divorce belongs to the community estate and will be divided when you're divorced.
This includes any real property (e.g., your house or any land), vehicles, money, retirement accounts, and other assets earned or purchased by either spouse during the marriage.
Before the judge finalizes the divorce, they sign the Final Decree of Divorce, thus dividing your property. The decree will list the:
Community property each spouse will keep or sell
Separate property either spouse brought into the marriage, such as gifts or inheritance
Debts each spouse will have to pay
Who Gets the House in a Divorce in Texas?
The court will have to take into consideration which spouse is:
Financially ready to take on the house payments by themselves
More suitable to have the marital child live with them in the house
If one spouse gets to keep the house, the court will award the other spouse with retirement assets or other property. This action serves to ensure that the party who isn't awarded the family home gets fair treatment.
The spouse who remains in the home will have to refinance the mortgage so that a loan is created only in their name. They will also have to pay the other spouse the equivalent to the equity existing in the home.
How To Keep Your House in a Texas Divorce
In case you want to keep your family home after the divorce, you can make an arrangement with your spouse if you opt for an uncontested divorce. This type of divorce allows you to settle on the terms in your marital settlement agreement. Other perks include:
Requirements for an Uncontested Divorce in Texas
To be eligible for an uncontested divorce in Texas, you will have to agree on the following matters with your spouse:
Child custody and support
Parenting time
You will also need to have been a resident of the State for at least six months before filing for divorce. Your divorce papers must be filed in the county where you've lived for at least three months. To learn more about divorce procedures in different counties, see the table below:
Why a Marital Settlement Agreement Is Crucial for Keeping Your House in a Texas Divorce
A marital settlement agreement is a document of utmost importance because it contains the terms on which you agree regarding the house. It needs to be drafted with care as the judge will review it to make sure it's fair to both parties.
To get a divorce settlement agreement, you can either:
Hire a lawyer and spend a fortune
Write one yourself and risk making a mistake
Use DoNotPay and get a top-notch agreement in no time
DoNotPay Helps You Get Divorced on Fair Terms
DoNotPay can help if you want a divorce settlement agreement that won't cost you a fortune and will:
Be professionally written
Abide by Texas state laws
Be fair toward both parties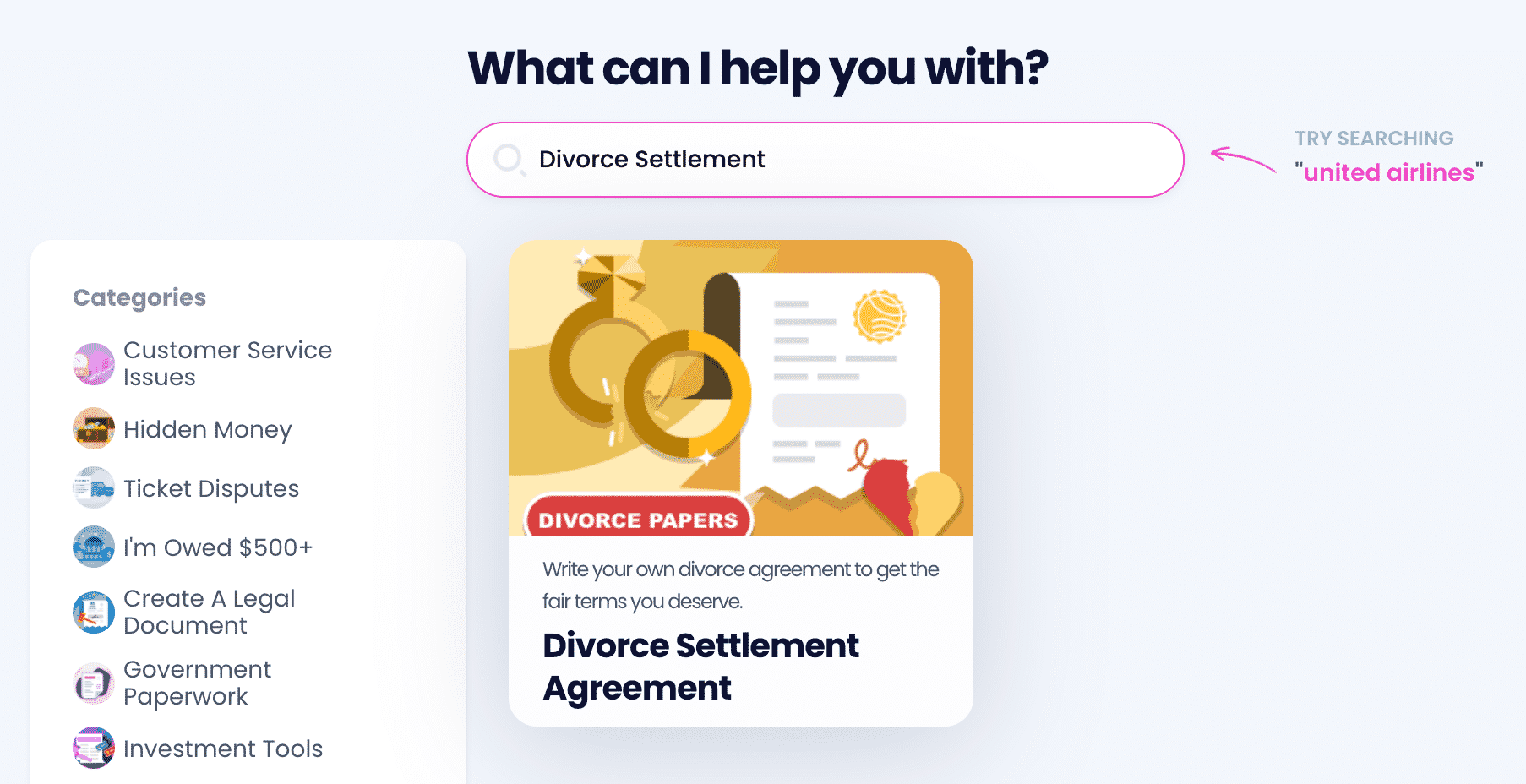 With our Divorce Settlement Agreement product, you'll get this crucial document in a few clicks. All you have to do is subscribe to DoNotPay and:
Select the Divorce Settlement Agreement product
Answer our simple questions
Opt for easy online notarization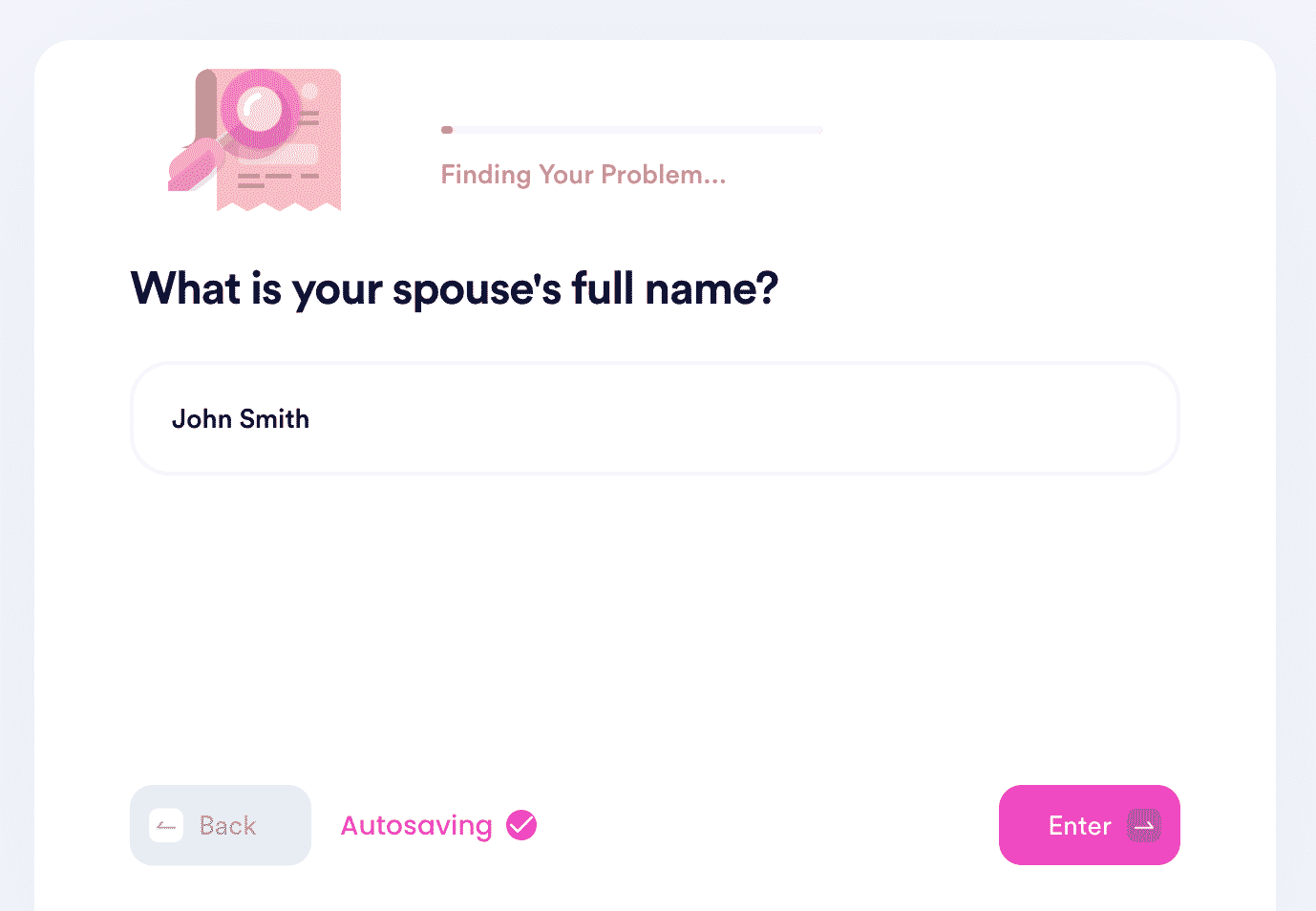 We will process your request in a snap and send you the desired document before you know it. You can then have it notarized via an audio-video call with an online notary that we can connect you with.
Need more help? Check out DoNotPay's articles on divorces in Texas and in general:
| | |
| --- | --- |
| Texas-Specific Articles | General Divorce Articles |
| | |
To Sue or Not To Sue?
Hiring a lawyer to help you sue a company can be helpful, but it can also cost you an arm and a leg. Luckily, you can avoid wasting hundreds of dollars and use our robot lawyer to sue any company in small claims court instead!
DoNotPay offers you a variety of other features you will find quite useful when dealing with bureaucratic issues. Check out the list below to see what else our app can help you with:
Shopping Without Dropping
Whoever said you should shop until you drop didn't have access to DoNotPay's various features. With our app, you can make your shopping experience smooth sailing and stress-free!
Here's a fragment of what you can accomplish by using our neat features: