Details of the Texas Divorce Process Timeline
Getting a divorce can be both financially and emotionally draining. Disputes about children and the division of property can complicate and drag out the process even more.
If you're getting a marriage dissolution in Texas and aren't sure what to expect from the procedure, you've come to the right place! In this article, you can find an overview of the Texas divorce process timeline.
Register for DoNotPay to acquire a custom-made settlement agreement and get a low-cost divorce fast!
Divorce in Texas—Essential Info
As Texas does not recognize legal separation, you have to file for divorce if you want to end your marriage.
Key aspects of every Texas divorce are:
Residency requirements
Grounds for divorce
Residency Requirements
You and your spouse have to meet the state's residency requirements to file for divorce:
One or both of you must have lived in the state for at least six continuous months before filing for divorce
At least one of you must have been a resident of the county where you're filing for divorce for a minimum of 90 days before petitioning
If either you or your spouse serves in the military, the time you were on active duty in some other country counts as residence in Texas.
Grounds for Divorce
Besides meeting the residency requirements, you must have legally acceptable reasons to file for divorce.
Texas allows no-fault and fault-based grounds for divorce. No-fault grounds—such as living apart or having irreconcilable differences—absolve both you and your spouse from the blame for the marriage breakdown. Choosing not to blame your spouse can simplify the process since you don't have to prove their responsibility.
Here are a few common fault-based grounds for divorce in Texas:
Adultery
Desertion or abandonment
Abuse—physical or emotional
Infertility or impotence
Alcohol or substance abuse
Imprisonment or conviction of a felony
Divorce court in Texas factors in the at-fault reasons for divorce when making decisions regarding matters like custody, alimony, or the division of the property.
Duration of the Texas Divorce Process
How long a divorce in Texas takes depends on the case. Different circumstances and divorce methods can affect the duration of the process.
Texas, like many other states, has a mandatory waiting period for finalizing a marriage dissolution—60 days have to pass from filing divorce papers to scheduling a hearing.
An average contested (litigated) divorce in Texas can take from four months to a year to be finalized. In more complex cases, this period can be even longer.
What Does a Texas Divorce Timeline Look Like?
The contested divorce process in Texas can be separated into five parts—you should consult the following table for more details:
Texas Divorce Timeline—Steps
Explanation
Filing the petition
You can begin the process by filing an Original Petition for Divorce with the Texas Superior Court. You might need other Texas divorce forms in this step, such as a standing order (for the protection of assets) and temporary restraining order
Informing the other spouse
Once you file for divorce, you have to inform your spouse. To do that, you must deliver a copy of the divorce documentation and a waiver of service to them. Here are several ways to serve divorce papers:

In person by a neutral third party
Via certified mail
Through the court (if nothing else worked)

After receiving the paperwork, your spouse has between 20 and 28 days to respond

Starting the discovery process
If you and your spouse aren't on friendly terms, cooperation is probably out of the question.

Instead of voluntarily exchanging information, you, your spouse, and both of your lawyers can conduct the discovery process. This process is used in litigation to uncover otherwise restricted or unavailable information. During the discovery process, you and your spouse have to answer truthfully to every question since you're under oath

Settling issues out of court
Most family law courts require spouses to negotiate their issues and try to reach an out-of-court settlement before attending a hearing. If you can't discuss the problems between yourselves, you and your spouse might have to resort to divorce mediation
Attending the final trial
If you fail to reach an agreement, you and your spouse will have to go to court. During the trials, you'll have to invite witnesses, present evidence before the judge, and defend your case. The process can extend over several months and more. If you have children together, the judge might have to appoint someone as their temporary custodian during the trial
Can You Shorten and Simplify the Divorce Process in Texas?
If you're ending your marriage on civil and amicable terms, you can file for an uncontested divorce and avoid the hassle. In those circumstances, you can get a divorce as soon as the waiting period is over.
The advantages of an uncontested dissolution include:
Here's a brief overview of a Texas uncontested divorce process timeline:
Gathering and filling out the paperwork
Filing divorce papers at the local county clerk's office
Serving papers to your spouse unless you're co-petitioners
Writing a divorce settlement agreement
Attending a hearing
Expedite the Texas Divorce Process With DoNotPay
To speed up the uncontested divorce process as much as you can, you'll need to draw up a settlement agreement.
Don't risk making a grave mistake while in a hurry—use DoNotPay to acquire an error-free divorce settlement agreement in a breeze!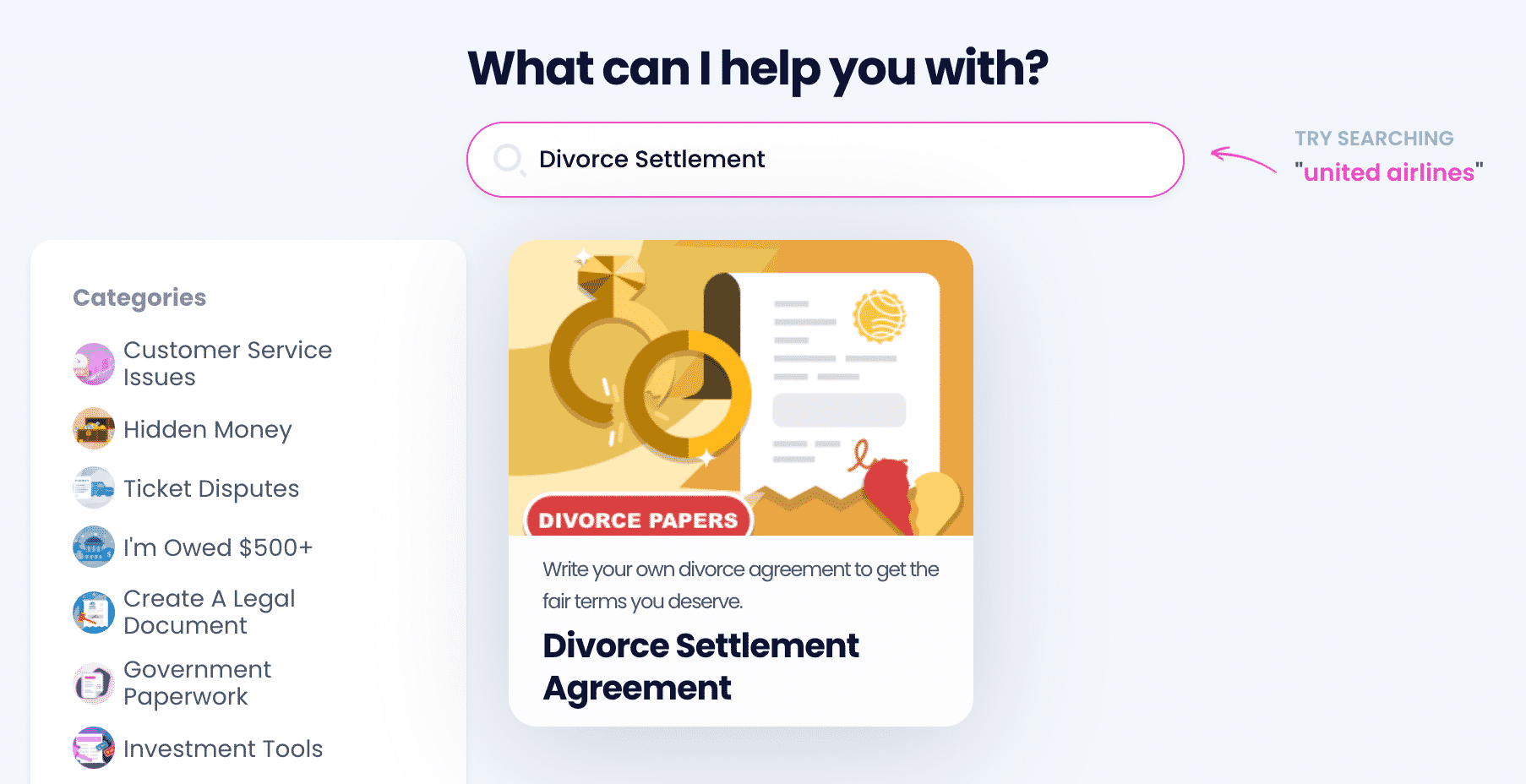 All you have to do is open DoNotPay and follow these steps:
Locate the Divorce Settlement Agreement feature
Answer our chatbot's questions
Specify if you need us to connect you with a notary
Once we receive your information, we'll draw up the agreement according to your state rules and the details you've given us.
DoNotPay has answers to numerous divorce-related questions, such as:
Deal With Your Problems Like a Pro With DoNotPay
Looking for an app that's got enough features to solve any issue you're facing? Look no further—DoNotPay has got your back! Whether you can't sleep from your noisy neighbors or you want to connect with your locked-up relatives, we'll be able to help. We'll bring justice to any person or company that has wronged you and take them to small claims court for you.
The robot-lawyer app can generate numerous legal documents in your name, including:
Once you receive the documents, we can set you up with an online notary so you can get your agreements notarized from the comfort of your home.
Possibilities With DoNotPay Are Endless
DoNotPay stands out not only by the quality of products it offers but by the sheer amount of features it boasts. Check the table below out to see only some issues we can help you resolve: