Texas Divorce Law—Alimony and Other Info You Need
Alimony is also called spousal support or spousal maintenance. It is a payment that one spouse—who is financially independent—needs to make to their financially dependent spouse. If you're filing for divorce in the Lone Star State, you'll need to get familiar with Texas divorce law and alimony details.
DoNotPay will present all the information you need regarding divorce in Texas and the state's alimony laws. We'll also help you create your own marital settlement agreement where you'll spell out all agreed-upon terms of your divorce. Subscribe to DoNotPay to create this important legal document effortlessly.
Texas Divorce Alimony—Essential Info
Three types of spousal support exist in Texas. You can find the detailed information in the table below:
| Type of Spousal Support | Description |
| --- | --- |
| Temporary | Temporary alimony is typically ordered by the court and lasts until the divorce is finalized. A judge will order temporary spousal support if they determine that it's fair and necessary for the other spouse. You can request temporary spousal support by filing a Motion for Temporary Orders and scheduling a hearing |
| Spousal maintenance | Alimony can be mandated by the court even if one of the parties doesn't agree with it. It can only be awarded if the requesting spouse can prove that they won't have enough assets to support their own basic financial needs after the divorce |
| Contractual alimony | Contractual alimony is paid to the dependent spouse after the divorce is finalized according to the spouses' contractual agreement. The contractual alimony can usually be negotiated in divorce mediation |
Which Factors Will Determine the Texas Divorce Spousal Support?
According to Texas law, every spousal maintenance case begins with the presumption that alimony isn't appropriate. Only if the requesting spouse can prove that they've tried to find a job or acquire the education and training necessary for becoming financially independent, the court will move forward with a maintenance evaluation.
When deciding on the nature, amount, duration, and spousal support payment method, the court will take into account the following factors:
The duration of the marriage
The age, earning ability, employment history, and emotional condition of the spouse requesting spousal support
The ability of each spouse to support themselves financially
Each spouse's ability to meet their needs while providing child support
Both spouses' education and employment skills
The time that the dependent spouse will need to acquire the necessary education, training, and skills to find employment and become financially independent
One spouse's potential responsibility for wasting, concealing, or destroying community property
Each spouse's contribution to the other spouse's education or training and earning power during the marriage
Contributions that the homemaker spouse made
Potential spousal behavior that led to the breakdown of the marriage (adultery, cruelty, etc.)
Possible history of family violence
The Duration of Spousal Support
The court has some strict guidelines to follow when deciding on the duration of the spousal maintenance. According to Texas law, the court must order the shortest duration necessary for the dependent spouse to become self-supporting.
The conditions for establishing the duration of the spousal support are as follows:
Five years, if the spouses:

Were married for less than ten years and the supporting spouse was convicted of family violence
Were married less than 20 but more than ten years

Seven years, if the spouses were married for less than 30 but at least for 20 years
Ten years, if the spouses were married for 30 years or longer
Can Spouses Determine Their Own Alimony Terms?
Spouses can determine the spousal support on their own. If you and your spouse can agree on everything, you can settle your case without involving a lawyer and attending court hearings, i.e., have an uncontested divorce.
If you decide to go down that road, you should create a divorce settlement agreement that outlines all other important aspects of your divorce—besides alimony—such as:
If you and your spouse can't agree on all terms but still want a cheap and friendly divorce with an out-of-court divorce settlement, you should consider Texas divorce mediation. It is a process in which a trained professional helps you and your spouse find mutually acceptable solutions to your divorce issues.
How To File for an Uncontested Divorce
To start a divorce in Texas, you'll need to do the following:
Create a Rock-Solid Divorce Settlement Agreement With DoNotPay
Divorces can cost a small fortune and last for a long time when lawyers and courts are involved. If you choose an uncontested divorce, you can use our highly intuitive platform to save the time and money necessary to create an airtight divorce settlement agreement!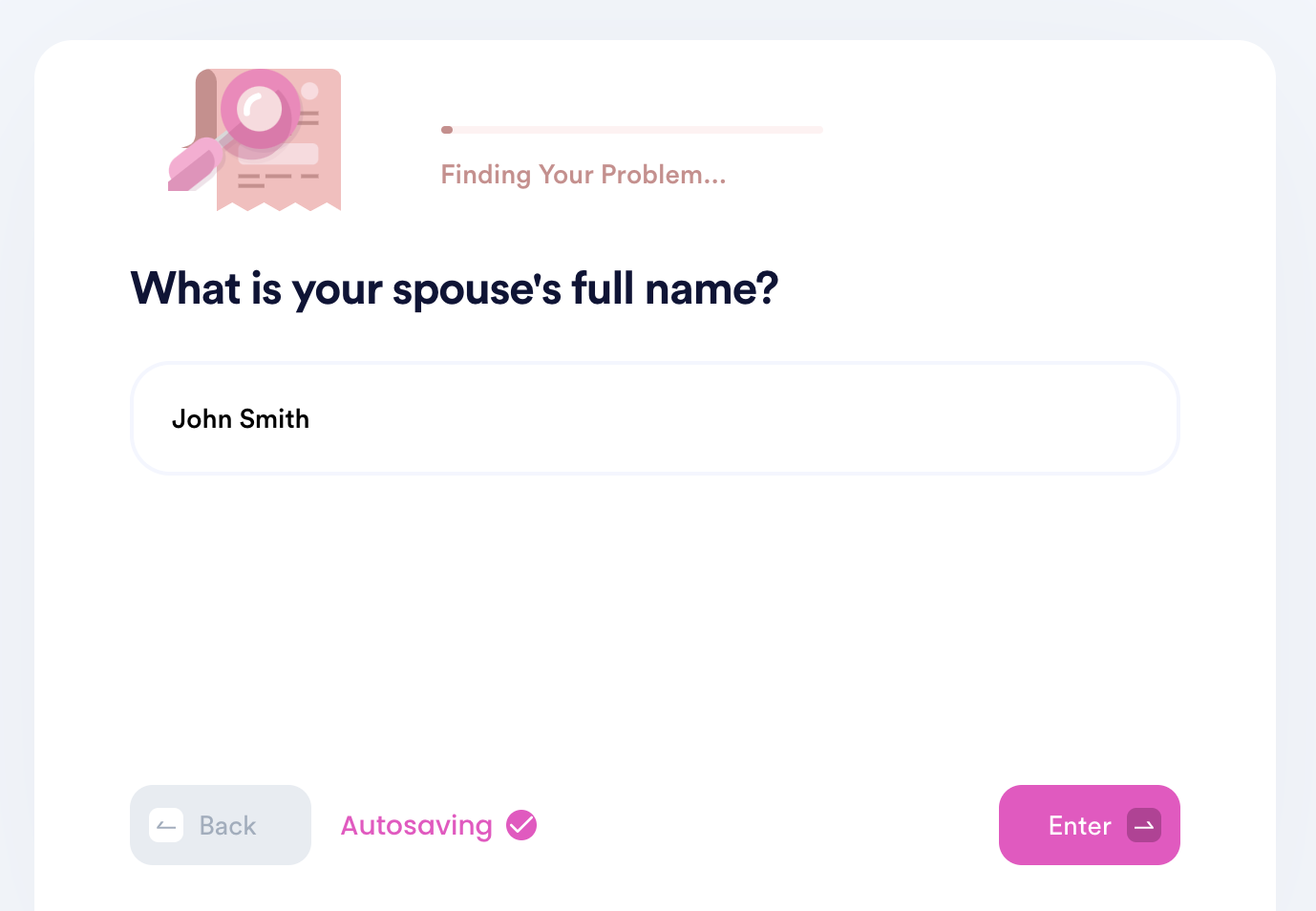 Sign up for DoNotPay and follow the instructions below to create your divorce settlement agreement:
Select the Divorce Settlement Agreement product
Provide information about you, your spouse, the marriage, and similar
Indicate how you want to divide your assets
Specify whether you need an online notary to get your document notarized
DoNotPay will take minutes to generate a divorce settlement agreement that will conform to Texas laws. It will be legally formatted and tailored to your needs!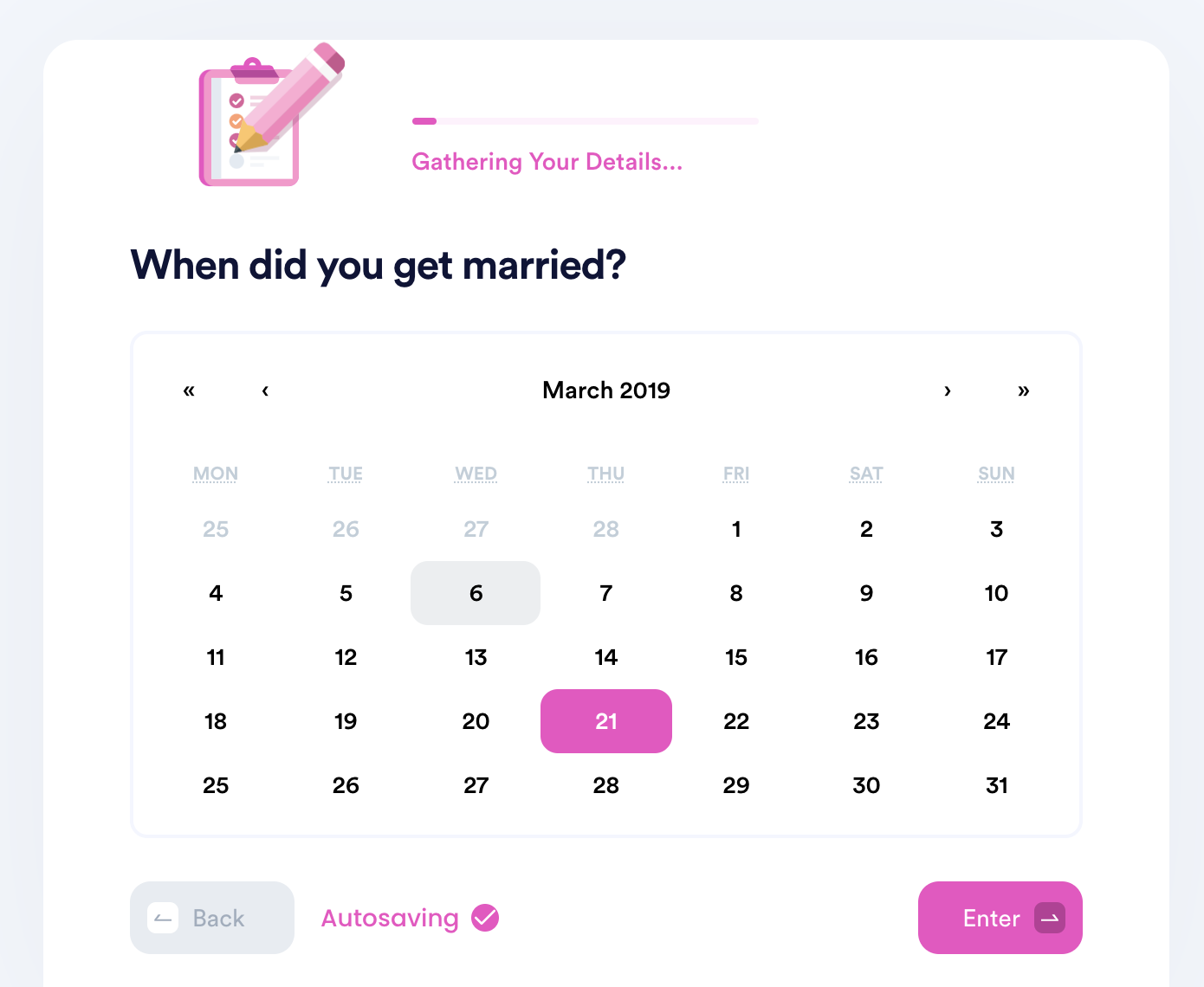 DoNotPay also has a myriad of guides to help you navigate your way through complicated divorce processes. We'll provide all the details you might need, including:
DoNotPay's Vast Collection of Features Keeps Expanding
Determined to simplify bureaucratic procedures and help you with various daunting items on your to-do list, we created DoNotPay—the world's first robot lawyer! With us, you can:
Streamline Different Tasks by Using DoNotPay's Practical Features
Are you looking for an efficient way to gain back your unclaimed money or get a refund from a company? Do it with DoNotPay without lifting a finger! Our app provides excellent money-saving features that will increase your budget and make all unnecessary expenses disappear.
We can assist you in terminating unwanted subscriptions, recovering your unused gift card funds, reducing your bills, and requesting late delivery refunds. You don't even need to hire lawyers to write a financial aid appeal letter, an HR complaint, or a child travel consent form in your stead—our app can do all this!