Texas Defamation Mitigation Act, Explained
Having held a 15-year-old record for the state with the biggest defamation compensation claim in the US, the government of Texas in 2013 modified its defamation laws known as the Defamation Mitigation Act (DMA) and aimed at making all parties take some necessary steps before going to court.
This article will discuss changes to the Texas Defamation Mitigation Act, how it may affect you, and how you can avoid escalations to court with DoNotPay's custom-made cease and desist letter.
Texas Law on Defamation
The law regarding defamation in Texas stems from the Defamation Act in section 73 of the Texas Civil Practice. As with most laws on defamation, Texas defines defamation as either slander or libel. The table below outlines five key elements of defamation:
| | |
| --- | --- |
| Elements of Defamation | Which means... |
| False Statement | There is substantial proof of the defamation as untrue. |
| Intended as a Fact | It was not published as a statement of opinion but as a fact |
| Not Protected by Privileges | The person is not a political officer, a judge, or someone protected by the law |
| Capable of Causing Injury or Harm | The defamation can or has resulted in losses to personal belongings, injuries, and other economic or non-economic losses. |
| Rooted in Negligence or Malice | The defamer has acted without recourse to the veracity of his claims and this can be termed as a negligent act. There is also proof of the intent to malign through the post. |
In section 73, sub-section 055, the law in Texas places a time limit for which persons who believe they have been defamed can bring it up in court or give up the case altogether.
It introduces another clause that requires the defamed party to make concerted efforts to request a correction or retraction from the defamer, by the elapse of three months from the date of the publication.
Challenges to Texas DMA Laws
The biggest challenge against Texas DMA law is the lack of clarity on whether cases of defamation brought about by a plaintiff can lose their locus standing if a lawsuit is brought to the court before the process to demand a retraction and apology is started. Other pertinent questions are:
What follows as a result for plaintiffs who fail to send a cease and desist letter — used to demand a retraction and apology — before the elapse of the deadline.
Can a plaintiff still pursue legal action after a retraction and apology if they still have substantial evidence to prove that significant injuries needing compensation have already been incurred on account of the defamation?
In the eyes of the laws of Texas, is the stipulation of demanding a retraction and apology of greater importance than the case itself, given that a defendant can request the court to refrain from hearing a case that does not meet the precondition?
However, it is always a good idea to avoid complex legal entanglements by the stipulations of the law and issuing a cease and desist letter within 90 days of the defamatory act.
How to Tackle Defamation in Texas
Given the provisions of the Defamation Mitigation Act, there are two compulsory steps you are required to take before proceeding to court. They are:
Confrontation
Confrontation means reaching out to the defamer and craving their indulgence in the act of defamation. It serves as an opportunity to request a retraction and an accompanying apology. Confrontations are suitable for small-scale defamation cases where parties may be familiar with each other or share common relationships such as work colleagues.
Issue a Cease and Desist Letter
A cease and desist letter is a comprehensive document formally requesting a defamer to desist from any further act, retract the defamation and accompany with an apology. Such letters are drafted with a stern tone and contain threats of legal action with noncompliance.
Texas encourages a cease and desist letter to be sent at any time within 90 days of the publication of the defamation.
How to Write a Cease and Desist Letter
You can draft a cease and desist letter from thousands of generic templates on the internet. However, they lack the element of specificity to your case and may breed legal loopholes that deflate the case in court.
There is also the option of a specially drafted cease and desist letter by a Texas lawyer which proves a better option in terms of value but can be unaffordable in terms of cost.
Fight Defamation in Texas with DoNotPay's Custom-Made Cease and Desist Letter
DoNotPay is the perfect, convenient solution! The cease and desist letter DoNotPay drafts will detail the information about the case, demand retraction, and warn against any impending statements instantly, in accordance with the Texas Defamation Mitigation Act.
All you need to do is:
1. Search for the Defamation Demand Letters service on DoNotPay.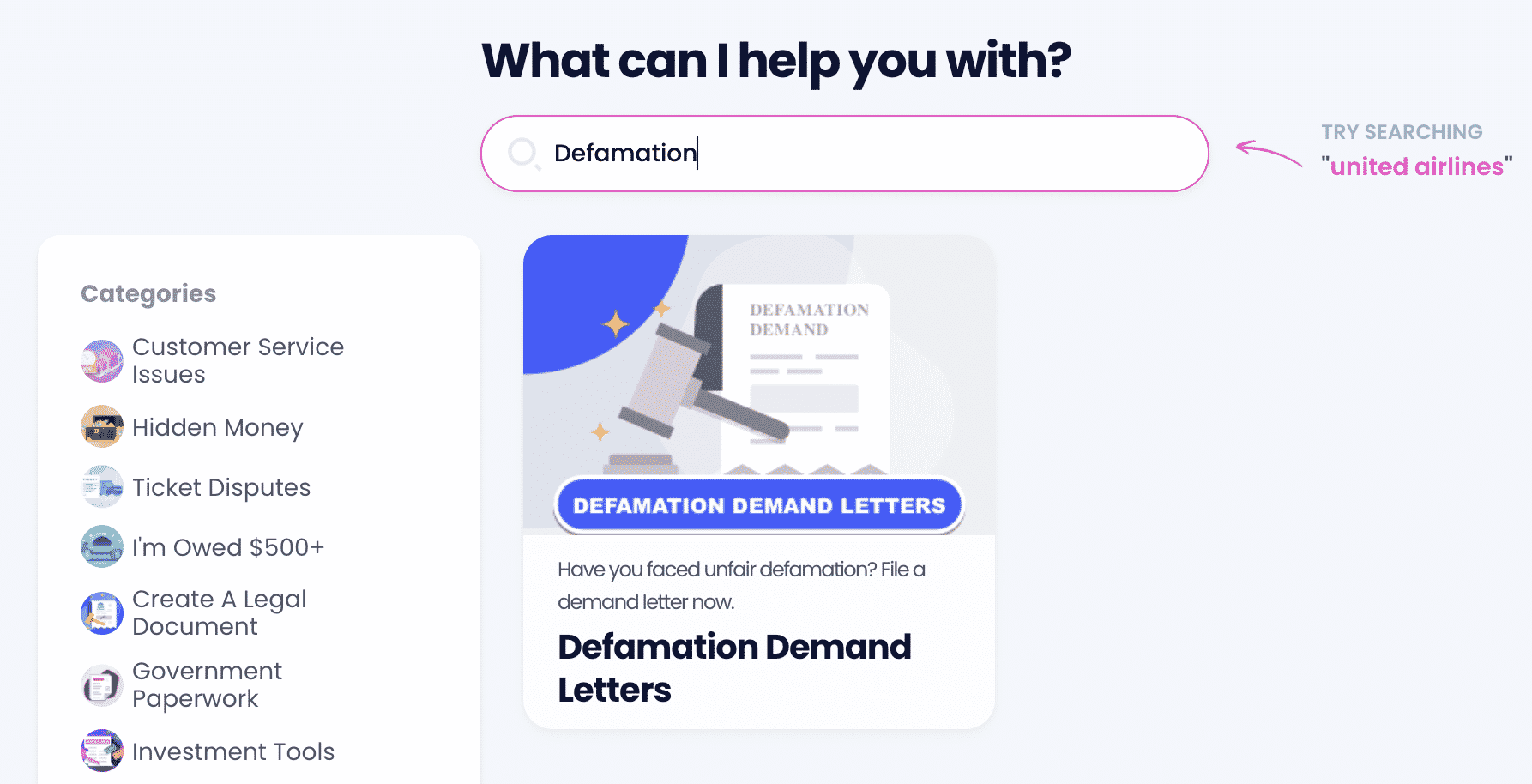 2. Tell us about your situation:
Were the statements slander or libel?
What were the statements?
Why are they false or misleading?
What consequences have you suffered as a result of these statements?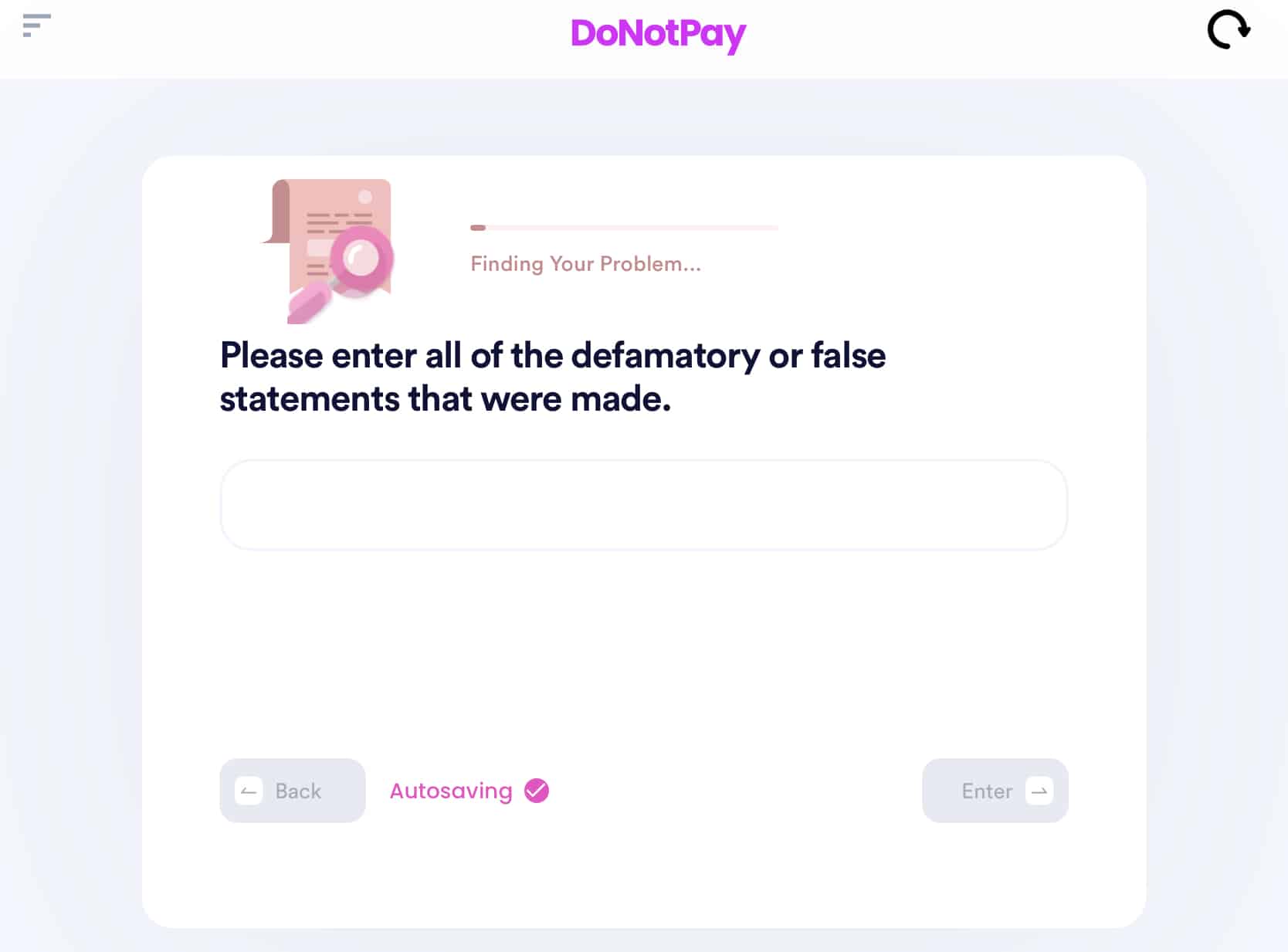 3. Based on your location, DoNotPay will immediately generate a formal demand letter on your behalf, with the most relevant state legislation regarding defamation.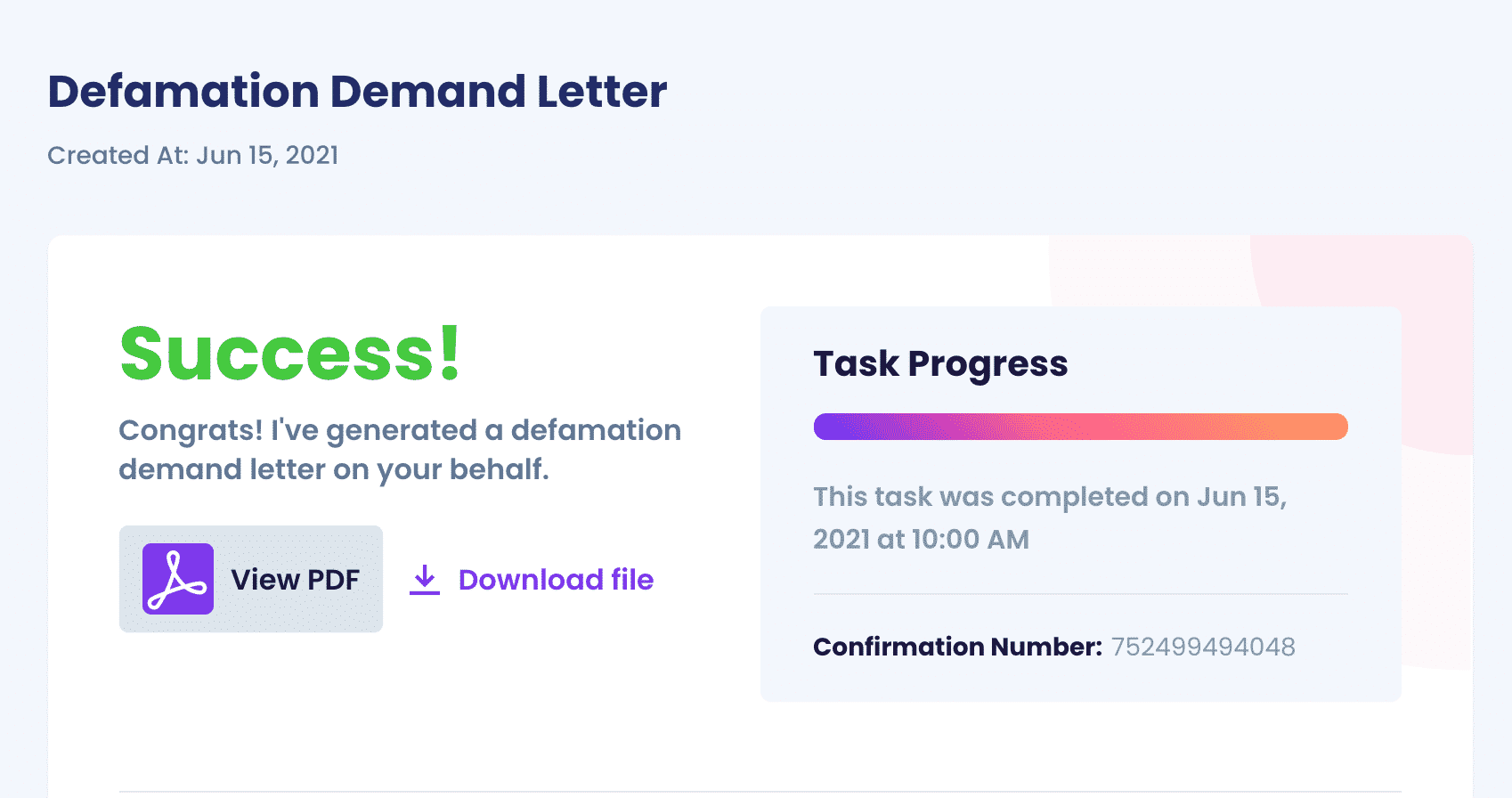 What Else Can DoNotPay Do?
DoNotPay's AI-powered robot lawyer can help you with daily tasks! Cancel subscriptions, look for tax exemptions, and appeal parking tickets with just a few clicks!
Take a look at what else we can offer: