A Step-by-Step Guide to Applying for
Texas Crime Victims' Compensation
If you're a victim of a violent crime experiencing financial hardship, on top of the physical and emotional harm, learning about victims' funds for violent crimes is necessary.
States in the U.S. are obligated to form crime victims' compensation boards that manage and administer reimbursement to crime victims, and Texas is no exception.
In this article, you can find all the necessary information about the Texas Crime Victims' Compensation Program.
Learn About the
Crime Victims' Compensation Program
in
Texas
The Texas Crime Victims' Compensation Program (CVC) was established to help victims and their family members deal with the financial loss due to unexpected crime-related expenses.
The Program covers the costs resulting from the crime—such as hospital bills, medical treatments, funeral expenses, and lost wages—which other sources have not already paid.
The Texas Legislature created CVC in 1979 with two main goals:
To reimburse innocent victims and family members of deceased victims for crime-related financial loss

To encourage victim inclusion in the apprehension and prosecution of criminals
CVC offers two types of reimbursement for victims of violent crimes in Texas:
Emergency medical care compensation (usually for a sexual assault exam)
Who Qualifies for
Texas Crime Victims' Compensation
?
You can qualify for victims' compensation as a victim or claimant. The following table shows the detailed criteria for both:
Qualify as a Victim
Qualify as a Claimant

A person that died or was injured in the crime

An individual that died or was injured while trying to help another victim of the crime

First responders who died or got injured while responding to a crime

The legal representative of a minor, incapable adult, or deceased victim

A dependent of a deceased victim

A family or household member of the deceased victim who needs crime-related mental health counseling

The person assuming the legal responsibility or paying crime-related bills
CVC considers the following crimes compensable:
Assault

Stalking

Robbery

Homicide

Hit and run

Kidnapping

Child abuse

Elder abuse

Sexual assault

Family violence

Human trafficking

Child sexual assault

Driving while intoxicated (DWI)
Here are the requirements every application has to meet for a claimant to get victims' compensation in the Lone Star State:
The crime occurred in Texas to a U.S. citizen or a Texan in a state without a victim compensation program

The victim reported the crime to the appropriate law enforcement office

The victim or claimant cooperated with prosecutors and law enforcement on the investigation

The claimant submitted the application within three years from when the crime happened unless good cause is shown
The Program will not approve victims' compensation to claimants who:
Participated in the crime

Committed an illegal act during the crime, with the exception of human trafficking victims

Were an accomplice in the crime

Provided false information to the CVC

Were imprisoned at the time of the crime
If you meet the Program's requirements, access DoNotPay from a web browser and file a claim without any hassle.
What Costs Does the
Texas Crime Victims' Compensation Program
Cover?
The Office of the Attorney General manages the Crime Victims' Compensation Program. The office is in charge of making reimbursements to qualified victims and claimants for eligible compensable crimes. 
In the following table, you can find out what expenses the Program does and doesn't cover:
Covered
Not Covered

Medical care

Dental care

Mental health care

Loss of earnings

Loss of support

Funeral and burial expenses

Travel and relocation expenses

Child and dependent care

Crime scene clean-up

Replacement of seized property

Attorney fees

Property loss, theft, or damage

Identity theft expenses

Pain, suffering, and emotional discomfort

Other costs not related to the crime
Get
Texas Victims' Compensation
Effortlessly With DoNotPay
Being a victim of a violent crime is difficult as it is without experiencing financial difficulties because of it. Having to go through a complicated process to get financial reimbursement makes no sense.
DoNotPay makes sure the victims and their loved ones can apply for victims' compensation fast and hassle-free. If you are a survivor of a violent crime, our Compensation for Crime Victims product will help you apply for victims' compensation in no time!
Sign up for DoNotPay to start the application process, and see what you should do next:
Select the

Compensation for Crime Victims

product

Choose whether you are a victim or claimant

Answer some questions about the crime and expenses 

Verify your signature to confirm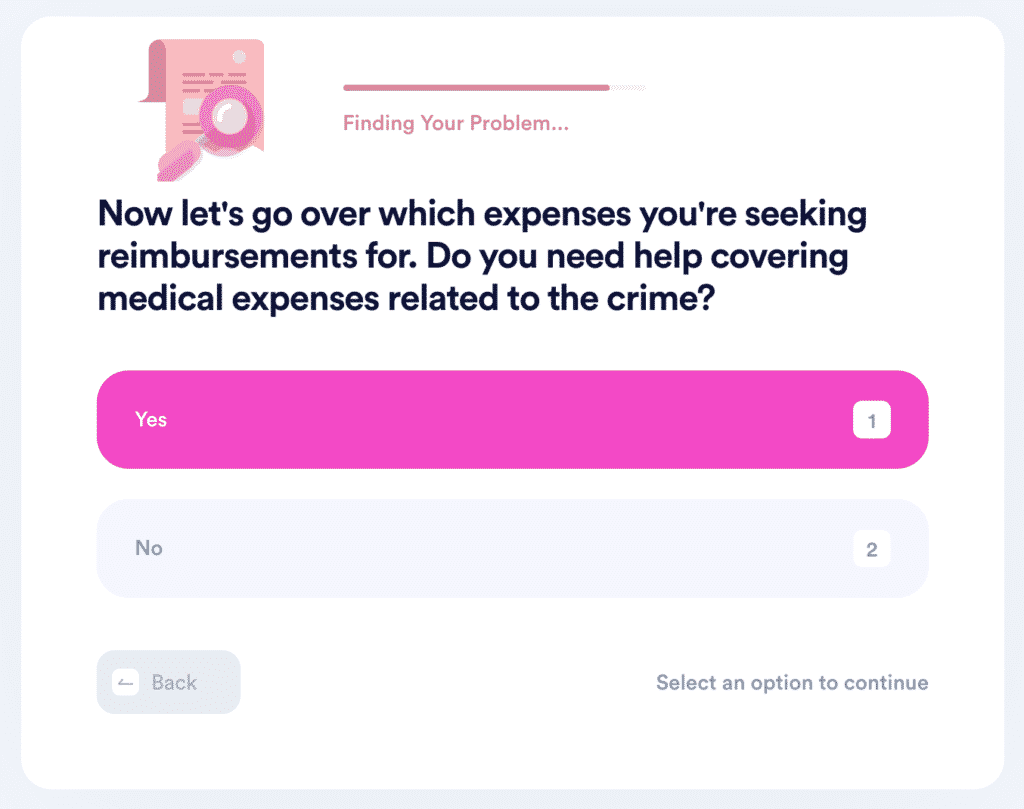 Our AI bots will automatically send your application to the Crime Victims' Program in Texas.
The world's best virtual assistant enables you to file for victims' compensation in Ohio, Arizona, Georgia, or Oregon and provides reimbursement-related information, such as victims' compensation amounts. 
We can help you get reimbursement from the 9/11 Victims Compensation Fund whether you were present at the site of the attack as a bystander or first responder.
My
Texas Victims' Compensation
Claim Got Denied—Now What?
If the Crime Victims' Program denied your application, don't fret! The three-part appeal process is quite simple. Here is what it looks like:
Reconsideration Review

—Submitting the appeal letter within 30 days from getting the decision letter to inform the CVC why you disagree with their decision

Final Ruling Hearing

—Requesting a final hearing, making arrangements for it, and presenting your case, witnesses, and supporting documents

Judicial Review

—Filing a written note of dissatisfaction within 40 days of your final ruling decision and filing a lawsuit if nothing else proves successful
Keep Your Money Safe With DoNotPay
Don't let greedy companies threaten your consumer rights by holding back refunds, refusing to cancel your subscriptions, or charging you after your free trial ends.
DoNotPay helps you try out different services without providing your credit card info or phone number—you will never again have to deal with unexpected post free trial charges!
Our app also helps you avoid paying unnecessary parking tickets, delay challenging bills, or waive your college application fees. 
If any company refuses to issue you a refund or an airline won't compensate for canceled flights, we can help you sue them in small claims court.
DoNotPay Is a Time-Saving App
How many customer service reps do you have to deal with only to file an insurance claim or book your DMV appointment?
DoNotPay helps you sort out these tasks and much more in only a few clicks. 
Get your revenge on robocallers, report text scammers, find validated clinical trials, claim your warranties, get in touch with your loved ones in prison, and protect your creative content—all in less than five minutes. 
No more hours-long phone calls, emails, or in-person visits. 
We cover everything from freeing your inbox from spam to providing excellent prep tests for government exams! Save time with your all-in-one app!