How To File for Texas Crime Victims Compensation for Relocation Costs
While everyone should feel safe in their own home, that's not always the case. If you're a victim of a violent crime—such as domestic violence or stalking—you're probably thinking about moving out. Most states' funds for violent crime victims cover the relocation expenses—including monthly rent, utility bills, and similar—of eligible violent crime victims.
This article will tell you all about Texas crime victims compensation for relocation and explain the easiest way to .
Crucial Aspects of the Texas Crime Victims Compensation Program
The State of Texas has created the Crime Victims Compensation Program to help eligible victims of violent crimes deal with financial difficulties caused by crime-related expenses. Some of the crimes that the CVC Program in Texas considers compensable are:
Assault

Homicide

Kidnapping

Child abuse

Robbery

Hit and run
To be eligible to get victims compensation in Texas, victims need to:
Have reported the crime to the police

Cooperate with law enforcement authorities

Apply for the CVC Program within three years of the crime
Learn More About Crime Victims Compensation for Relocation in Texas
The Crime Victims Compensation Program in Texas covers relocation costs for victims of:
Family violence

Stalking

Human trafficking

Sexual assault (if the assault took place in the victim's home)
You will get compensation for expenses incurred in the first three years from the date of the incident. The program covers the following relocation costs:
Rental deposits

Monthly rent

Utility fees

Professional moving company

Van or truck rental

Transportation costs

Three months of storage
The maximum compensable amount for relocation expenses is $2,000 for moving costs and up to three months of rent as long as it doesn't exceed $1,800 in total.
Required Documents
After you file your application, you will have to provide copies of the following documents at the program director's request:
Receipts related to moving costs

Letter of intent

or signed lease agreement
Can I Request Payment From the CVC Program Before Relocation?
Victims or their claimants can ask for payment of some relocation-related expenses before moving. The first CVC Program payment will cover:
Application fee

Moving expenses

Rental deposit

The first month of rent
You have 30 days from the day you move to send the receipts for expenses covered upfront and signed lease agreement to the CVC Program staff. Once the staff receives the necessary documents, they will send you the second and final payment that will cover two more months of rent.
The program can also send payments to the landlord directly, in which case the program staff needs to have:
Completed relocation documents

Landlord's contact info

Landlord's Social Security number or Tax Identification Number

A document from the victim verifying that the payments were made to the landlord directly
How To Keep Your New Address Confidential
Unfortunately, changing your address isn't always enough to escape the abuser. Locating someone nowadays is fairly easy, which is why you should take additional steps to ensure you're safe.
One of the precautions you should take is ensuring your new address stays confidential. You can do so by applying for the Texas Address Con­fi­den­tial­i­ty Program (ACP). The program will provide an alternative post office box address that you can use:
To send and receive mail

On various forms, such as:

Voter registration

Driver's license

School registration
What Other Costs Does the Texas Crime Victims Compensation Program Cover?
Besides paying relocation costs for eligible violent crime victims, the CVC Program in Texas also covers other crime-related expenses. Consult the following table to check which costs are covered by the program and which ones aren't:
Compensable
Not Compensable

Medical and dental exams, treatments, and prescriptions

Mental health counseling

Child and dependent care

Lost wages and support

Attorney fees

Funeral costs

Travel for medical treatments, the victim's funeral, and court proceedings

Crime scene cleanup

Replacement of property taken as evidence

Pain and suffering

Property loss or damage

Identity theft costs
How To Apply for Relocation Compensation for Crime Victims in Texas With DoNotPay
Leaving your home is stressful enough—dealing with financial issues caused by the crime should be the least of your worries. Since the traditional application process for the CVC Program in most states—including Texas—can be complicated for most people, DoNotPay has decided to create a better solution.
Our product can help you apply for any crime victims compensation program in a matter of minutes. We can also provide valuable info regarding various crime victim compensation funds, including emergency funds for domestic violence victims and the 9/11 Victim Compensation Fund.
To file an application for Texas crime victims compensation for relocation quickly and stress-free, follow these steps:
Open the

Compensation for Crime Victims

product

Tell us whether you're the victim or a relative of the victim

Respond to our chatbot's questions and verify your signature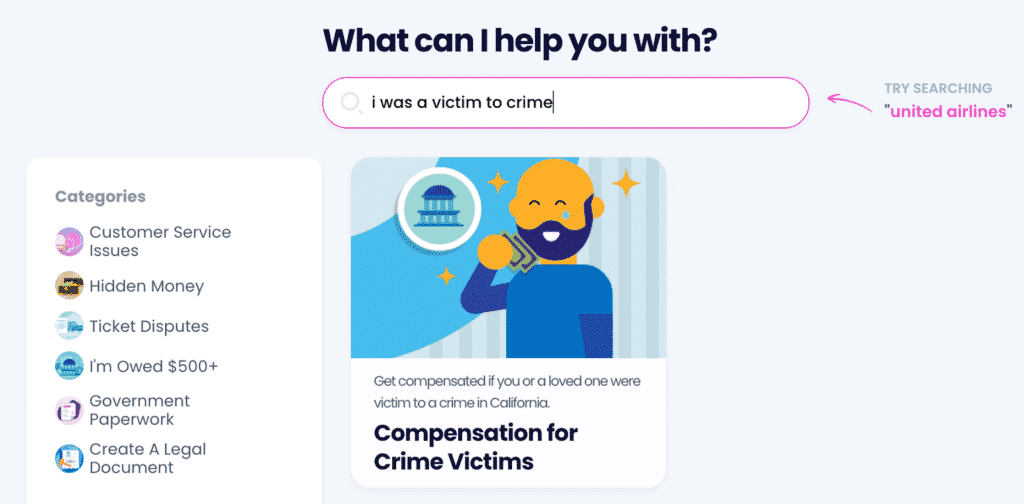 DoNotPay will fill out your application right away and send it to the Attorney General of Texas.
Check out some other states our app can help you get compensation in:
DoNotPay Can Do Your Paperwork for You!
Feeling like you're in bureaucratic hell? Our app will draft the paperwork you need and get you out of any hurdle before you know it!
We can compose most of the documents that you require for any administrative purpose in your jurisdiction, most notably:
More of What We Can Do for You
Our multifaceted app can call and record the conversation with the customer service of the company that just won't let you go! If you are having trouble canceling an unwanted service via the traditional channels, use DoNotPay to get it over and done with!
We can help you stop the persistent robocalls and robo texts from the nagging company and request a refund for unused services in a matter of minutes.
We'll also lend a helping hand in stopping spam mail—whether it's electronic or paper. Our Spam Collector product unsubscribes you from unwanted emails and cleans up your physical mailbox too!