Texas Courts That Have Exclusive Original Jurisdiction Over Slander
If you are living in Texas and looking to take action against slander, you may be wondering which courts will have original jurisdiction over your case. In the state of Texas, state district courts have general jurisdiction over cases of slander, meaning that state district courts first hear cases involving slander.
If you are interested in taking legal action against a potential case of slander, you can learn more about slander and courses of action in this article. You can see what qualifies as slander, what you will need for a potential case, and how can help you draft a comprehensive cease and desist letter without costly legal fees.
What Is Slander?
If you are looking for help with a potential case of slander in the state of Texas, it is important to fully understand what slander is. Slander is a kind of defamation, which is when an untrue statement is presented as factual resulting in damage or injury to the victim's character. There are two different kinds of defamatory statements:
Slander: an oral defamatory statement
Libel: a written defamatory statement
If you are looking to take action on a case of potential slander, make sure that the statement falls under slander's definition of a spoken, oral statement. If you are referencing a written statement, you may need to research laws on libel defamation instead. You can learn more about libel suits from DoNotPay's article.
Texas State Defamation Laws
If you are interested in the specific legislation regarding defamation in Texas, here is a table of the main Texas laws regarding defamation:
| | |
| --- | --- |
| Texas Law | Explanation |
| Texas Civil Practice & Remedies Code § 16.002 | Defamation claims can only be brought to court within one-year of the date the defamatory action was made. |
| Texas Civil Practice & Remedies Code § 17.001 | Definition of defamation as "expressed in written or other graphic form [online]" that harms one's reputation and causes financial harm, public contempt, and ridicule. |
| Texas Civil Practice & Remedies Code § 17.005 | Truth is a valid defense against a defamation claim. |
Grounds for Defamation Lawsuits
If you believe you have been a victim of defamation, whether slander or libel, you may want to make sure that your situation meets the common requirements of a civil defamation suit. Here are the elements that must be proved to successfully win a defamation lawsuit:
Defendant spoke or published a statement that was false
The statement was defamatory (harmed the plaintiff's reputation)
Statement was made out of negligence; malice must be proved if regarding public officials
Damages must be proved, unless the statements are categorized as defamation per se (e.g statement indicates one is a criminal)
If you believe that you have been a victim of a defamatory statement that has caused damages like those listed above, you may need to begin the process of creating a cease and desist letter.
Should You Write a Slander Cease and Desist Letter?
If you think that you have been a victim of defamation, including slander, and you feel you have the necessary evidence to prove this, your next best course of action may be a cease and desist letter.
However, writing this letter can be complicated, as you must prove you have suffered consequences as a result of the defamation to set yourself up for potential legal action in the future. You must also make sure that you are aware of your state's legislation on defamation.
A cease and desist letter can still be a good first step against defamation before involving yourself in more complicated legal actions. While a lawyer can draft this letter, hiring an attorney can be an unnecessary expense that costs you more than you need to spend. With , our robot lawyer can help you generate a cease and desist letter with all of the essential information you need by the laws of your state.
How DoNotPay Can Create a Slander Cease and Desist Letter for You in Minutes
can help you draft a cease and desist letter that contains all of your essential information, demand that any defamatory statements be retracted, and warn against future action while staying within all state statutes. All you have to do is:
1. Look for the Defamation Demand Letters product on .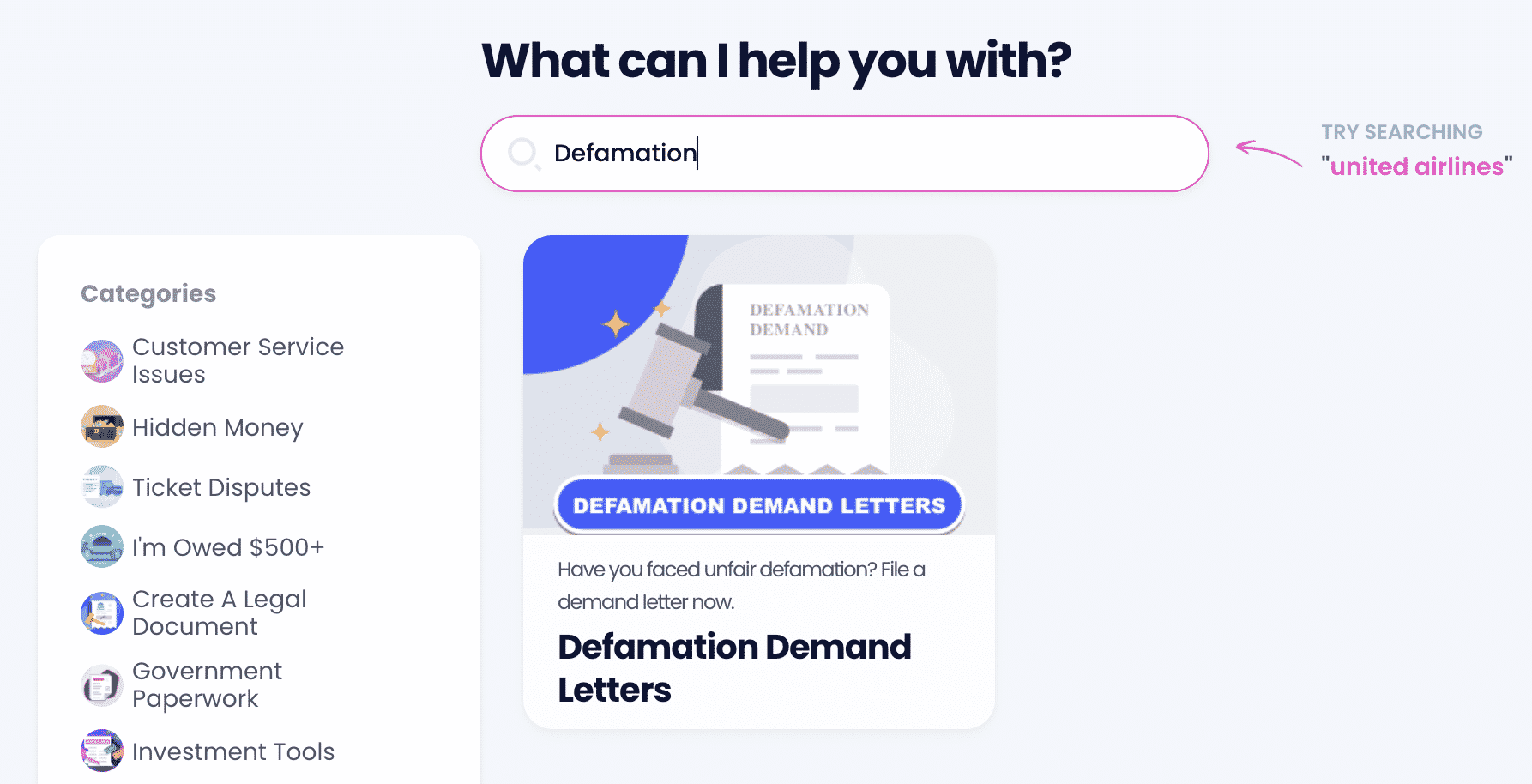 2. Tell us about your situation, including if defamatory statements were libel or slander, what the statements were, why they were false, and the damages you have suffered as a result.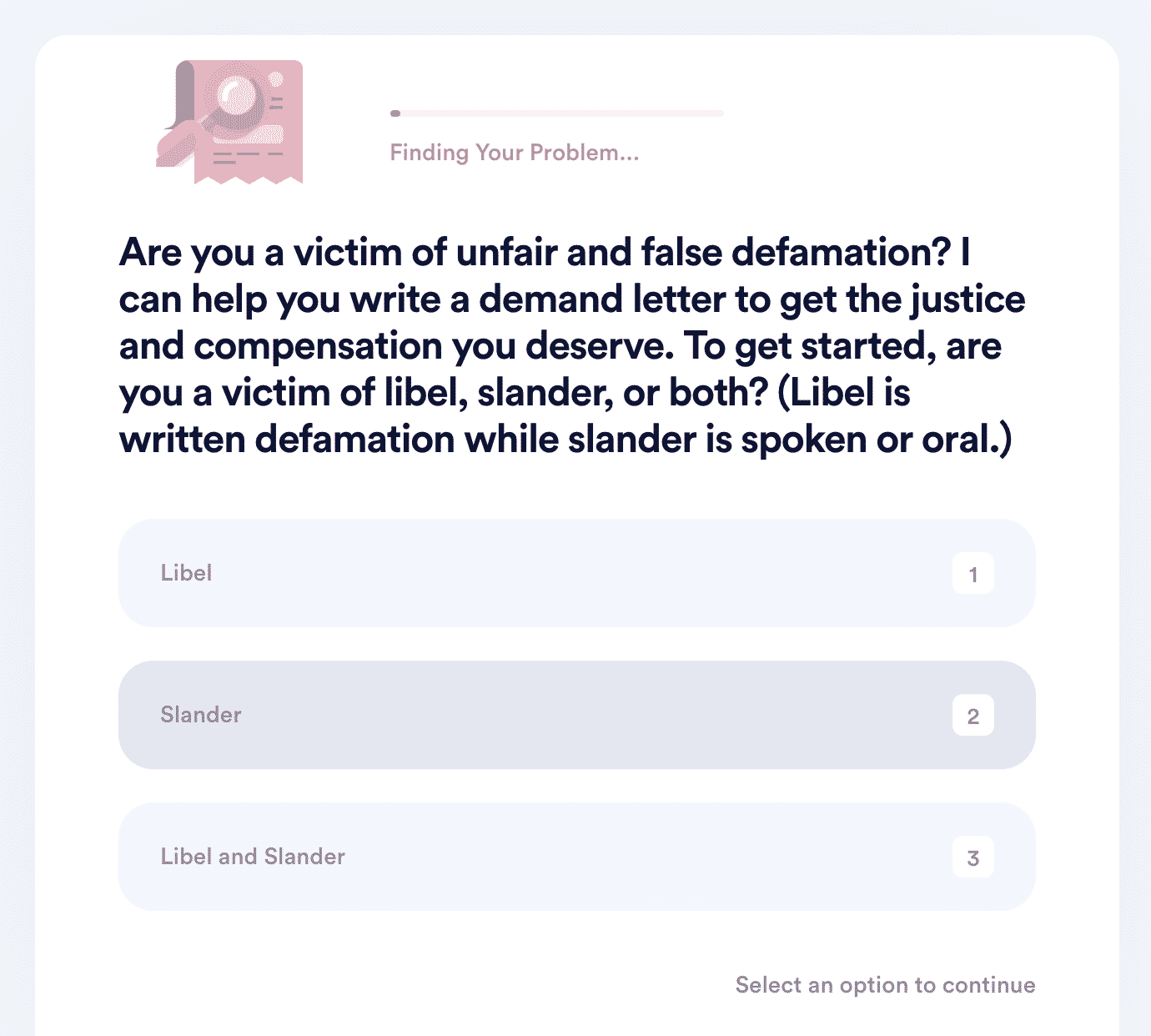 3. Based on your location, DoNotPay will generate a letter on your behalf using the relevant state defamation legislation.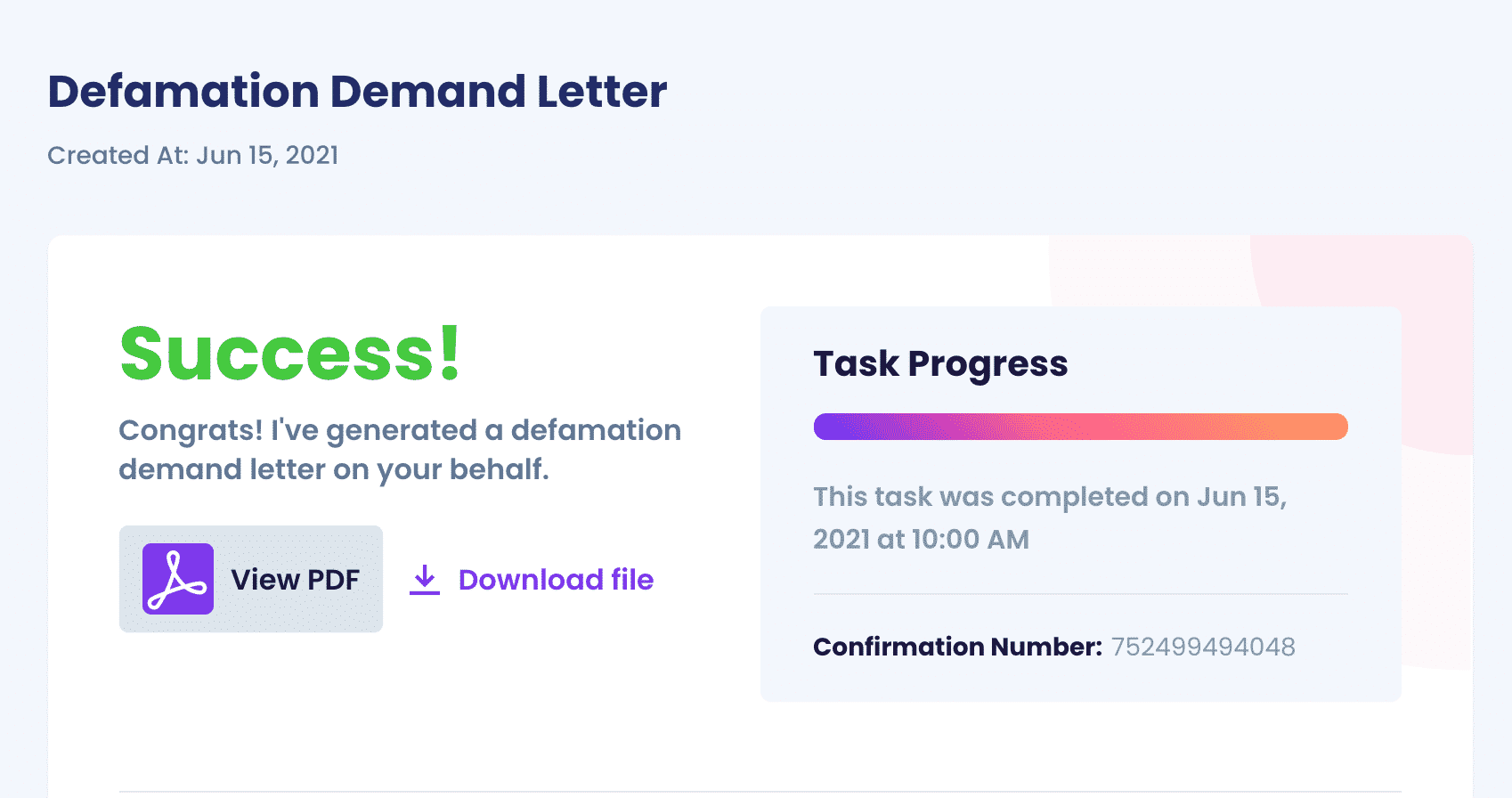 After that, you're done! You will have a drafted cease and desist letter to send.
More Information on Defamation from DoNotPay