How To Draw Up the Texas Commercial Lease Agreement Correctly
A well-written commercial lease agreement can benefit both the lessor and the lessee by outlining the crucial details of the relationship. Are you a landlord or a business owner who's wondering how to draw up the Texas commercial lease agreement as effortlessly as possible? Creating any legal document—including a commercial lease—can be challenging, but our guide is here to help you out. Learn which sections your commercial lease agreement should include!
Do you need help creating other documents? and write contracts without hiring expensive lawyers or spend ages surfing the Internet trying to find suitable contract templates. 
Commercial Lease Agreement Explained
A commercial lease agreement is a document signed by a property owner and an individual or entity renting the space for business purposes. This contract needs to lay ground rules and outline terms and conditions as well as the rights and duties of both parties. 
While your commercial lease agreement doesn't have to be in writing, verbal contracts aren't legally enforceable. Both the lessor and lessee can protect their legal rights only if there's a written lease agreement. 
Before you compose the contract, you should learn more about the TX commercial lease types.
Types of Commercial Leases in Texas
There are three main commercial lease types in Texas:
Net increase

Percentage increase

Gross increase
You should find out more about each of these types to determine which one is the best fit for you.
Net Increase Commercial Lease
Other than the base rent, the tenant also covers specific costs related to the operation of the building, known as operating expenses (op/ex).
You can choose from three types of net lease, depending on which operating expenses the tenant needs to cover:
| | | | |
| --- | --- | --- | --- |
| Net Increase Types | Property Taxes | Insurance | Electricity |
| Single net | ✔ | ✘ | ✘ |
| Double net | ✔ | ✔ | ✘ |
| Triple net, also called NNN | ✔ | ✔ | ✔ |
Percentage Increase Commercial Lease
A percentage increase lease requires from the tenant to pay:
Base rent

Operating expenses

Percentage of the monthly revenue
This type of lease is typically signed between a landlord and a retail tenant. 
Gross Increase Commercial Lease
By signing a gross increase lease, the tenant agrees to pay a flat annual fee for rent and operating expenses. The landlord estimates the amount that the tenant needs to pay for the op/ex and determines the overall rental rate according to that.
Can You Write the Texas Commercial Lease Agreement by Yourself?
You can compose your commercial lease agreement in Texas on your own, but you'll probably find this task stressful and time-consuming. Commercial leases include many sections and need to cover various crucial information, which is why you should consider hiring a lawyer. If you miss anything important, the other signing party can take it to his or her advantage. 
Should you decide to write a commercial lease agreement on your own, make sure to include the following info:
Names of the signing parties

—start the lease by writing personal and business names of both parties

Property description and location

—mention the type, size, and address of the property

Lease term

—record the date of the beginning and the end of the lease

Subleasing

—spell out whether the tenant can sublease the property in case he or she goes out of business

Rent amount

—establish how much the rent will be and outline the payment schedule

Late fees

—include fees and penalties for the late rent payments  

Security deposit

—mention the amount of the security deposit

Utilities

—list the utilities associated with the property and state which party is responsible for them

Improvements & renovations

—spell out who will be responsible for any future improvements and renovations 

Repairs & maintenance

—determine who is responsible for repairs and maintenance. While the landlord usually handles repairs, the tenant can be responsible for everyday maintenance tasks

Dispute resolution

—describe how any potential conflict will be resolved

Signatures

—both parties should sign the document in front of a

Texas notary

 
Create Various Documents in a Few Clicks With DoNotPay
As a business owner, you'll probably need to create many legal documents, and hiring a lawyer each time can be expensive. DoNotPay can help you draw up various contracts in under five minutes. Instead of paying hundreds of dollars for a lawyer, you should rely on DoNotPay and create an unlimited number of contracts for a small monthly fee.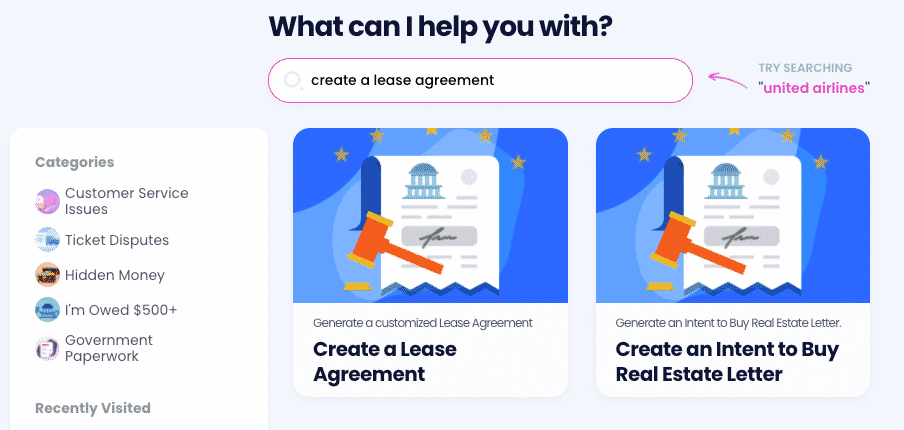 Our app enables you to write legal documents in three easy steps:
Type in the name of the document you want to create 

Answer our questions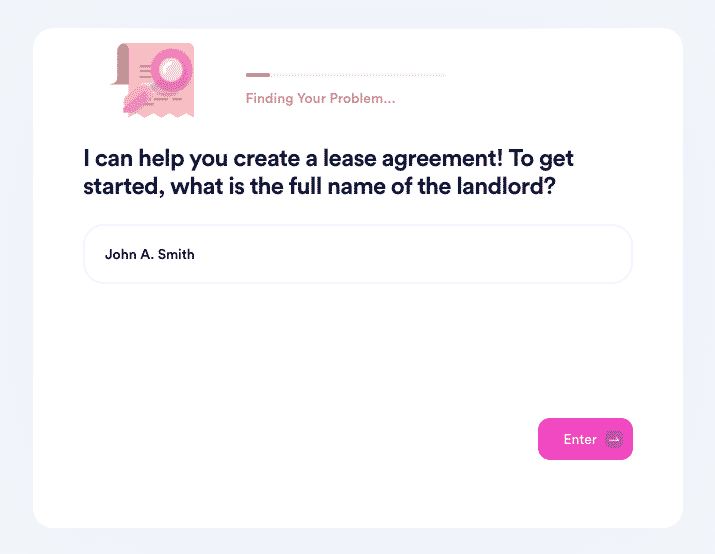 Once DoNotPay generates your document, you can print it and get it notarized. We can even help you find an online notary and handle contract notarization from your preferred device.
Find Out What Documents You Can Create With Our App! 
You rely on us to draw up numerous legal documents, including:
General Business Contract

Intent To Purchase Real Estate

General Affidavit

Promissory Note

Estoppel Certificate

Child Care Authorization Form

Quitclaim Deed
DoNotPay Can Help You Solve Pesky Issues Stress-Free
Dealing with everyday issues can become overwhelming, especially if they include bureaucracy. DoNotPay can help you handle numerous problems in a few minutes. With us, you can schedule your DMV appointments, get documents notarized remotely, and create various legal documents—including child travel consent statements and demand letters for neighbor complaints—in a snap.
Do you need help paying your bills, disputing parking tickets, or getting cash back for your gift cards? Once you register for DoNotPay, you'll be able to manage all of these and many more issues in no time. 
What Else Can You Use Our App For?
Besides helping you handle tedious administrative hurdles, DoNotPay can do much more for you! You can use DoNotPay to:
With us, you can send online faxes or mail letters from the comfort of your home. Do you have friends or family members who are serving time? We can help you connect with inmates in a flash by enabling you to locate them and send them letters.