Texas Breach of Contract Law Specifics
It is not easy to decide whether to take legal action against someone in breach of contract. You need to take all matters into account before choosing the most suitable option for your case.
To get a better understanding of what your rights and obligations are, you need to get familiar with Texas breach of contract law. This article provides the information that will help you make up your mind about how to proceed.
Elements of Breach of Contract in Texas
A breach of contract happens when one contractual party does not uphold the contractual terms.
Under Texas law, if you decide to sue the other party for breach and seek legal remedies, you will need to prove the following elements:
The existence of a valid oral or written contract—A valid agreement contains a(n):

Offer
Consideration
Acceptance of the offer

You—i.e., the plaintiff—have performed your obligations under the contract
The breaching party—i.e., the defendant—has failed to fulfill their commitments
You have suffered damages because of the contract breach
Texas Breach of Contract—What Damages You Are Entitled To
To assess the situation and determine remedies, a judge will:
Examine the terms of the contract—Most agreements include precise penalties for breach of contract instances
Award damages based on the situation—If the contract does not specify penalties, a judge will decide what damages you are entitled to
What Remedies To Expect
In the following table, you can find a list of potential remedies and damages a court might award you:
Potential Remedies
Explanation
Specific performance
If the court awards this type of remedy, they require the defendant to perform obligations under the contract. Specific performance is common for real estate contracts
Liquidated damages
Liquidated damages are awarded in the amount of the loss you have suffered as a result of the breach
Loss of use, time, or credit reputation
This type of remedy is awarded to compensate for the time you have:

Lost because the breaching party has not fulfilled the contractual terms on time
Spent fixing the resulting damages

A court could also award damages to compensate for the loss of credit reputation that happened due to the breach of contract

Reimbursement
You might receive reimbursement for any expenses you have incurred while:

Performing your obligations under the contract
Trying to repair harm and injury you have experienced due to the (material) breach

Consequential and incidental damages
You can get these damages to compensate foreseeable losses
Rescission
If a court decides to terminate the agreement, neither party needs to perform agreed-upon obligations any longer
Restitution
In case of this type of remedy, both parties must return all gains they have made from the contract
Keep in mind that the breaching party could raise defenses to attempt to prove they have fulfilled the terms of the contract.
Texas Breach of Contract Law Allows Out-of-Court Settlements
Since litigation is usually pricey, complicated, and time-consuming, you could try to negotiate a settlement with the breaching party outside of court first.
Creating a breach of contract demand letter can be an efficient way to resolve the dispute without involving judges and expensive lawyers. Your letter should include the following:
Facts and terms of the contract
A reminder that the other party has not fulfilled the agreed-upon commitments
A solution to the pending problem, e.g., a new deadline for the delivery of services or goods
A good demand letter should specify all the necessary details that could serve as a clear indication for the other party that:
They need to honor their end of the deal
You:

Are not willing to give up on the agreed services or goods
Will sue them for any incurred expenses and losses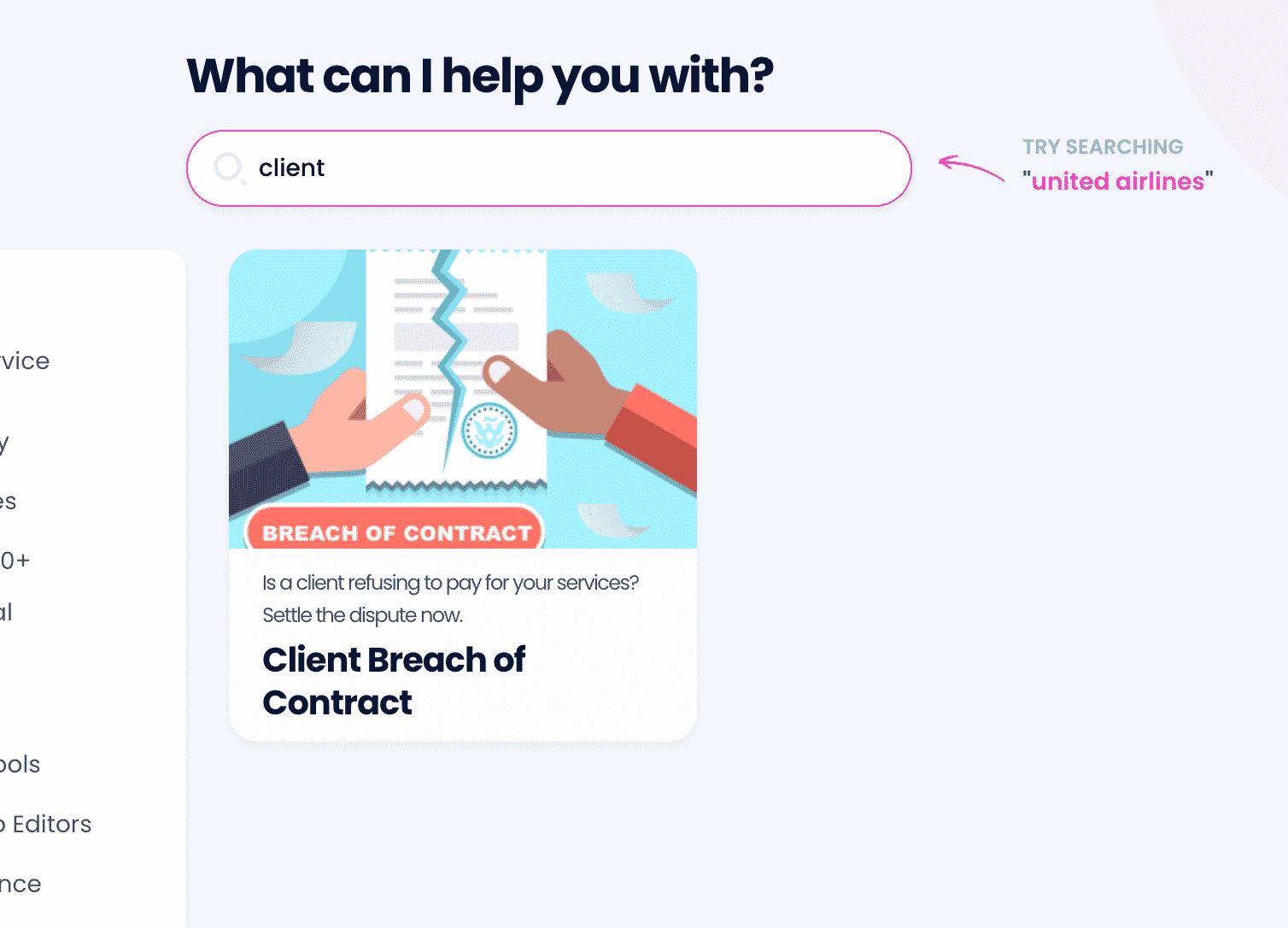 Register for DoNotPay to create a watertight Texas demand letter that will:
Cover all the necessary information regarding your case
Comply with state laws
Let DoNotPay Take Care of Your Demand Letter
Our AI-powered app keeps track of all changes to relevant state laws to help you prepare an airtight demand letter without you having to:
Hire a costly attorney
Visit a collection agency that can take up to 50% of the collected damages
Adjust an online template to suit your specific circumstances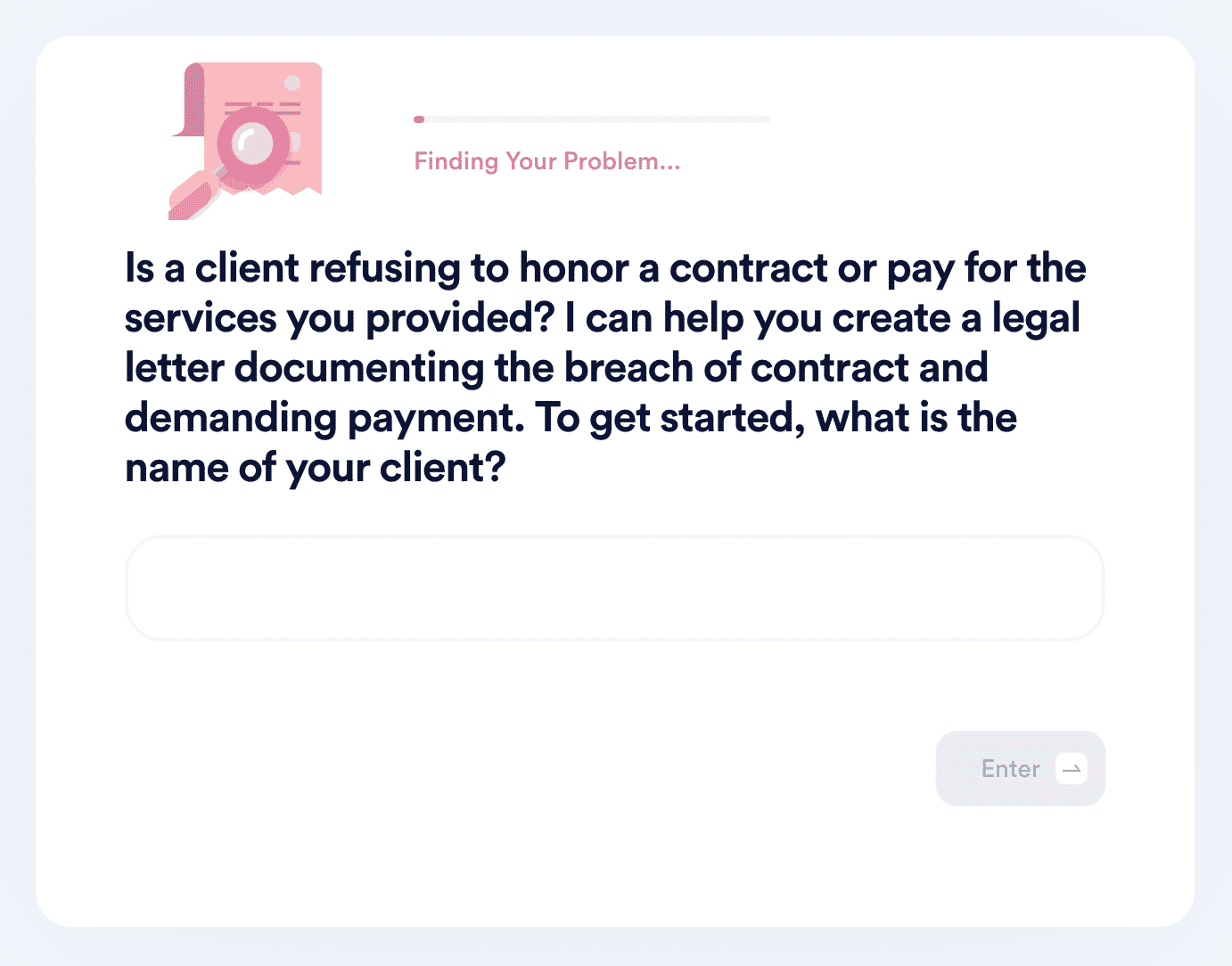 To get a demand letter customized to your case, subscribe to DoNotPay and take these steps:
Use our Client Breach of Contract product
Answer the chatbot's questions about the contract and the breaching party
Provide a new deadline for payment or delivery
Outline the performed services
Upload any evidence to back up what you have stated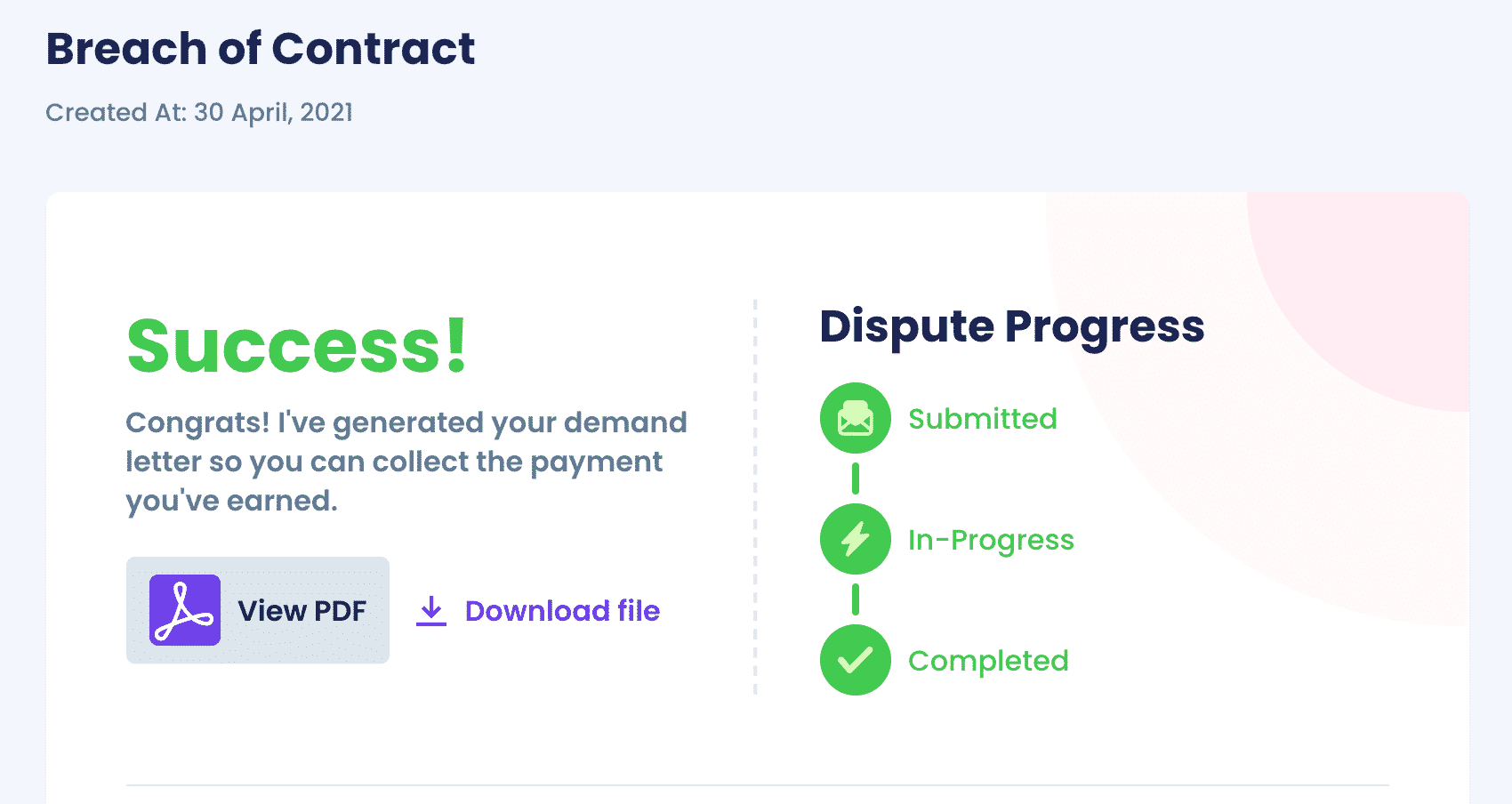 If the other party does not respond to your letter or is not open to negotiations, DoNotPay can help you sue them in small claims court.
Texas Breach of Contract Statute of Limitations
If you are thinking about taking legal action against the breaching party, you need to determine what the statute of limitations is.
In Texas, you can file a claim for a breach of contract within four years from the date when the breach occurred, but keep in mind that there are exceptions. Check out the following table for details:
Exceptions to the Statute of Limitations in Texas
Specifics
Discovery rule
The statute of limitations for a legal claim begins once you:

Have found out about the injury caused by the breach of contract
Should have discovered the resulting loss in the exercise of reasonable care

Fraudulent concealment
The statute of limitations can be tolled—i.e., legally suspended—if:

The other party under the contract hid the breach from you
You were not aware of the breach when it happened
Get Down to Business With DoNotPay
If your to-do list is getting longer by the day, we offer numerous solutions. You can focus on growing your business while we handle the endless administrative tasks.
Here are some of DoNotPay's products and services that will assist your company tremendously:
DoNotPay Feature
Our App Will
Trademark Registration

Complete your company name, logo, or slogan registration application
Submit the application in your stead

Trademark Protection

Perform monthly checks
Notify you in case there is any trademark infringement
Help you file cease and desist letters

EIN Registration

Fill out and file your Employer Identification Number (EIN) application
Notify you of your new EIN

Register a DMCA Agent

Complete the DMCA agent registration process
Register the designated agent with the U.S. Copyright Office
There Is Even More We Can Do for You
Navigating the business world can be overwhelming. If your paperwork is piling up and disputes keep emerging, start using our app and declutter your workday from numerous chores.
The world's first robot lawyer can help you deal with the following:
Chargeback scams
Business loan applications
Faxing and mailing
Negative online reviews
83(b) election forms
Self-certification with the Privacy Shield program