A Complete Guide to Texas A&M Financial Aid Program
Enrolling in a degree program at Texas A&M University—one of the most popular public universities in this state—is a dream come true for many students. The bad news is that most of them can't afford to pay for it without getting some college financial aid. The university has a wide selection of support programs you can apply for if your household income isn't enough to cover future education-related expenses.
Read our guide to find out everything about the Texas A&M financial aid offer and the application procedure. We also shed some light on filing potential appeals if you are rejected or get an amount that is too low. Learn how to do it swiftly and easily by signing up for DoNotPay!
What Are the Available Types of Texas A&M University Financial Aid?
The Texas A&M Financial Aid Office supports multiple types of financial help for graduate, undergraduate, professional, and international students. There are four main aid categories you can apply for:
Loans (repayable)
Grants (non-repayable)
Scholarships (non-repayable)
Student employment
You can see the available programs within each type in the following table:
Aid Type
Programs
Loans

Federal Direct PLUS Loans
Federal Direct Subsidized Loans
Federal Direct Unsubsidized Loans
Texas B-On-Time Loans
Emergency Tuition & Fees Loans
Short-Term Loans
Health Professions Student Loans

Grants

TEXAS Grant
Federal Pell Grant
Federal TEACH Grant
Children of Fallen Heroes
Iraq and Afghanistan Service Grant
Texas Public Education Grant (TPEG)
International Texas Public Education Grant (ITPEG)
Federal Supplemental Educational Opportunity Grant (FSEOG)

Scholarships
Texas A&M University offers dozens of scholarship programs for freshmen and continuing students, including:

Academic Scholarships
Veterans Scholarships
Corps of Cadets Scholarships
Academic Achievement Scholarships
College and Department Scholarships
Out-Of-State Student Scholarships
Craig and Galen Brown Foundation Scholarships
McAllen Higher Education Center Scholarships
Dependent Children of Texas A&M Employee Scholarships

Student employment

Internships
Graduate Assistantships
Graduate Fellowships
Regular Part-Time Employment
Federal or Texas College Work-Study
TAMU Reads & Counts Tutor Program
Community Service Program
Note that the listed programs may not be available for all student groups. The best way to check the programs you can apply for is to visit the Financial Aid page of the university website and select your student category from the menu on the left.
This website also provides the necessary information about the application deadlines and eligibility criteria for each offered program.
How To Apply for Texas A&M Scholarships and Financial Aid
Depending on your residency or citizenship, you must complete one of the following forms to apply for financial aid from Texas A&M University:
These documents consist of various questions related to you, your family, household, financial situation, and education information. Besides answering these, you should also list all the colleges whose financial aid programs you are considering. The forms will help the university financial aid office determine if you are qualified for receiving support. They must be submitted each year if you want to keep receiving financial help.
What Happens After You Apply for Financial Aid at Texas A&M?
Here's what happens next once you apply for financial aid:
A few days after submitting the necessary form, a Student Aid Report (SAR) will arrive at your inbox or home address, depending on the info provided. It's a paper or electronic document that sums up all the particulars you disclosed in the form. You should revise it and fix potential errors to increase your chances for a bigger financial aid sum
Texas A&M will review your application and assess your eligibility for financial support by considering your:

Costs of attendance (COA)—all university-related expenses that must be covered during one academic year. They include tuition, housing, university books, transportation, and all other costs that may emerge
Expected Family Contribution (EFC)—an expected amount you and your family can set aside for college costs based on your income and financial status

The institution will send you an official financial aid letter:

Declining your application, or
Offering you a specific amount determined according to your application form
How Can DoNotPay Assist You in Appealing a Low Financial Aid Offer?
Did the college you are interested in refuse your financial aid application or offer a way too low amount for your needs? No worries—DoNotPay can assist you in appealing that decision without contacting the institution directly or writing an appeal letter yourself!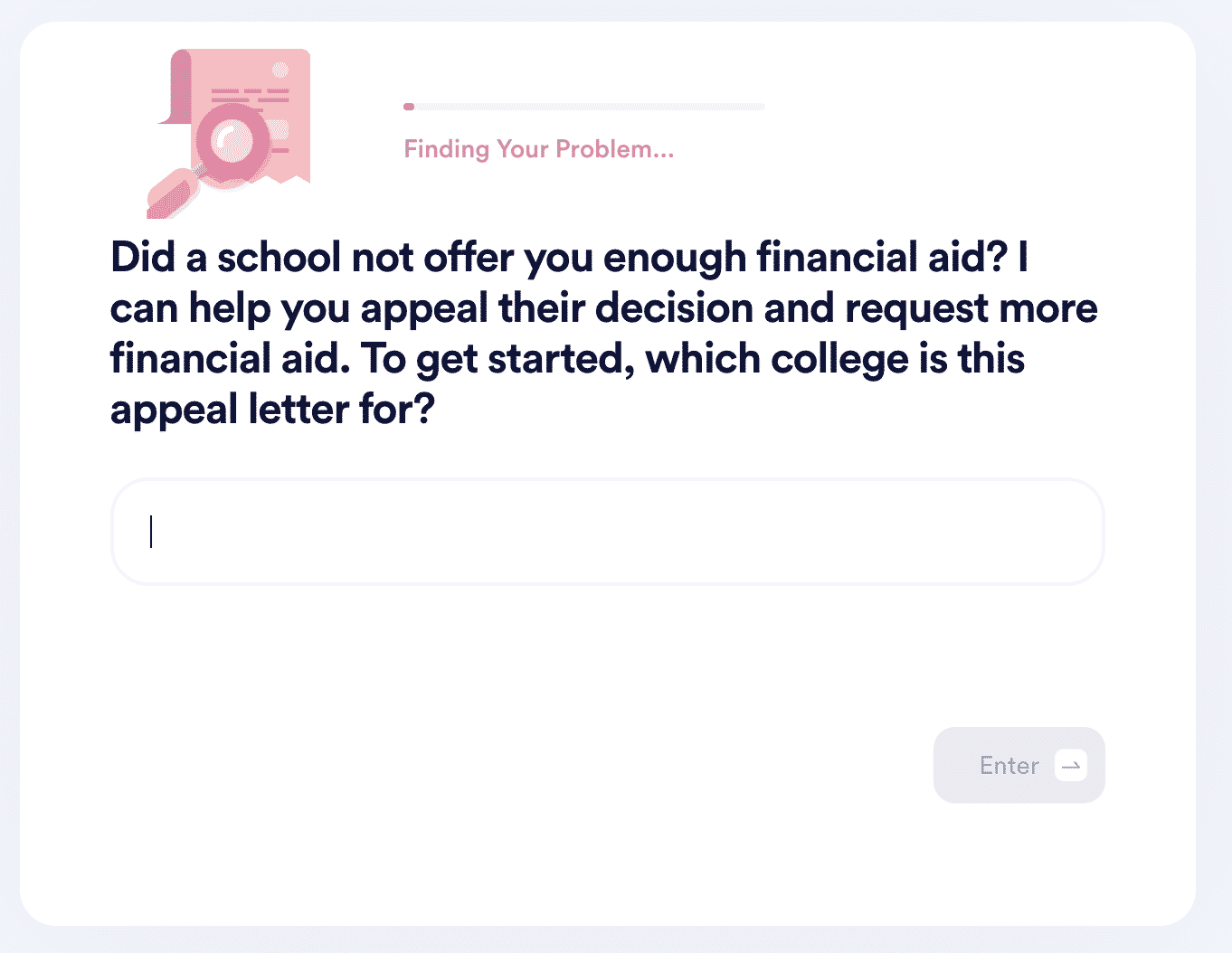 Here are the instructions you should follow:
Make an account with DoNotPay and sign in
Click on Appeal for More Financial Aid
Disclose the following:

Name of the institution whose financial support you want to use—in this case, Texas A&M University
Financial situation information and potential changes since you applied for the program
List of other universities that offered you a bigger financial aid sum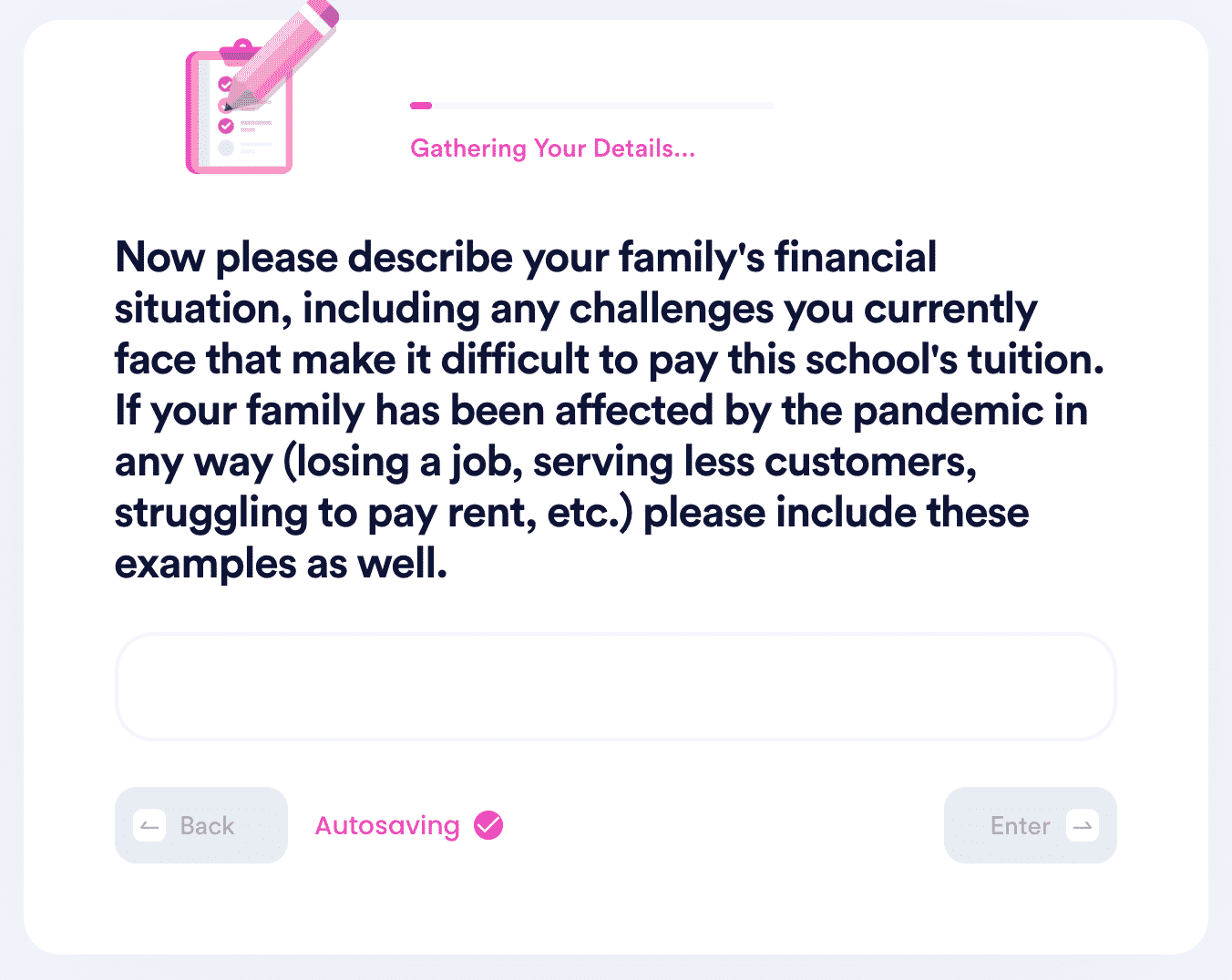 In less than five minutes, our system will generate a personalized appeal letter in your stead and mail it to the university right away!
If you are unhappy with the college's decision anyway, check out how financial aid works at other universities, including:
Our knowledge base can also teach you everything about:
Only the Sky Is the Limit for DoNotPay
DoNotPay has an insane number of features that keeps growing. Our platform can help you:
Say Goodbye to Spam Mail With DoNotPay
DoNotPay has designed a feature that will put a stop to the flood of junk and spam mail into your inbox! We can help you join a class action against a spammer or take any person or company that's wronged you to small claims court!
Need a virtual credit card number or a fake phone number to protect yourself from scammers? We've got you covered! We can help you fight text spam or even assist you in sending mail without any chance of error.
Our users' safety is our number one concern, so we've developed a feature that will protect you from cyber stalking or harassment!