The Texas Advance Directives Act Sets Up Advance Care Planning
By making plans for the future, you can prevent a lot of bumps on the road. When thinking about possible health issues, you should create an advance directive, including the health care power of attorney and living will forms.
Before you start drawing up these legal documents, you need to get familiar with the Texas Advance Directives Act to ensure all legal requirements are met.
What Is the Texas Advance Directives Act of 1999?
The Texas Advance Directives Act provides definitions of fatal and incurable illnesses and addresses the following aspects of advance care planning:
A medical power of attorney
A living will
End-of-life decisions
According to the Texas Advance Directives Act of 1999, you have to complete the following two forms to have a comprehensive state-specific advance directive:
Living will—Knows as Directive to Physicians and Family or Surrogates
Medical power of attorney—Also called a health care proxy and power of attorney for health care
Keep in mind that some states recognize a difference between a medical power of attorney and a health care proxy.
This act also allows physicians to discontinue life-sustaining treatment despite the wishes of the patient or patient's family if they find it futile, which still causes controversy.
Texas Medical Power of Attorney
A medical power of attorney in Texas lets you name a health care agent to make decisions regarding your medical care when you cannot make them by yourself.
While you can appoint any adult person as your agent, you should choose someone you trust. Keep in mind that you cannot delegate the powers to the following persons:
Your physician
A director or an employee of the medical facility you want to receive medical treatments in
Your health care provider
Texas Living Will
A Texas living will is a form that provides instructions to your physician, medical providers, and family members. You should create this document to specify your wishes regarding health care treatments in case you are unable to express them yourself, i.e., if you:
Get a terminal or irreversible disease
Are in a coma or vegetative state for an extended period
Keep in mind that your doctor needs to confirm the above-listed conditions for a living will to become effective.
How To Prepare an Advance Directive in Texas
You can take different routes when drafting an advance directive, medical power of attorney, and directive to physicians and family or surrogates in Texas.
The following table presents a few common methods:
How To Create an Advance Directive
What To Consider
Hire a lawyer
While any attorney can create an advance directive, you should keep in mind that this legal service is typically costly
Draw up the document on your own
You can:

Download an online template
Inspect it carefully
Change the form to meet your circumstances

Subscribe to DoNotPay
Use our AI-powered app to:

Cover all necessary elements
Save time, money, and energy
DoNotPay Generates a Top-Notch Texas Advance Directive
Our robot lawyer provides you with a quick and affordable but also reliable product that can prepare an advance health care directive for you.
We will make sure the document:
Covers all legal aspects
Includes all your wishes and meets your needs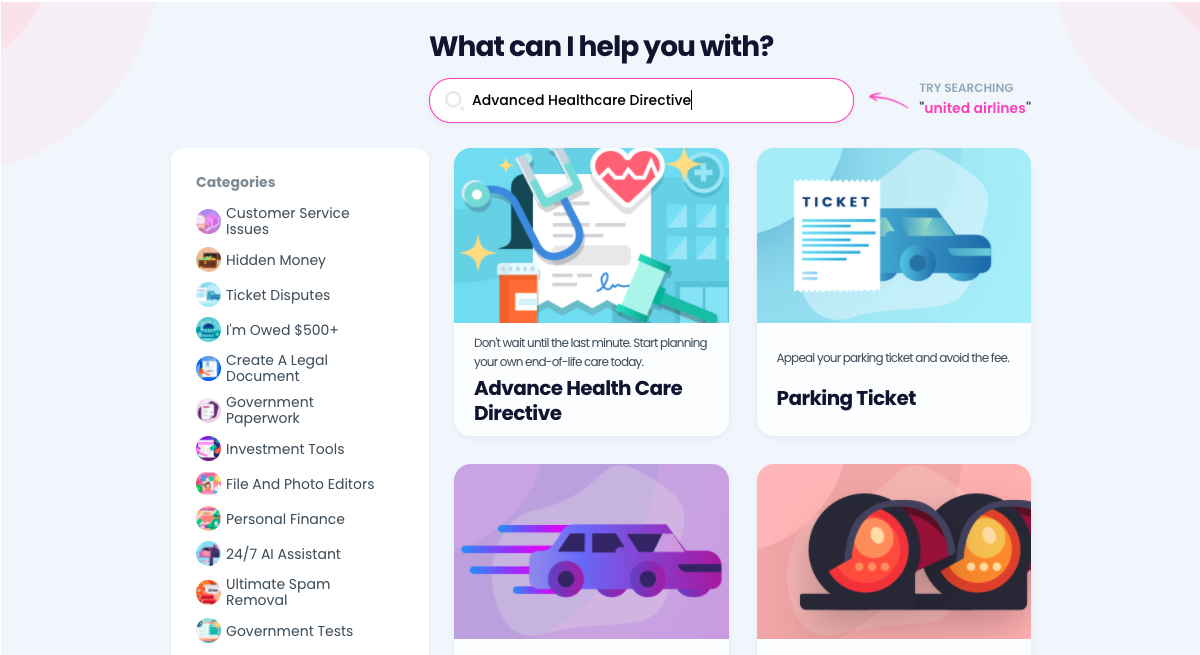 To get the ball rolling, register for DoNotPay and take the following steps:
Choose the Advance Health Care Directive feature
Include your medical information and the name of your agent
Indicate what powers you have decided to grant
Enter the names of your witnesses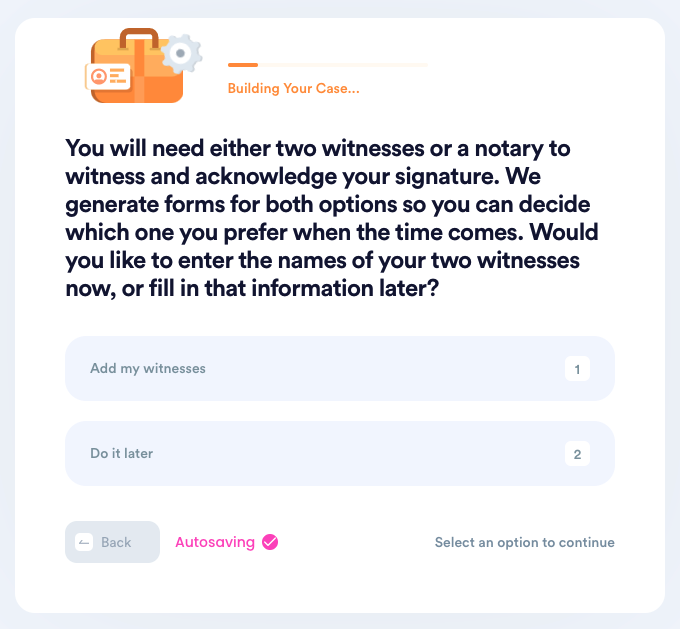 Who Can You Choose as Witnesses?
Texas Advance Directives Act mandates you to:
Sign advance directive forms in the presence of two adult persons
Have these witnesses sign the same document
Keep in mind that you cannot choose the following people for witnesses:
Your health care agent
A person who is entitled to or has a claim against (part of) your estate when you die
Your health provider or their employee
A person related to you by blood or marriage
Solve Any Problem Within a Few Clicks
DoNotPay keeps adding new features that are designed to help you navigate your tasks and resolve issues. You can rely on your AI-powered app whenever you need to:
Earn and Save Money Using DoNotPay
When money is tight, every penny counts. DoNotPay can help you get what you're owed and also some extra cash.
Here are some of the ways our app can help you get paid:
We can also assist you in searching for your unclaimed funds, demanding a college fee waiver, and joining clinical trials.
If a company refuses to give you what you're owed, don't hesitate to file a complaint and take it to small claims court.