Is Getting a Terms of Service Agreement Worth It?
Do you own a website, mobile app, or are you offering any services? If your answer is yes, you should consider creating a terms of service agreement. This document allows you to establish rules and conditions that will protect your company. Our easy-to-follow article will provide you with all the details you need to know regarding terms of service agreements and show you the most efficient way of getting one.
What Is a Terms of Service Agreement?
A terms of service agreement (ToS) is a document that states the regulations which users of the product, often a website, must follow. A ToS agreement can also serve as a disclaimer, especially when it's regarding the use of websites.
Why Is It Useful To Have a Terms of Service Agreement?
Although a terms of service agreement isn't required by law, there are many perks of having one. If you're deciding on whether you should get such a document or not, we'll provide you with some tips to help you decide.
You should get a ToS because it:
Lets you be in control—A terms of service agreement lets you control how customers use your platform and what they can do on it
Prevents abuses—The rules of behavior are stated in the ToS, so everyone who's using your service must obey them. If your rules are violated, you can delete someone's account or prevent them from using your website. A ToS agreement puts a stop to:

Spamming and other similar behavior between users
Not safe for work (NSFW) content
Attempts of infecting a website with a virus

States who owns the content—Your content will be protected by international copyright laws as the terms of service agreement usually has an Intellectual Property clause
Limits liability—The agreement includes a warranty disclaimer which protects you from liability if there are errors found in the content on your website
What Should a Terms of Service Agreement Contain?
Every terms of service agreement is suited for a specific set of needs and purposes. To help you learn what your contract should cover, we've made a table that contains the most commonly found clauses in ToS agreements:
Mandatory Clauses
Optional Clauses

The effective date of your document
Introduction
Contact details
Links to other significant documents
Whole agreement clause
IP declaration
Rules of conduct
Your rights
Disclaimers
Limitation of liability
Amendments
Governing laws

Licensing agreements
Shipping
Payment and subscriptions
Returns and refunds
Data handling
Is a Terms of Service Agreement Legally Binding?
A terms of service agreement becomes legally binding when accepted by the user.
Website users can take you to court if they can prove they were harmed by a breach of the terms. You—the company owner—can enforce the terms by refusing service.
Should You Write a Terms of Service Agreement by Yourself?
Hiring a lawyer is the safest solution, but not everyone has enough money to cover the fees. If you want to create a terms of service agreement on your own, you will need to follow some important steps. Here's what you have to do:
Define your terms of service agreement and indicate that everyone who wants to use your service has to agree to the rules
State what the name of your website or app is and what product or service it provides
Define rules and regulations for the usage of your product
Add an acknowledgment by the user in which he or she agrees to abide by the rules
Include limits on liability
Input your company's privacy policy
Indicate the consequences of not agreeing to the terms of service
In case you find yourself in need of a different type of legal document, you can turn to DoNotPay for assistance! Our app will create various contracts in your stead in a few clicks!
Creating Legal Documents Is a No-Brainer With DoNotPay
With the help of DoNotPay's handy Standardized Legal Documents product, you will be able to create a plethora of legal documents. All you have to do is:
Enter the name of the document you need to draw up
Respond to the questions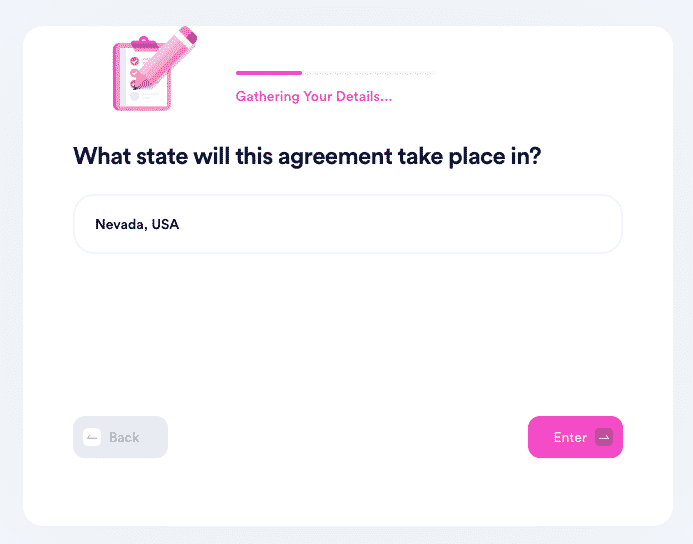 We will generate a contract for you, and you'll be able to download it in minutes. If you want to make your document official, you can sign it and then get it notarized without leaving the app. You can set up an appointment with an online notary in a flash using our Notarize Any Document product.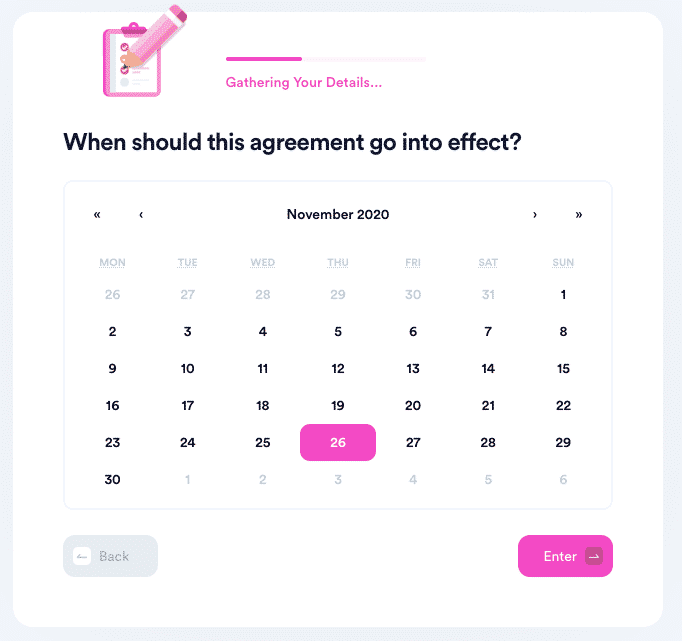 DoNotPay Can Draw Up Various Documents for You
DoNotPay can create all sorts of documents for you, including:
General Business Contract
Intent To Purchase Real Estate
Promissory Note
Quitclaim Deed
General Affidavit
We can also provide you with information on various topics such as:
DoNotPay Gets the Job Done—Solve Any Issue Within Several Clicks
DoNotPay is an ever-growing app, which is constantly adding new ways to help you with your everyday tasks and those not so common.
Count on your virtual assistant when you need to:
Have Your Cake and Eat It Too—Earn, Save, and Get Your Money Back
Not only can we help you complete numerous tasks, but we can also make sure your money stays where it belongs—in your wallet. Let DoNotPay assist you in getting different types of refunds and compensation:
Our app can also help you find your unclaimed funds, get free trials and free raffle tickets, and obtain a college fee waiver.