Termination of a Real Estate Contract by the Buyer—All You Need To Know
Have you signed a real estate purchase agreement as the buyer and now wish to back out of it? Terminating a real estate contract isn't an easy task, whether the party is a seller or a buyer.
You have to terminate a legal document without suffering the consequences of a breach. If you do it by downloading a questionable contract template from the internet, you risk making a serious error.
Luckily for you, DoNotPay has all the answers. We'll show you how to terminate a real estate agreement as a buyer and write all kinds of contracts. 
What Is a Real Estate Contract?
A real estate purchase agreement is a legally binding document between two parties—a seller of a property and a buyer. Sometimes, there is a third party involved, like a wholesaler. A wholesaler markets the property for the seller and finds an end buyer. When that is the case, the parties will use a wholesale real estate contract.
A real estate purchase agreement outlines all the details and terms of the transaction, including:
The buyer's and the seller's full names

Legal title of the property

Purchase price

Payment method

Personal property and house fixtures that are included in the transaction

Any repairs the seller will make to the property

The duration of the agreement

Move-in date

Conditions under which the parties can terminate the contract

Legal repercussions parties will bear if they breach the terms
Since a real estate purchase agreement is legally binding, you cannot violate its terms without bearing any legal or financial consequences.
Can You Terminate a Real Estate Contract You Signed?
All real estate purchase agreements need to have a specified objection period in them. This is the time you have to back out of the deal. Objection periods usually cover two weeks, but this varies from contract to contract.
After signing your real estate purchase agreement, you cannot terminate it without filing a lawsuit against the seller.
Buyers usually file lawsuits if serious defects are found on a property. For a buyer to win the dispute and terminate the contract successfully, there has to be evidence that the seller knew about the defects and failed to disclose them.
What Are Some of the Circumstances Under Which Buyers Can Back Out of a Real Estate Contract?
Real estate purchase agreements include a list of contingencies or conditions under which buyers can back out of the deal without paying a hefty amount. Here's a list of the most common contingencies:
Legal title issues

—If a seller has issues with the legal title of their property, a buyer can walk out of the deal unscathed

Mortgage rejection

—When your mortgage application is rejected, you don't have to close the purchase deal. Most agreements specify the time frame in which you can walk out of the deal and get your earnest money back

Failed inspection

—Sellers also have a set period during which they need to do a property inspection. If you want out of the deal, notify the seller before the inspection deadline expires, and you'll retrieve your deposit and earnest money

Undisclosed easements

—If there are easements on the property and the seller didn't notify you about them, you can cancel the purchase agreement. The seller needs to disclose information about any other property defects until the agreed-upon date. If they fail to do this, you can back out without having to forfeit your earnest money
Bonus Tips When Signing a Real Estate Purchase Contract
When buying a home, you should take the following steps to avoid having to terminate the agreement you already signed and go through a lawsuit:
Choose your real estate agent wisely

Read all the clauses and terms in the agreement carefully and ask your real estate agent for clarifications

Don't settle for terms that don't sit well with you

Negotiate the terms to get what you want
Want To Write Your Own Contracts? Do It in Three Steps With DoNotPay!
With DoNotPay's Legal Documents product, you never again need to rely on inadequate contract templates you download online. You can get a fully personalized contract in under a few minutes. Here are the steps to follow:
Enter the name of the document you need

Give our chatbot some essential details you want included in the document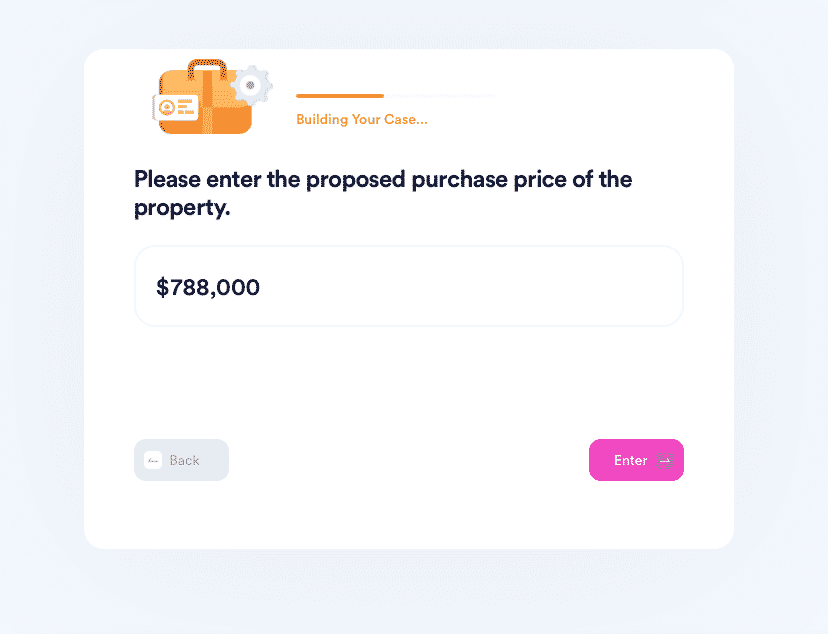 What Legal Documents Can You Create With the Help of DoNotPay?
today and check out what kinds of legal documents you can get our app to generate in a few moments:
Agreement Type
Agreement Name

Real estate

Quitclaim deed

Intent to purchase real estate

Estoppel certificate

Business contracts

General business contract

Other types of documents

Promissory note

General affidavit

Child care authorization form
DoNotPay—A Pocket-Sized Assistant
If you need protection from stalkers and harassers, we know what to do. If you want to fight workplace discrimination, DoNotPay has got your back. Even spammers don't stand a chance against our AI-powered app—both the texters and the robocallers.
If your situation takes a turn for the worse, you may need to take the issue to court. In this case, the world's first robot lawyer swoops in to help! You can count on DoNotPay to assist you every step of the way, regardless of whether you need to take a person or a company to small claims court.
Our App Helps You Through Numerous Red-Tape Issues
Dealing with paperwork doesn't have to be tedious. With DoNotPay's help, cutting through red tape is fast and easy. With a few clicks in our app, you'll be able to: