A Breakdown of the
Tennessee Property Tax Homestead Exemption
Understanding your property taxes as a citizen of Tennessee is the jumping-off point to lowering them. Even though Tennessee is one of the states with low property taxes, that doesn't mean you don't need help paying them. One strategy you can try out is checking whether you are eligible for property tax exemptions.
The homestead exemption can be particularly tricky as it has different meanings. We'll show you the ropes regarding the Tennessee property tax homestead exemption and help you save money on taxes!
The Homestead Exemption Explained
A homestead exemption has two meanings. One is a homestead property tax exemption, which applies to homeowners who live in that home as their primary residence. Officially living in the home you own may qualify you for a property tax exemption or be a requirement for other exemptions, such as those for senior citizens or people with disabilities.
Another meaning of homestead is connected to filing for bankruptcy. The Tennessee homestead exemption protects the equity of your home in case of bankruptcy. This way, you can liquidate the non-exempt assets, repay your creditors, and keep a portion of your property intact. Depending on other factors, such as your age, marital status, and the number of dependents, the amount you can claim in the homestead exemption varies. It can go from $5,000 to $20,000.
Tennessee Property Tax Exemptions That Include Homestead
Tennessee offers various property tax relief programs that would either exempt, pay, or reimburse a portion of property taxes on your primary residence (homestead).
You may qualify for the following exemptions:
Low-income homeowners who are

senior citizens

Disabled homeowners

Disabled veterans and their widow(er)s 
The state of Tennessee also has a property tax freeze program for homeowners who are 65 or older and have a low income. In 2021, your home and no more than five acres can be frozen. This doesn't mean that it will affect the assessment values, but that your due tax amount will freeze—i.e., it will not be increased.
All programs require you to live in your primary residence.
Elderly Low-Income Homeowners
If you are 65 years of age or older and your yearly income doesn't exceed the limit the state sets forth, you may qualify for the elderly low-income homeowner exemption. In 2020, the income of applicants wasn't supposed to surpass $30,700.
Disabled Homeowners
Totally and permanently disabled homeowners can apply for the disabled homeowner tax relief. Besides being a person with a disability, you shouldn't have income that exceeds the set amount.
Disabled Veterans and Their Widow(er)s
Veterans can qualify for the disabled veterans' tax relief if they:
Served in the U.S. armed forces

Were honorably discharged

Acquired a disability during the service (e.g., paraplegia or permanent paralysis)

Have a 100% permanent total disability due to being a prisoner of war as determined by the U.S. veterans' administration
If a disabled veteran who was eligible for the tax relief passes away, the relief will be extended to the surviving spouse as long as they don't remarry.
Other Tax Reduction Methods in Tennessee
Regardless of whether you are eligible for a certain exemption, there are steps you can take to reduce your property taxes before, after, and even during your Tennessee property tax assessment. Here's an overview of what you can do:
Tips

Key Details

Be present and walk alongside the tax assessor during the in-person

property tax assessment

Ask questions

Check for signs of unfair calculations

Plan your home renovations wisely

Avoid doing renovations right before your assessment so that you don't increase your home's value

Review your property tax bill

Contact the tax assessor if you have any questions about your bill

File a

property tax appeal

with DoNotPay's help if you believe your home was overassessed
Snatch DoNotPay's Guide on Tax Exemptions and Appeals
The chances are that you're going to have questions, forget about some documents, or miss the deadline for an application for property tax exemptions. Before you get wrapped up in red tape or give up entirely, we can help!
You can bank on DoNotPay to break down every exemption you qualify for and walk you through the application process, and that's not all!
Our Property Tax feature generates a custom property tax guide that covers the following:
Property tax exemptions

A list of Tennessee property tax exemptions you are eligible for

Instructions on gathering the required paperwork

Guidelines regarding the application submission

Property assessment appeals

Steps needed for an assessment appeal

Tips for negotiating with your local tax assessor

Methods of gathering evidence for the appeal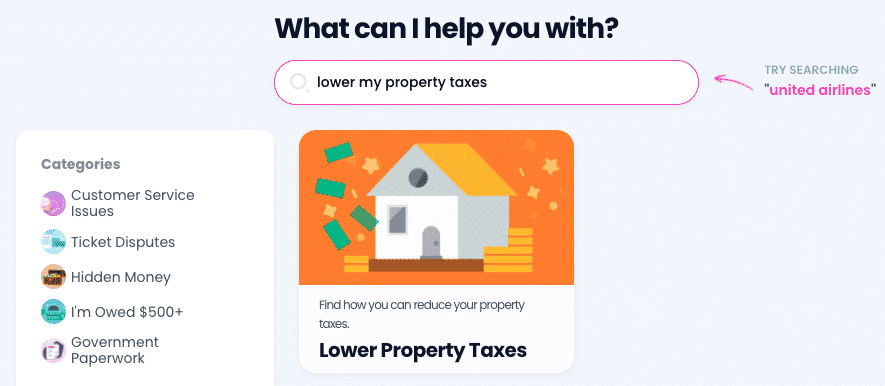 How To Receive DoNotPay's Personalized Property Tax Guide
To gain access to your guide, all you have to do is follow these instructions:
Visit DoNotPay in a

web browser

Click on the

Property Tax

feature

Answer questions about yourself and your property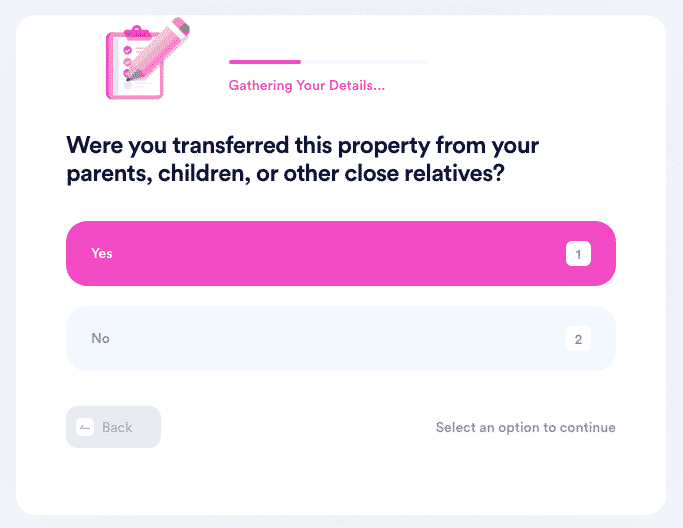 Admin Issues Giving You a Headache? Resolve Them With DoNotPay!
Scheduling a DMV appointment, applying for clinical trials, requesting refunds from companies, and getting in touch with your loved ones in prison are all difficult and time-consuming tasks. You have to take many steps before you can get any of these over with, and that's why our robot lawyer app is here to help.
No matter if you need assistance with appealing parking tickets, signing up for free trials, canceling various subscription services, or maybe preparing for government tests, DoNotPay will provide you with easy solutions.
Having Financial Struggles? Rely on the World's First Robot Lawyer
Many Americans struggle to make their ends meet at the end of each month. With that in mind, we've created plenty of features that will save you both time and money in the most efficient way. 
Using our AI-driven app, you can get help with bills, get refunds from airlines, find unclaimed money in any state, or earn off annoying robocalls or stalkers and harassers. If you want to fight for your right, DoNotPay will also assist you in suing any person or company in small claims court.
No matter the admin task at hand, our robot lawyer will provide swift and effective assistance.