Create a Top-Notch
Tennessee Lease Agreement
Fast
Since renting a property in Tennessee brings numerous responsibilities, the best way to regulate it is by signing a lease agreement with the other party. If you are familiar with the law, such a task may be a breeze for you, but what happens if you have never drafted a legal document before? 
We will walk you through the ins and outs of the Tennessee lease agreement and teach you how to use DoNotPay's customizable templates to make the desired document in a snap!
Understanding the Tennessee Lease Agreement
A residential lease agreement is a legally binding contract between a property owner and a tenant occupying the particular residence in return for a certain rent amount. 
The primary goal of this document is to define the landlord-tenant relationship and help the parties avoid misunderstandings during the lease period. 
Tennessee laws state that all lease agreements lasting longer than three years must be in writing. The shorter ones can be verbal, but creating a written contract is always recommendable since it's a valid proof of all terms and conditions. Lease contracts are usually fixed-term, and the conditions the parties agree upon remain the same until the lease termination.
What Provisions Should Your Tennessee Lease Contract Cover?
If you want to create a solid lease agreement, you must be thorough and ensure you don't miss relevant details. All clauses must comply with the rules from Chapter 28 of the Uniform Residential Landlord and Tenant Act.
Below is the table showing the basic provisions your contract needs, but also some disclosures that state laws forbid:
You Should Include

You Shouldn't Include

Legal names and addresses of the landlord and occupant(s)

Lease duration

Property details—address, description of the premises, general condition, furnishing, appliances, etc.

Rent details

Late and returned check fees

Security deposit details—the state doesn't propose a specific amount limit, but the landlord needs to return the money within 30 days from the lease termination

Potential repairs, alterations, and improvements

Obligations regarding utility bills

Pet clause

Guest policy

Notice requirements

Extended absence

Car towing

Lease termination

Increasing rent

Terms that deny tenant's right to file a lawsuit against the landlord if they violate the rules

Sections that allow the agreement changes not complying with state laws

Provisions that allow the landlord to take a security interest on the renter's personal belongings

Terms that allow the landlord to enter the property without prior notice

Provisions that allow the landlord to refuse to rent out their property to someone based on the person's gender, race, nationality, or any other similar criteria

Sections that prevent the tenant from joining a tenants' union

Terms that enable the landlord to evict the tenant without prior notice or court order
Do Tennessee Laws Mandate Any Disclosures?
Depending on the particular case, Tennessee Uniformed Residential Landlord and Tenant Act proposes two mandatory provisions for lease agreements. These are:
Lead-based paint disclosure

—This section is obligatory for all residential units built before 1978 since they may contain this dangerous substance

Showings disclosure

—If the landlord wants to show the leased property to other potential tenants within the last 30 days of the lease, they must include this provision in the contract
Do You Need To Have Your Tennessee Lease Agreement Notarized?
Lease agreements don't need to get notarized in Tennessee. All they need to become valid are signatures of both parties.
How Can DoNotPay Help You Create a Lease Agreement?
Hiring a lawyer to draw up your lease agreement can take an exorbitant amount out of your pocket. Another option is to write the contract yourself or use available online samples, but it's a risky venture. This is why DoNotPay made an easy-to-use product that creates the desired legal document by customizing our modifiable templates.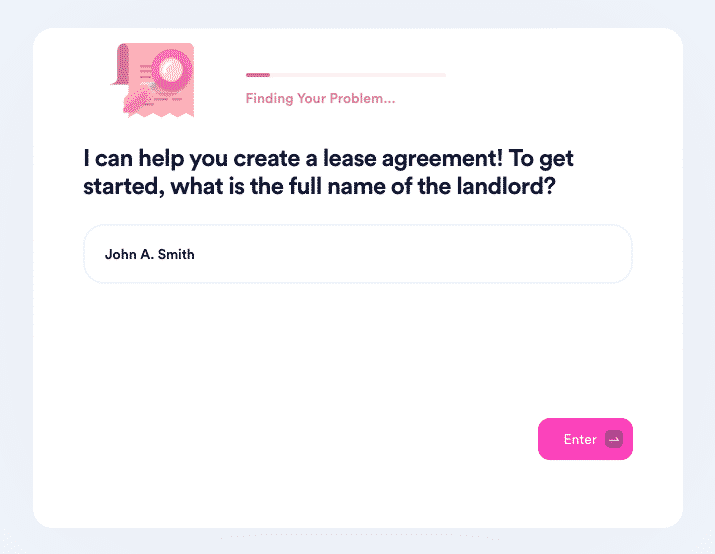 Here's how you can do it:
Sign in to DoNotPay

using your preferred web browser

Enter the name of the desired document

Input additional details to complete your contract
Once you submit your information, our app will give you access to a finished personalized agreement within minutes! The last step is to put it into effect by signing it.
If you want to get familiar with other states' lease agreement essentials, visit DoNotPay's learning base and check out our articles on:
DoNotPay Offers the Best Standardized Legal Documents
Lease agreements are only a portion of our offer. DoNotPay lets you generate the best contracts with minimal effort, and the following table shows all the options:
Business Documents
Real Estate Documents
Other Documents

Residential Lease Agreement

Quitclaim Deed

Estoppel Certificate

Intent To Purchase Real Estate

Child Care Authorization Form

Promissory Note

General Affidavit
Need Help Fighting Bureaucracy? Use DoNotPay!
As the world's first robot lawyer, DoNotPay can help you resolve a plethora of tedious administrative issues. Our app will assist you in getting justice in small claims court, getting refunds from merchants, reporting annoying spam emails and text messages, reporting copyright infringement, bypassing phone number verification, and so much more!
You can also rely on DoNotPay's help when it comes to subscriptions. If you want to sign up for a free trial, cancel a service you no longer use, and skip the phone queue when doing so, our app will provide its assistance.
Our App Saves You Time and Money
Are you unable to pay your bills? Use the world's first robot lawyer app to cover them! Do you want to appeal your traffic or parking tickets? DoNotPay will help you appeal them in the blink of an eye.
Our app can do so much more than that, though—with DoNotPay by your side, you can sign up for clinical trials, ace government tests, claim any type of warranty, schedule an appointment with the DMV, and handle any other bureaucratic task.