Find Out if the Tennessee Durable Power of Attorney Is Effective Immediately
Wondering if the Tennessee durable power of attorney is effective immediately or upon the incapacity of the principal? Looking for an easy way to draw up your power of attorney (POA) document? We can provide you with answers to all of your POA-related questions and show you how to draft legal documents like a pro!
Sign up for DoNotPay, and learn how to deal with bureaucratic tasks head-on!
How Does the Tennessee Power of Attorney Work?
A Tennessee power of attorney is a document that lets you appoint an agent you trust to take action on your behalf. It grants the agent the authority to make decisions in your absence. The agent can sign documents in your stead and manage your legal and financial matters.
The durable power of attorney is different from a regular POA because it doesn't end once you become incapacitated. If that happens and you're unable to give your consent to treatment, the individual named in the POA agreement will make decisions in your stead if the contract is health-care-related. Tennessee legislation regulates this document, also known as a durable power of attorney for health care.
Is the Tennessee Durable Power of Attorney Effective Immediately?
The Tennessee durable power of attorney can become effective immediately or upon your incapacity, depending on your decision. For a durable power of attorney to be valid, Tennessee law requires it to be either signed before two witnesses or both signed and notarized. The contract also has to specifically state the details about the authorization to make health care decisions.
What Powers Can You Transfer With the Durable Power of Attorney in Tennessee?
The durable power of attorney allows you to transfer a broad range of powers to a trusted agent. Some of the common powers you'll transfer by signing the POA contract will allow the agent to:
Do, sign, and perform any act or deed in your stead in the same manner that you would do it if you were present and capable
Receive or disburse money and open/close your accounts
Manage your property, including buying, selling, leasing, maintaining, and altering it as they please
Sign, make, and file your income, property, gift, or any other tax return
Maintain and deal with your policies and insurance in any way—that includes your life, disability, hospitalization, accident, or any other policy
Provide for your and your spouse's or minor children's support and protection, including food, lodging, medical services, etc.
Have access to your safety deposit box
Act as representative payee for any payment you are entitled to
Contract employees and attorneys in your stead
Engage in any lawful business in your name
Sue, defend, and take legal actions
Request and review any verbal or written information about your personal affairs or physical and mental health, such as legal, medical, and hospital records
How To Draft a Tennessee Durable Power of Attorney
If you want to draw up a durable power of attorney in Tennessee on your own, you must incorporate the following sections:
Clause
What To Include
Names
The full names of both you and the agent
The effective date
The date when the agreement becomes effective
Details about the agent
All important details about the agent, including:

Contact info
Addresses
Any other relevant info

Durable power of attorney type
Specifics regarding whether your POA applies to:

Financial decisions
Health care decisions
Legal decisions
All of the above

Instructions
Any instructions that you want the agent to follow
Draft Your TN Power of Attorney With DoNotPay in a Few Clicks!
Why spend hours writing the Tennessee power of attorney by yourself when you have a more convenient option at your fingertips? DoNotPay will gather the info you provide and use it to generate your document in a snap! Follow these steps to get started:
Choose the powers you want us to include in your agreement
Answer our questions
DoNotPay will create your POA agreement instantly! You and your agent should read the notices and provide your signatures.
You don't have to struggle with an in-person visit to a notary to get your POA notarized! Once we create your power of attorney document, you can get it notarized online and finish the process using the same app easy-peasy!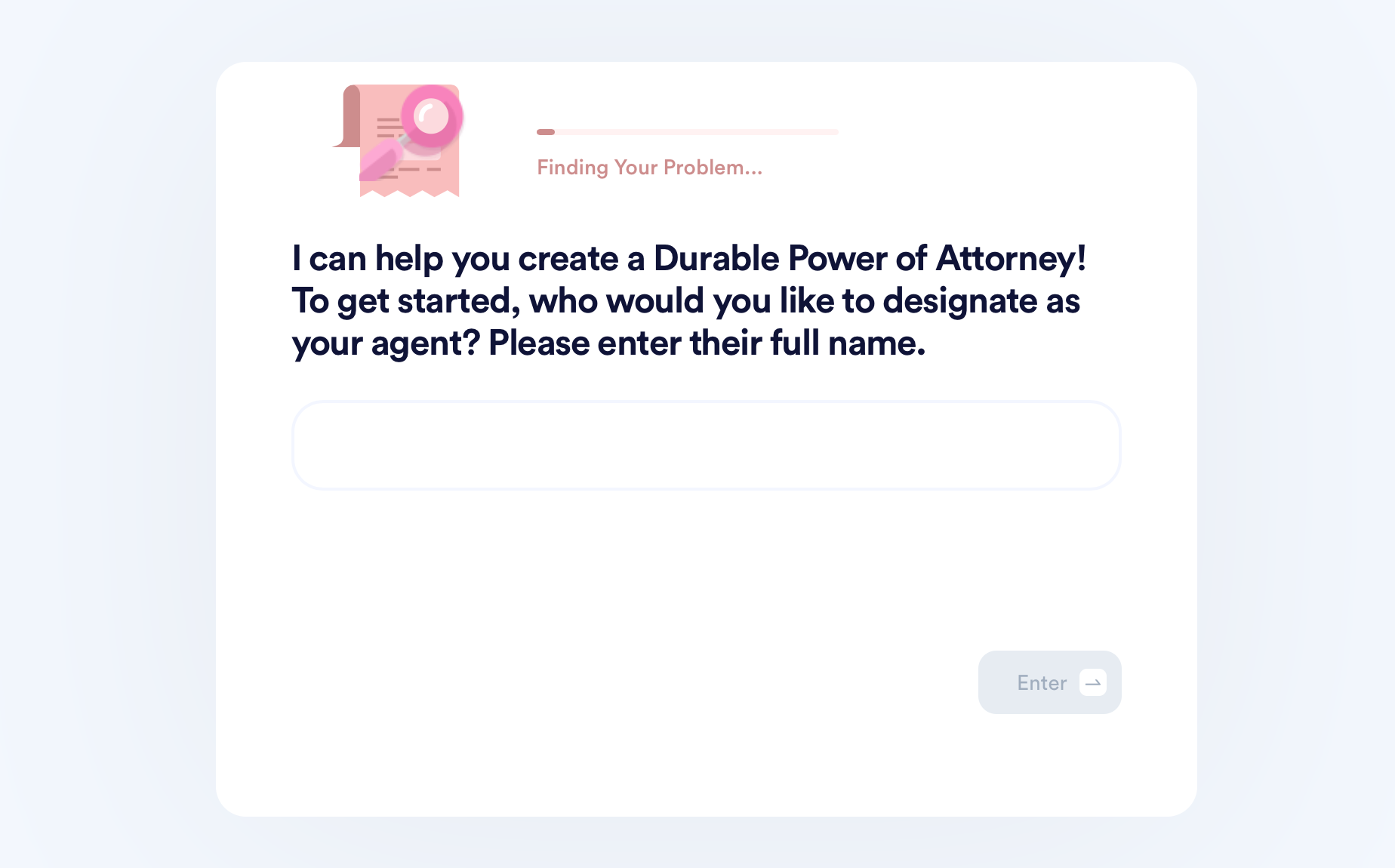 If you have additional POA-related questions, DoNotPay will provide you with answers! Check out the list below to see some of the common dilemmas we can clarify:
Paying for Lawyers? We Don't Think So!
For an average Joe, any mention of legal terminology and complicated administrative processes is likely to cause a headache, and understandably so! Still, you don't have to jump the gun and hire expensive lawyers for the smallest matters.
It's the 21st century, and everything is automated. Why would it be different with bureaucracy? DoNotPay can help you draft efficient neighbor complaint letters, prepare you for a small claims court appearance, or create standardized legal documents and have them notarized online.
Our app is a great resource for fighting workplace discrimination, stopping stalking and harassment, protecting copyrights, securing compensation for victims of crime, and even reducing property taxes—all at a fraction of the price of traditional legal help.
Need To Do Some Penny-Pinching?
Whether you're saving for rainy days or a new gadget, DoNotPay can provide numerous options to save and earn more cash.
Do you need help with utility bills? Are you wondering how to get those few dollars left on your gift cards? Are you unsure about how to find your unclaimed money? Our app has the answers to all those questions.
With our assistance, you'll be able to enter raffles, start free trials with no risks, participate in lucrative clinical trials, or claim refunds for late deliveries!