How To Get the Tennessee Disabled Veteran Property Tax Exemption With Zero Effort
With a tax rate of only 0.64%, Tennessee belongs on the list of the states with low property taxes in America. That being said, why would you pay the full amount of your property tax bills if you qualify for a property tax exemption?
The Tennessee Property Tax Relief for Disabled Veterans is only one among the many tax exemption programs the state offers to certain homeowners to help them pay property taxes.
We'll help you learn what the eligibility criteria for the Tennessee disabled veteran property tax exemption are and how to apply for the exemption without wasting your time and energy.
What Is the Tennessee Property Tax Exemption for Veterans?
Property tax exemptions are one of the ways you can lower your property tax bills if you own property in Tennessee. Like all property tax relief programs, the exemptions for disabled veterans help reduce a hefty portion of your property's market value, thereby lowering your annual tax bills.
You can have $175,000 maximum of your home's purchase price decreased if you qualify for the Tennessee Property Tax Relief for Disabled Veterans. Note that this number may vary by county.
Do You Qualify for the Tennessee Property Tax Relief for Disabled Veterans?
Military veterans who want to receive the Tennessee Property Tax Relief for Disabled Veterans need to meet one of the following eligibility criteria:
Being totally and permanently disabled as a result of military service

Having been a prisoner of war during service

Residing on the property they own and want to get an exemption for

Being a widow or widower of a disabled veteran who qualified for the tax relief program at the time of their death
A service-connected disability refers to any of the following:
Legal blindness

Loss or loss of use of two limbs or more

Paraplegia
If you're a disabled veteran, you aren't going to get this exemption by default. You have to file a request for the exemption if you want a part of your property's market value to be reduced from your overall tax payment. In Tennessee, you have to locate the County Trustee's office in your county to apply for the exemption.
What Other Tax Relief Programs Does Tennessee Offer?
If you don't qualify for the Tennessee Property Tax Relief for Disabled Veterans, don't despair. Here are some of the other most common property tax exemptions you can apply for:
What About the Veterans Property Tax Benefits in Sumner County, TN?
If you live in Sumner County, Tennessee, you can also benefit from applying to some of the many property tax relief and freeze programs.
The Sumner County tax relief program that's reserved for disabled veterans has the same eligibility criteria as the state program does.
Note that if you want to get a property tax exemption in Sumner County, TN, you can't apply before September of the taxable year. You also have to apply each tax year you want to receive the exemption for, as it's not permanent.
Why Search for Information When DoNotPay Can Give You Everything You Need in One Place?
Applying for any property tax exemption—from disabled veterans to senior citizens exemptions—is not easy. You have to research a lot of information to find out what the application deadline is, where to submit your request, and what documents you need to collect.
This is where DoNotPay steps in! We created a neat Property Tax feature that gives you all the information you need to apply for tax exemptions in one place. Based on a few key pieces of info you give us about yourself and your property, our app generates an all-encompassing guide that tells you:
What exemptions you are eligible for

Which forms to fill out and how

What the deadline is

Where to go to apply for the exemption

What documents to submit along with your request
The best part about our product is that you get this fully personalized guide by taking only three short steps: 
Locating our

Property Tax

product

Answering our chatbot's questions about yourself and your property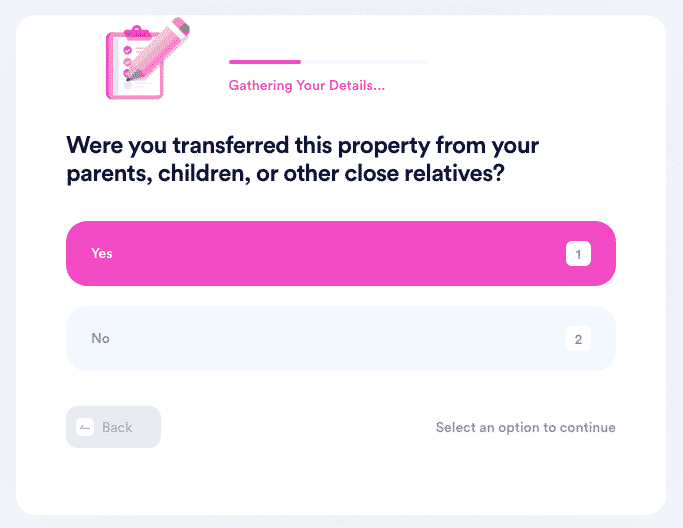 You only need to wait for a few minutes for our app to generate the guide for you that will help you apply for property tax exemptions with no effort on your part!
Want To Appeal Your Property Tax Assessment? DoNotPay Has Your Back!
DoNotPay's guide also helps you with your property's tax assessment. Not only does it give you concrete advice on how to reduce your tax bills during the assessment, but it also helps you appeal your property's assessed value.
Tax assessors often make mistakes when appraising citizens' properties. If your assessment notice contains errors, don't pay more in property taxes than you have to! Log in to your DoNotPay account, and you'll get a tailor-made guide that tells you:
What the deadline for appealing your assessment is

How to collect strong evidence to win your case

What forms and documentation you need to submit

How to prepare for your court hearing
DoNotPay Helps You Scam Scammers
DoNotPay helps you stay safe from scammers and fraudsters! 
We have developed a Virtual Credit Card product that helps you sign up for free trials without revealing your real banking information to any suspicious company. We've joined our most popular feature with a Burner Phone functionality that allows you to verify online accounts with a temporary phone number. 
That way, you'll be free to enjoy services while they're free of charge, eliminate the possibility of robocalls, robo texts, and spam emails from the shady companies, and forget about canceling the subscriptions altogether—our product does it for you!
DoNot Pay can even shield you from cyberstalking and online harassment and get you compensation for the crime you've suffered. We'll even help you take individuals or businesses to small claims court by drafting the relevant paperwork for you, accessing any public records that might bolster your case, and supplying you with a court script that you can read to the judge on the day of the hearing.
DoNotPay Is Helping You Out Left and Right
Not only can DoNotPay handle bureaucratic nuisances on your behalf, but we can make your daily life easier too!
No more waiting in endless phone queues to make a warranty claim for a faulty product or wasting the day away in mile-long DMV lines—our app will do the hard work for you! We'll call the reps of any company—even major airlines—and schedule appointments on your behalf in a matter of minutes!