Tenant in Common Agreement
From A to Z
People often opt for purchasing a property with another person because of lower expenses. There are several co-ownership types, but tenancy in common seems to be the most popular. The best way to regulate the relationship between the co-tenants is to compose a supporting legal document according to the governing laws.
If you aren't familiar with the tenants in common agreement, this article will help you understand all its ins and outs. Read our guide and get the ultimate tips on writing any contract with DoNotPay without overpriced legal services!
What Is the Purpose of a
Tenancy in Common Agreement
?
A tenants in common agreement is a contract that defines an arrangement between two or more entities sharing the ownership of a specific property. It permits each party to use the entire property and sell or transfer their separate ownership interest. 
The purpose of this contract is to outline all co-ownership details and rights of each party. It ensures a fair relationship between the signers and helps them solve potential disputes without ending up in the courtroom.
Are Tenancy in Common and Joint Tenancy the Same?
Before you decide to purchase an estate, it's of utmost importance to decide whether you want to enter into a tenancy in common or joint tenancy agreement. Knowing what these terms represent and what possibilities they offer will help you opt for a more suitable arrangement. 
The main differences between these co-ownership types are shown in the table below:
Criteria
Tenancy in Common
Joint Tenancy

Possession

Tenants in common have full access to the property, but each of the tenants is entitled to a different percentage of it

All co-owners share the ownership of the entire property

Ownership transfer and management

Tenancy in common allows co-tenants to leave the ownership interest to their heirs in their will

When one of the joint tenants dies, their property interest goes directly to the remaining co-owner(s) even if the deceased party has a will. This rule is called the right of survivorship. The only way to avoid it is to terminate the joint tenancy before death and enter the tenancy in common agreement

Permitted number of co-owners

No specific limit

Four co-owners

Time of entering the agreement

The parties aren't required to enter the agreement at the same time. The independent co-owners can get their property interest years after the original ownership setup

All the parties involved must sign the contract at the same time, in a single transaction

The option is recommended for

Unmarried couples

Couples who have children from previous marriages

Siblings

Parents and children

Business partners

Married couples without children
What Elements Should a Tenancy in Common Agreement Cover?
Besides general information about the parties, a valid tenancy in common agreement should cover the following sections:
Property division details according to maintenance duties and usage rights

Outline of each property owner's financial responsibilities, such as:

Property tax details

Initial deposit amount

Reserve accounts

Other costs

Monthly payment and potential amount adjustments

Property management tasks, including:

Repairs

Cleaning

Maintenance

Accounts receivable

Accounts payable

Specific tenancy rules

Pet policy

Smoking policy

Noise policy

Floor covering

Applicable laws

Decision-making rules and procedures

Defaults and remedies

Dispute resolutions

Rules regarding the sale of interests and group approvals of potential purchasers

Signatures of the parties involved
Draft Your Contracts Quickly and Efficiently With DoNotPay
DoNotPay doesn't require hundreds or thousands of dollars to draft a single contract like attorneys do. We offer an affordable solution—amazing customizable templates that let you generate a contract in under five minutes! 
To use this service, follow the steps below:
Open DoNotPay

in any preferred web browser

Pick the template you want to customize

Answer some questions about the details of your document
Our legal documents are drawn up according to the applicable state laws and cover all relevant disclosures. All you need to do to make them valid is sign them with the other party. If you want to have them notarized, you can also do that from our app.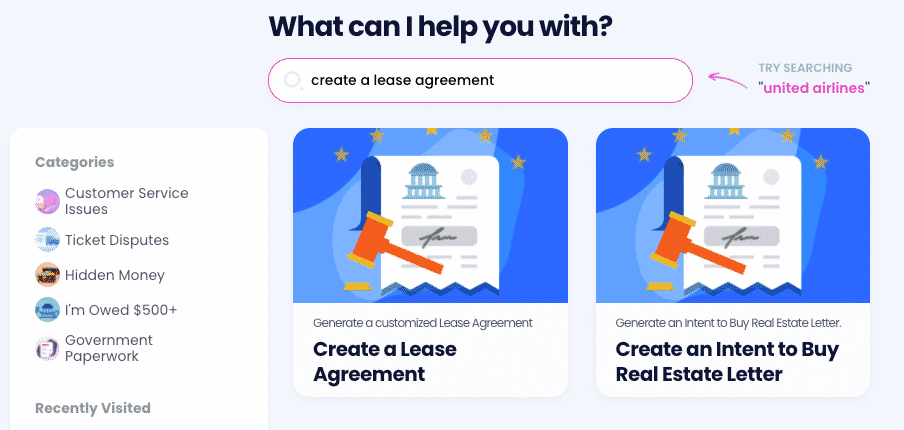 You can use the same procedure for personalizing any document template from our database, including:
Intent To Purchase Real Estate

Promissory Note

General Business Contract

Quitclaim Deed

General Affidavit

Child Care Authorization Form
DoNotPay Teaches You How To Compose Other Legal Documents
If you need a legal document that isn't in our template database, don't worry—we can still help! Our learning center contains loads of articles about drafting various contracts, a portion of them listed below:
Discovering DoNotPay Will Make Your Day
If you feel overwhelmed by tons of paperwork flooding every area of your life, you can finally breathe out and let go of that stress. DoNotPay is the world's first robot lawyer that handles your bureaucratic chores for you. 
Some of the benefits that come with our service include:
Why Get a Lawyer When You Have DoNotPay?
Our agenda has one major goal—provide easy legal access to anyone who needs it. Every new feature we come up with relies on AI technology that simplifies bureaucratic procedures and saves you time and money. 
If you're wondering how to navigate tasks like contacting imprisoned friends and family members or reducing your property taxes, DoNotPay has the answers. Our service cuts through the red tape even if you need to deal with stalking and harassment, claim forgotten assets the proper way, or secure compensation for crime victims.