A Rundown on the Temporary Custody Agreement
Family-related legal procedures are often emotional and stressful, especially when they involve children. To protect your family in such situations, you must regulate the relationship with your partner in the best possible way. 
Signing a temporary custody agreement is the easiest way to properly share parental responsibilities and ensure the appropriate care for your child. In this article, we will explain the purpose of this contract and show you how to create one. You will also learn to avoid unsuccessful drafts and costly lawyers and write your legal documents fuss-free!
Temporary Custody Agreement in a Nutshell
A temporary custody agreement helps the parents define guardianship rights until the court rules on a permanent decision. This contract can also help a parent transfer their custodial rights to the other parent or another person if necessary. 
The parties sign a document determining the specific child care terms and conditions during the temporary custody period. The agreement expires when the court finalizes a permanent custody order or when the custodial parent can take care of the child again.
When Do You Need a Temporary Custody Agreement?
Divorce and separation aren't the only situations when parents should make a temporary custody agreement. The following table shows other common reasons for transferring custody rights to another parent or guardian:
Reason
Explanation

Health issues

A parent who has sole custody needs extended care or must stay in the hospital due to health problems

Incarceration

A custodial parent must spend a certain period in jail

Physical absence

A parent who has custody must leave the state for a certain period due to:

Work

Military service

Any other circumstance that requires leaving the current location

Financial problems

A custodial parent doesn't have enough money to raise their child

Deportation

A custodial parent was deported and can't come back to the country where their child is
What Provisions Does Your Temporary Guardianship Agreement Require?
A temporary guardianship agreement should contain the same provisions as the permanent custody agreement, and it must be clear and concise. You don't want to leave room for ambiguities and misunderstandings. The more information it includes, the better.
Below is the list showing the recommended agreement structure you should follow:
Information about parents and children

Full legal names

Birth dates

Optional contact details of both parents/guardians

Temporary custody duration—a start and end date

Visitation schedule details, including:

Weekly schedule

Holiday schedule

Special occasions

Physical custody details

Legal custody details

Responsibilities and obligations of each party

Health care

Decisions related to education and religion

Extracurricular activities

Co-parenting and communication between parents

Potential agreement alterations
These are the essential sections, but you can add other provisions you consider important.
Is Temporary Custody Agreement Legally Binding?
The signatures of the concerned parties aren't enough to make a temporary custody agreement valid. It must be notarized to become legally binding. 
Discover DoNotPay's Modifiable Legal Templates
Paying an attorney to compose your contract may be the most convenient option, but it's also the most expensive one. If you aren't familiar with how legal documents work but want to be on the safe side, choose DoNotPay and let us generate your contract in a flash!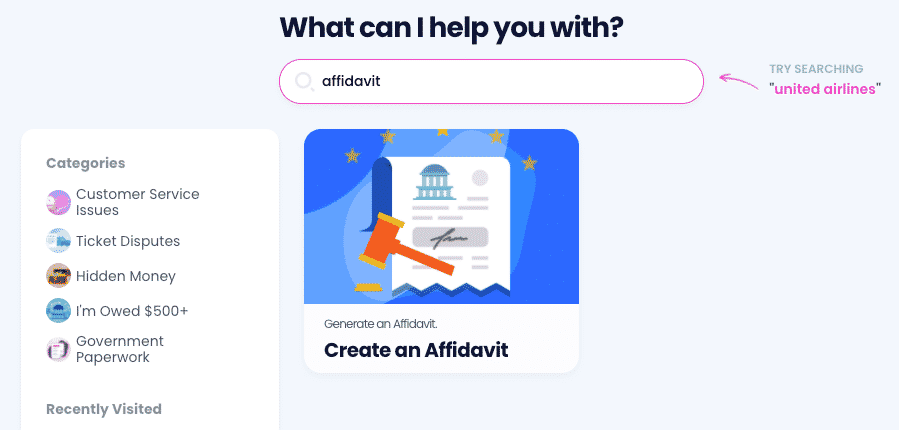 The secret lies in our user-friendly app turning a customizable template into a perfectly drafted agreement! Answer our chatbot's questions about the info you want to include in your document, and we will draw it up in your stead!
To get your personalized contract, follow these steps:
Visit DoNotPay

in your preferred web browser

Find the template you need by entering the keywords in the search box

Provide us with the info you want to add to your document

Access your personalized document and download it
After downloading your contract, you can use our app to have it notarized and fax it with zero hassle! Our award-winning app will help you book a video appointment with an online notary and obtain a notary's signature fast. 
Here are the templates we offer:
General Business Contract

Quitclaim Deed

Intent To Purchase Real Estate

Estoppel Certificate

General Affidavit

Child Care Authorization Form

Promissory Note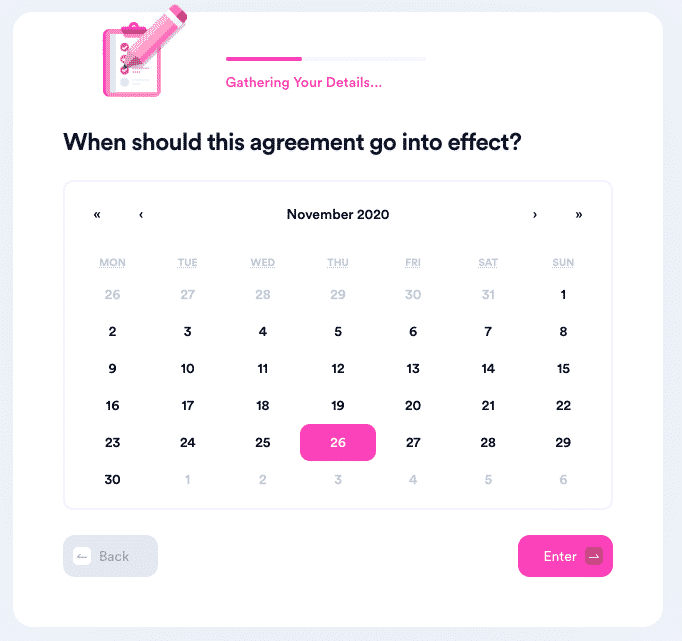 Learn About Other Legal Documents With DoNotPay
The contract you need is not on our list? No worries—our template collection keeps growing day by day! In the meantime, you can learn more about other agreements from our knowledge base. Visit DoNotPay and discover amazing articles about the:
Our Robot Lawyer Gets Rid of All Admin Tasks
What makes DoNotPay so unique is that it helps you get back what is rightfully yours in many different ways. You can appeal parking tickets, find unclaimed money, demand a refund for canceled or delayed flights, get help with bills you cannot pay, or get your college application fees waived with the help of our platform.
If you're sick and tired of annoying robocalls, spam emails, copyright violations, text message spam, or stalkers and harassers, DoNotPay can assist you in getting rid of them once and for all.
DoNotPay Can Help You Save Money
Have you ever subscribed to a service's free trial you forgot about after a few days? Many Americans have, which is why DoNotPay has a free trial feature that will help you avoid getting charged once the trial is over.
If you want us to scan all your active memberships and help you not pay for the ones you don't use, connect your email address or credit card to DoNotPay. Our cancel feature will ensure that you don't waste your money on subscriptions you don't even remember exist.
If a merchant charges you once the free trial is over, though, you can use our robot lawyer to request a refund and skip the phone queue when doing so.
In case a company refuses to grant you a refund, you can also use our app to sue them in small claims court.