Want Free Ice Cream? Tell Baskin Robbins About Your Experience
Baskin Robbins is one of the most popular ice cream chains in the United States. With tempting treats like ice cream cakes, individual scoops, and ice cream sundaes, thousands of people flock to their local Baskin Robbins location every year to enjoy some old-fashioned goodness. Far from just ice cream, however, Baskin Robbins also offers warm desserts, bakery treats, and exclusive beverages.
Baskin Robbins offers a few different ways to save money on your next visit, including a Baskin Robbins survey coupon that could save you dollars off your next order. However, tracking down these coupons and filling out online surveys can be time-consuming. If you want to score free fast food in no time flat, turn to DoNotPay, the fast, easy, successful way to get fast food coupons and offers.
Where To Find Baskin Robbins Free Food Offers
There are a few ways to score Baskin Robbins coupons and offers. Here are some of the most popular ways to get free fast food at Baskin Robbins:
1. Sign up for Baskin Robbins emails
One way to get Baskin Robbins coupons is to sign up to receive email notifications from the company. Not only can you receive a free small scoop of ice cream for your birthday, but you might receive exclusive fast food offers to your email inbox throughout the year. 
2. Download the Baskin Robbins app
Another way to save money and get free fast food from Baskin Robbins is to download the Baskin Robbins app to your smartphone. The app features a revolving selection of coupons and offers - including a special coupon for a free scoop of ice cream when you download the app and log in for the first time. Plus, with the app you can enable mobile pay and order ahead, to make your trips to Baskin Robbins seamless.
3. Take the Baskin Robbins survey online
The Baskin Robbins survey invites you to tell the company about your most recent experience at your local Baskin Robbins - and in exchange for your honest feedback, you might get an exclusive coupon for $1 off your next purchase at Baskin Robbins. Your Baskin Robbins receipt should include the web address to take the survey, but you can also go directly to the survey website in order to fill out the survey questions. 
How To Claim Your Baskin Robbins Survey Coupon
To claim the Baskin Robbins survey coupon, follow the steps outlined below:
Go to the website linked here.
Enter the survey code that you can find on your Baskin Robbins receipt.
If you don't have a survey code, click the option below the area to enter your survey code. You will then be prompted to enter some more detailed information, including a store number and date of visit.
Answer the questions in the survey, detailing any noteworthy aspects of your visit.
Once you finish filling out the survey, click submit to send your survey results to Baskin Robbins. You might receive your fast food coupon to your email inbox within a few hours, but if you don't receive the coupon within 48 hours, check your spam folder. If you still don't see the survey coupon, you can reach out to Baskin Robbins customer service and ask them to confirm that they received your survey.
How Long Does A Baskin Robbins Survey Take? 
The Baskin Robbins survey advertises that it only takes around three minutes to complete. However, there are caveats to this, especially if you have lost the receipt that lists your survey code, and you are prompted to fill out store information, the date of your visit, and other identifying information. Additionally, the survey site might be running slowly, causing you to spend extra minutes refreshing each page of the survey.
When all is said and done, you could easily spend an hour trying to take the tell Baskin Robbins survey. When you want to score free fast food from Baskin Robbins, turn to DoNotPay, the fast, easy, successful way to get fast food coupons and discounted food from Baskin Robbins.
Use DoNotPay To Get Baskin Robbins Survey Coupons
How to get free fast food using DoNotPay:
If you want to get free fast food from Baskin Robbins but don't know where to start, DoNotPay has you covered in 3 easy steps:
1. Snap a photo of the front of your fast food receipt.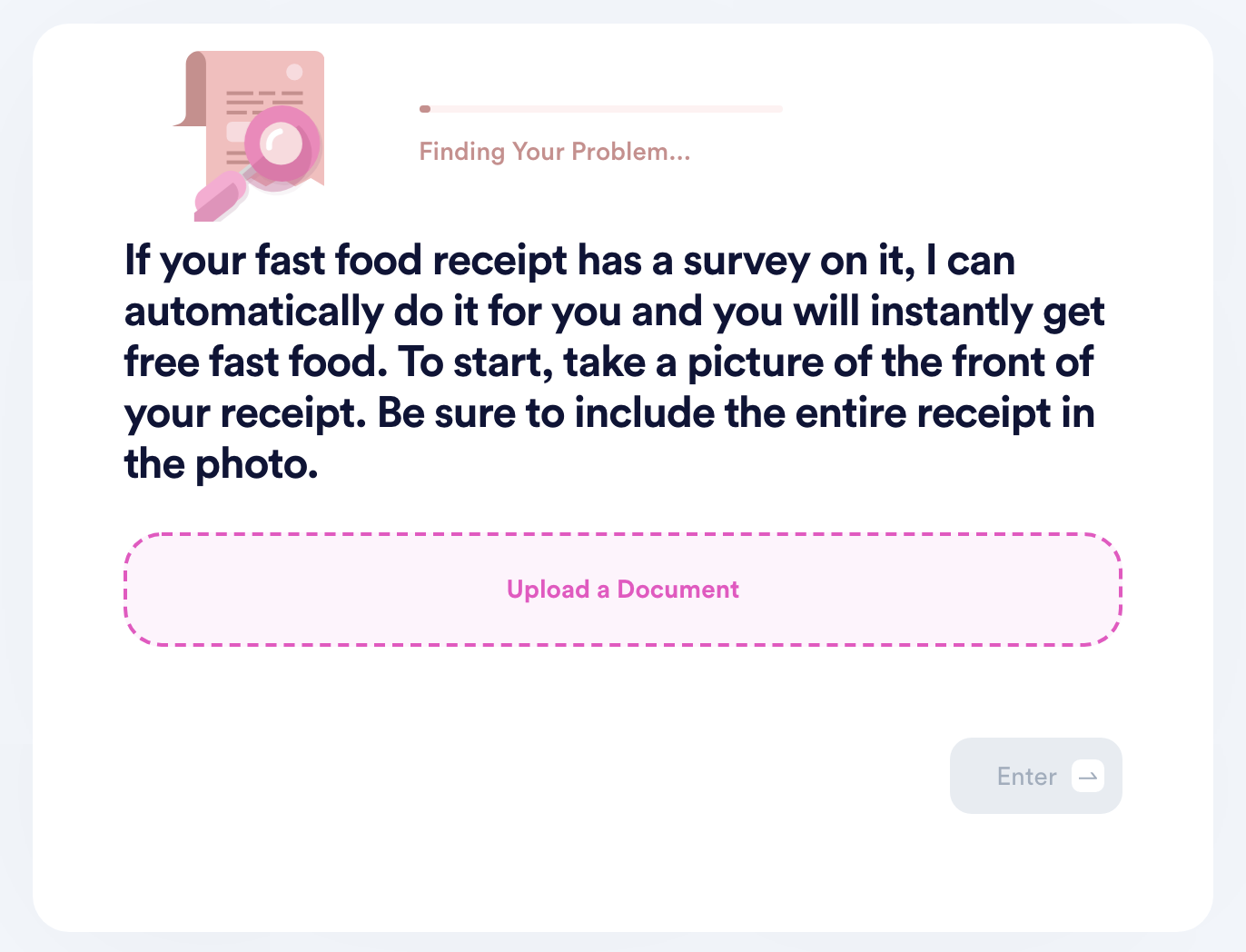 2. Snap a photo of the back of the receipt.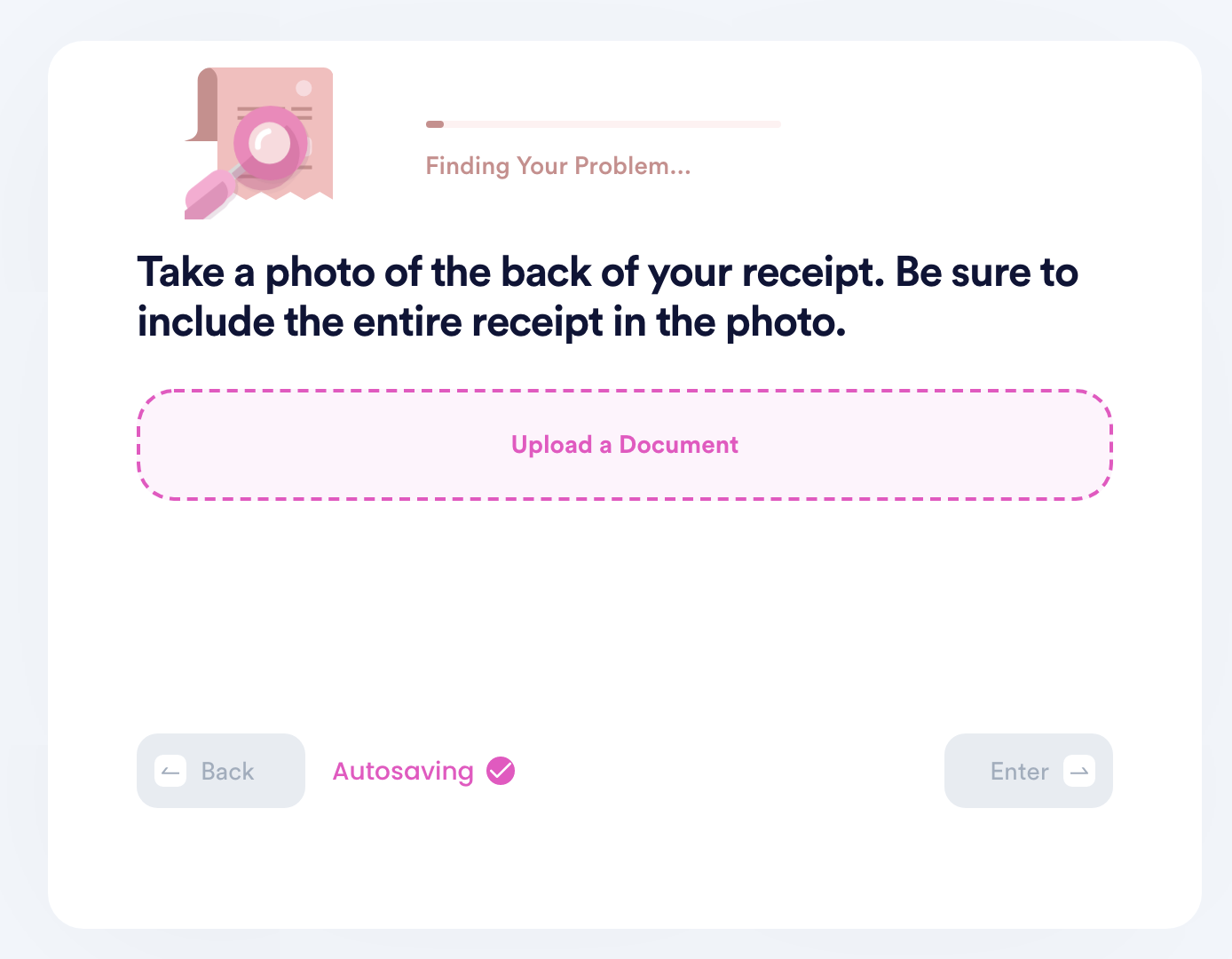 3. Confirm your full name and email.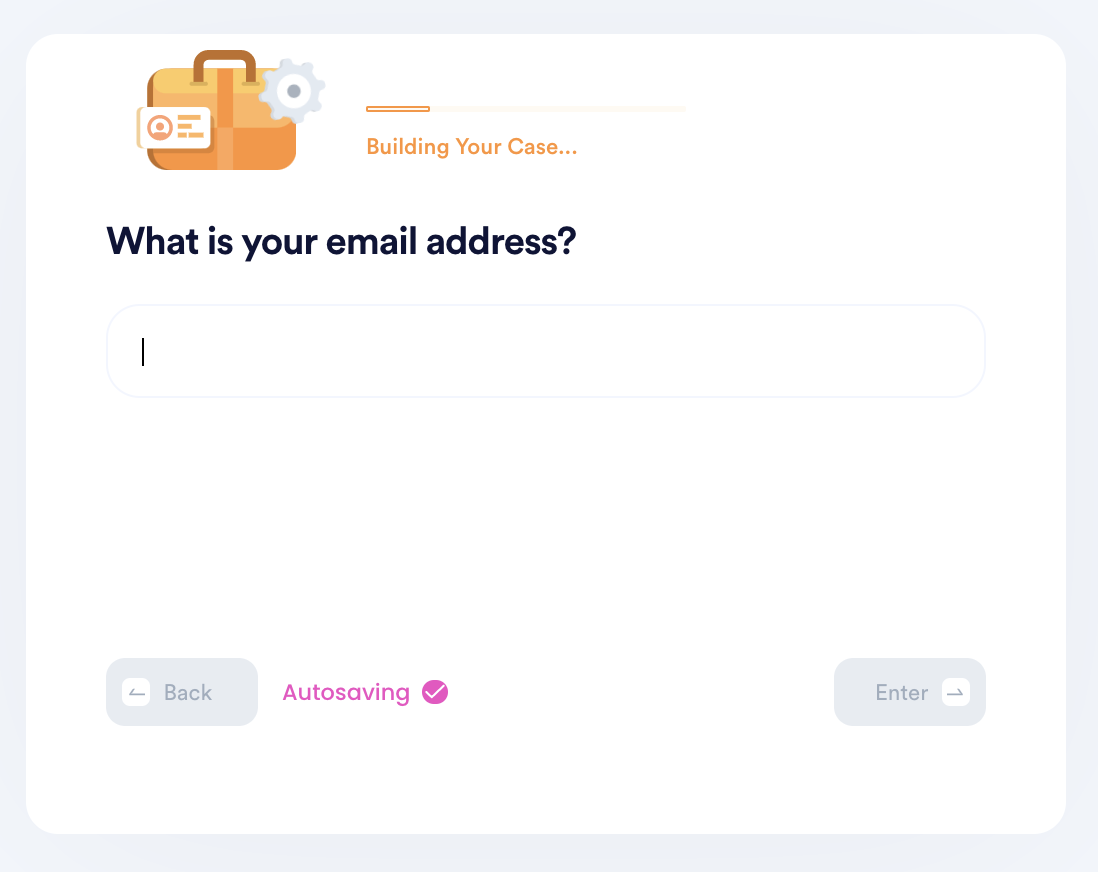 And that's it! DoNotPay will fill out the survey for you, saving you money on your next trip to Baskin Robbins. 
DoNotPay Helps You Save Money On Fast Food
DoNotPay is the easiest way to get fast food discounts. DoNotPay is:
Fast. DoNotPay fills out fast food surveys for you with just the click of a button, saving you time and money.
Easy. With DoNotPay, all you have to do is confirm a few simple details to score your Baskin Robbins coupon.
Successful. Get the benefits of free fast food without spending a great deal of time online. DoNotPay's successful system earns you the fast food rewards that you want.
Here are just a few of the other restaurants whose surveys we can help you tackle in just a few clicks:
Use DoNotPay to save money on your next fast food trip!