It's All in the Data—Explore Tech Startup Costs With DoNotPay's Guide
Tech startup is a blanket term used for a business of creating or manufacturing a wide range of goods and services like electronics, hardware, software, AI, and other products related to the technology industry. If you are looking into tech startup costs, you need to understand the logistics of the specific tech sub-field you are in.
In this guide, DoNotPay will help you get an estimate of:
Software and IT works startup costs
Tech manufacturing startup costs
If you have an idea of the initial outlay and need funding immediately, use DoNotPay to draft an expert loan request letter and get the ball rolling.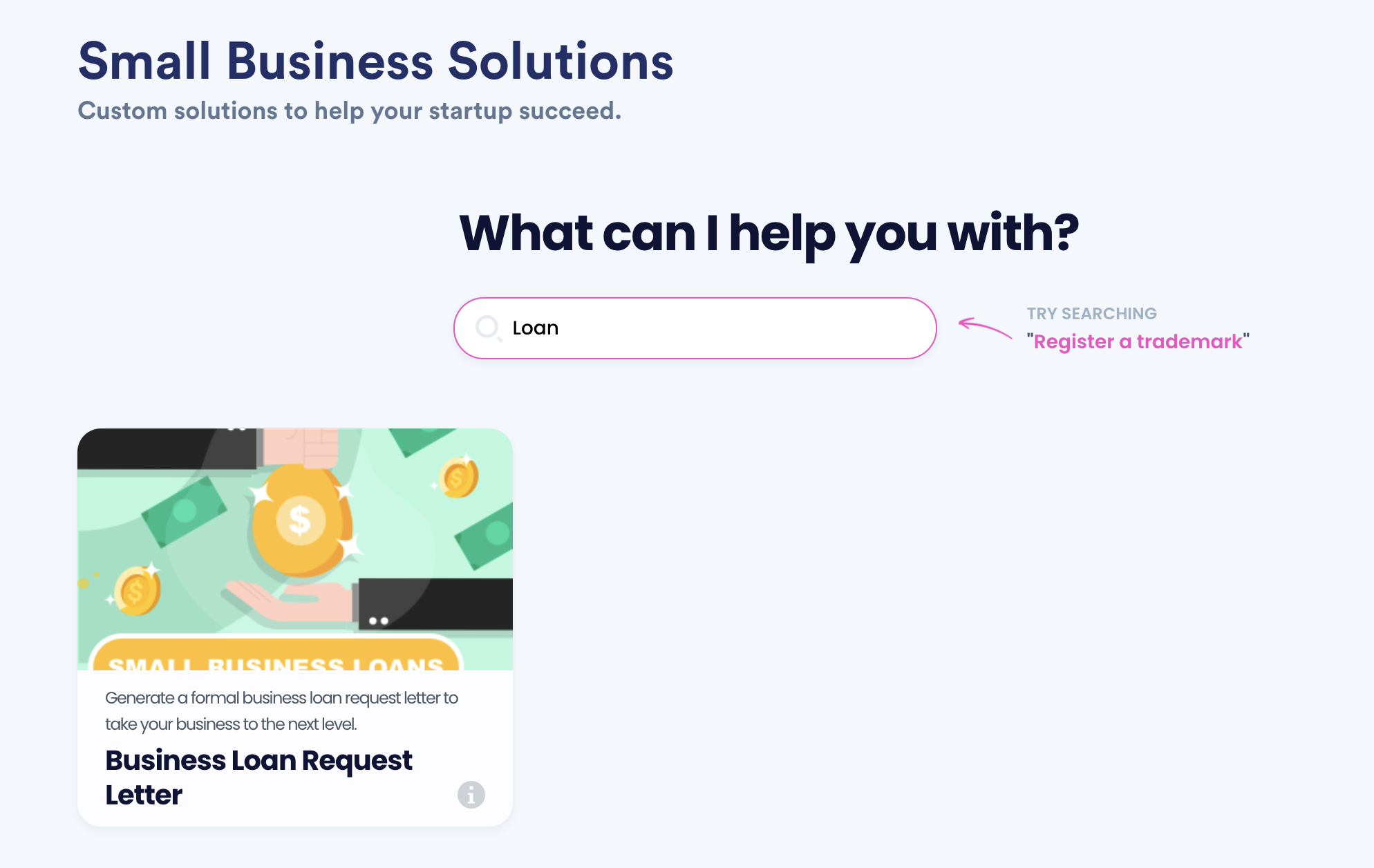 A Bird's-Eye View of Tech Startup Expenses
Tech startup costs can be steep—some of them can be executed with some thousand dollars, while others require solid seven-figure funding. So, how does one go about the planning and budgeting exercise? The answer lies in specialization.
If your product is essentially a manpower-focused software service, you will have low startup and running costs. Any tech-based product that has an intense manufacturing process—like the manufacturing and operation of industrial drones—will inevitably need a higher cash injection.
This table will give you a summary of the total cost commitment you can expect under various situations:
| Tech Startup | Approximate Initial Investment |
| --- | --- |
| Software-based startup | The investment for software and app startups vary. Being the key resource person offsets major hiring costs, so you can set your startup in motion for a minimum of $10,000. If you have to hire developers, the minimum initial cost commitment can be between $60,000–$100,000 |
| Hardware manufacturing and distribution startup | Based on the equipment and machinery required and the scale of operations, your tech manufacture startup cost can be between $100,000 and $500,000 |
The Algorithm of Software Company Startup Costs
If you want to create and sell software, here's an overview of the expected costs:
Elements
Cost Estimates
Legal expenses
Legal expenses include:

Business registration expenses—$100–$800
Software copyright fees—$50–$500
Miscellaneous fees—$2,000

Application and server setup
Programming the application (if you are hiring someone) and setting up and managing the server takes about $1,000–$10,000 for a small business
Designing
UI designing services for an existing software can cost you between $300 and $4,500
Marketing
As marketing services are mostly online, you need to shell out around $2,000 for promotion services, such as:

Influencer marketing—$500
Social media ads—$350
Search engine ads—$400
Print and mail advertising—$300

Co-working space
Many startups save on office space by working from home. If you need a co-working space, it will cost you at least $5,000
Operational expenses
Utility bills and recurring general costs to keep a small staff moving amount to over $3,000 per month
Provisions
You have to set aside $5,000 for insurance, taxes, and contingency expenses
Startup Cost for Manufacturing Business in the Tech Field
Tech startups can be new entities or transitioning software startups. Many software startups start out small but end up expanding their operations to manufacture when they:
Recognize a complementary revenue stream
Get collaborative investments from leading companies
Tech startups for high-stake manufacturing are capital intensive. Refer to this table to check out some relevant demanding cost centers involved:
| Cost Center | Frequency | Rough Expenditure Estimates |
| --- | --- | --- |
| Licensing, patents, and registration | One-time | $5,000 (Choose the type of entity wisely during registration as it can impact your yearly taxation liability) |
| Equipment | One-time | $5,000–$40,000, depending on production schematics |
| Salaries | Monthly | Upwards of $30,000 |
| Accounting and legal services | Monthly | $3,000 |
| Research and development | Quarterly | Usually 40% of the expected revenue or the revenue generated in the previous quarter |
| Utilities | Monthly | $2,000–$10,000 |
| Renting and leasing | Annual | You need separate premises for working and warehousing. As per current average rates, you have to pay $15 per square foot annually for leasing and renting |
| Marketing | Monthly | $5,000 |
| Operational and miscellaneous | Monthly | $7,000–$20,000 |
Funding Can Make or Break a Tech Startup—Here's Why
As per a failure post-mortem conducted by CB Insights, lack of funding is the top reason why most startups never take off the ground. For tech startups in the seed stage, the top priority should be creating an MVP (Minimum Viable Product) that:
Attracts and retains a robust customer base
Entices investors
In the technological arena, an ideal MVP should:
Meet the market needs
Have a consistent revenue-generating model
Not be out-competed by other tech startups
Most lenders refuse to invest in tech startups that don't have an impressive MVP.
Tech Startup Funding Crisis—Mindful Tips
If you are struggling with funds for your tech startup, you can find help through the following sources:
Conventional lenders—Several banks and financial institutions offer capital loans and operational credit to startups at low interest rates and convenient terms. To qualify for such loans, you need to fulfill the paperwork compliance, write a convincing loan request letter, and have a good credit score
Angel investors—They include private investors, like venture capitalists who invest in startups with potential in exchange for equity. This dilutes the ownership and gives such investors an upper hand in the future of the company
Companies—Many companies are interested in supporting tech startups, but their intentions may not always be straightforward. While dealing with rosy Silicon Valley investors, avoid deals of acqui-hiring (a company acquiring your startup for manpower talent rather than the product)
If your product has high market feasibility, it's sensible to seek out conventional loans to keep your vision and ownership intact. There are various types of loan schemes available today, and the best ones have relaxed repayment provisions.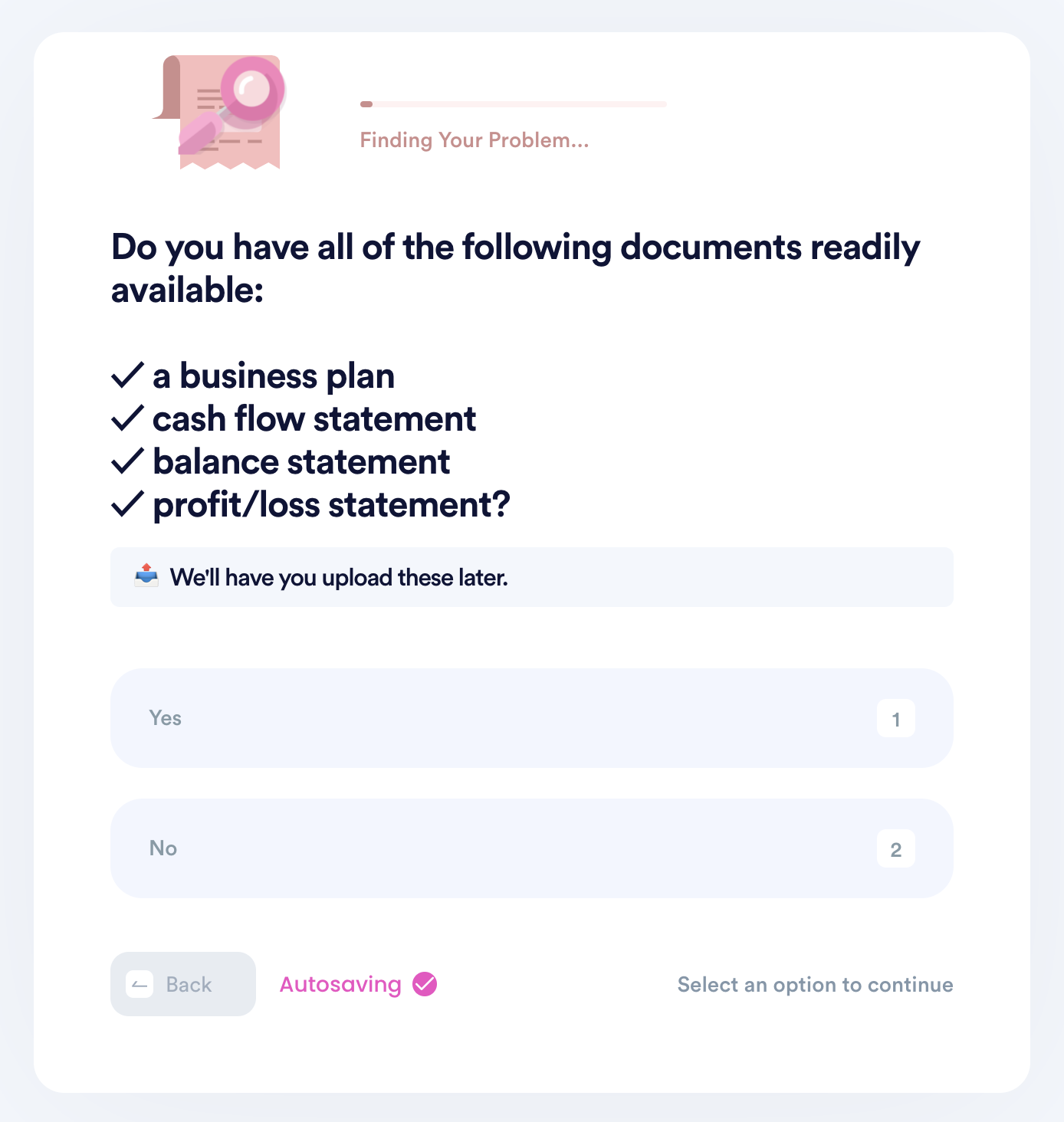 Focus on the MVP and Let DoNotPay Reach Out for Loans in Your Stead!
Building the right MVP is the Holy Grail for tech startups. If loan funding is what you need, delegating the procedural chore to DoNotPay is the smartest solution. Our Business Loan Request Letter product can structure a convincing loan application letter and send it to the lending institution of your choice on your behalf. This will leave you with enough time to concentrate on perfecting your winning MVP.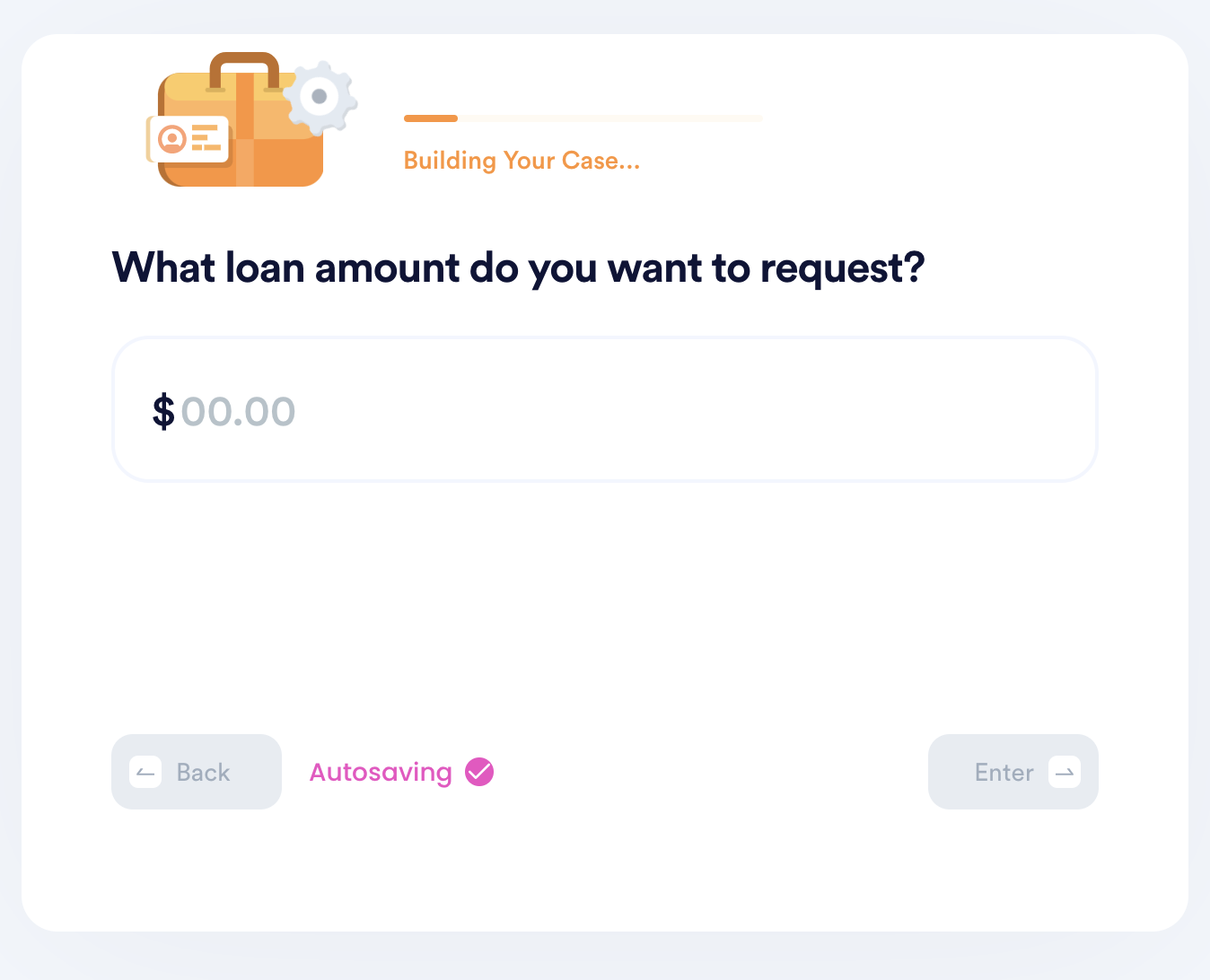 To use our product, this is what you have to do:
Assemble details of your credit scores
Open DoNotPay and navigate to our Business Loan Request Letter product
Enter the following details:

Company information
Amount and purpose of loan
Desired lender

Upload your existing financial statements
We will draft a fitting loan request letter using your particulars. Together with your uploaded documents, we will submit your application to your mentioned lender without you having to step out of your comfort zone!
If you want to look for an online lender, opt for our Find Online Business Loan Lender product that is integrated with the Business Loan Request Letter one.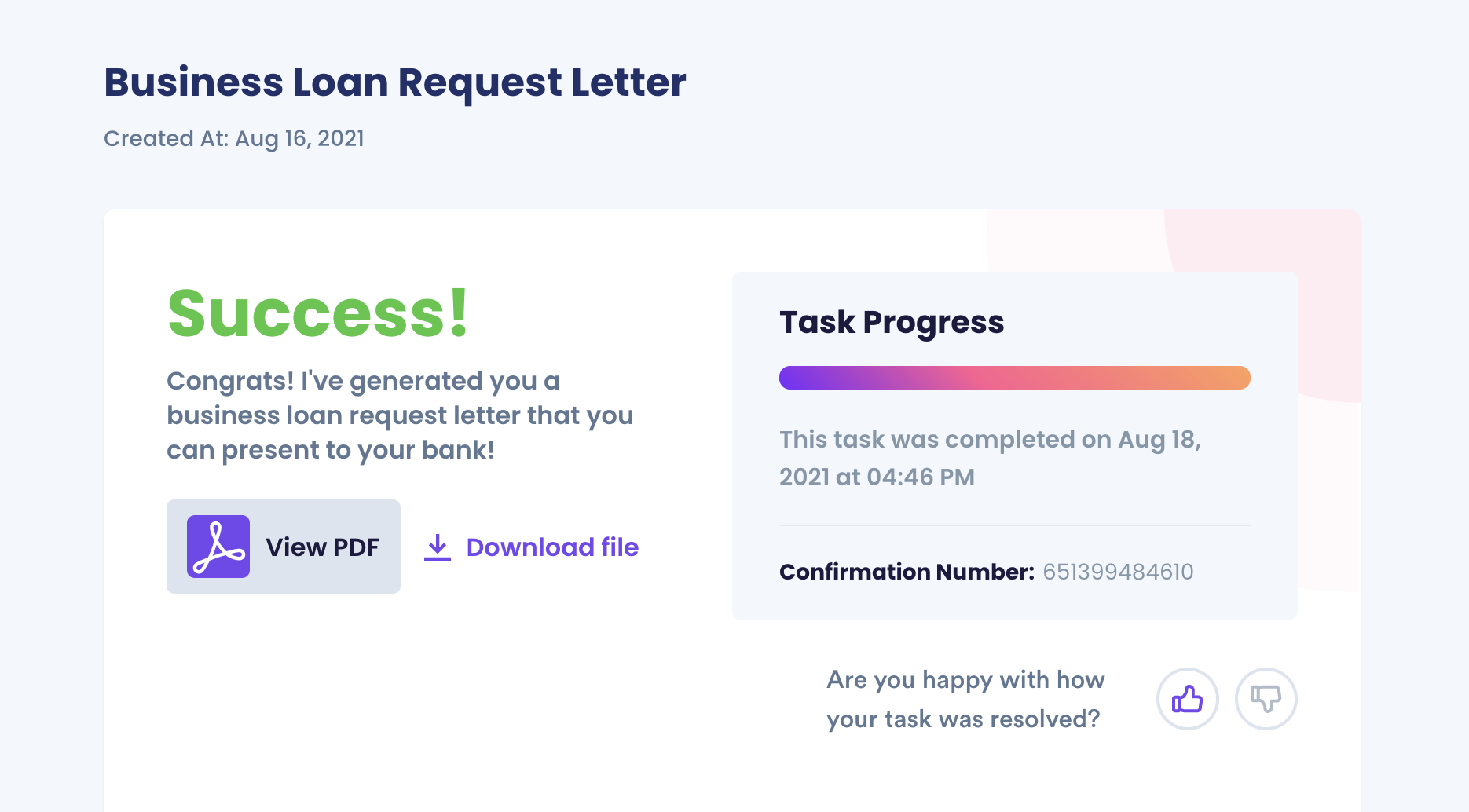 More Problems? We Offer More Solutions
Running a business also calls for various registration processes. Our app can show you the ropes on the following:
Employer Identification Number (EIN) registration
Privacy Shield program self-certification
DMCA agent registration
Do your employees need to submit 83(b) election forms to the IRS? We can help you:
Generate them
Distribute them
File them automatically
No Need To Tighten Your Belt With DoNotPay by Your Side
Handling finances in business can be a burden. There are many unforeseen costs, fees, and even fines. This is where the world's first robot lawyer swoops in!
Take a look at which DoNotPay's products can manage your issues:
| Problem | DoNotPay's Features |
| --- | --- |
| A client breached the contract and refused to pay | Client Breach of Contract |
| Another business copied your brand or used your slogan | Trademark Protection |
| A client initiated the chargeback process for no reason | Fight Chargebacks |
| You need more funds to keep your business afloat or grow it | Business Loan Request Letter |
| People posted bad reviews online that are fake, incorrect, or hateful | Remove Negative Reviews |
All the above-mentioned instances can make you lose money. Luckily, you can rely on our app to nip the issue in the bud.
We can also help you save money by providing you with free faxing and mailing services. No need to waste time or money on post office visits or fax machine purchases.