Teaming Agreement
Made Simple 
A successful business collaboration between two parties requires a valid legal document protecting their interests and outlining their expectations. 
When you cooperate with another entity to achieve better business results, composing a teaming agreement is the best way to keep the relations efficient and transparent. Sadly, writing a contract isn't as easy as it seems. If you want to find out how to create top-notch agreements in a snap, this guide will solve all your dilemmas!
The Ins and Outs of Teaming Agreements
A teaming agreement is a contract between two teams or businesses believing they have bigger chances to win a tender if they join forces. These are usually small companies agreeing to combine their resources for a particular project without forming a new entity. 
The contract secures the collaboration between parties and helps them get the results they could never achieve separately. It also stipulates that once the team makes a successful tender, one party must become a prime contractor, while the others will act as subcontractors.
This document is a great option for businesses or companies that don't want to enter a joint venture and merge with other companies. Its primary purpose is to make all collaboration terms and conditions clear. 
A full teaming agreement includes two parts:
The main contract

between the business offering the project and the prime contractor

The subcontract

between the prime contractor and the subcontractor
What Are the Benefits and Drawbacks of Teaming Agreements?
To decide whether a teaming agreement is a suitable option, you must get familiar with its advantages and disadvantages. Check out the table below for additional details:
Benefits
Drawbacks

Both parties are at the same financial risk, meaning neither is more vulnerable than the other

Signing entities have moderate obligations to one another

Together, the parties can apply for more quality tenders and enter new, more powerful markets

Since they combine their financial assets, the parties can bid more and increase their chances of success

A well-written contract helps signees avoid miscommunication and clarifies potential doubts

Teaming contracts require the renegotiation of each request

A single person—the main contractor—is responsible for the realization of the entire project

Not all subcontractors may agree with the proposed rules of the contractor

The profit the signing entities get is lower since they must share it
How To Draw Up a Teaming Agreement
There are three ways to get a teaming contract:
Writing a contract yourself

Using an online teaming agreement template

Hiring an attorney to draft your agreement
Writing a Contract Yourself
This is the most affordable option, but it's not an easy task. Each teaming contract has to include specific clauses, such as:
Information about the signers—Names, addresses, and contact details

The name of the program the parties are applying for

Identification—Defines which party will be the main contractor or subcontractor

Details of proposal preparation

Allocation of costs

Freedom to market and exclusions

Confidentiality—Prevents the parties from disclosing sensitive information related to their collaboration

Intellectual property—Specifies which party owns the intellectual property and whether the other party can use it 

Exclusivity—Binds the parties to collaborate only with one another during the project

Subcontract details

Liability

Termination requirements

Optional indemnification clause

Governing laws

Other optional clauses the parties agree upon
Using an Online
Teaming Agreement Template
While they are usually free and easy to find, online contract templates tend to be unreliable. They can't always be adapted to your needs since you fill the blank spaces in a ready-made document. Samples and templates may also be outdated due to law alterations
Hiring an Attorney To Draft Your Contract
Professional services are an elegant way to get a valid agreement, but they aren't cheap. A single draft can cost you hundreds of dollars
DoNotPay Creates Rock-Solid Contracts Within Minutes 
Do you want to avoid using incomplete templates and spending a fortune on lawyers? We have the solution!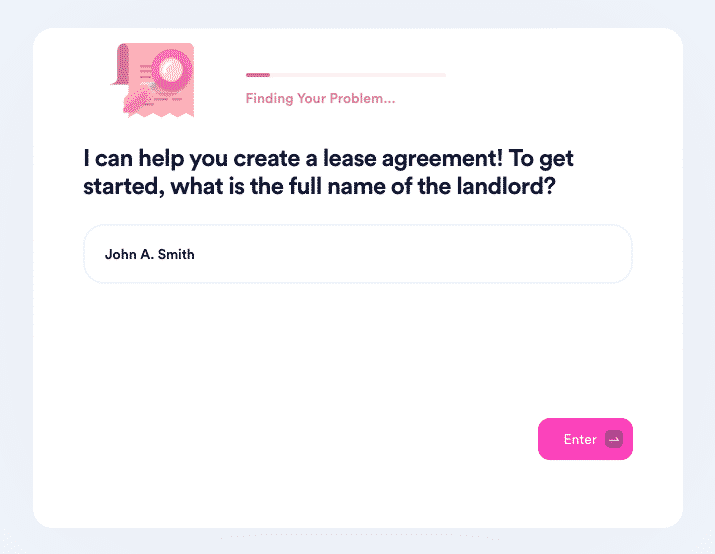 DoNotPay is the quickest, easiest, and most affordable option to draft your legal documents. Our app allows you to choose a suitable customizable template and personalize it according to your needs, creating a valid contract in a few clicks. 
Here's how you can do it:
Log in to DoNotPay

in your web browser

Find the desired template by entering the keywords in the search box

Fill out a small questionnaire to help us complete your contract
You can choose the following documents:
Intent To Purchase Real Estate

General Affidavit

Estoppel Certificate

Child Care Authorization Form

Promissory Note

General Business Contract

Quitclaim Deed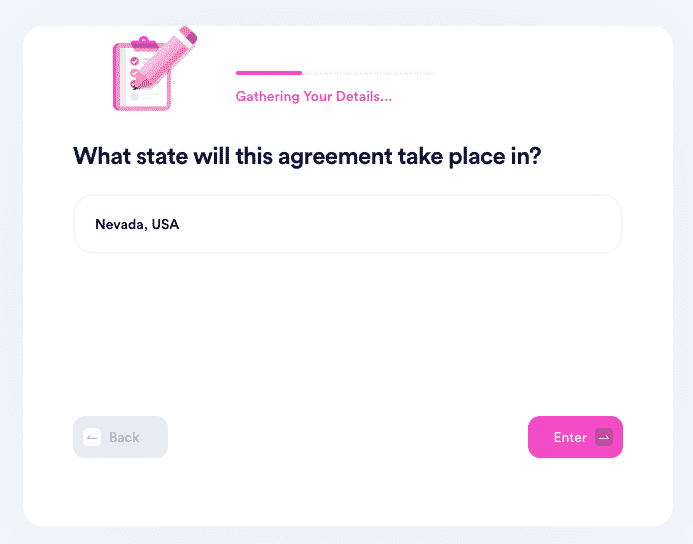 Document creation is only part of our service! We also let you have your contracts notarized and faxed in one app. Instead of waiting for days to validate your signature in a notary office, you can do it from the comfort of your home!
Learn More About Legal Documents With DoNotPay
If our guide on teaming agreements came in handy for you, we are happy to share more interesting articles! Visit DoNotPay, explore our vast knowledge base, and find out more about other legal documents, including:
| | |
| --- | --- |
| Business-Related Documents | Other Documents |
| | |
Need Help Fighting Bureaucracy? Use DoNotPay!
As the world's first robot lawyer, DoNotPay can help you resolve a plethora of tedious administrative issues. Our app will assist you in getting justice in small claims court, getting refunds from merchants, reporting annoying spam emails and text messages, reporting copyright infringement, bypassing phone number verification, and so much more!
You can also rely on DoNotPay's help when it comes to subscriptions. If you want to sign up for a free trial, cancel a service you no longer use, and skip the phone queue when doing so, our app will provide its assistance.
Our App Saves You Time and Money
Are you unable to pay your bills? Use the world's first robot lawyer app to cover them! Do you want to appeal your traffic or parking tickets? DoNotPay will help you appeal them in the blink of an eye.
Our app can do so much more than that, though—with DoNotPay by your side, you can sign up for clinical trials, ace government tests, claim any type of warranty, schedule an appointment with the DMV, and handle any other bureaucratic task.