Teacher Wins Defamation Lawsuit
Facing defamation can be a stressful and intimidating experience for anyone. If you are a teacher who has been a victim of defamation, you may be looking for information on how to fight against defamatory statements and get them retracted. A lawsuit is one way to handle defamation, but before taking legal action it is important to learn everything you need to know about what defamation is, what is required for a legal case, and other actions you can take before suing. In this article, you can discover all of the information you need to act against defamation, and how DoNotPay can help you stop defamation quickly and easily.
What Is Defamation?
Defamation is when false statements or remarks are presented as factual and result in injury to a victim's character. Defamatory statements can be categorized under one of two categories, slander and libel. Slander describes defamation that is spoken orally, while libel is defamation that is written and/or published. To better understand the difference between the two, you can reference the table below.
| | |
| --- | --- |
| Examples of Slander | Examples of Libel |
| Defamation spoken in a conversation | Defamation in newspapers or online articles |
| Defamatory accusations made orally | Defamation in emails |
If your situation meets the definition of defamation, whether libel or slander, you may be able to take action and get defamatory statements retracted.
What Do Teachers Need to Prove a Defamation Case?
If you are a teacher who has been a victim of defamatory remarks, you may wish to take legal action against these remarks and clear your name. To be able to succeed legally, you must make sure that you meet the grounds for a defamation lawsuit. One of the most important parts of a defamation case is proving that false statements made against you have caused you damages. These effects can include:
Damage to your reputation
Suffering and pain
Loss of wages or ability to earn wages
Personal emotional damages, including ridicule, shame, and humiliation
If you have suffered any of these effects as a result of false remarks, you may be able to prove that you have been defamed and win a legal case.
Examples of Teachers Winning Defamation Lawsuits
Teachers across the country are winning defamation lawsuits and earning millions in damages. Read about some notable examples below:
Sopharie Leang et al. v. Jersey City Board of Education - A New Jersey teacher won a defamation lawsuit in New Jersey Supreme Court. Leang was accused by another teacher that she threatened to kill her 22 students.
Trussell-Slutsky v. Mcilmurray - A New York teacher won $3.5 million in punitive damages and half a million dollars in compensatory damages. The lawsuit was against a blogger who wrote false claims about the teacher.
John Fischler v. John and Jane Doe - A teacher from Santa Clara County was awarded $363,000 in compensatory damages. Two school girls stated that he was a pervert who touched children.
Writing a Cease and Desist Letter for Defamation
Before hiring an expensive lawyer and getting involved in a complicated legal process, you may be able to solve your problems with defamation using a cease and desist letter. A cease and desist letter is a good first option in your fight against defamation. You do not need a lawyer to write a cease and desist letter. But to set yourself up for success in your letter, it is important to include all of the necessary evidence and details of your case according to your state's statutes. DoNotPay can help you make sure that your letter has all of the details you need without the expensive legal fees!
How DoNotPay Can Help You Draft a Defamation Cease and Desist Letter
If you are considering writing a cease and desist letter to stop defamation, you must include all of the details of your case, evidence of your suffering from the defamation, and any other evidence you may need according to your state's defamation legislation. While this can seem intimidating, you do not need to splurge on hiring a lawyer to write a successful letter. DoNotPay can help you draft a cease and desist letter that sets you up for success with all of the details you need! All you need to do is:
1. Search for the Defamation Demand Letters product on DoNotPay.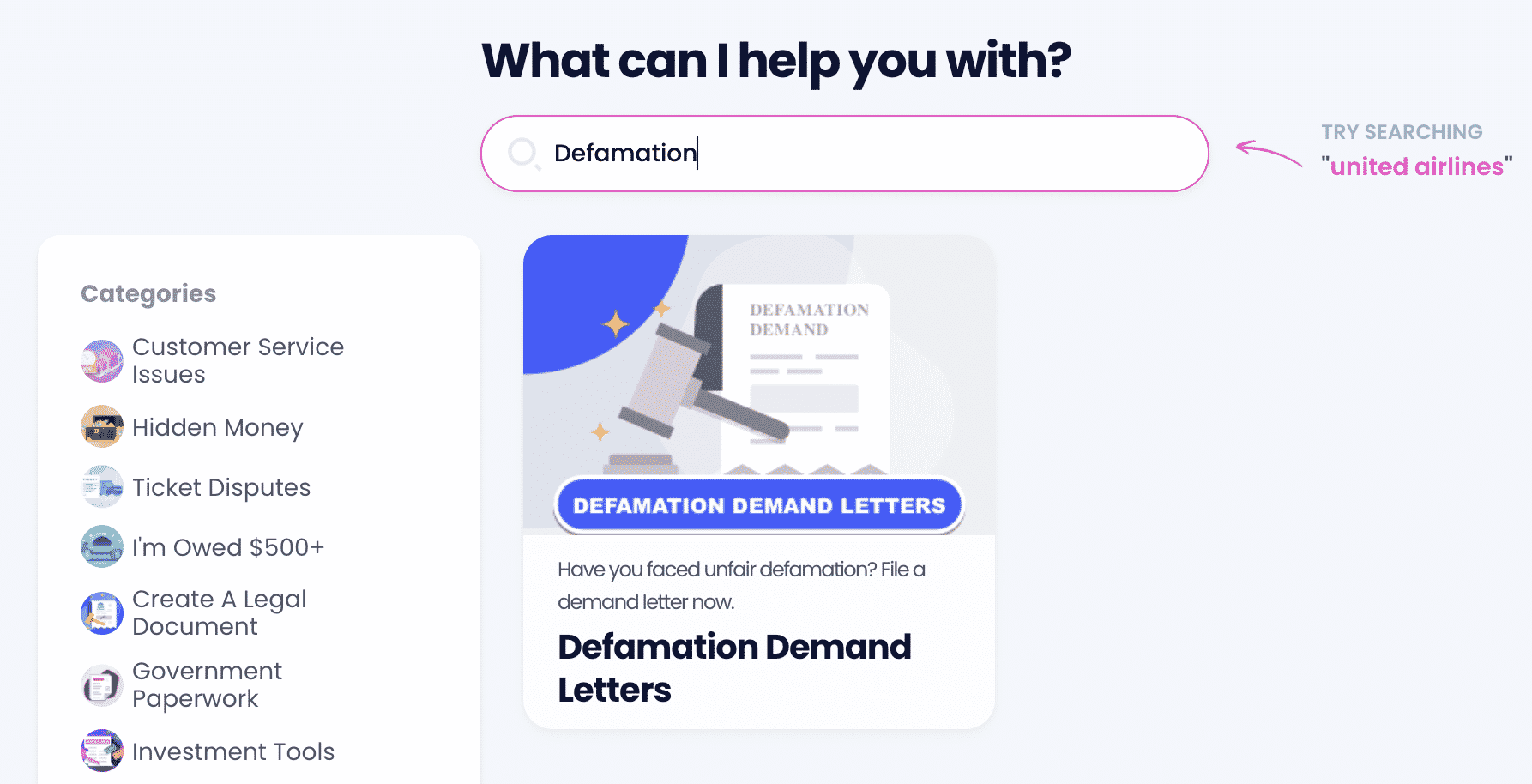 2. Tell us about your situation, including if defamatory statements were libel or slander, what the statements were, why they were false, and the damages you have suffered as a result.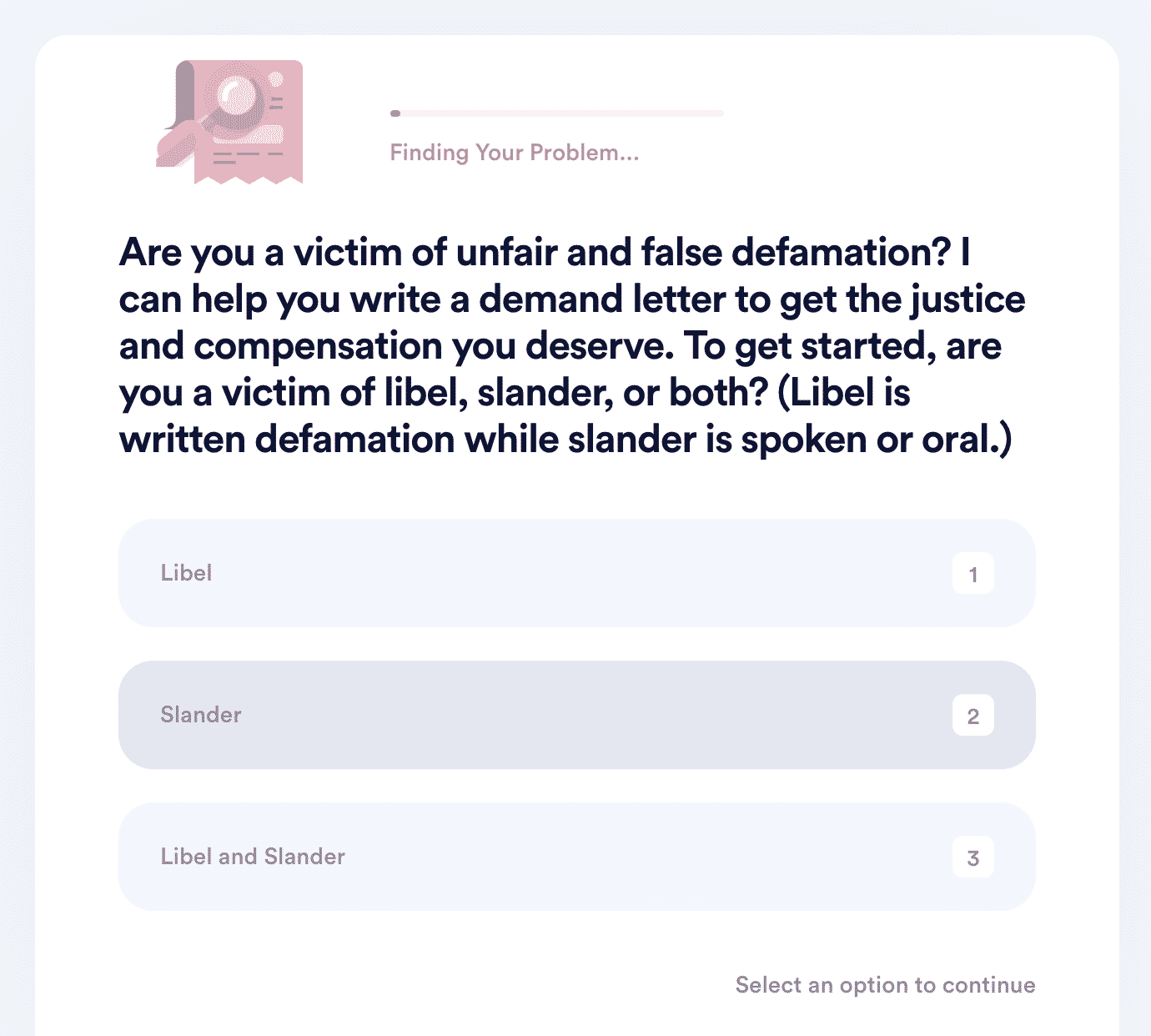 3. Based on your location, DoNotPay will generate a letter on your behalf using the relevant state defamation legislation.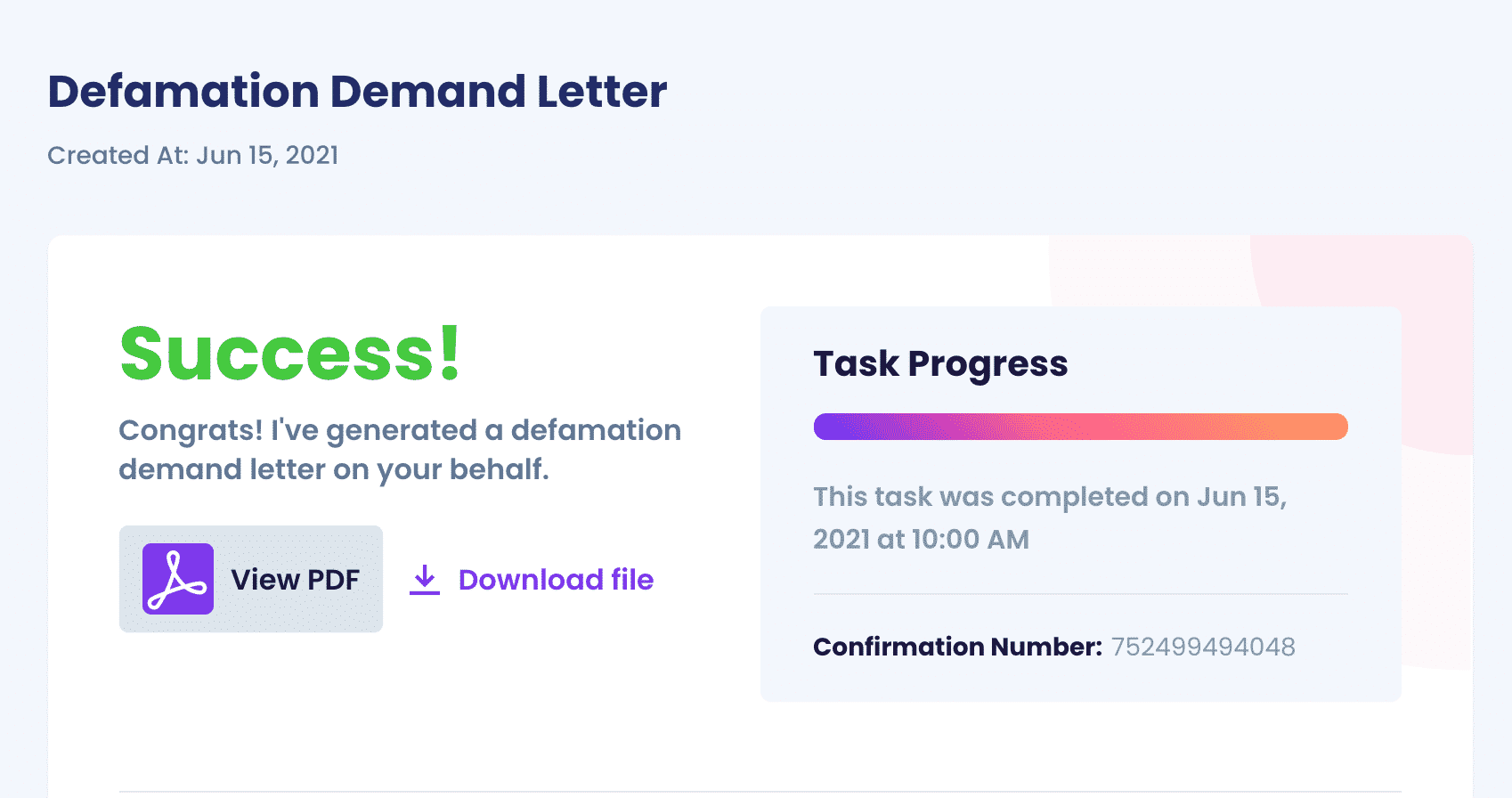 That's it, you're done! You will have a drafted cease and desist letter to send.
What Else Can DoNotPay Do?