Can You Teach? Homeschooling Guide for Parents Who Wish To Be Teachers
Teaching is one of the hardest professions, but it's not impossible to manage, even for parents who wish to homeschool their children. If you want to teach while homeschooling your child, know that it may be difficult at first, but you'll get the hang of it eventually.
DoNotPay is one of your most reliable resources, thanks to our detailed guides on many homeschooling dilemmas. Sign up for our service, and rely on us to write and send a notice of intent to homeschool to your school district—a document that's necessary to begin homeschooling in most states.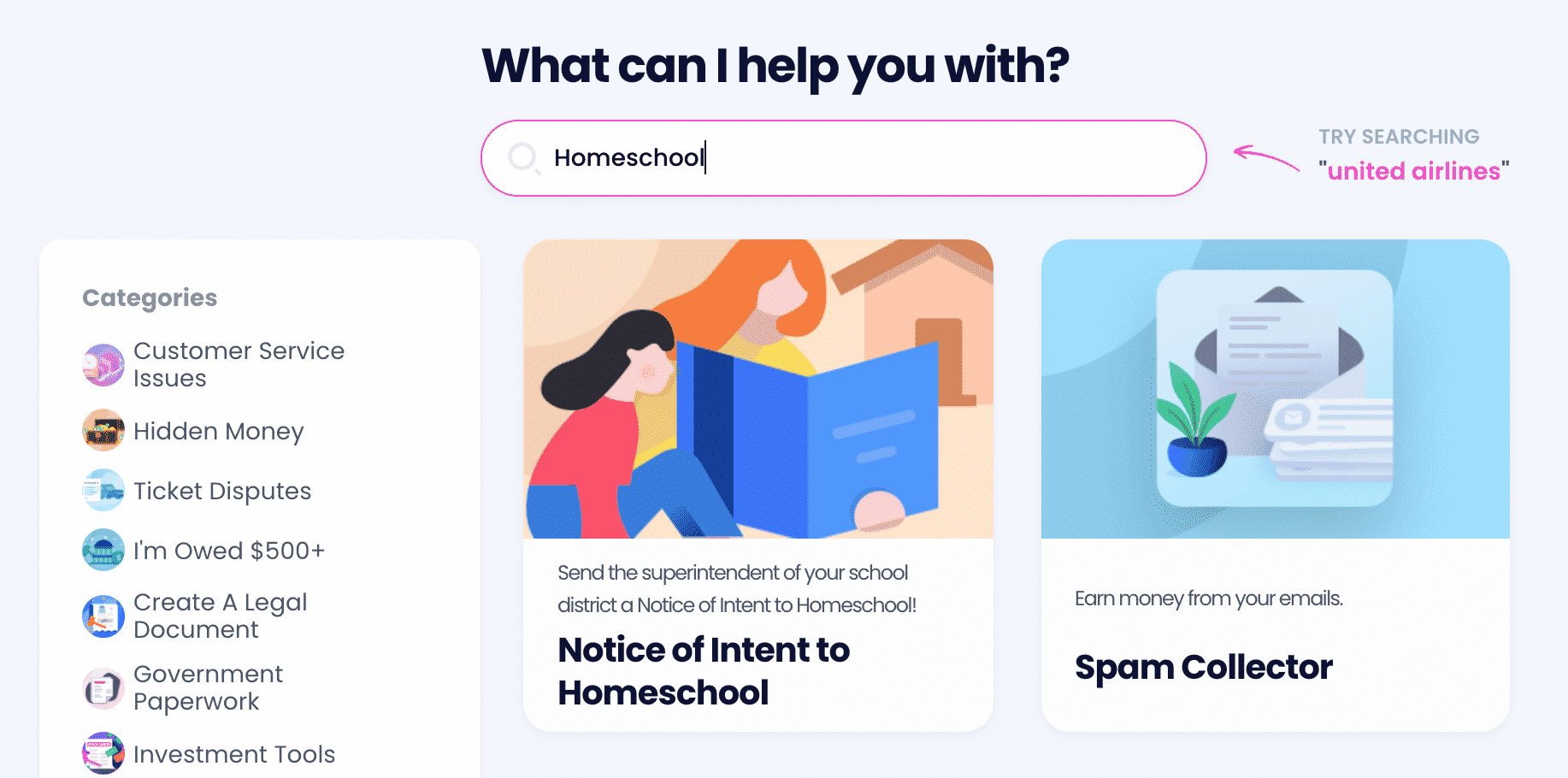 What Are the Benefits of Homeschooling?
Homeschooling is not the same for everyone. Every homeschooling family creates its own rules, dynamics, and methods of teaching while complying with state laws on homeschooling. If you're anxious about taking your child out of school to homeschool, read about the benefits of this method to make an informed decision:
You are in control of your kid's progress and education, and you can always assist them and find the time to answer their questions, unlike in schools where a teacher's attention is divided among 20 or more kids
Your child will learn at their own pace, with the curriculum and the homeschooling hours adjusted to their learning style and educational preferences
Both gifted children and those with learning disabilities can progress without feeling "different" from their peers
You can eliminate the distractions, unnecessary subjects, peer pressure, bullying, social anxiety, and many other factors kids face in public and private schools
The costs of homeschooling are usually much lower than those of a public or private school since you don't have to spend money on gas, school uniforms, donations, or fundraisers
Homeschooled kids have more confidence and feel less anxious about tests and their progress because they aren't comparing themselves to their peers
The Best Homeschooling Methods Explained
It's hard to know how to homeschool your child at the beginning, which is why it's useful to learn about the most popular homeschooling methods so you can choose the one that's suitable for your kid. There's not a single best type of homeschooling, and you should feel free to mix and match the elements of several methods at once.
Refer to the table below for more information:
| Homeschooling Method | Brief Explanation |
| --- | --- |
| Eclectic | The so-called "relaxed" method is often used because it provides a good balance of satisfying the children's curiosity and interests and providing the necessary education. Parents are free to divide the school hours into more demanding lessons, where they teach math or grammar, and the relaxing part of the day, where children can learn about hobbies, go on field trips, and have fun |
| Charlotte Mason | It is a popular method that states children are not mere containers of knowledge—they should be treated with respect and given space and time to learn in a way that feels natural to them. This method strongly encourages learning from experience and having as many trips in nature, museum visits, etc. |
| Multiple Intelligences | This method was developed at Harvard University, and it's used to accentuate each student's strengths rather than weaknesses. Everything is adjusted to the preferences and abilities of a homeschooled child (e.g., if a kid has difficulties reading, they will listen to audiobooks; a student who's good at math won't focus so much on language, etc.) |
| Deschooling | Deschooling is exactly as it sounds—you're teaching your child to do the opposite of what they were used to in public schools. This method takes some time for adjustment, but it promotes natural learning, following the homeschooled student's motivation and interests |
Everything You Need To Know Before You Can Teach—Homeschool Methods Explained
Should you decide to homeschool your child, creating a checklist that covers the basic necessities can be beneficial. Here are the main tasks you'll have to do early on in your homeschooling process:
Research the specific homeschooling laws of your state and find out whether you meet the requirements to be your child's teacher—Some states don't have many rules and regulations and let the parents decide on how to handle the process, while others have a huge list of prerequisites, such as acquiring a certificate to teach
Study the curriculum you will teach—Homeschooling has many benefits, one of which is choosing which subjects your child will attend, if your state allows it
Cover the basics first—You should get answers to these questions:

Where will you teach?
How long will the lessons last?
How will you assess your child's knowledge?

Send a letter of intent to homeschool to the superintendent of the school district your child belongs to—A formal written document to alert the school district is necessary in most states. This document has various names, such as notion, affidavit, and declaration of intent to homeschool
Some of the homeschooling requirements are more challenging than others, but completing the last one (sending a notice of intent to homeschool) doesn't have to be a struggle. DoNotPay can draft, send, and even help you get this document notarized in a snap.
Sign Up for DoNotPay To Begin Homeschooling in No Time!
Homeschooling has a lot of challenges, but we're here to help you overcome them. We have answers to almost any homeschool-related questions, such as:
DoNotPay can also solve the first problem that nearly all homeschool parents have to face—sending a letter of intent to homeschool. Our app does it within minutes—all you need to do is follow the prompts:
Select our Notice of Intent to Homeschool feature
Enter the details about the student
Type in the information about yourself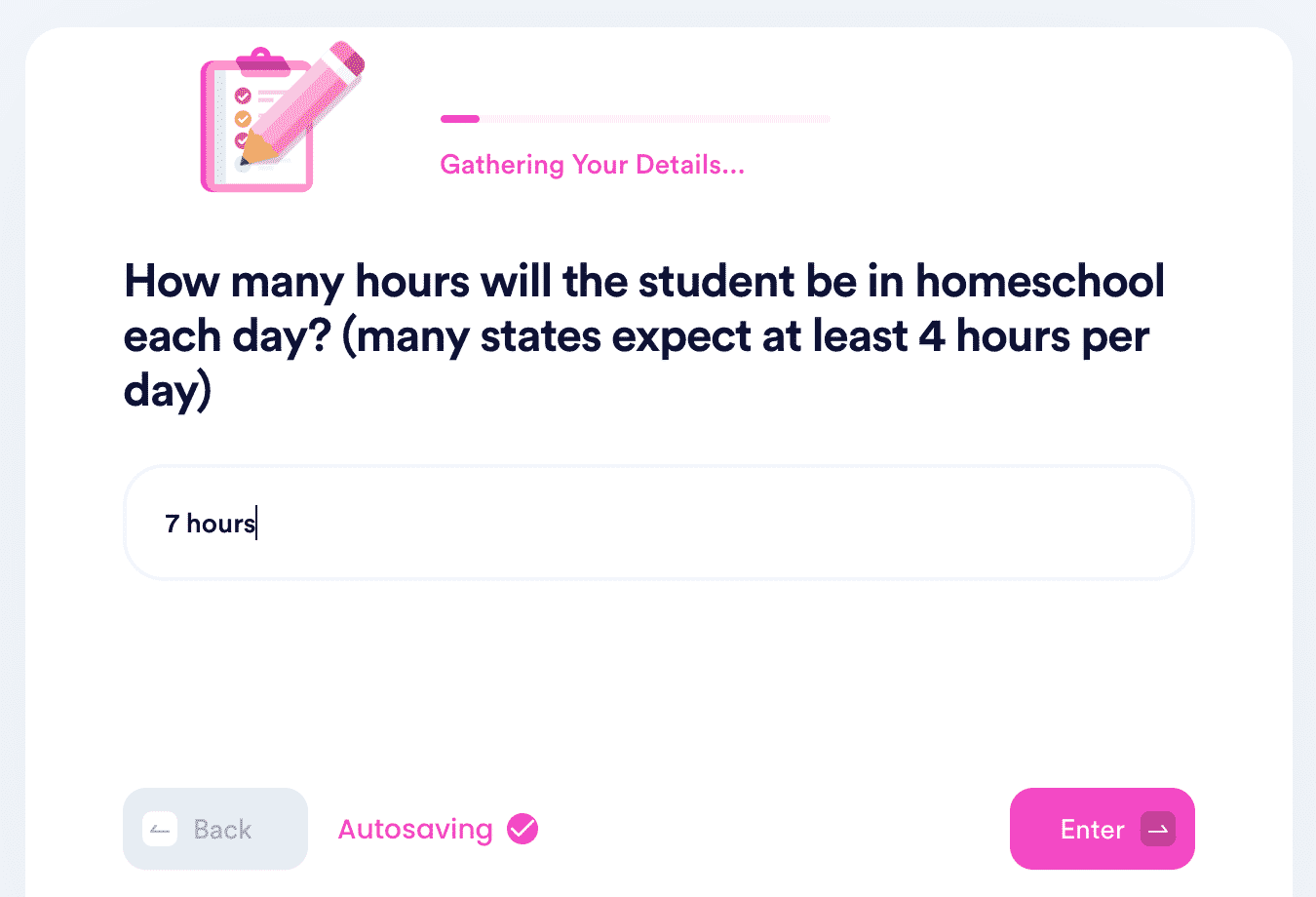 DoNotPay's Features Are Here To Make Your Life Easier
To simplify confusing bureaucratic procedures, we developed a number of features you may find super useful. Sign up for our app and let us assist you in:
DoNotPay Doesn't Stop There!
Assisting you with bureaucratic tasks is only a fragment of what DoNotPay can do—we have a lot more nifty features to offer! We can show you how to:
Struggling to draw up a financial aid appeal letter, an HR complaint, or a child travel consent form? DoNotPay is here to do it in minutes!