The Best Guide to Getting a TD Bank Small Business Loan
Banks, such as TD Bank, are well-known providers of loans in the U.S. If you need funds to cover your expenses, you can consider securing a TD Bank small business loan. This article will explain the types of small business loans offered by TD Bank so you can make the right choice for your business.
When applying for a loan, you can use DoNotPay to generate a watertight loan request letter.
Types of Small Business Loans Offered by TD Bank
TD Bank offers various types of loans to small and medium-scale businesses. Here are some of the common ones:
Small business term loan
Business line of credit
Commercial real estate loan
Small Business Term Loan
You can use a small business term loan for the following purposes:
Business expansion
Equipment purchase
Working capital investment
You can borrow between $10,000 and $100,000 at a fixed interest rate. The payments are deducted automatically from your account on a set schedule. The interest will be deducted as a normal business expense in your income and tax statements.
If you are borrowing a larger amount, you will need to provide collateral, such as equipment or inventory, to secure the fund.
Business Line of Credit
Whether you want to fund short- or long-term expenditures, a business line of credit can sort it out. You can use the funds to cover various types of expenses, such as payroll and inventory.
TD Bank offers the following terms and conditions:
Interest rate that is market-competitive
Ability to reuse the line of credit after repayment
Access to your money through checks
Commercial Real Estate Loan
You can secure a real estate loan to finance real estate acquisition or expansion. TD Bank offers the following terms:
A lump sum amount of capital given to the business owner
A three- to five-year period amortized up to 20 years
If you're not sure how these business loans work, contact TD customer support at 1-855-278-8988 to get all the information you need.
Does TD Bank Offer SBA Loans?
Small Business Administration (SBA) loans are government-backed loans offered through an intermediary (in this case, TD Bank) to small businesses.
The following can be attributed to a TD Bank SBA loan:
Long-term financing
Flexible terms and conditions
Quick access to loan funds
Currently, TD Bank offers the following SBA loan types:
SBA Loan Type
Terms and Conditions
SBA 7(a) loan
This loan can be used for real estate purchase, business expansion or acquisition, or partner buyout. It has the following loan terms:

10% down payment
$5 million loan amount
A 25-year loan term
No balloon payment

SBA 504 loan
An SBA 504 loan is used for construction, refinancing, and real estate purchases. The loan terms are as follows:

10% down payment
No maximum loan amount
A 20-year loan term
No balloon payment

SBA Express loan
SBA Express loans are a fast way to get funds for your business. The following loan terms and conditions apply:

Up to $350,000 borrowing amount
Fixed or variable interest rate
A 25-year repayment period

USDA loan
USDA loans are useful for farmers and rural communities and help them finance their agricultural and livestock businesses. They have the following loan conditions:

Up to $25 million borrowing amount with a 30-year repayment term
Collateral required
Fixed and variable interest rates

Average conventional loan
You can get an average conventional loan to cater to startup costs, daily expenses, or long-term investments. It has:

No fixed loan amount
A five- to ten-year repayment period
The TD Bank Small Business Loan Application Process
To apply for a small business loan at TD Bank, you need to meet the following eligibility criteria:
A personal guarantee form
Strong financial documentation
A healthy credit score
Once you have selected the loan that meets your budget and requirements, you can apply for it in a couple of ways, depending on the amount you need to borrow:
| Amount | Application Type |
| --- | --- |
| Below $100,000 | Online |
| Above $100,000 | In person |
Here are the steps you need to follow to apply for the loan:
Online:

Visit the Compare Small Business Loans and Lines of Credit page on the TD Bank website
Click on Apply Now
Answer the questions
Fill out the loan application
Click on Submit once you are done

In person:

Download your application from the TD Bank website
Complete the application correctly
Gather all your financial documents
Take them to any TD Bank near you
Write a Loan Request Letter Effortlessly Using DoNotPay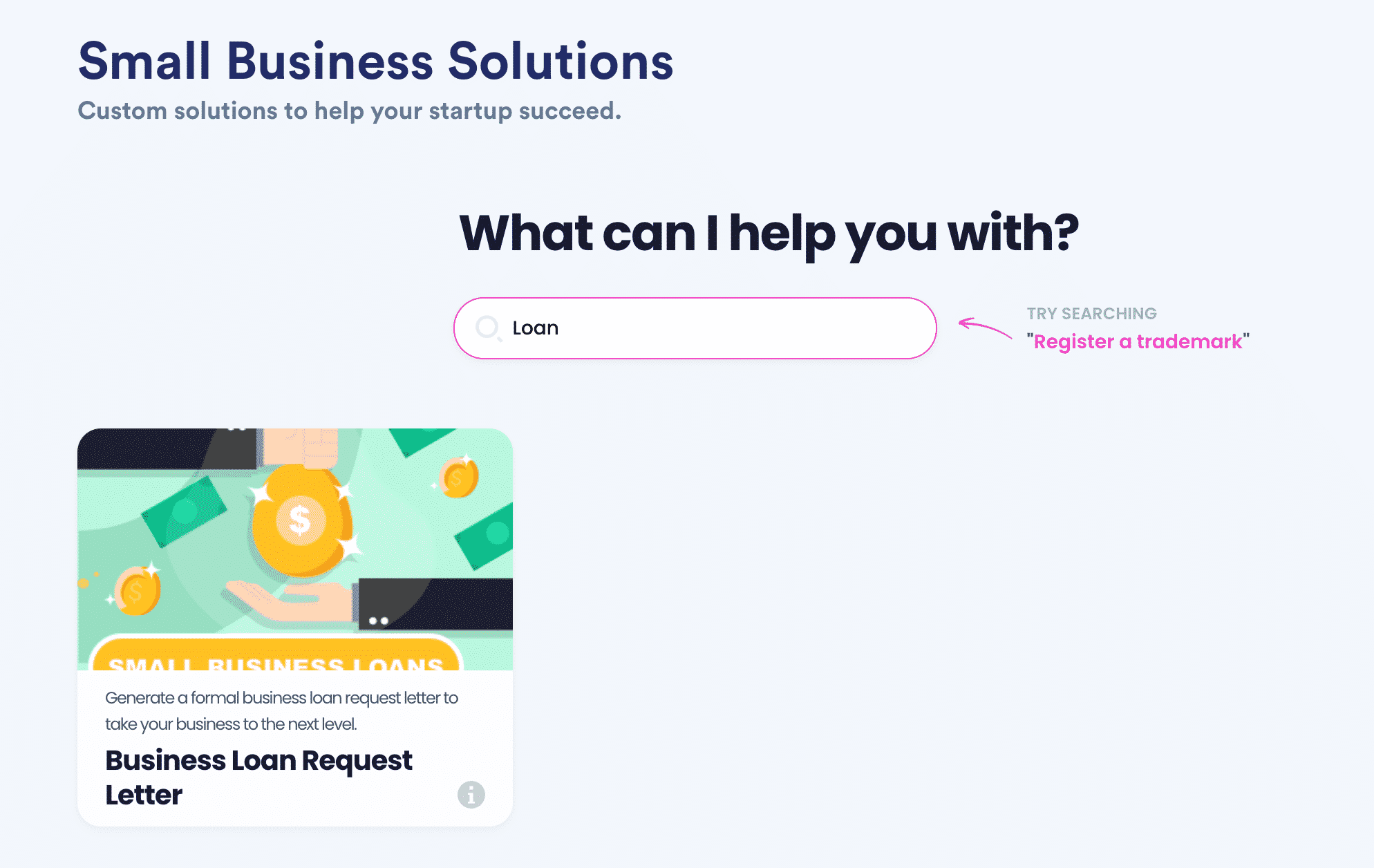 Applying for a loan can be a tedious and challenging process. You cannot afford to make a single mistake because of the risk of your application getting rejected. Increase your chances of getting a loan approved by using DoNotPay's Business Loan Request Letter.
Our app can help you create a formal loan request letter with all the relevant information in no time! All you need to do is follow these instructions:
Choose the Business Loan Request Letter
Answer a brief questionnaire
Upload your documents
You can also use DoNotPay to find online lenders. Let us know what kind of funding you are interested in when filling out our short questionnaire, and we will list the best options for your specific needs.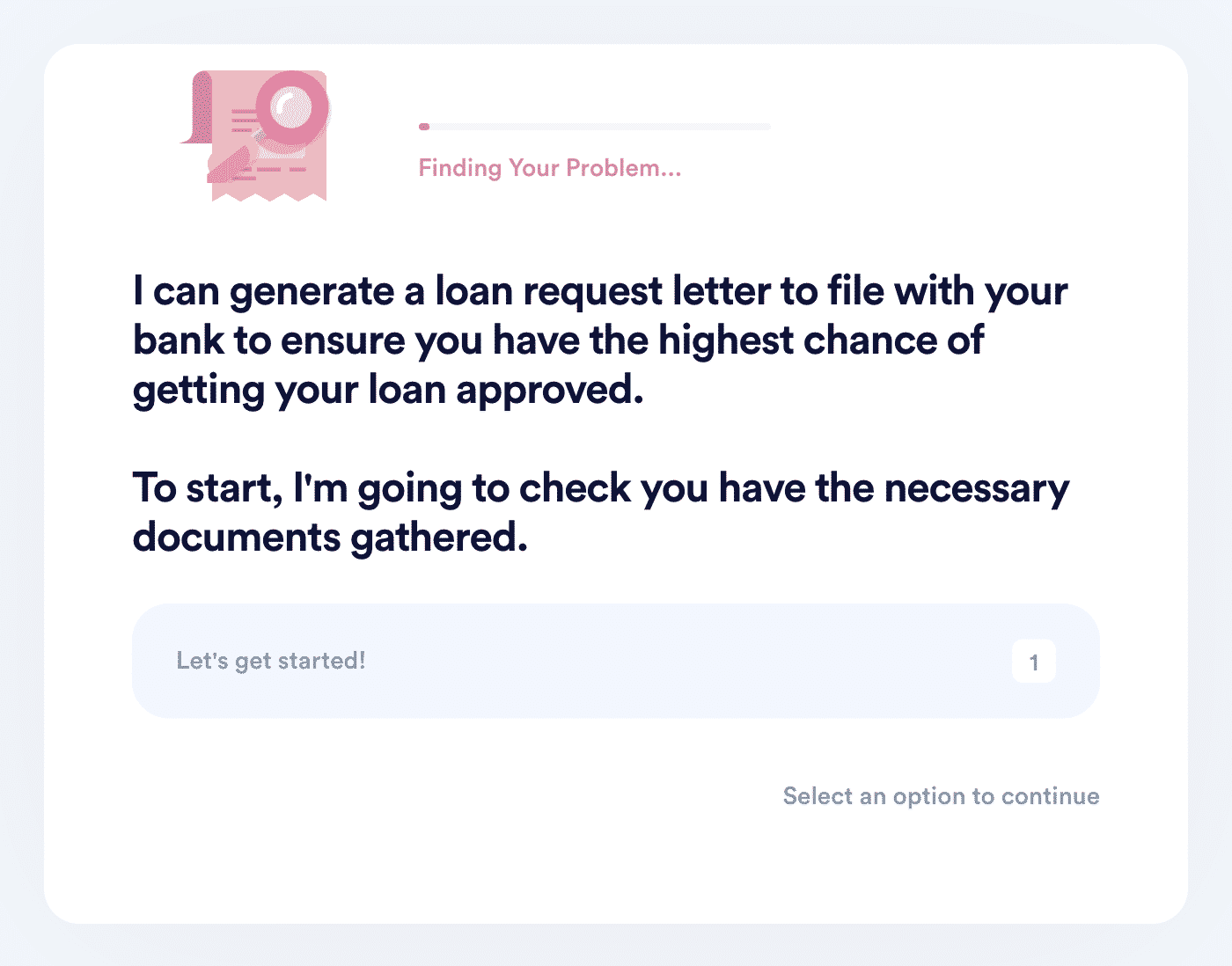 Build Your Business From the Ground up With Your Reliable Pocket Assistant!
To make the running of your business less stressful, DoNotPay has created numerous handy products that can help you deal with any issue right from the start. With our assistance, you can:
Get the perfect letter requesting a loan for your business
Handle the Employer Identification Number and DMCA agent registration procedures in a few clicks
Manage Privacy Shield program self-certification to make sure your clients' privacy is protected while on your website
If you are considering completing trademark registration, DoNotPay will be your trusty companion and help you finish the whole process in no time! We can even make sure no one uses your trademark as their own by performing routine checks and sending cease and desist letters to the offenders instead of you.
Resolve Pesky Business Issues With DoNotPay
Our app boasts many other useful and easy-to-use products that will help you resolve an array of business-related problems. Whether you need help filing 83(b) election forms as effortlessly as possible or wish to communicate with your clients and business partners without heading over to the post office, we have got you covered!
DoNotPay can also help you remove bad, fake online reviews that could harm your business reputation, deal with clients who avoid paying for your services, and contest unjustified chargeback requests.
Rely on our app and stay on top of your work while we deal with business issues on your behalf!