Do I Have To Claim Lottery and Gambling Winnings?
One of the things that most people will never hear about when they are told about lottery stories is the taxes on lottery winnings. It is not as appealing of a story to talk about taxes on lottery winnings in Florida or any other state for that matter. The lottery doesn't want to promote this aspect of the game. At the same time, the public likes to think about just the total that one wins before all of those taxes are taken out.
Some questions arise, such as:
How does the state lottery work in regards to tax revenue?
What is the maximum lottery winning that is not taxable?
Do taxes get taken out if you use lottery winnings to pay off student loans?
We cannot take the time to answer each of these questions in detail, but we will try to help you understand some of the tax implications of lottery winnings. Perhaps some of the news will be surprising to you, while you may have already baked other pieces of information into your calculations. Whatever the case may be, it is essential to understand what the lottery does and does NOT do as far as taxes are concerned. You might be surprised to learn that there are ways to protect as much of your jackpot as possible. The most useful of which is to use DoNotPay to help automate much of the process for you. We will explore this more below.
How to Tabulate Lottery Taxes by Yourself
You need to keep track of your wins and losses very carefully when reporting them to the IRS. You will need to do the following:
Keep a detailed list of all of your wins and losses on gambling and the lottery throughout the year.
Calculate the amount won versus the amount lost to determine your net income from lottery winnings.
Report those earnings on a separate IRS tax form and make sure you report the entire amount.
It is possible to do all of this on your own, but it can be scary to do so. Who is so organized that they keep track of every $1 scratch-off ticket they purchase? Most of us have no clue how many of these games we have played, and it is hard for us to track what we are winning or losing in reality. We might have a vague idea of where we stand, but the actual numbers are pretty hard to pin down. The scary thing about this is that the IRS can hit you with an audit for misreporting your earnings, and you could potentially face the following penalties :
Additional fees on top of the taxes you already own
A more extensive audit into the rest of your finances
A fine of up to $100,000
Up to five years in prison
You read that right. You could face criminal penalties for misreporting your lottery winnings. It is not something that happens often, but you should be aware of that possibility regardless.
Getting a Win/Loss Statement From DoNotPay
If you want to request a gambling wins/losses statement but don't know where to start, DoNotPay has you covered in 5 easy steps:
1. Search gambling tax deduction on DoNotPay.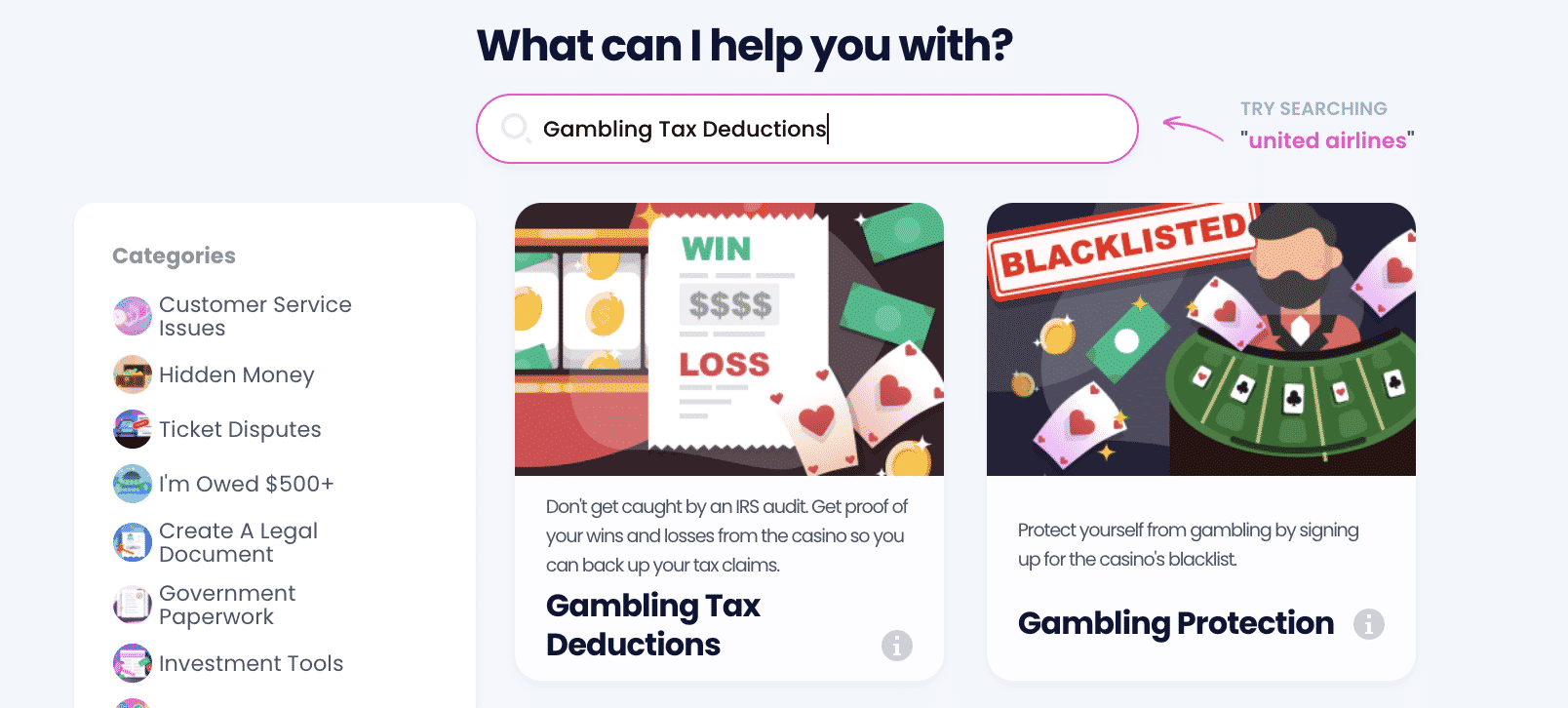 2. Enter the name of the casino and indicate whether it's online or in-person.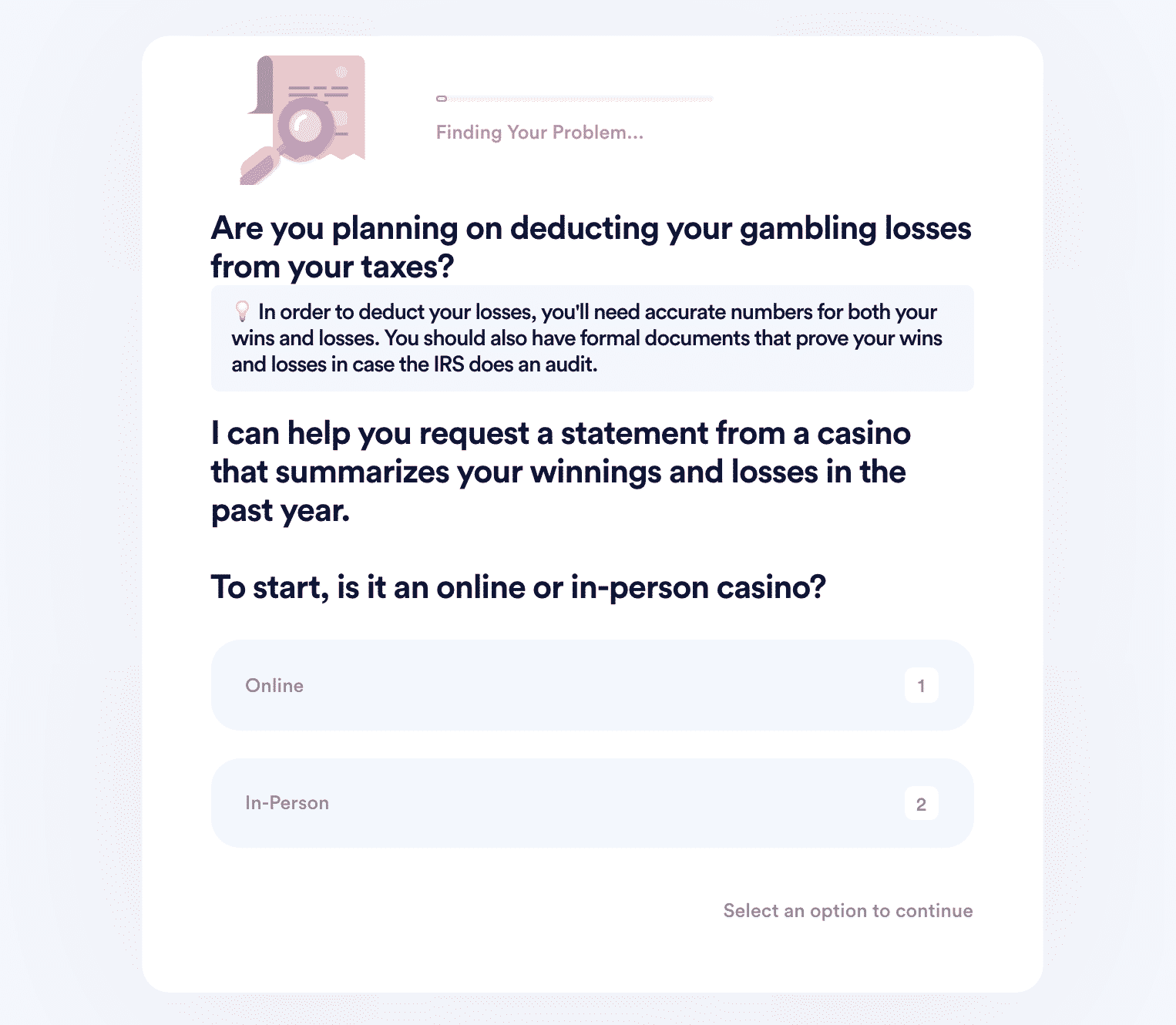 3. Tell us more about the dates and games you played, so the casino can identify your playing records.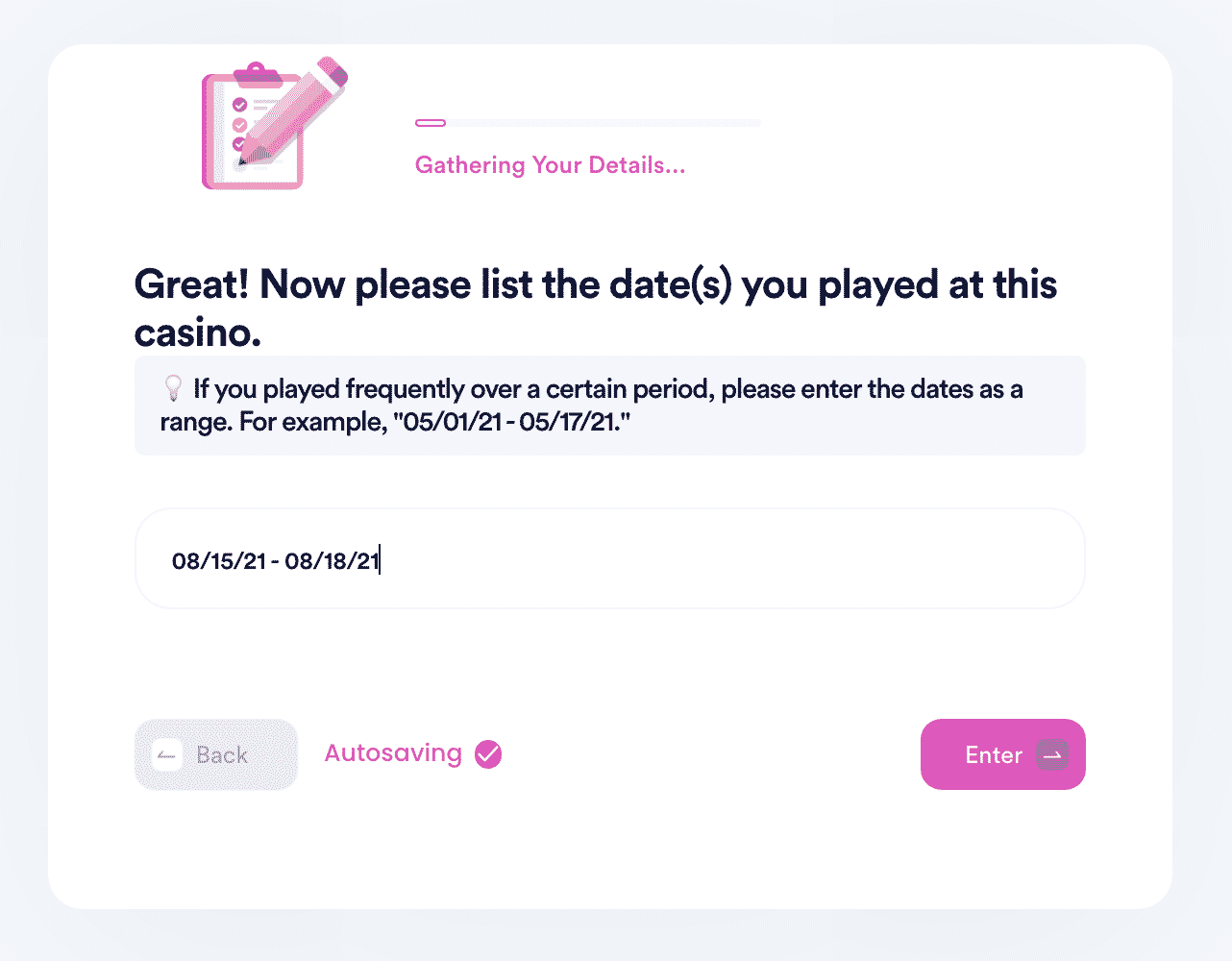 4. Select whether you have a player's card or other form of membership with the casino and enter the relevant details. You also have the option to review other documents you can use as evidence when filing deductions.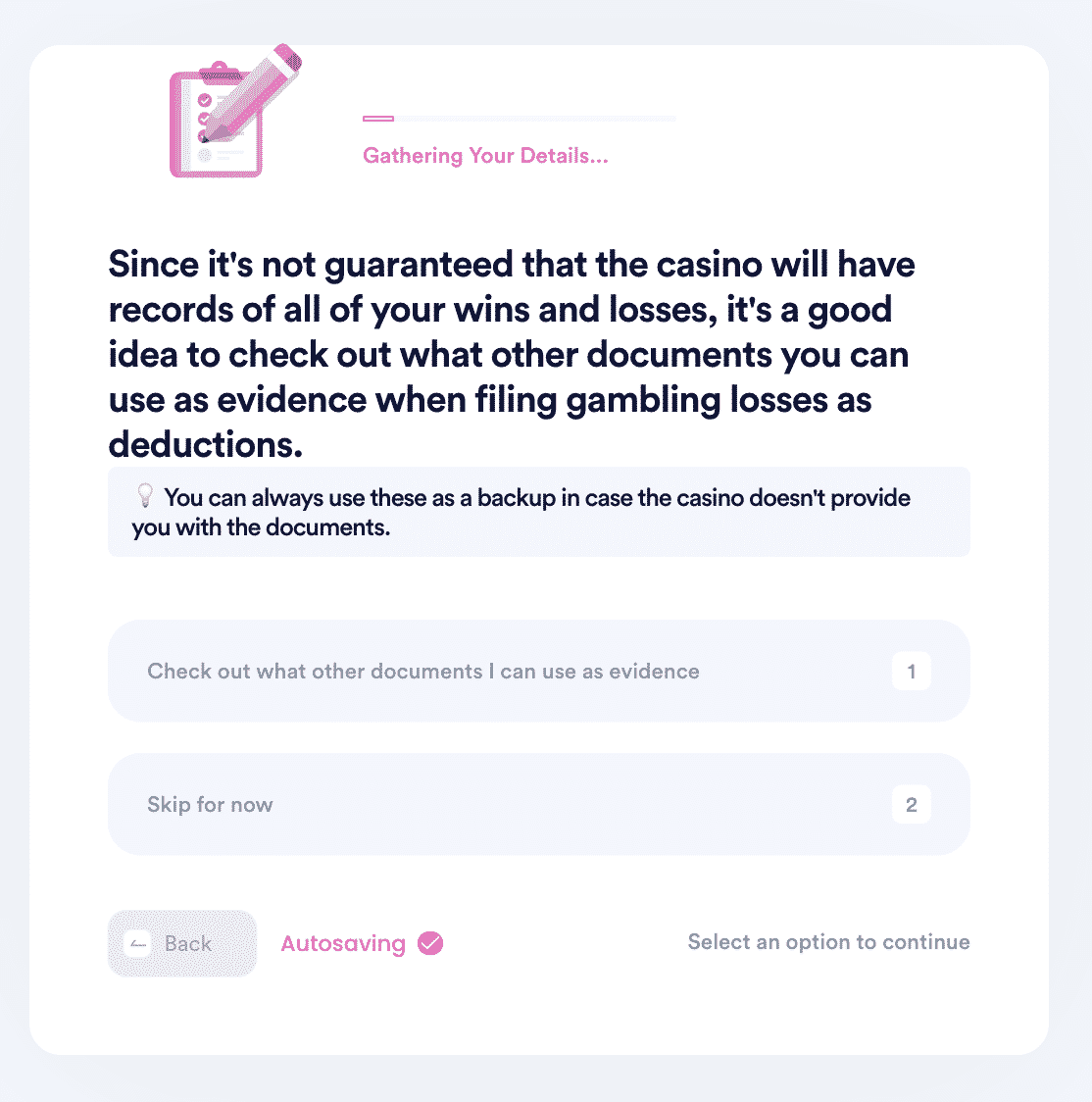 5. Select whether you want DoNotPay to mail the form for you.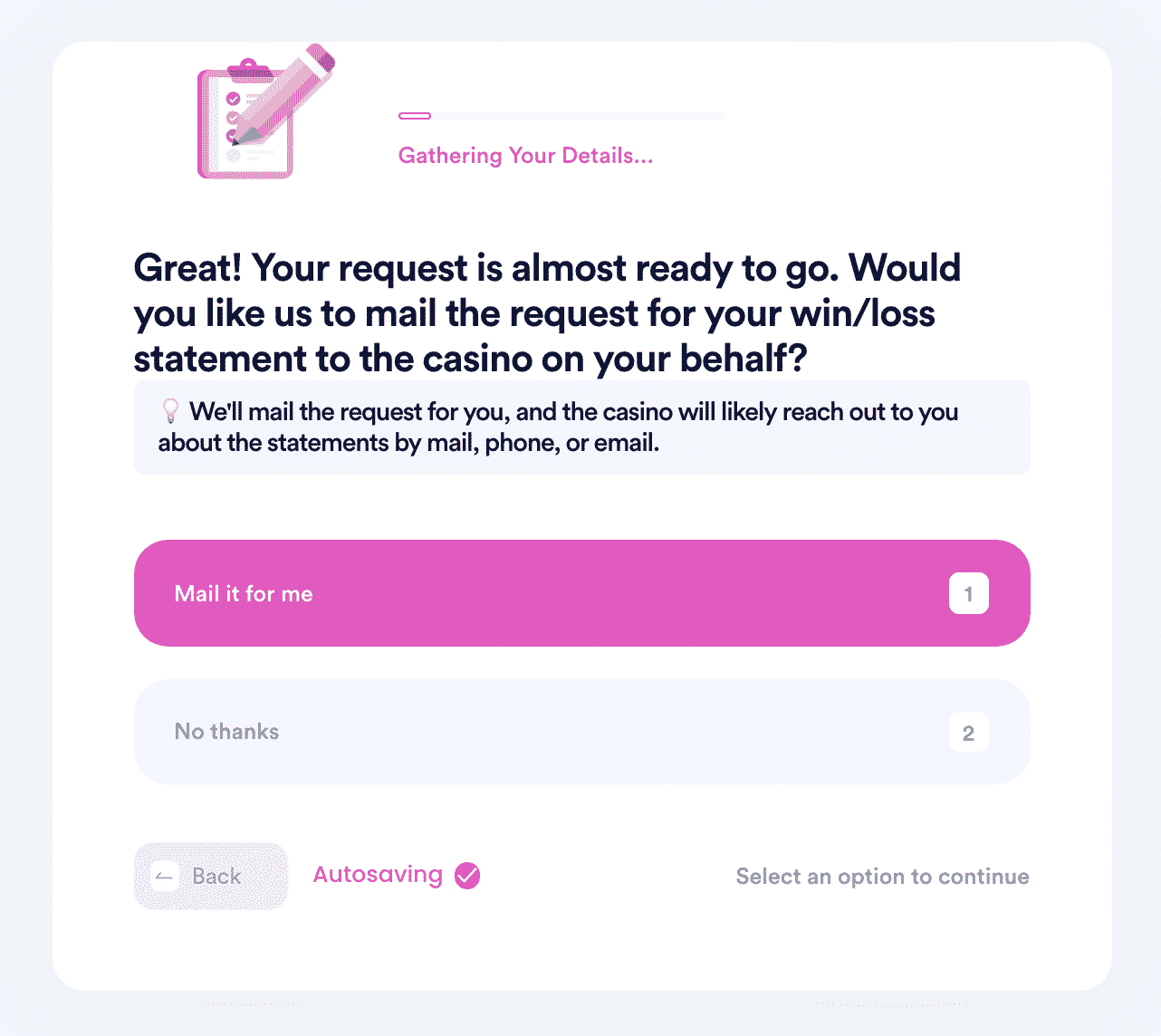 Why People Love DoNotPay for Tax Reporting
It may seem out of place to certain people to use a service like DoNotPay to do something that you have access to as an individual. There is some logic as to why people prefer to use a service to help them out. The primary reason is that they know that the people at DoNotPay are skilled and experienced at what they do. This is not the first time performing these various tasks for their users, and they have seen many cases just like yours before. There are other reasons that people love DoNotPay as well, though, and that includes the fact that this service is:
| | |
| --- | --- |
| Fast | You get your documents in record time. |
| Easy to use | It is simple to navigate their website to get the information you need. |
| A time saver | Few platforms can cut to the chase when it comes to tax reporting, but DoNotPay is one of them. |
You can 't say enough good things about DoNotPay and their work to help simplify people's lives and let them enjoy the lottery winnings that they were lucky enough to get in the first place. It is wonderful to hit it big on the lottery, and it is even nicer when you get to keep as much of those winnings as possible.