Set the Wheels in Motion With DoNotPay's Tarrant County Divorce Forms Checklist
If you and your spouse have reached the end of the line, divorce may be the best choice for you and those around you.
While the decision to get divorced is never easy, Texas law makes filing for divorce manageable if you follow the process to the letter.
DoNotPay has the complete rundown on the Tarrant County divorce forms you will need, the steps you need to follow, and the actions you should take to make your Texas divorce as painless as possible.
Who Can File for Divorce in Tarrant County?
To be eligible to file for a Tarrant County divorce, one of you must have:
Lived in Texas for six months
Been a resident of Tarrant County for the last three months
Texas law allows for no-fault divorces, so you do not need to prove your spouse has done anything wrong. It is enough for you to claim irreconcilable differences between you.
How Does the Tarrant County Divorce Process Work?
Starting your Tarrant County divorce process requires you to do the following:
File a petition for divorce
File a Petition for Divorce
You can get the divorce papers you need from the Tarrant County Family Court. The required paperwork consists of:
| Tarrant County Divorce Papers | Explanation |
| --- | --- |
| Petition for divorce | The petition is a formal request to the court to dissolve your marriage |
| Summons or waiver | The summons informs your spouse that you have filed for divorce. If you have agreed on an uncontested divorce, your spouse can sign a waiver, meaning that the petition does not have to be served |
| Notice of servitude | This form confirms that your spouse has received a copy of the petition and associated forms |
| Decree of divorce | The final divorce decree should be filled out with your details and those of your spouse and any other affected parties |
| Sworn inventory and appraisement | This is a declaration of all your joint and individual assets and liabilities |
You need to complete the forms and file them with the clerk of the Tarrant County family court. You will need to pay the filing fee of around $300.
Serve the Divorce Papers
Once you have filled out the necessary Tarrant County divorce papers and filed them, you need to have them delivered to your spouse.
A deputy sheriff or professional process server can do this for you at a cost of around $50.
How Can You Streamline Your Tarrant County Divorce?
Embarking on a divorce, you want the process to be as quick, cheap, and painless as possible.
A Tarrant County divorce can be as easy or difficult as you and your spouse make it. Your best bet to reduce both time and cost is to work with your spouse to achieve an uncontested or friendly divorce.
An uncontested divorce means that you can usually:
Both these factors can reduce your costs significantly.
In uncontested divorces, the judge must be assured that you and your spouse will both be treated fairly and equitably and that any children in your marriage will be looked after adequately.
The most crucial document you need to convince the judge that this is the case is your divorce settlement agreement.
What Is a Divorce Settlement Agreement, and How Do You Get One?
A divorce settlement agreement is a legal document that regulates how your family responsibilities should be divided up after your divorce is granted.
It should cover:
If you and your spouse can draw up an out-of-court settlement agreement before you file your divorce papers—or at least before your case is heard in court—your divorce becomes much easier.
The judge in your case will scrutinize the agreement to make sure it is fair and should grant your divorce without you having to appear.
Negotiating your settlement agreement depends on your and your spouse's ability to cooperate.
Your options for negotiating your agreement are:
Lawyer
DIY
Lawyer
You and your spouse can hire attorneys and mandate them to negotiate on your behalf—with or without you being present.
This is the traditional way to agree on the terms of a divorce, but you need to be aware of the potential costs involved. Texas lawyers charge up to $320 per hour and usually insist on an upfront retainer that could come to several thousand dollars.
There is no legal requirement for you to use a lawyer in Tarrant County, so you may wish to avoid the cost by negotiating face-to-face with your spouse.
Mediation Service
If you have opted for face-to-face negotiations but are worried that you may not be able to reach a consensus, you can use a trained mediator to facilitate your discussions.
Mediators are not legal experts but can help you and your spouse focus on achieving the outcome you are both happy with.
DIY
If you agree on the essential points of your divorce settlement, there is no reason why you can't negotiate face-to-face without third-party intervention.
This is the most cost-effective route to securing your agreement.
How Can You Get Your Settlement Agreement Drawn Up?
Once the terms of your settlement are finalized, you need to have the agreement drawn up in legal language.
Your options here are:
| Settlement Agreement Resources | Explanation |
| --- | --- |
| Lawyer | While a lawyer will be able to draft a solid agreement, this will come at a potentially high cost |
| Online | Several online providers offer settlement agreement templates for you to fill out, but you should be cautious since many of them are too generic to cover your exact needs. Some may not even be valid in Tarrant County |
Your solution is DoNotPay.
We can solve the issue by preparing a tailor-made divorce settlement agreement to your exact specifications, but with no need to pay lawyers' fees!
DoNotPay to the Rescue in Tarrant County!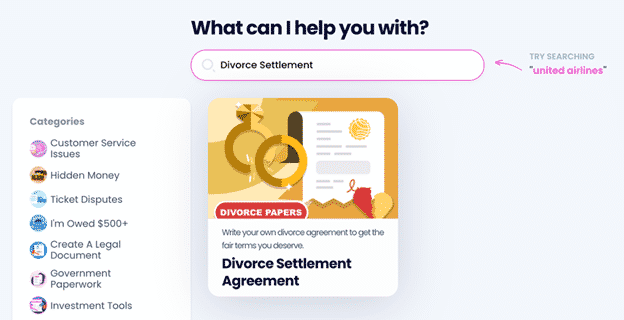 DoNotPay wants your uncontested divorce to go as smoothly as possible!
Our Divorce Settlement Agreement product is designed to take the hassle and expense out of generating your document. Using our feature gives you a fully customized and watertight settlement agreement ready for you and your spouse to sign.
Here's how to get your agreement:
Go to your web browser and sign into—or sign up with—DoNotPay
Click on our Divorce Settlement Agreement feature
Follow the on-screen prompts and fill out the terms you have agreed on
As soon as you are done, we will generate your document for you to print out.
You and your spouse can sign and have it notarized. If you don't know where to find a notary in Texas, we can even organize online notarization for you!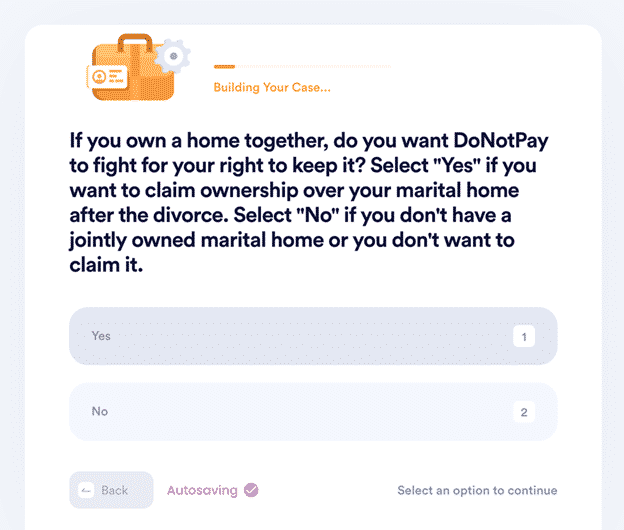 What About Other Counties in Texas?
If you need info on divorce procedures in other Texas counties or cities, here are some valuable guides from our learning center:
If you are in the military and stationed in Texas, DoNotPay can help as well!
What Other Issues Can Our App Solve?
DoNotPay can support you through various burdensome procedures and turn them into a breeze! Here's a table showing a tiny part of our extensive offer:
| DoNotPay Can | Services |
| --- | --- |
| Create various documents | |
| Protect your safety and privacy | |
| Get your money back | |
DoNotPay Is Your Ticket to Simpler Life
Don't bother going through complicated tasks alone—we are here to take care of them! Seek our help if you want to get in touch with customer service instantly, fax anyone online, or get your documents notarized. Besides providing these amazing services, DoNotPay can make preparations for your travel adventures by assisting you in getting passport photos at home and obtaining tourist visas.