How To File a T-Mobile Insurance Claim in the Blink of an Eye
If you're experiencing mechanical issues with your T-Mobile device or if it is lost, stolen, or damaged, you should consider filing a T-Mobile insurance claim. DoNotPay can help you file a claim in a few simple steps. We will assist you in claiming your insurance policy with any company in America, including Sprint, Verizon, and Boost Mobile.
What Does the T-Mobile Insurance Cover?
T-Mobile offers three insurance plans to their customers:
Protection 360

Basic Device Protection

Premium Handset Protection (for prepaid phones only)
Each of these tiers has different coverage and monthly premium rate:
Insurance Plan
Monthly Premium
Covers
Doesn't Cover
Protection 360

$7 – $15

Accidental damage

Malfunction

Loss and theft

Phone

Charger

Battery

SIM card

Original accessories that are lost or stolen with the phone

Damages caused by:

Misuse

Abuse

Unauthorized repairs

Fire

Act of God

Intentional and cosmetic damage

Basic Device Protection

$6 – $14

Premium Handset Protection

$8

Damages caused by:

Rust or corrosion

Poor maintenance

Unauthorized repairs

Power fluctuations

Intentional damage
The Protection 360 plan allows three claims within 12 months, while the other two plans allow two claims for the same period. Another perk of Protection 360 is that it offers additional services:
JUMP! Upgrades

Unlimited screen protector replacements

AppleCare (iPhones only)

Tech PHD by Assurant

McAfee Security with ID Theft Protection
Do I Have To Pay T-Mobile Insurance Claim Deductible?
If you're filing a claim due to product malfunction, you don't have to pay a deductible. You will only have to pay five dollars for the processing fee for a replacement phone. In case the device in question is lost, stolen, or damaged, you'll have to pay the following sum:
Insurance Plan
Accidental Damage Deductible
Loss or Theft Deductible
Protection 360

$10 – $99

$10 – $249

Basic Device Protection

$10 – $249

Premium Handset Protection

$20 – $175

$20 – $175
The exact price of the deductible depends on the product you have. Consult T-Mobile to find out more about your device's tier.
How To File T-Mobile Insurance Claims With DoNotPay
If you'd like to file an insurance claim with T-Mobile the best way possible, you should rely on DoNotPay. Our platform will handle all your insurance claims in a matter of minutes. Once you log in to your DoNotPay account, you'll be able to claim your T-Mobile insurance by following these steps:
Look for the insurance type

Type in all the necessary info

Tell us why you want to file a claim

Describe the issue in details 
We will complete the necessary forms and send your claim to T-Mobile. The company will contact you directly should they have additional questions.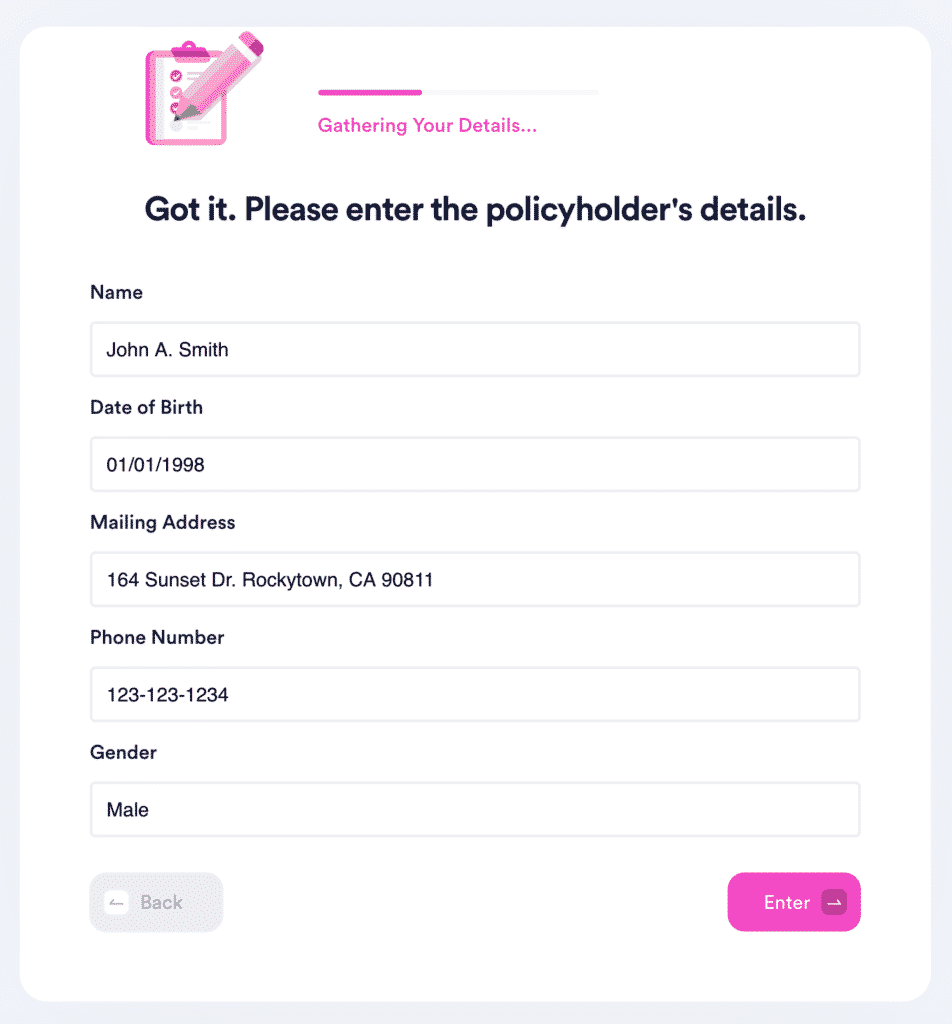 With DoNotPay, you can file any type of claim, including:
Car insurance (regardless of who caused the

accident

)

Property insurance
DoNotPay offers a myriad of useful features that can help you deal with numerous T-Mobile-related issues. We will help you:
How To File an Insurance Claim With T-Mobile on Your Own
You can file a T-Mobile insurance claim in two ways, depending on the issue you're facing:
Issue
How To File an Insurance Claim

Loss, Theft, and Accidental Damage

Log in to your

T-Mobile account

Click on

Phone

and select the phone model in question

Select one of the following:

File a claim

File damage claim

Report lost or stolen

Follow further instructions

Mechanical Breakdown Caused by a Defect in Workmanship or Material

Contact T-Mobile to request a replacement device
If you're filing a claim for loss, theft, or accidental damage, you should prepare the following info:
Your phone number

The make and model of your T-Mobile device

The date of the incident

The date of the last time you used the device

Proof of ownership

Your ID

The police report number if your device is stolen
You need to file an insurance claim not later than 90 days after the incident in most American states. Some states' laws require additional time. 
If T-Mobile Denies Your Claim, DoNotPay Can Help You Out!
Companies often reject rightful insurance claims hoping that the customer won't do anything about it. If this happens to you, DoNotPay has a feature that will help you send an appeal letter to T-Mobile, USPS, FedEx, or any other company. To take advantage of our Appeal Denied Insurance Claim service, follow these steps:
Open

DoNotPay

Enter the warranty type

Click on the

Appeal Denied Insurance Claim

option

Provide additional info
How Will the T-Mobile Insurance Claim Be Paid?
If your claim is valid, T-Mobile will either replace your device—if it is lost or stolen—or repair it for free in case it's broken. You can check the status of your claim by contacting the claim center:
DoNotPay Never Ceases To Amaze
Where there's one useful feature, there are nifty features galore!
Use our Virtual Credit Card to sign up for free trials and stop robocalls and spam text messages from reaching your phone. If you feel a free trial unrightfully turned into an expensive paid membership, we can help you request a refund or chargeback for the inconvenience.
We can further assist you in exercising your consumer rights by making a warranty claim in your place and verifying your online accounts with temporary phone numbers.
We can also break down the Freedom of Information Act for you and introduce you to online fax options and property tax reductions.
Clear Your Schedule With the Help of DoNotPay
DoNotPay is renowned for making our users' lives infinitely easier. Not only can we root out unwanted subscriptions for you—you don't need to do it manually one by one any longer—but we can unsubscribe you from unwanted email and snail mail lists.
Fire up our app and let it navigate the phone tree instead of you or use it to make a DMV appointment at your earliest convenience. Forget about googling clinical trials near you—DoNotPay can sort them out according to your needs and their individual eligibility criteria. 
We can fill out the paperwork that you need to file at your local small claims court to initiate a dispute. You can work around the U.S. penal system and have DoNotPay locate an imprisoned loved one instead of you trying to reach individual prisons attempting to do it yourself.
You don't need to go to great lengths to get in touch with a counselor to sign your college fee waiver either—DoNotPay does it for you and then forwards the necessary documents on your behalf.