Switzerland Tourist Visa—Visit the Roof of Europe Without Any Trouble
Switzerland is famous for its diversity, neutrality, climate, cheese, watches, chocolates, lakes, the Alps, and much more. In Switzerland, everything works like clockwork—the state is well-organized, tidy, and functional. Can the same be said about the Switzerland tourist visa procedure? Find out in our article!
DoNotPay will provide all the latest info on traveling to this beautiful country. We also have specialized visa guides for almost any country (including Switzerland) that make traveling a breeze. Learn all about Switzerland tourist visa requirements by signing up for our service!
Do I Need a Tourist Visa for Switzerland?
As an American citizen and a U.S. passport holder, you don't need a visa to travel to Switzerland if you plan on staying for 90 days or less. Your spouse, care provider, and children may accompany you but are subject to general entry requirements.
If you intend to stay longer than three months, you will need a long-term visa.
Switzerland Tourist Visa Application Process Explained
You must submit a visa request at least six months ahead of your departure for a long-term visa.
The long-term visa can only be requested from the dedicated Swiss representation for your state of residence. Scheduling an appointment is free of charge, but it can't be done online, meaning you'll have to visit the nearest embassy to book it.
The Atlanta Swiss representation doesn't accept visa application or appointment scheduling at the time of writing this article due to COVID-19. Note that this representation is responsible for the following territories:
Texas
Florida
Georgia
Alabama
Arkansas
Oklahoma
Mississippi
Louisiana
North Carolina
South Carolina
Cayman Islands
All Switzerland Tourist Visa Requirements Listed
When traveling to Switzerland as a U.S. citizen, you must:
Have a passport that's valid for at least six months after you leave the country and has at least one blank visa page
Keep proof of your flights
Keep records of the purpose of your travel if you're on an official trip
Have a bank statement or other proof showing you have enough funds to remain in the country for the time of your stay
Confirm with your airline that a visa is not necessary for boarding
Fill in the entry form before you cross the Switzerland border
Have the documents needed for your next destination, if you're traveling to another country from Switzerland
You may carry up to 10,000 Swiss Francs (or the equivalent in other currency) when entering or leaving the country. Otherwise, you could be questioned by the authorities.
Relevant and Updated COVID-19 Information for Switzerland Visitors
There is no legal requirement for coronavirus vaccination in Switzerland. As a U.S. citizen, you:
Are exempt from any quarantine measures
Need to present one of the following:

Negative PCR test not older than 72 hours
Negative rapid antigen test not older than 48 hours
Written confirmation from a licensed health care provider that you have recovered from the coronavirus infection not earlier than 90 days from the departure date
COVID-19 vaccine confirmation
The testing measures don't apply to two-year-olds and younger children.
Normal COVID-19 measures still apply to everyone, as follows:
Keeping the distance
Wearing face masks where necessary
Maintaining regular hygiene
DoNotPay Is Here To Help You Determine Whether You Need a Switzerland Tourist Visa!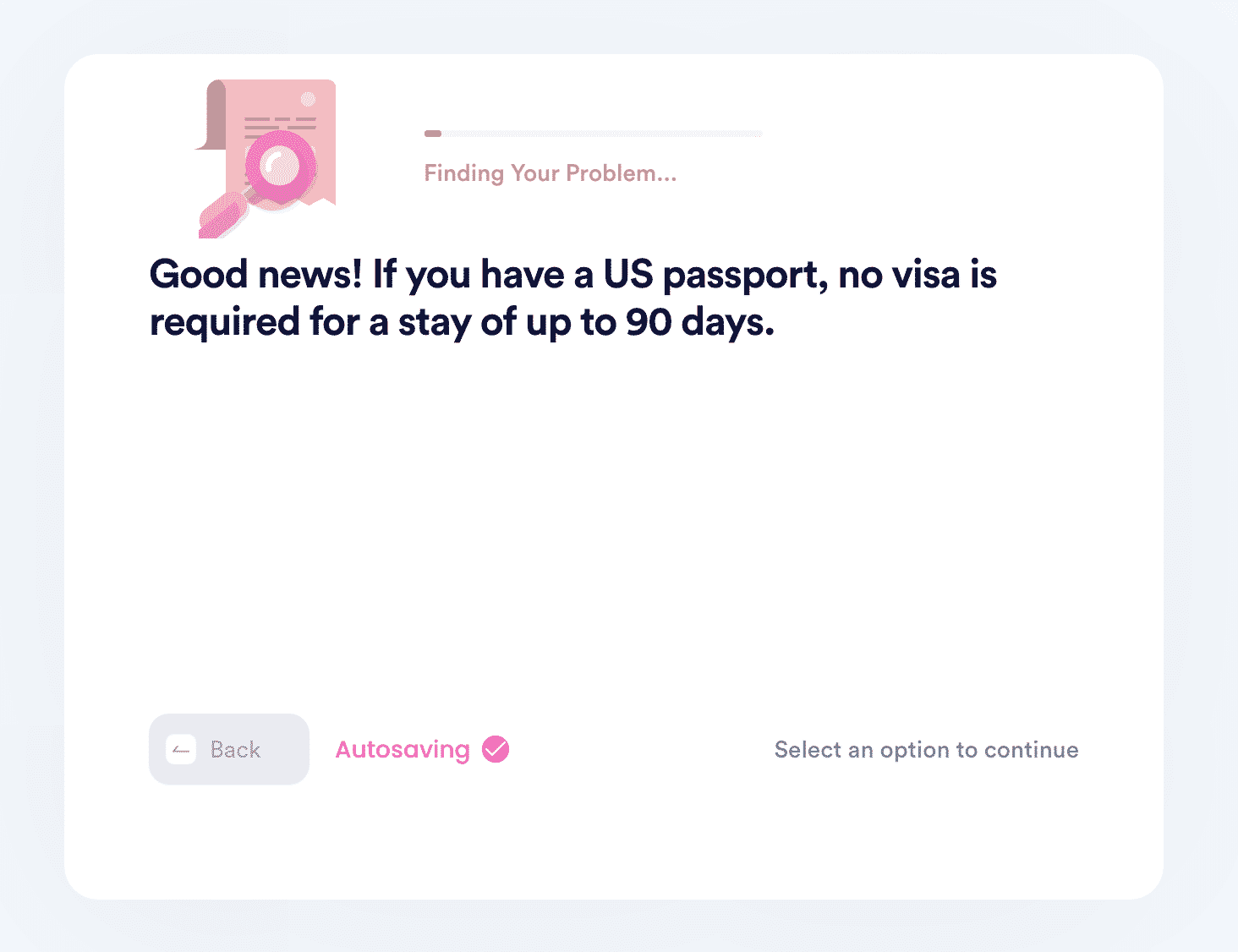 Gathering the paperwork for international travel can be exhausting. That's why DoNotPay swoops in to save the day!
Our app can automatically check whether your destination country requires a visa or not, and it provides the application form for you or a link to the application webpage when possible. Everything is done online in just a few clicks, as shown in the instructions below:
Click on the Tourist Visa Guide feature
Provide the info about your passport
Select Switzerland as the destination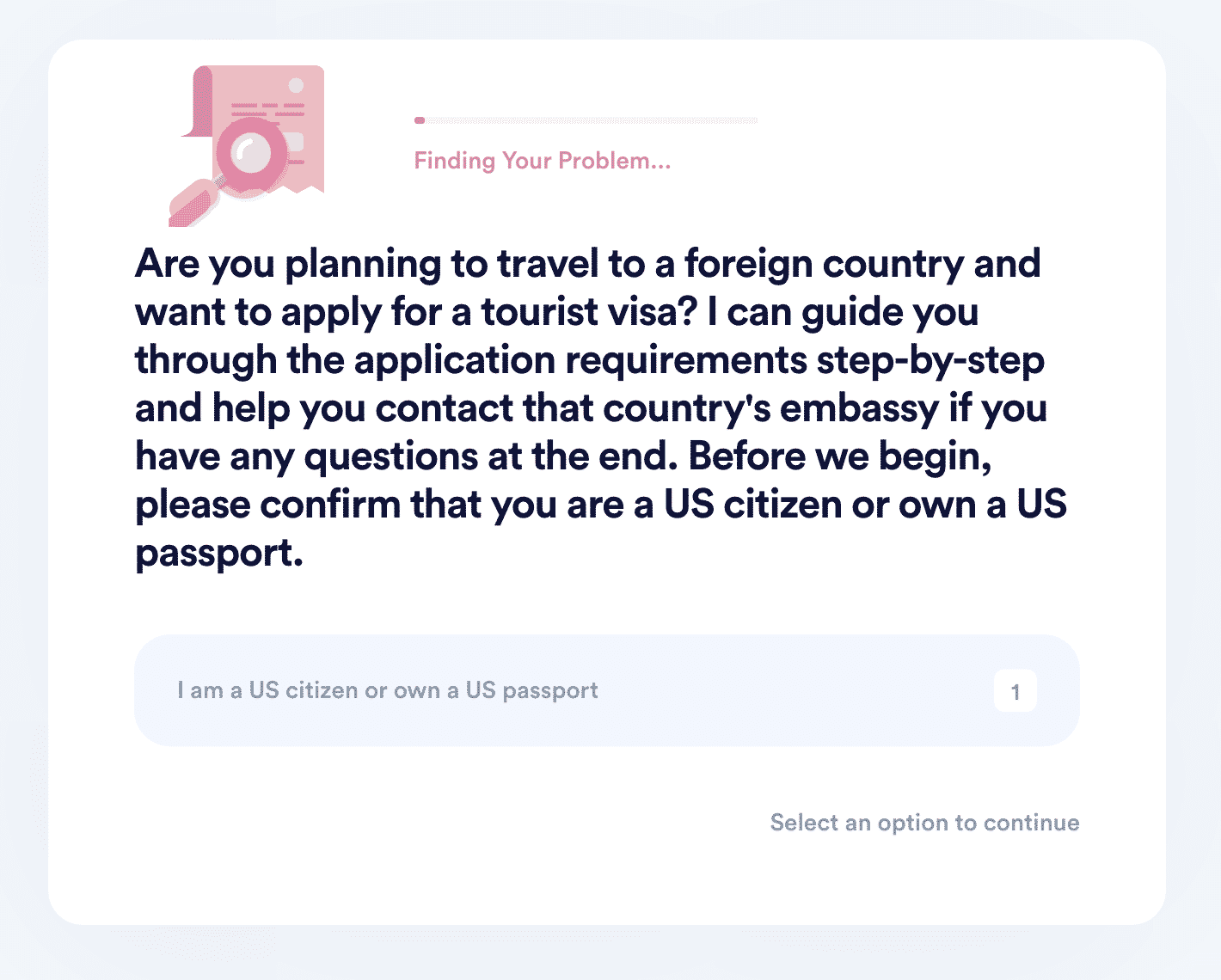 DoNotPay Can Assist With Visa Guides for Other Countries Across Europe
Switzerland is breathtaking, but if you're staying for a while, it makes sense to visit other parts of Europe too! We have the visa and other travel requirement guides for all of the countries listed in the table below, so check them out!
Switzerland Travel Tips and Recommendations
Are you visiting Switzerland for the first time? Refer to our table for valuable tips!
| Tips On | Brief Explanation |
| --- | --- |
| Public transportation | You can rely on the Switzerland bus and train network because it's very effective. Rental cars can be expensive |
| Accommodation | Staying in hotels and lodges can be expensive. You should browse websites such as Agoda or Booking for more optimal prices |
| Shopping | Bern and Zurich are great for shopping but don't expect them to be cheap |
| Attractions | Lake Geneva, Swiss Alps, Rhine Falls, and Interlaken are some of the must-see places in Switzerland |
Discover the Entire Spectrum of Our Features
A click or two will be enough to discover the amazing universe of DoNotPay's tools and products. Our app is here to show you the best way to get:
Financial Issues? Let DoNotPay Take Care of Them!
DoNotPay can track down your unclaimed money, submit insurance claims, or request compensation for delayed flights on your behalf. This way, you can save some money and get what you're owed. Our app can also make it easier for you to lower your utility bills, cancel active subscriptions and stop further charges, or appeal parking tickets.