Contact the Swiss Consulate, San Francisco
Whether you are a Swiss citizen living in San Francisco and wanting to get in touch with your consulate or a US citizen wishing to fly to Switzerland, the Swiss Consulate in San Francisco can answer your questions and provide help. However, we know that it can be time-consuming to go to the consulate physically just to ask a question.
This article will provide you with all the information you need to know about the Swiss Consulate in San Francisco, how you can get in touch with them, what issues they can help you with, and how you can choose to contact them easily with DoNotPay!
Where is the Swiss Consulate in San Francisco Located?
The Swiss Consulate in San Francisco is located in the Embarcadero area, very close to the Ferry Building. The exact location of the consulate is as follows:
Pier 17, Suite 600, San Francisco, CA 94111, USA
Since the Swiss Consulate is conveniently located in between the North Beach and Embarcadero area, there are many options if you would like to take public transportation to get to the consulate: 
Bus: 27, 38, 38R, 5, F, J, KBUS, NBUS
Train: Limited A.
BART: BL, RD, YL.
The Contact Information of the Consulate General of Switzerland in San Francisco
The Matters the Swiss Consulate in San Francisco Can Help You with
Attestations and Certificates

Attestations
Confirmation of Nationality and Registration in the Register of the Swiss Abroad
Attestation of Residence Abroad
Certificate of Civil Rights Capacity
Tax-free for Tourists

Citizenship

Simplified Naturalization of the Spouse of a Swiss Citizen
Reinstatement of Citizenship After Forfeiture, Relief, or Loss of a Citizenship
Simplified Naturalization of a Foreign Child Born of the Marriage with a Foreign National and whose Mother Had Swiss Citizenship Before or When They Were Born
Simplified Naturalization of a Foreign Child Born Before 1 January 2006 of a Swiss Father Who Is Not Married to the Mother
Relief of Swiss Citizenship
Dual Citizenship

Civil Status Affairs

Marriage and Registered Partnership
Birth
Adoption
Divorce
Death
Change of Name
Ordering Civil Status Documents

Criminal Records

You will find the information on how to obtain criminal records extract on the website of the Federal Office of Justice.

Driver License and Vehicles

Notification of Moving Abroad to the Road Traffic Office
Exchanging a Swiss Driving Licence
Translation of a Swiss Driving Licence in the form of a Certificate
Loss of Swiss Driving Licence - Residence Abroad
Registration of the Swiss Abroad
Driving in Switzerland on a Foreign Licence
Import and Export of a Vehicle
Driving on a Swiss Licence While Holidaying Abroad
Loss of Swiss Driving Licence While Holidaying Abroad

Emergency Assistance
Legalizations

Legalization of Official Seals and Signatures
Legalization of Private Signatures
Fees and Various Costs

Liechtenstein Consular Services
In the countries, in which Liechtenstein does not have any representation, the citizens of Liechtenstein can use the Swiss representation for all consular questions
Lost and Found

Lost Identity Documents
Lost Personal Belongings
If your lost item is found, handed to the police, they hand it to the Swiss Consulate if they know that it belongs to a Swiss citizen

Passport and Identity Card

Applying for an Identity Document
Loss or Theft
Temporary Passport
Fees
Traveling with a Swiss Passport

Political & Voting Rights
Learn more here.
Registration, Deregistration, Change of Address

Registration
Change of Address Abroad
Returning to Switzerland
Useful Documents & Links

Relocating Abroad and Returning Advice

Advice on Emigrating from Switzerland
Advice on Returning to Switzerland

Scholarships
Learn more here.
Schools

School Visits to the Embassy
Free Materials about Switzerland
Teaching Materials

Social Insurance

Old-Age and Invalidity Insurance
Health and Accident Insurance
Soliswiss

Traveling Abroad

Online Registration
Travel Admin Application
How to Contact the Swiss Consulate in San Francisco with DoNotPay?
As you can see above, the Swiss Consulate San Francisco can help you with a lot of matters. However, since there are various matters to help with, you might not be sure which email to write to for your concern or even what to write. DoNotPay can take the burden off your shoulders! All you need to do is:
1. Search for "Contact Embassy or Consulate" on the DoNotPay.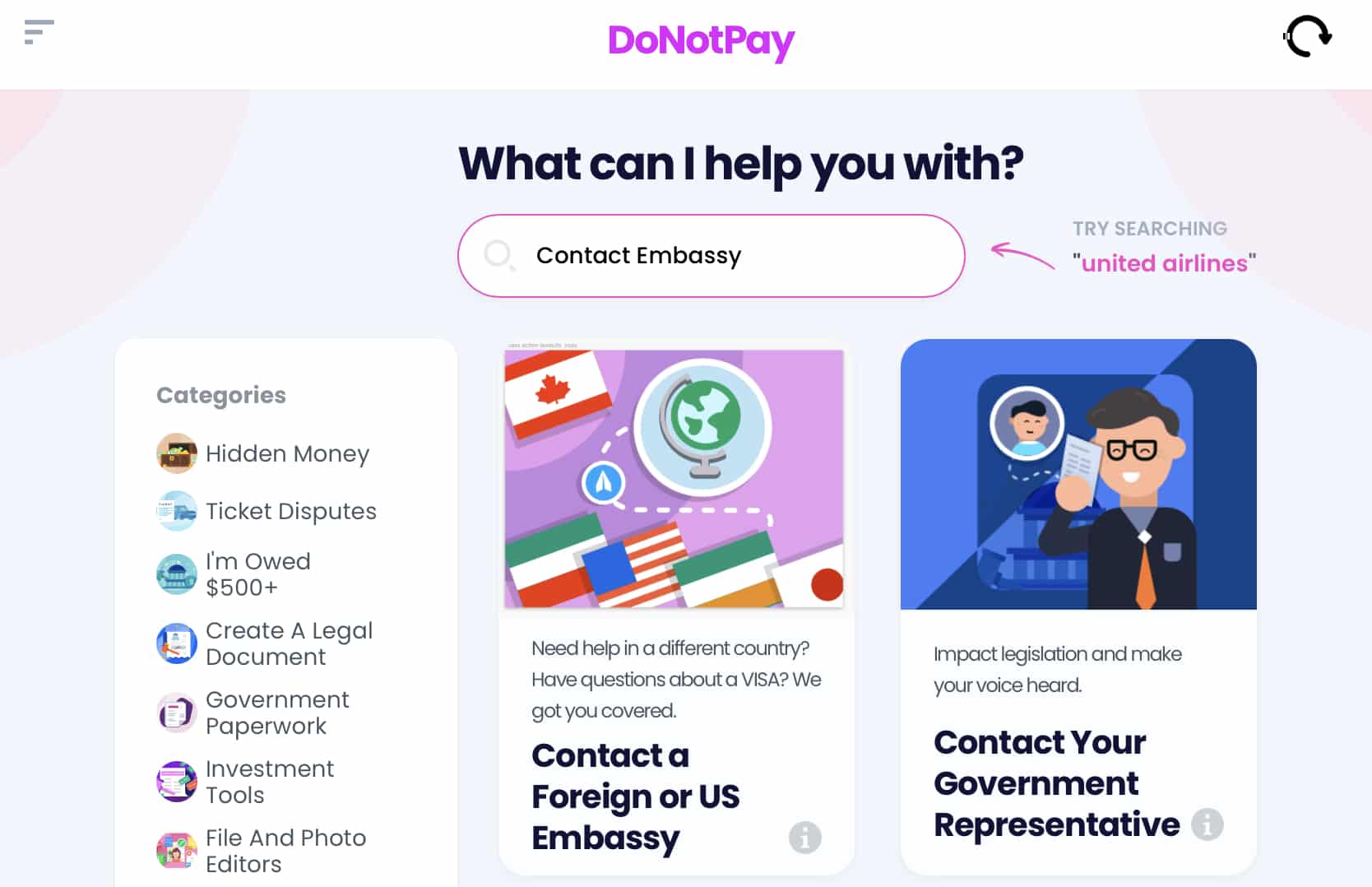 2. Choose to contact a foreign embassy in the US.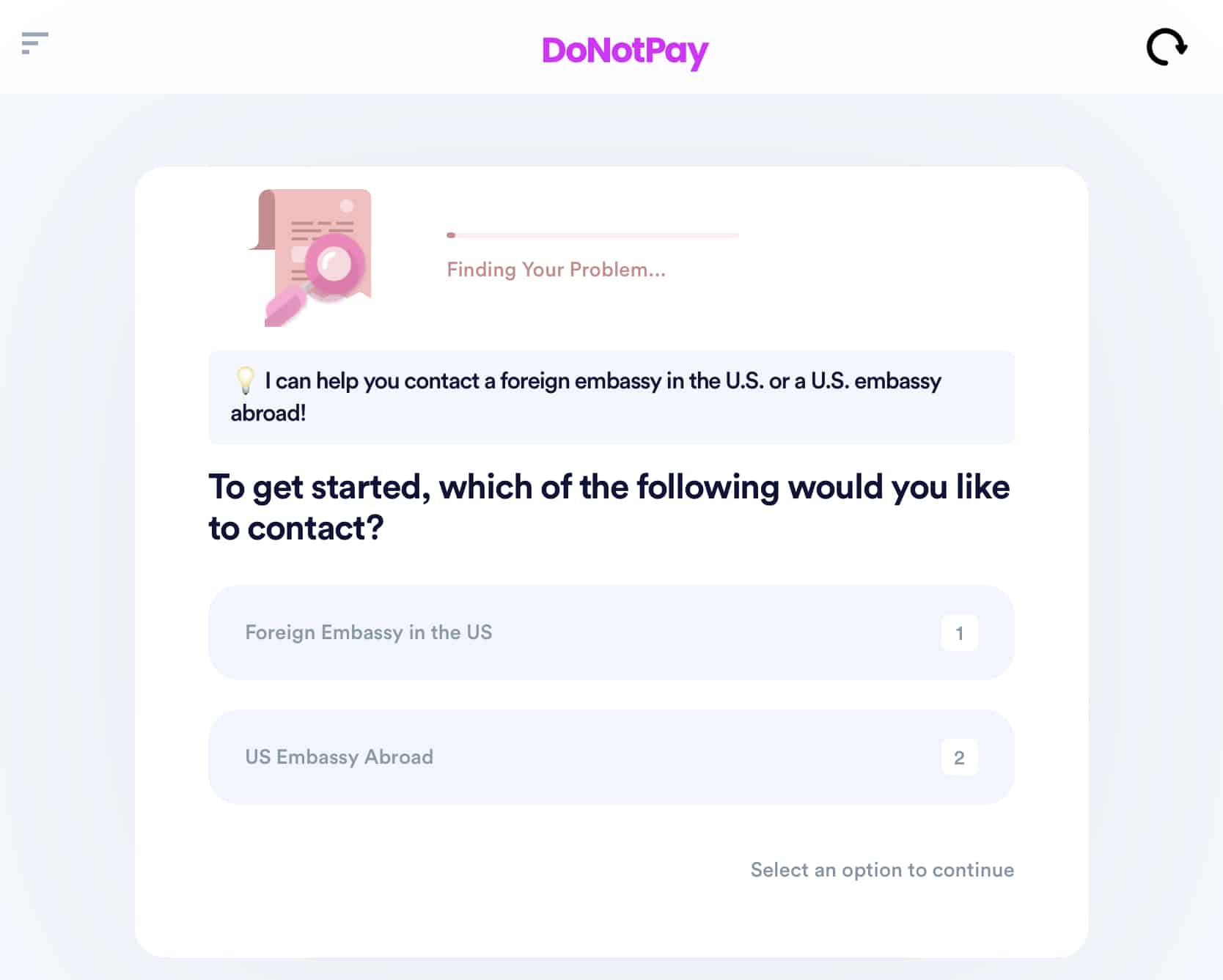 3. Briefly describe your problem and any questions you have.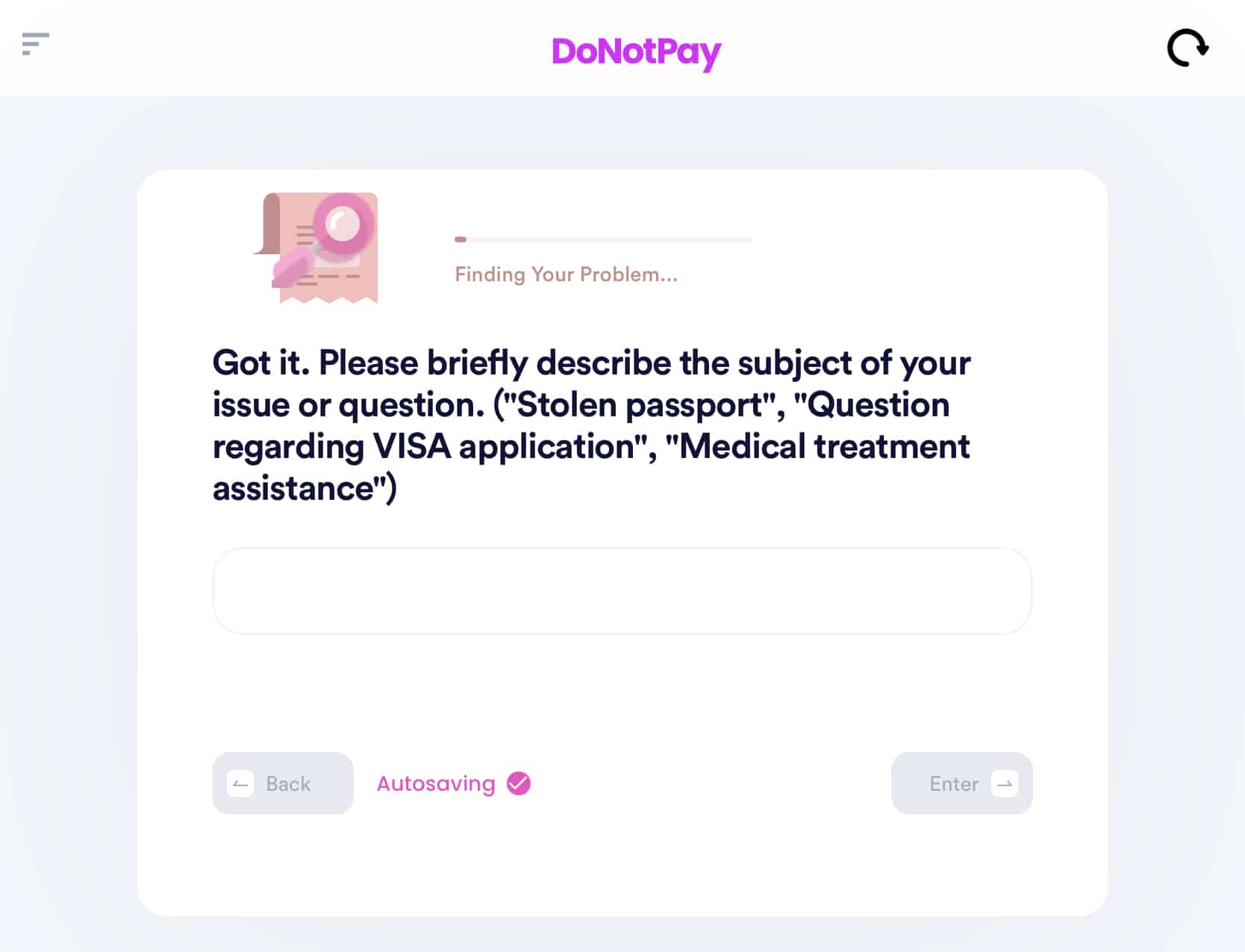 4. Write the country of the embassy or consulate you want to get in touch with.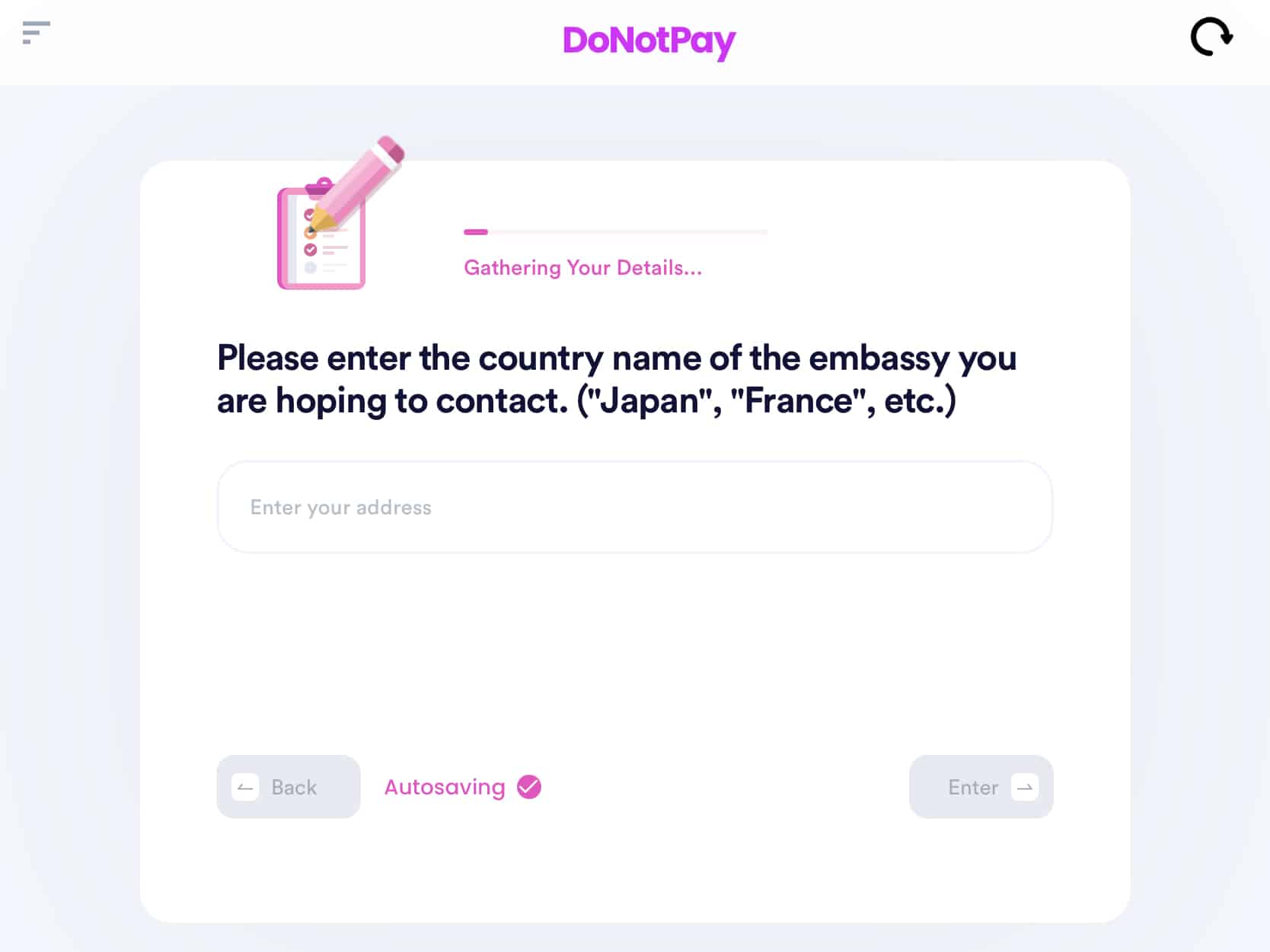 Done! Now, DoNotPay will write a customized email specific to your issue, send it to the right email address on your behalf and even direct the response of the consulate to your email address! 
Other Embassies and Consulates DoNotPay Contacts For You