Do You Need a Sweden Tourist Visa? DoNotPay Has All the Answers
Sweden is a North European country brimming with outdoor opportunities and social events. It is the third-largest nation in the European Union by area, neighboring Norway and Finland. While visiting Sweden, don't miss out:
Royal Palace in Stockholm and Drottningholm Palace in the country
Gothenburg Museum of Art, Gothenburg City Museum, and Volvo Museum
The ice hotel north of Kiruna, Sweden's northernmost town
Spending some time with Sami people in the north and getting to know how they live as reindeer herders
Admiring Aurora Borealis (Northern Lights) in the north and the 24-hour midnight sun around the summer solstice
Vasa Museum in Stockholm to take a look at a 17th-century battleship that sunk on its maiden voyage when leaving the port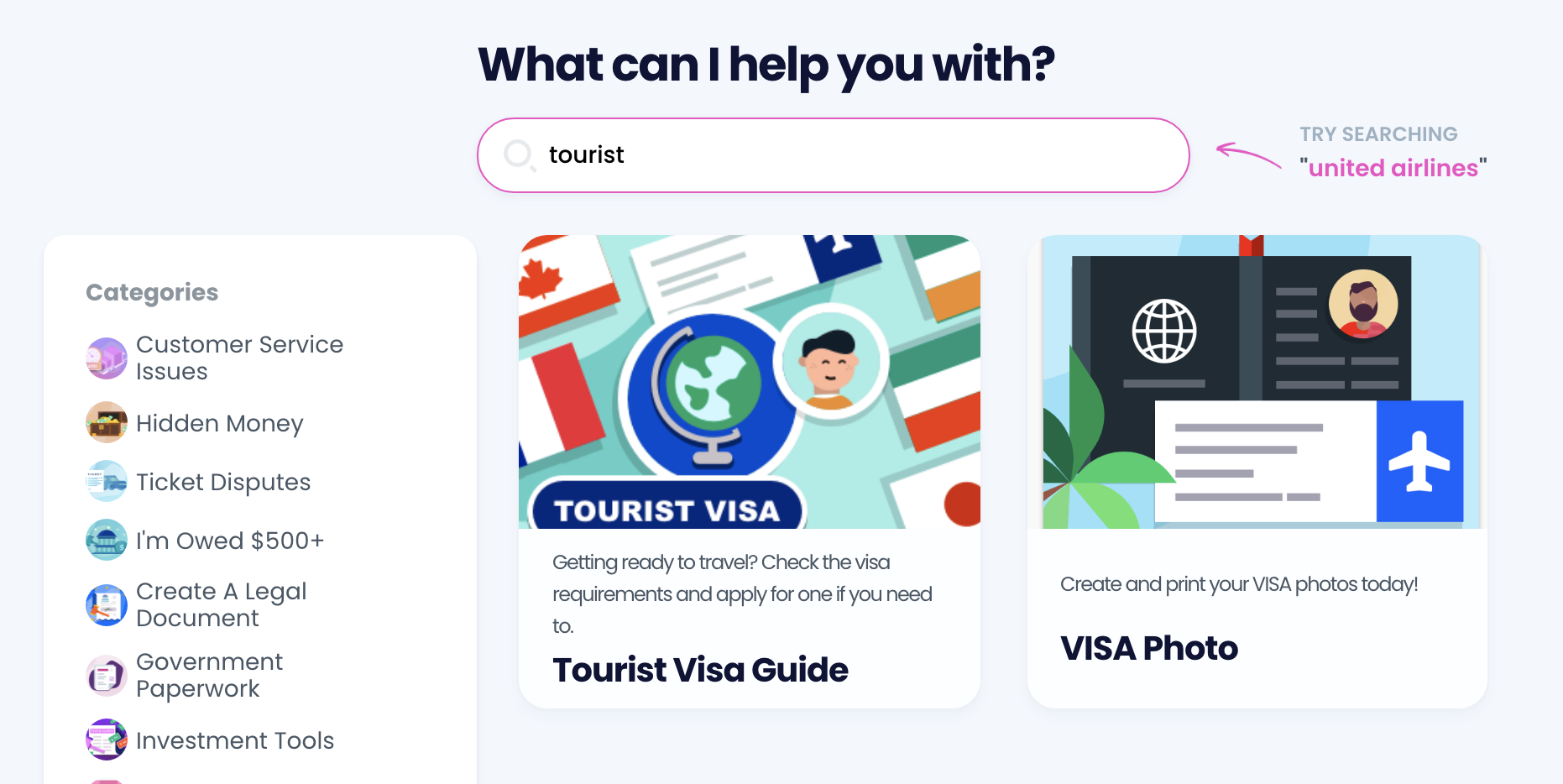 Before you set out to explore this vast country, you have to prepare the correct travel documents. Sign up for DoNotPay to find out if you need a Sweden tourist visa in a few clicks.
Sweden Tourist Visa—Learn if You Need the Entry Permit and Other Relevant Information
Whether you need a Sweden tourist visa depends on the duration of your trip. Check out the following table for details:
| The Length of Your Stay | Is Visa Required? |
| --- | --- |
| Up to 90 days | No |
| More than 90 days | Yes |
Sweden and other Schengen Area countries allow visa-free travel if you stay up to 90 days within six months. Check out the Short-stay EU Visa Calculator to keep track of how many days you have left.
In case you have to prolong your stay, you must apply for an extension on time. If you overstay even one day, you will have to leave the country. To apply for a residence permit or a D-visa, submit your request to the Swedish Embassy or Consulate. If you are in Sweden, contact the Migration Agency.
What Requirements I Have To Fulfill To Enter Sweden?
When entering Sweden as a U.S. citizen, you must provide:
A valid U.S. passport
Proof of the trip's duration
Evidence of sufficient funds
Passport Requirements
Your passport must be valid for at least an additional three months after your intended departure. Ensure that you have blank pages for entry and exit stamps.
Proof of the Intended Departure
You may be asked to provide proof of your intended departure, such as:
Your return or onward flight ticket
Hotel or other accommodation reservation
Sufficient Funds
You may also need to enclose evidence of sufficient funds to support yourself during your visit. The minimum amount is 450 Swedish Crowns (Krona), approximately $50 per day.
The funds may be in:
Cash
Credit card
Travelers' checks
Showing your bank statement is also acceptable. Note that you are allowed to bring in and out of Sweden the equivalent of 10,000 euros, roughly corresponding to $12,000.
What Is the Swedish COVID-19 Policy?
To visit Sweden, you must prove that you aren't infected with the coronavirus. You can do so by providing:
A negative test
Vaccination certificate
Document confirming that you have recovered from the COVID-19 infection
Remember to confirm the COVID-19 travel restrictions before your trip because rules tend to change depending on the current situation.
Vaccinated Tourists
Vaccines accepted in this Scandinavian country are:
Moderna
AstraZeneca
Pfizer-BioNTech
Johnson & Johnson (Janssen)
Non-Vaccinated Travelers
If you didn't get a vaccine or suffer from the infection, you must provide a negative test. Ensure to take the test within 48 hours before you get to the entry point. Approved tests are:
How Can DoNotPay Help You Prepare for a Trip Abroad?
Collecting information regarding your upcoming trip to a foreign country requires time and effort. The data is usually scattered, making finding the up-to-date info quite challenging. Knowing how inconvenient that is, DoNotPay does the research on your behalf, so you can find everything you need in one place.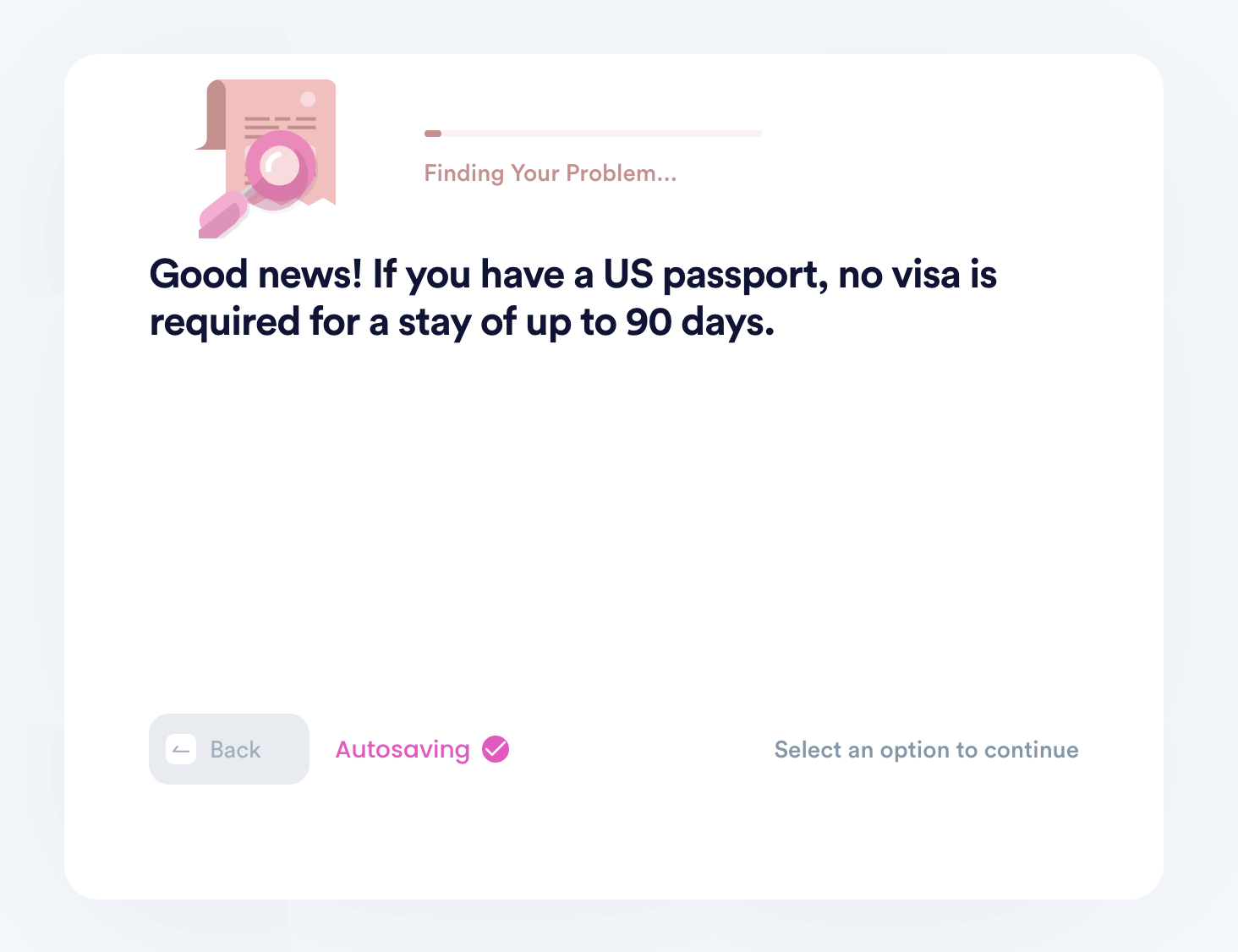 We'll list the documents and forms you have to provide and fill out if a visa is required. If an online application is available, we'll send the appropriate link.
In case you must submit the request in person, we will send you a PDF document to fill out and print.
To benefit from our convenient and efficient service, all you need to do is:
Access DoNotPay and opt for Tourist Visa Guide
Confirm you are a U.S. passport holder
Specify the destination country
Visiting Other Countries During Your Trip
Many travelers from the U.S. visit more than one country on their trip to Europe. If you are among them, refer to the following table to learn about various visa policies on the continent:
Save Time With DoNotPay
DoNotPay is not done helping you! We offer you assistance in completing a variety of tasks quickly and efficiently, such as:
Canceling Subscriptions Has Never Been Easier!
If you keep getting charged a monthly subscription fee even though you no longer want to use a certain service, don't let your money go to waste! Some companies tend to renew your subscription automatically, but that doesn't mean you have to put up with it—use our app to terminate your membership or subscription in a few clicks!
Do you want to sign up for free trials and create a virtual credit card or a burner phone number to protect your sensitive info? Once you subscribe to DoNotPay, we will walk you through the process of doing all of the above in no time!
You can also count on our assistance if you need to get rid of spam or robocalls.