Supervisors Reports Explained
Supervisors have many responsibilities, such as providing guidance, managing the workload, and rating the performance of their subordinates. They also have to file supervisor's reports when incidents, including work-related injuries and illnesses, occur at the workplace.
In this article, we will explain the supervisor incident/accident reporting process and what types of supervisor reports you can make. We will also dive into the significant role employee complaints serve in the workplace and how employees can file their complaints easily and anonymously with .
When Should You Submit a Supervisor's Report?
Supervisor reports are needed to document accidents in the workplace. The table below outlines definitions and examples of common accidents and incidents.
Accidents

Slips, trips, and falls

Accidents caused by slippery surfaces or falls from ladders and other platforms

Repetitive strain injuries

Injuries caused by the cumulative impact of repetitive motion like typing or repeatedly lifting boxes.

Crashes and collisions

May involve impact injuries involving cars, trucks, and other machinery.

Near-misses

Events in which no one was harmed and no property was damaged, but the threat of harm or damage was present. Examples include falling tools that don't strike an employee but could have if the time and circumstances were different.

Safety issues

Any hazard or risk in the workplace that could cause property damage, injury, or death.

Property damage

Damage to tools, equipment, machinery, etc., caused by fire, mechanical malfunctions, the weather, vandalism, etc.

Incidents

Discrimination

Being treated unfairly based on race, gender, disability, religion, age, nationality, sexual orientation, or marital status.

Harassment

Being on the receiving end of hostile, abusive, intimidating, or offensive behavior, either physical or verbal.

Fights

Any act or threat of physical violence.
Different Types of Supervisor's Reports
Supervisor reports are needed in many situations. The kind of incident determines how you should draft the report.
For injury reports, insurance companies may use your report when filing an insurance claim. Therefore, it is important to include:
Details of the accident, including date, time, place, and pictures of the site.

What happened before and after the accident. When describing the injury, avoid stating specific injury symptoms unless confirmed by a medical professional.

Witness reports from colleagues that saw the accident.
Discrimination and harassment claims should be reported to your company's HR department. If not dealt with internally, victims may file a complaint at the state or federal level. Discrimination and harassment complaints should contain:
The name of the perpetrator and the victim.

Time, dates, location of harassment/discrimination.

Description of the specific incidents.

Evidence which includes screenshots, recordings, coworker witness statements, etc.

The victim's desired resolution.
The Benefits of Filing a Supervisor's Report
A comprehensive and timely supervisor report has many benefits for both the employees and the company alike.
Prevents (or at least deters) similar incidents from occurring again.

Brings attention to an issue that upper management may be unaware of. Once upper management is made aware of these issues, they can implement top-down procedural changes to make the workplace safer.

Encourages other employees to come forward with their safety concerns to mitigate other dangers in the workplace.

Prevents minor injuries from worsening in the case of repetitive strain injuries.

Protects the company against lawsuits if hazards are dealt with before an accident occurs.

Costs less to address a hazard/threat than to deal with the legal/medical/insurance costs brought on by an injury or incident.

Establishes good company practices. Continually documenting incidents, accidents, and hazards will promote a culture of safety.

Provides the initial documentation if further investigation is required.
Reasons Why Supervisors Avoid Filing a Report
60 percent of workplace incidents go unreported. Here are the most common reasons why supervisors avoid filing incident reports:
They don't want to seem incompetent.

Reporting is time consuming and adds to their stress.

They hope the problem will go away.

They are worried about insurance implications.

They think a resolution cannot be reached, so it's a waste of time to file a report.

They don't want to damage the company's reputation or scare off other employees.
File Anonymous HR Complaints Today Through DoNotPay
Sometimes, there are workplace incidents that are so complicated that employees are reluctant to report them. If you're scared to report to HR, DoNotPay can help! Employees are entitled to work in a safe environment and should be protected from discrimination, harassment, and retaliation.
DoNotPay's Anonymous HR Complaints service provides a way for employees to file complaints anonymously. If you're an employee looking to make a complaint to HR, all you have to do is:
1. Sign in to and choose the Anonymous HR Complaints product.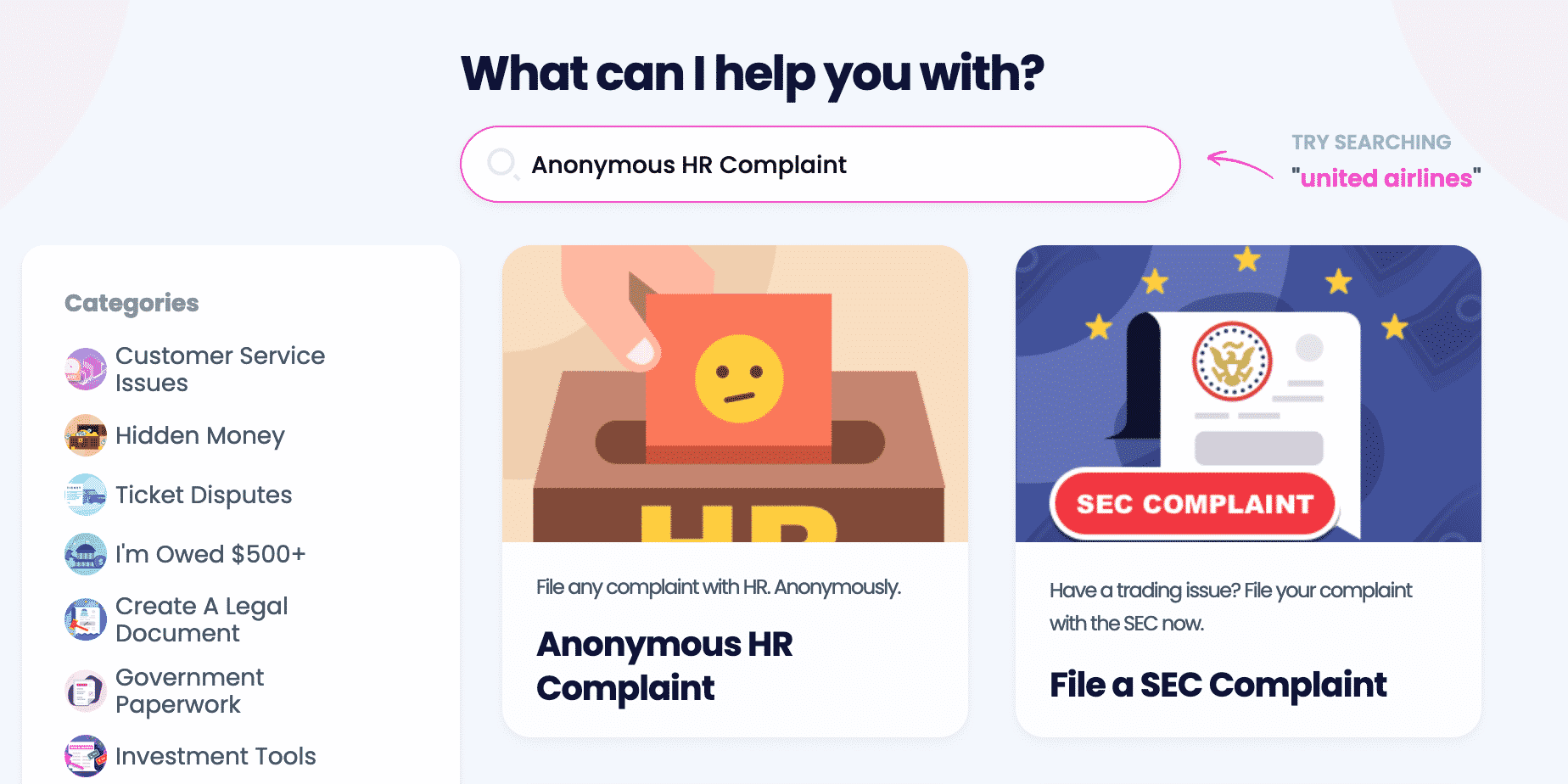 2. Enter your employer's name and your HR department's mailing address.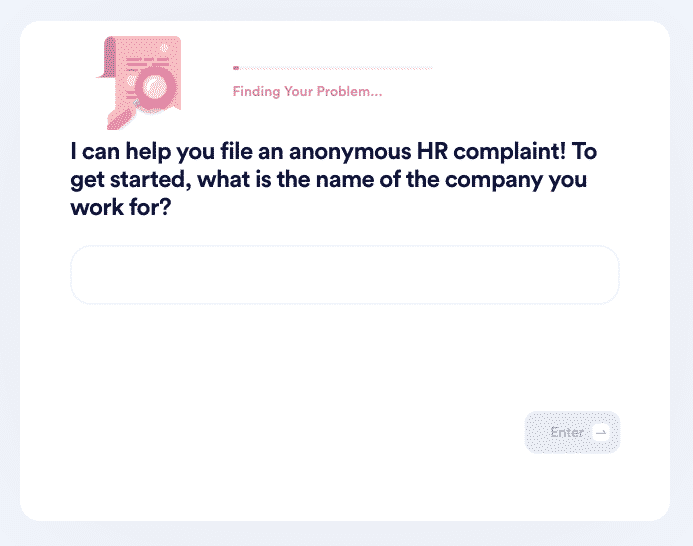 3. Describe your complaint and suggest a solution or action that you would like implemented.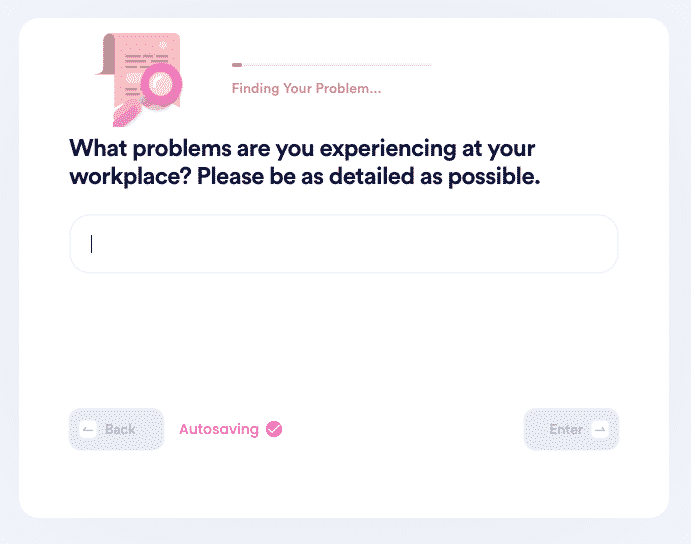 You're done! DoNotPay will do the rest and send the report! None of your personal information will be included.
What Else Can DoNotPay Do?
is the world's first robot lawyer that has been helping millions of users solve their legal problems. Starting in 2015 as a way to help fight parking tickets, DoNotPlay is now equipped with a litany of services that can help you: