SunTrust Small Business Loan Types
Finding the necessary funds to meet your startup or small business expenses can be grueling, especially with a bad or no credit score.
To explore different loan types, you first need to understand how this kind of funding works and what banks offer the most suitable funding for your business and personal needs.
This article provides information about SunTrust small business loan types to help you find the best funding choice for your company.
What SunTrust Small Business Loans Can You Choose?
SunTrust offers different types of small business loans suitable for different needs:
SBA loans
Business term loans
Lines of credit
Are SBA Loans What You Are Looking For?
SunTrust has partnered with the U.S. Small Business Administration (SBA) to offer government-guaranteed loans with flexible terms.
To explore the SBA funding options, take a look at the following table:
Details
SBA 7(a) Loan
SBA 504 Loan
Information
Long-term financing for various needs, including:
A good option for long-term business needs, such as:

Starting a business
Constructing a facility
Purchasing commercial real estate

Maximum term

Working capital—Five to seven years
Real estate—Up to 25 years
Other loans—Ten years

Up to 25 years
SBA guarantee

75% for a loan amount of more than $150,000
85% for less than $150,000

Keep in mind that there is a fee you need to pay for the SBA guarantee

Bank portion according to the SunTrust pricing
SBA second-lien portion defined at the time of debenture sale
The following rules apply for both of the above-listed loans:
Maximum loan amount—$5 million
Qualifications—Businesses that:

Operate for profit
Meet the SBA's small business definition
Are up to $15 million in net worth and $5 million in net income

Collateral—SBA loans do not require specific collateral, but:

The funded assets can be used as collateral
Personal assets might be used in case the financed assets are not sufficient
SBA Express Loan
The SBA Express loan might be suitable for you if you want to get the funds fast since there is less documentation and the application process is faster.
The loan criteria are as follows:
Maximum term—Ten years
Maximum loan amount—$250,000
Maximum SBA guarantee—50% (no fee required)
Down payments—Lower than with conventional business loans
Aside from SBA 7(a), 504, and Express loans, SunTrust also participates in the following two SBA programs that can provide funds for your export-related projects:
SBA Export Express program
SBA Export Working Capital program
These two programs could meet your needs if you would like to expand into new foreign markets or grow the existing ones.
SunTrust Business Term Loans
Business term loans at SunTrust could be what you are looking for if:
Your small business is financially sound
You would like to get funding for particular activities or projects, including:

Buying equipment
Expanding facilities
Acquiring more assets

Different term lengths suit your repayment needs (up to 20 years)
You can provide collateral for the loan
SunTrust Bank—Small Business Loans and Lines of Credit
You could open a line of credit for your small business at SunTrust if:
Your funding needs are short term
You need a small amount of cash that you can use to cover different business costs, such as:

Increasing your working capital
Building inventory for a short period, e.g., over the holidays
How To Get a Small Business Loan
To secure a loan or a grant for your small business or startup, you should:
Look into different conditions, including:

Processing time
Eligibility criteria
Repayment periods

Collect the necessary documentation, such as the:

Profit and loss statement
Balance statement
Cash flow statement

Search for the best loan provider
Draft a compelling loan request letter
You can to get assistance with the last two steps on this list.
DoNotPay Helps You Secure the Funding for Your Business
Our AI-powered app can help you:
Find an online loan provider that best meets your specific needs—Use our Find Online Business Loan Lender product to get a list of the top three most suitable options for your demands
Create a convincing loan request letter to make your application stand out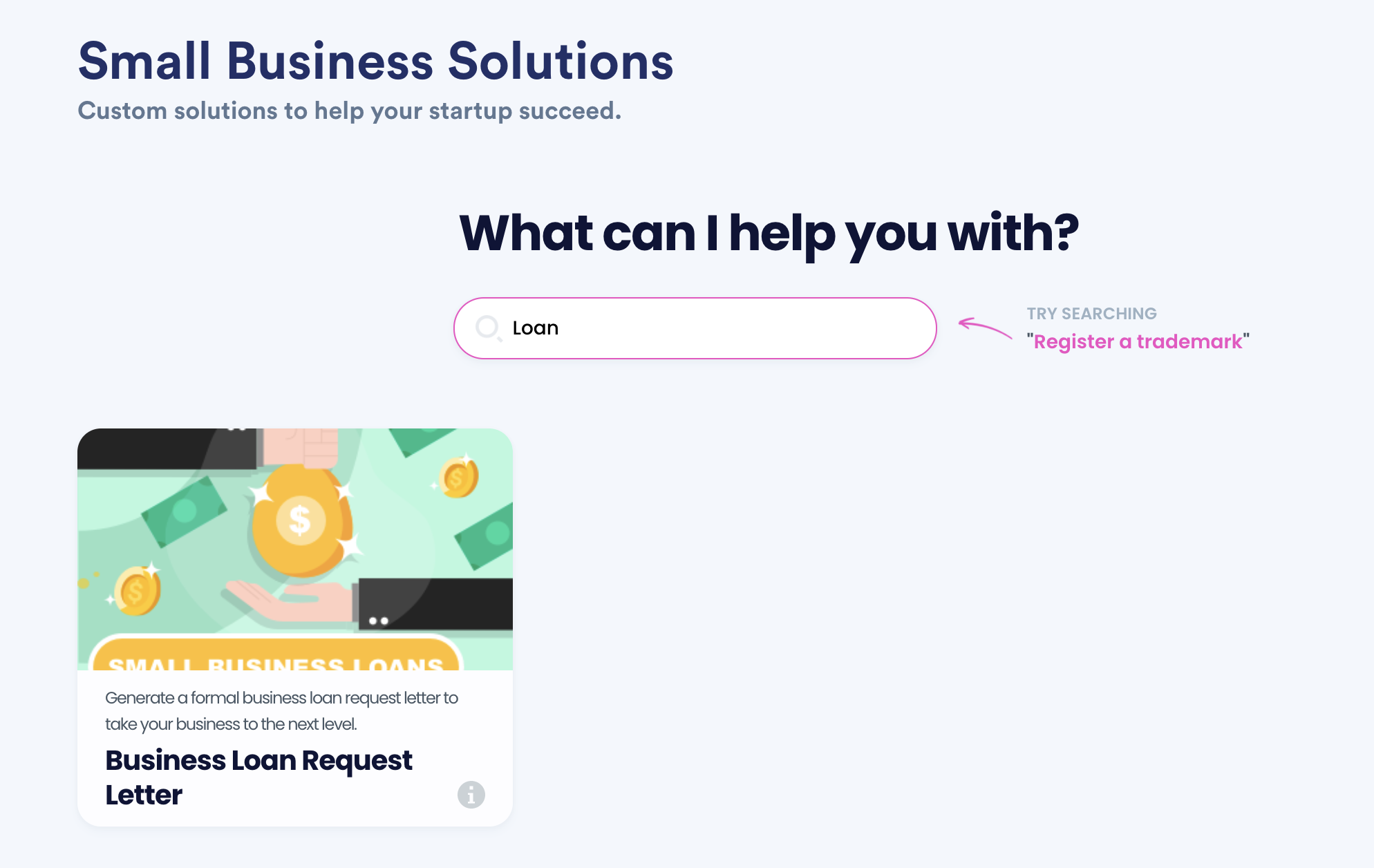 Here is what you should do— and follow these steps:
Access the Business Loan Request Letter feature
Answer a few questions about your business, needs, and loan requirements
State the amount you would like to borrow
Let us know if you would like us to provide you with the names of three loan providers (you can skip this step if you know what lender you want to get the funds from)
Upload previously collected documents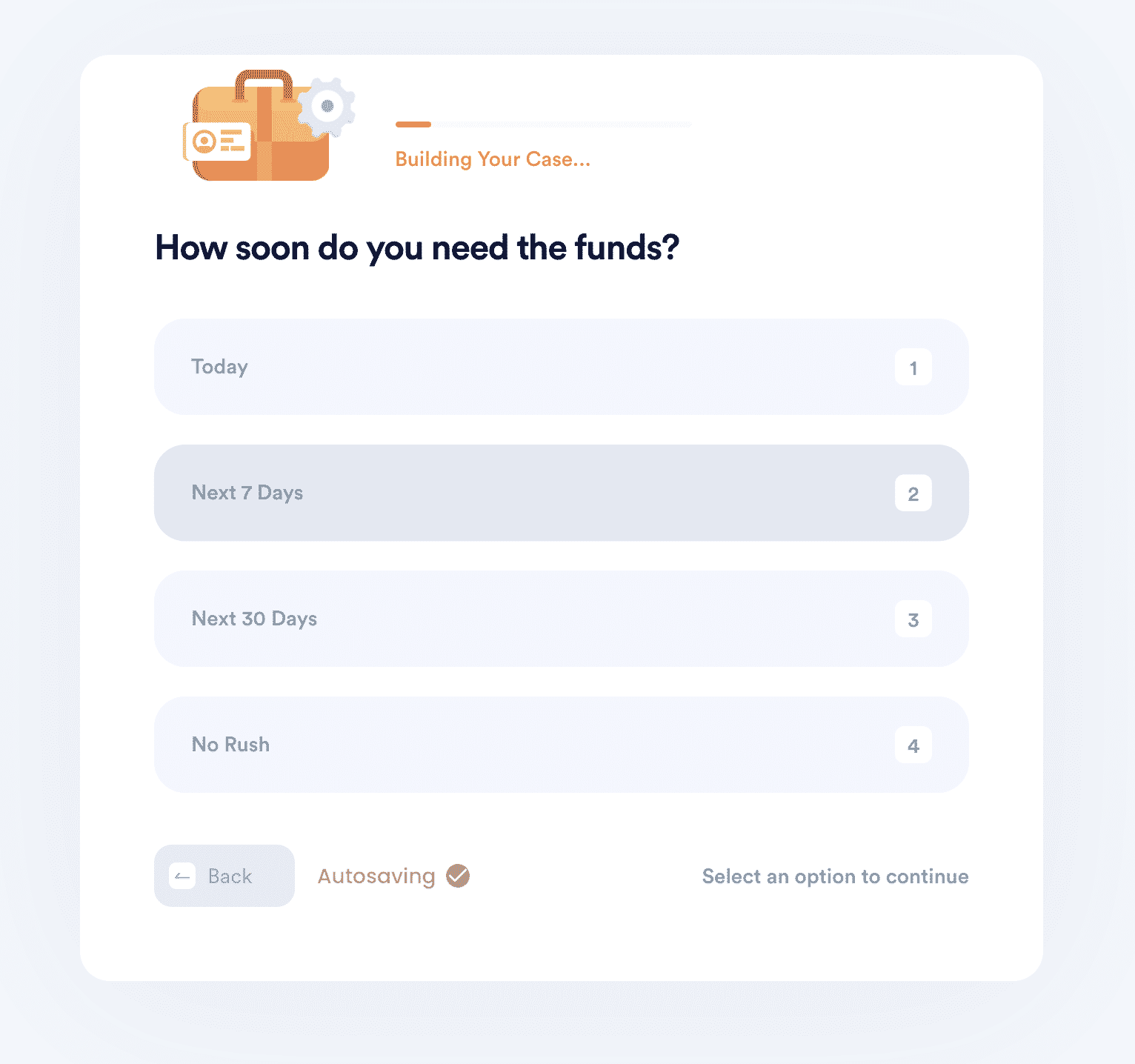 As soon as you enter the required details and upload the requested documents, DoNotPay generates a loan request letter that you should submit together with your application to ensure its success.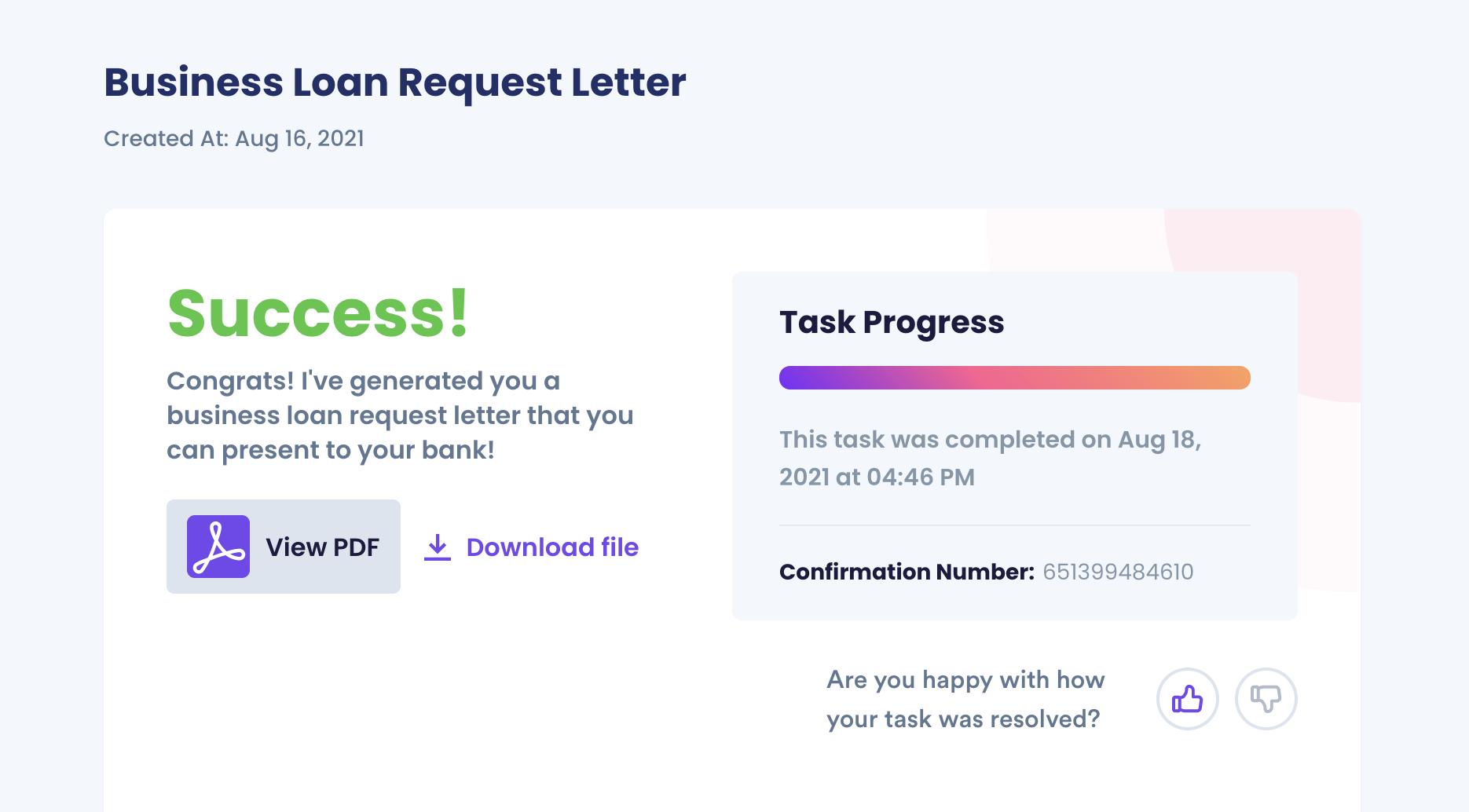 Get More Information on SunTrust Small Business Loans
If you would like to get more details about any SunTrust small business loan, you can get in touch with a representative or banker by phone at:
800-752-2515
877-370-5108
866-624-3084
Keep in mind that there are complaints about long waiting times, so you should either arm yourself with patience and time or use DoNotPay's Find Online Business Loan Lender feature to find alternative loan providers.
Get the Upper Hand With DoNotPay
The business world is extremely competitive—that is why it is always good to have some extra capital set aside when you need to invest in your company. You can leave the bureaucratic task to us—DoNotPay will draw up business loan request letters in your stead.
If your finances are taking a hit, rely on our app. With our assistance, you will be able to:
Fight fraudulent chargebacks
Remove fake negative reviews online
Register and protect your trademark
Send mail and faxes at no additional cost
Handle clients breaching contracts and get what you are owed
Whatever the task at hand, our AI-powered app will see it through successfully.
DoNotPay—The Assistant Every Business Needs
You cannot escape bureaucracy in business. What you can do is let DoNotPay deal with it. Whether you need to register a DMCA agent or complete an Employer Identification Number (EIN) registration, our app will lead the way.
Using DoNotPay, you will also not have to worry about 83(b) election forms or Privacy Shield self-certification. From generating to filing important documents and from dealing with employees to handling clients on your behalf, our AI-driven app is your go-to solution.
Grow and protect your business with the world's first robot lawyer!