Sue Verizon in small claims court
The standard Verizon contract states that you cannot sue Verizon Wireless in any court except for small claims court. Though suing Verizon can be a time-consuming and challenging process, there is a possibility that you may win. There are even ways to make this process easier for you. DoNotPay takes a slow, confusing process and simplifies it down to a few basic questions to help you sue Verizon.
DoNotPay's AI-powered chatbot helps you file your small claims court case against Verizon. Using DoNotPay in your web browser will help you file your court forms quickly, so you can build a more compelling legal argument to improve your chances of winning, in less time. All you have to do is let DoNotPay know what type of claim you are trying to file, what company you are suing, and basic information about the case. DoNotPay will automatically draft and fill out the necessary forms and legal arguments needed in court. 
How suing Verizon Wireless with DoNotPay works

To sue Verizon in small claims court while using DoNotPay, follow these simple steps:
Access DoNotPay
web app in your
web browser
.
Make sure that your issue is qualified for small claims court.
If you'd like to know if your issue is suitable for small claims court, you need to know for what and how much you are trying to sue Verizon for. DoNotPay will ask you what claim you have, what type of court award you're requesting, and what amount of money you want in the settlement. You can seek two types of awards in a small claims court. The first is equitable, which isn't commonly given in the result of small claims court cases. The second is monetary, which is also known as a legal award. Most small claims courts will grant you a monetary award in the result of your trial. 
You can ask for anywhere between $5,000 and $10,000 in most states unless you are suing in the states of Kentucky and Rhode Island, whose monetary limits are $2,500.
Here is a full list of the U.S. monetary limits.
DoNotPay will generate a demand letter to send to Verizon Wireless
Before going to small claims court, you will be required to send Verizon a letter that describes what your issue with the company is, why they owe you money, and a statement saying that if you fail to get any satisfaction, you plan to go to small claims court. This letter, known as a demand letter, shows your intent to sue Verizon. Demand letters initiate a successful resolution in as many as one-third of all potential disputes.
After providing your necessary information to DoNotPay, the app will ask you questions to help fill out the information in your demand letter. If you want to sue Verizon in a small claims court, you will need to send them a demand letter first.
Writing a compelling demand letter on your own can take quite a bit of time to get right. DoNotPay will generate a persuasive demand letter on your behalf using the information you provided, to increase your chances of a successful outcome. Once your demand letter is ready, print it out and send it to Verizon via registered mail. You can send the demand letter to:
Verizon Resolution Manager

One Verizon Way, VC54N090

Basking Ridge, NJ 07920
or Verizon Wireless at:
Verizon Wireless HQ Dispute Resolution Manager

One Verizon Way, VC52S417

Basking Ridge, NJ 07920-1097
If you want to undergo the tiresome process of writing your demand letter, remember that while you write it, you should include a list of the damages and losses that you have suffered. Make sure you include documentation that supports your claims. Here are more tips on writing an effective demand letter.
Remember, as many as 33% of demand letters can initiate a successful resolution.
| | | |
| --- | --- | --- |
| | Time  | Complexity |
| With DoNotPay | It's quick and easy to write a demand letter with DoNotPay.  | Just answer a few questions and fill out your basic info. |
| Without DoNotPay | Writing this letter by yourself is exceptionally time-consuming. | Creating compelling arguments can take quite a bit of time to perfect. |
DoNotPay will fill out required court forms
Court forms are specific to your state, and each state has different forms to fill out. DoNotPay gathers the right forms for your location and fills them out for you. Many states require multiple copies of each form, and if you don't have the necessary amount, your claim may be dismissed. DoNotPay ensures you have the correct amount of completed court forms to download and print.
DoNotPay will help you officially file your court forms
When you fill out your forms, you will need to deliver them to court, and they will start their filing process.
Remember:
You need to

file your claim

in person at your local courthouse with a small claims clerk. 

All U.S. courts require a fee of $30 to $75 before they can let you sue Verizon in small claims. At times, this fee can be waived if you sign a

fee waiver

.
After you file your court forms, you will receive a stamped copy of your forms with a court date from a court clerk. Make sure that you keep this copy in a safe place and remember to bring it to your court date. 
"Serve" your forms on Verizon
All you need to do at this step is to deliver your copy of your stamped complaint forms to Verizon. You can deliver your copy either in person at Verizon's address with the Verizon Security Assistance Team, or via registered mail. Registered mail provides you with proof that the defendant received the forms. If you mail your papers to the wrong address, the court clerk will deem your forms to be undelivered, which means that you will need to re-send your complaint form to one of the addresses above.
All courts have strict rules on the steps you need to follow to sue Verizon, and your claim can be dismissed if you do not follow them correctly. This is another area DoNotPay can help in. Access DoNotPay through any web browser.
Show up to your court date against Verizon Wireless
When you receive a court date, make sure to put it on your calendar. Sometimes the court may dismiss the case without prejudice, meaning you will have to refile the case again within the statute of limitations if you do not show up on your court date.
DoNotPay can provide you with a compelling script you can use to make a valid case against Verizon. For example, if you are suing Verizon for breach of contract, DoNotPay's script will inform you how to identify the elements of your claim, and what to say if the defendant doesn't show up to the court date. This script also provides you with a court strategy to follow in order to make sure that your claim is heard clearly and with intent.
DoNotPay will also let you know if you need to bring any physical evidence or papers with you to help your claim. Access DoNotPay through any web browser.
Can I sue Verizon for a breach of contract?

You can sue Verizon for breach of contract in small claims court. Keep in mind that you will need a substantial amount of evidence to support your claim. Some examples of evidence are a copy of your contract(s) with Verizon Wireless, phone logs with Verizon, and billing statements. Without any proof that Verizon breached your contract, your chance at winning your claim in small claims court is slim. However, if you want to make sure you have all the evidence you need, you can use DoNotPay to help guide you through your claim against Verizon. While DoNotPay writes your demand letter and helps you fill out court orders, you can focus on gathering as much proof of breach of contract as possible. Access DoNotPay through any web browser.
Can I sue Verizon for throttling?

One unhappy AT&T customer sued AT&T for throttling and won $850 in small claims court. The customer claimed that AT&T representatives recommended he upgrade his current plan to an unlimited plan that guaranteed an unthrottled experience. Yet, the new service he signed up for was throttled, making him overcharged for unreliable services. This argument may also be applicable for claims against Verizon in small claims court. 
Verizon has been heavily criticized as well as sued for throttling during the California fires. California fire chief Anthony Bowden contacted Verizon to ask that they cease throttling data, a move that severely impacted firefighters' ability to communicate during the Mendocino Complex fire. The company claimed that they would increase the speed if the fire crew upgraded to a higher plan, even though they, originally, had unlimited data.
Can I sue Verizon for false advertising?
Yes, you can sue Verizon for false advertising in small claims court.
In this thread, an unsatisfied Verizon customer describes how they were charged more for a promotion the company offered to them. The extra charge caused an overdraft in their account and almost $400 in overcharging. In response to the customer's claim, an attorney suggests that the customer goes to a small claims court with their claim.
Pennsylvania Attorney General Josh Shapiro filed a lawsuit against Verizon for false advertising when he learned that the company offered a deal that offered customers a free Amazon Echo and a one-year Amazon Prime membership with a two-year internet contract, yet customers didn't get what they were promised. 
Did Verizon falsely advertise something that you never got? Sue them in small claims court with the help of DoNotPay. Access DoNotPay through any web browser.
Can I sue Verizon Wireless for overcharging me?

Verizon can be sued for overcharging or fraudulent charges. 
In 2016, Verizon was sued for overcharging a customer hundreds of dollars per month beyond what the customer had agreed to. Because the customer paid via autopay, he wasn't aware of the overcharge until months later after reviewing his bank statements. Upon suing Verizon, he was reimbursed his fraudulent fees. However, he is still suing the company in a class-action lawsuit for $75,000 in damages on his and other overcharged Verizon customers' behalf.
What else can DoNotPay do?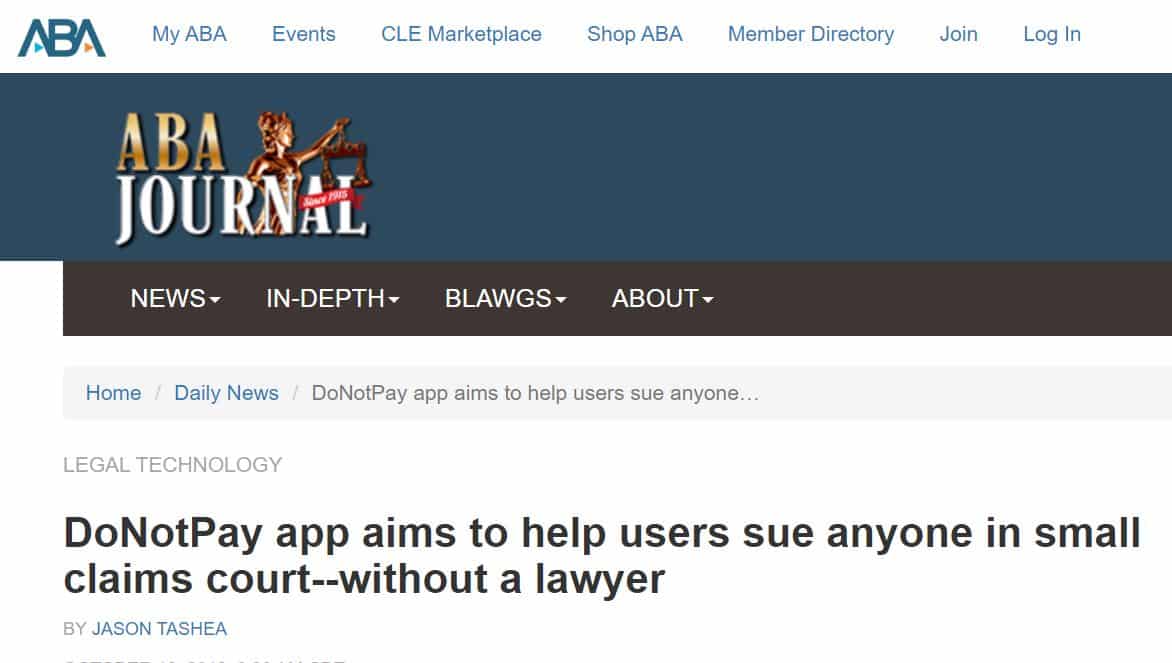 DoNotPay can also help you :
Contest speeding tickets

Beat traffic tickets
To Summarize:
| | |
| --- | --- |
| You can sue big companies in small claims court with DoNotPay. | Using DoNotPay simplifies the process of filing a claim against Verizon. |
| There are multiple steps to sue Verizon, each requiring great attention to detail. | Each one is easier with DoNotPay. |
| You can sue Verizon for overcharging you. | Someone sued Verizon successfully after being overcharged hundreds of dollars. |
| You can sue Verizon for breach of contract. | This case rarely gets taken to small claims court, though. |
| You can sue Verizon Wireless for privacy invasion. | If your private information is breached, you may have a valid claim. |
| You can sue Verizon for false advertising. | This may result in you receiving the offer Verizon initially promised you in small claims court. |
| DoNotPay has other services. | They include beating parking tickets and automatically canceling free trials. |