Sue Uber in small claims court
Here's some good news: if you have had an experience in an Uber ride or with Uber that you find sueable, you can sue the company in small claims court. But there are important things to remember when you're taking legal action against the company.
DoNotPay uses AI-powered technology to assist you while you file your case against Uber in small claims court. This easy-to-use app works in any browser helps you to file your court forms in no time so you can focus on your claim. All you need to do is let the app know what type of claim you are filing, who you are suing, and the necessary information about yourself. It will help you write an effective demand letter.
How suing Uber with DoNotPay works

To sue Uber in small claims court using DoNotPay, you will need to follow these steps:
DoNotPay app is available directly in your

.

Ensure your claim qualifies for small claims court.
To know if your claim qualifies for small claims court, you must consider the sum for which you will sue Uber. DoNotPay will ask you what your claim is, what type of award you are looking for, and the amount for which you are suing. In most states, small claims cases seek sums between $5,000-$10,000. However, in some jurisdictions, like Kentucky and Rhode Island, the amount can be as low as $2,500. Here is a list of the monetary limits by state.
There are two types of awards that you can seek in a lawsuit, monetary and equitable, meaning some action. Most small claims courts only grant monetary awards. If you are looking for the latter, you may have less of a chance at winning your case.
If your claim is not within the limits of the small claims courts in your state, the best step for you is to hire a lawyer.
DoNotPay will give you a perfect demand letter to send to Uber

Most small claims courts require you to send a demand letter to the prospective defendant before you file your case. They want to keep the court's caseload low, and the demand letter gives you a chance to settle your problem out of court. First, Access it through any . The app will ask you questions to determine how it will draft your demand letter.
Demand letters must follow certain specifications and include specific details. You don't need to figure that all out for yourself. DoNotPay can generate one for you in no time. Once DoNotPay has created the letter, you can download it, print it, and send it.
Send your demand letter to this address:
UBER USA, LLC The Corporation Trust Company
Corporation Trust Center 1209 Orange St.
Wilmington, DE 19801
Writing a demand letter yourself can take time. If you want to go through the tedious process of writing your demand letter yourself, here are some tips on how to write an effective demand letter.
| | | |
| --- | --- | --- |
| | Time | Effort |
| With DoNotPay | DoNotPay makes filing your claim quick and easy. | All you need to do is answer a few questions and fill out the necessary info. |
| Without DoNotPay | Manually filling out forms is a complicated, tedious process that wastes a day or so. | You must research and prepare everything, including your demand letter. |
DoNotPay will fill out the required court forms for you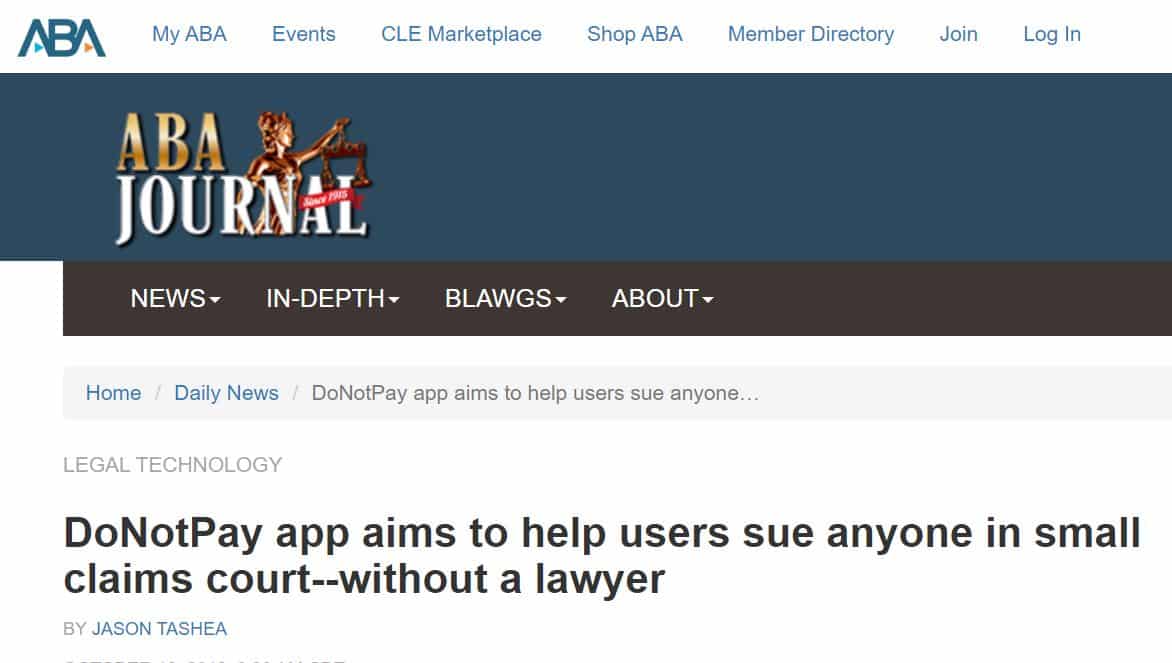 Each state's small claims courts have different court forms to fill out. DoNotPay will gather the right application forms for your jurisdiction of residence, ask you a few questions, and fill them out for you. Some states will ask for 3 to 4 copies. If you do not have enough copies, your case will be rejected. DoNotPay will ensure that you have the right amount of copies and fill them out for you. Access it through any .
DoNotPay will help you file your forms with the court.

When you've finished filling out your court forms, you will file them at the court. At this stage, remember:
Many courts will require you to come to the courthouse in person during business hours to deliver your court forms. DoNotPay will notify you if you live in a state where you are required to do this.

All small claims courts in the U.S. require you to pay a filing fee before they can allow you to sue Uber. This fee can sometimes be waived.
When you file your court forms, the court clerk will give you a stamped copy of them with a court date. Keep them in a safe place and bring them to your hearing.
Serve your forms on Uber

To serve Uber, all you need to do is deliver a copy of the stamped forms to the company. You can send them to Uber via registered mail. Some courts have strict rules about how to serve a defendant, and your claim can get dropped if you do not follow them.
Show up to your court date against Uber

When the court clerk gives you a court date, you must be present at the courthouse on that date, so make sure not to miss it. It is not flexible.
If you are unsure of what to say in court, DoNotPay will provide you with a script that is specific to your case. For example, maybe you are suing Uber for breach of contract. DoNotPay's generated text will inform you of how to identify the critical elements of your claim, and what to say if the defendant does not show up for the court date.
Suing Uber if a driver steals from you
In 2017, someone successfully sued Uber in small claims court after losing $4,000 in personal property. After Uber claimed it wasn't responsible for the passenger's belongings, the individual provided evidence that helped him win $1,000, with which he was unsatisfied. After going back to court once more, he received the full $4,000.
Uber claims that it is not responsible for belongings you leave in your driver's car. But if you're willing to fight, you have a chance of beating Uber in small claims court. Just be aware that suing Uber can be a lengthy process, but it is easier if you use DoNotPay. Access it through any .
Suing Uber for Breach of contract
You can sue Uber in a small claims court for breach of contract. A contracted driver once sued Uber and won almost $4000 because the company didn't pay the driver their bonus for giving 7,000 rides, as stated in their contract. This small claims court case only cost the driver $20 to file.
It is worth suing Uber for breach of contract. DoNotPay can help you gather your documents and back up your claim. Access it through any . In 2018, a U.S. District Court judge granted Uber drivers another win by concluding that the company breached a contract on "Safe Rides" fees. Uber drivers sued the company for $5 million. They refused arbitration in 2016, because the company, though it said it wouldn't, took funds as "safe rides fees" from the minimum fares that drivers had charged.
Suing Uber for an accident
If you are injured during your ride with an Uber driver, you cannot sue Uber, but you can sue the driver. Since the driver is an independent contractor, Uber can deny liability for the accident. It has done so in the past. If you are a passenger:
Call 911 and take pictures of the wreck

Write down the names, phone numbers, and email addresses of any witnesses

Take screenshots of your Uber ride and receipt using your phone

Write down the name of your driver and the plate number
If you need to file a small claims lawsuit for a car accident in an Uber ride, you will sue the driver. DoNotPay can help you fill out the forms associated with suing an individual like an Uber driver quickly and for free. All you need to do is visit DoNotPay's , then answer a few questions on your case. DoNotPay will prepare the essential forms for you to file in court and the script for you to read out during your court date.
Uber has an accident policy that can cover the medical costs incurred due to any injury. If this insurance policy does not cover your damages, you can sue your driver. You can receive up to $1 million in coverage under Uber's accident policy. It covers cases where your driver was at fault in the accident, or where you were involved in a hit-and-run while you were in an Uber.
Suing Uber for backpay
Many people have successfully sued Uber for backpay. In October 2017, three Latina engineers alleged they were getting paid less than the company's other employees, because of Uber's "stack ranking" system. Once the case concluded, the employees received over $10,000 each depending on their length of employment and their location. You can sue Uber for back pay. However, if doing so as a group, you should skip small claims court and mount a class-action lawsuit.
Suing Uber for driver deactivation
Over 750,000 people drive for Uber nationwide. Many of these drivers use Uber as a primary source of income, and for some, Uber is their entire source of household income. There are several drivers whose accounts have been deactivated due to customer complaints. Some of these complaints were based on false information. Unexpected deactivation can take away an innocent driver's livelihood, leaving them destitute.
Many drivers have complained that Uber doesn't give them a chance to dispute their deactivation. Here's what you need to know if you want to take Uber to small claims court for deactivation:
You are an independent contractor while driving for Uber

You need evidence

You can request an investigation from Uber
Being an independent contractor means that your contract can be terminated for any reason. That fact is included in Uber's driver terms.
You can appeal your deactivation and start an investigation of it without suing by contacting Uber Support. That is the best alternative to suing, but you will still need evidence to help your case. Taking Uber to a small claims court for deactivation may not be a wise decision because it is stated in Uber's legal terms and in the driver contract that you do not have the legal right to account reactivation. However, there are other ways you can take Uber to court.
This Reddit thread talks about how some drivers deal with their deactivation.
Suing Uber for wrongful termination
You cannot sue Uber for wrongful termination because, as a driver, you are an independent contractor, not an employee. Independent contractors can be terminated for any reason. However, depending on how you were terminated, you may be able to seek arbitration.
Suing for wrongful termination means assuming that Uber breached their contract, or that you were terminated because of illegal discrimination. Since you're not considered an employee, but a contractor, this may not be realistic.
You sign a contract when agreeing to drive for Uber. When you pursue arbitration, you seek to create a mutually agreeable settlement with the company out of court.
Suing Uber for sexual assault
If you have been a victim of sexual assault during an Uber ride, your case is not likely to be a good fit for small claims court. However, class-action lawsuits over sexual assault have been brought against Uber, as over 100 Uber drivers have been accused of sexual assault or abuse.
Two women sued Uber after they were sexually assaulted during their ride, alleging that the company provided inadequate background checks and monitoring of their drivers. Though they have not received any monetary or equitable awards yet, Uber pledged $5 million to fund sexual assault prevention groups and train their employees.
What else can DoNotPay do?
DoNotPay can also help you:
Get an appointment with the DMV faster
Appeal speeding tickets
Dispute traffic tickets
Make a virtual credit card to avoid getting charged at the end of a free trial
Access it through any .
To Summarize:
| | |
| --- | --- |
| You can sue companies with the help of DoNotPay. | Using DoNotPay to sue someone in small claims court is effortless. |
| There are a few simple steps to take when you sue Uber in small claims court. | The process is more straightforward with DoNotPay. |
| Many drivers want to sue Uber for deactivation. | It may not work because of the ramifications of drivers being independent contractors. |
| Some people sue Uber for wrongful termination. | If you are an employee, not an independent contractor, you can sue Uber for wrongful termination. |
| You can sue your Uber driver for personal injury. | You may want to do so if your injury is not covered under Uber's accident policy. |
| DoNotPay can make other legal battles easier for you. | These include appealing parking and speeding tickets. |