Suing The President: Explained
There have been many lawsuits filed against presidents. Two key cases, Nixon v. Fitzgerald and Clinton v. Jones determined that a president is not immune to criminal charges, but cannot be sued in a civil court for official actions until the conclusion of their term. In some cases, like People v. Obama, ex-President Obama was accused of being "unfit" to be a president, in an attempt to stop his electoral run.

With today's controversial presidencies coming to light, many feel entitled to sue the President. Many have come forth and attempted to sue ex-President Donald Trump under emolument clauses in the constitution; defamation, sexual harassment, and anti-abortion policies.
If you've found yourself in a scenario where you'd like to sue the President, there are options. Find out more below, and find out how , the world's first automated lawsuit-filing system, works.
When Can You Sue the President?
Below, find the most common reasons why people have chosen to sue the President.
Defamation: The President publicly slandered or defamed you, causing damages to your reputation.
Sexual Harassment: You were sexually harassed by the President.
Restrictive Policies: Policies on issues that impact your life tremendously (anti-abortion restrictions, anti-euthanasia restrictions, etc.), causing significant harm.
Civil Rights Violations: If the President enacted legislation that violated your civil rights and caused you to incur harm, you may be eligible for damages.
Specific Regulations
As usual, there are certain things to keep in mind when suing the President — or anyone! Here are some important rules and regulations that the Supreme Court has established to aid and guide individuals who'd like to sue the President.
Lawsuits can be filed against a sitting president, and in some instances, can begin pre-trial before the end of a presidential term.
Presidential immunity applies if the President can prove that a lawsuit interferes with their constitutional duties and obligation to the people of the United States. These constitutional arguments cease to exist when a Presidential term is over.
Presidents can be prosecuted and must comply with legal subpoenas once they end their term.
What to Consider Before You Sue?
If these three details apply to your case, you are likely going to be successful in filing your legal case before a small claims court. If not, it is unlikely your case will go forward.
Are there any alternatives? Before suing, you can consider other options:
Negotiation
Mediation
Arbitration
Do you have sufficient evidence to validate your claim?
Record of payments
Summary of events
Reasons for entitlement
How much will this cost? This is an important question to ask — often, small claims with legal representation are expensive and have a greater cost than the payoff of winning a lawsuit.
How to Sue Anyone in Small Claims Court
Below, find the steps on how to sue anyone in Small Claims Court. Keep in mind that every Small Claims Court varies from state to state and that local regulations are most important when considering the validity and legitimacy of your case.
Send a Demand Letter
First, send a letter detailing the following:

Who you are (name, phone number, address, and account number if applicable)
What you encountered (state the issue)
What you want from them (for instance, how much money)

When this is completed, mail it to their home/work address.

Fill Out Court Forms
Fill out your state-specific paperwork and any additional forms that might be requested by the county in which the incident took place.

Most court forms are free of charge on the court's website;

Keep these forms
Maintain copies
Have excess at your disposal in the event that the court clerk requires multiple

File A Complaint With The Court

Depending on state and county regulations, you might need to mail, fax, or file in-person
You will likely need to pay a small filing fee before you're allowed to sue, but this can be waived
Then, you'll receive the finalized forms that have been notarized

"Serve" The Defendant

Deliver a copy of the filed paperwork to them using a neutral third-party
Check your state and county regulations and follow them to a tee, as many states invalidate small-claims suits if they are not "served" properly

Go To Court
Show up to relevant court dates, keep track of filed forms and maintain records of evidence to support your claim.
What to Keep in Mind Before Suing?
It is important to keep the following notes in mind when deciding whether to sue.
The media reports on all lawsuits filed against a President; the people have a right to know about it
You can bring a lawsuit against the President with help of an attorney or a
It is extremely difficult to sue anyone without adequate legal representation and guidance, see more below for a comprehensive approach to suing
How to Sue Anyone With DoNotPay?
Suing an individual by yourself can be complicated and daunting. Let DoNotPay fight the legal battle for you! DoNotPay is the perfect way to file a small claims suit that will be successful, in a simple and concise way. All you need to do is:
Log on to on any web browser and select "Sue Now"
Enter the dollar amount that you are owed (this could be lost wages or even adequate compensation to cover injuries and medical bills)
Select whether you'd like to receive a demand letter or court filing forms
Describe your reason for filing the lawsuit, and submit any additional details (including your photo evidence)
That's all! DoNotPay will generate a demand letter or court filing forms for you, and a copy of your demand letter will even be mailed to the individual or business you are suing! With DoNotPay, the process of suing anyone is covered in an instant!
DoNotPay is Your Personal Lawyer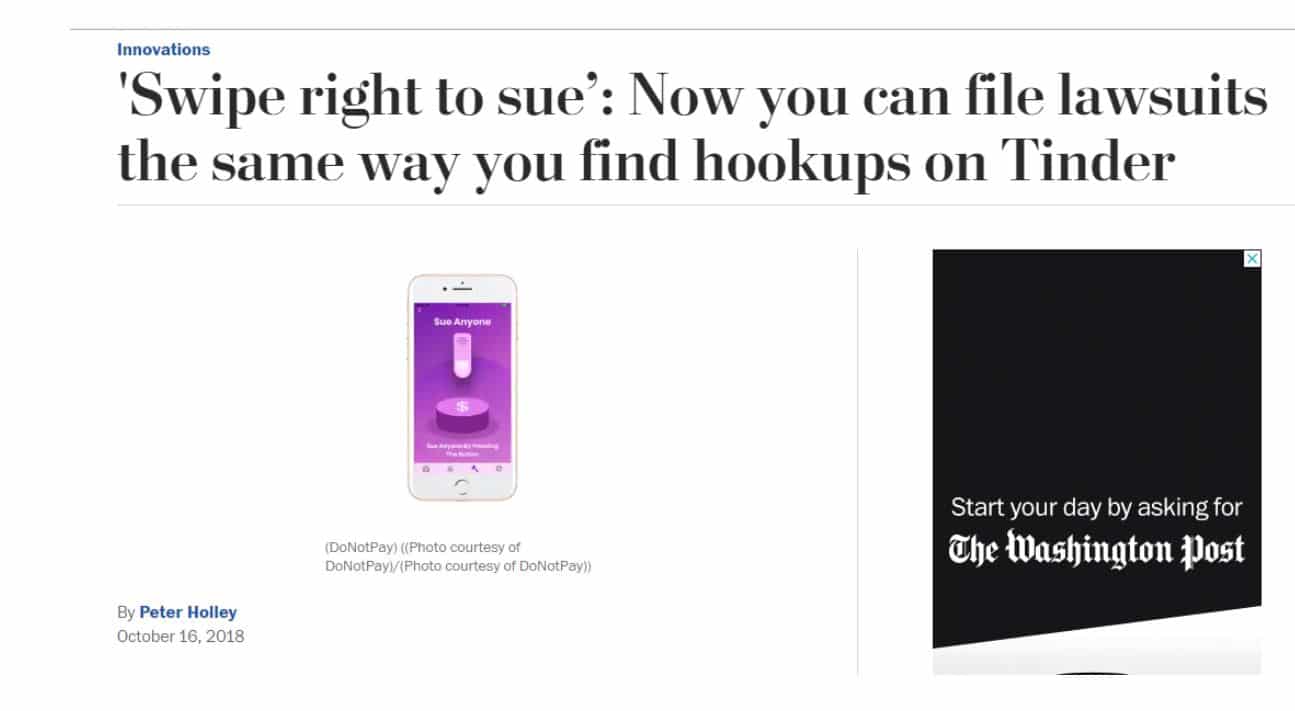 helps people sue any company without a lawyer in small claims court. Check out these other companies that DoNotPay has helped sue: